My family and I got to visit Europa Park, Europe's largest theme park located in Rust, Germany. We went on a sunny, cool day in September 2022 and all of us had a great time. The theme of the park is European countries.  My favorite sections of the park are Iceland, France, Greece, Switzerland, Austria, and Russia. They are where you'll find the park's best rides.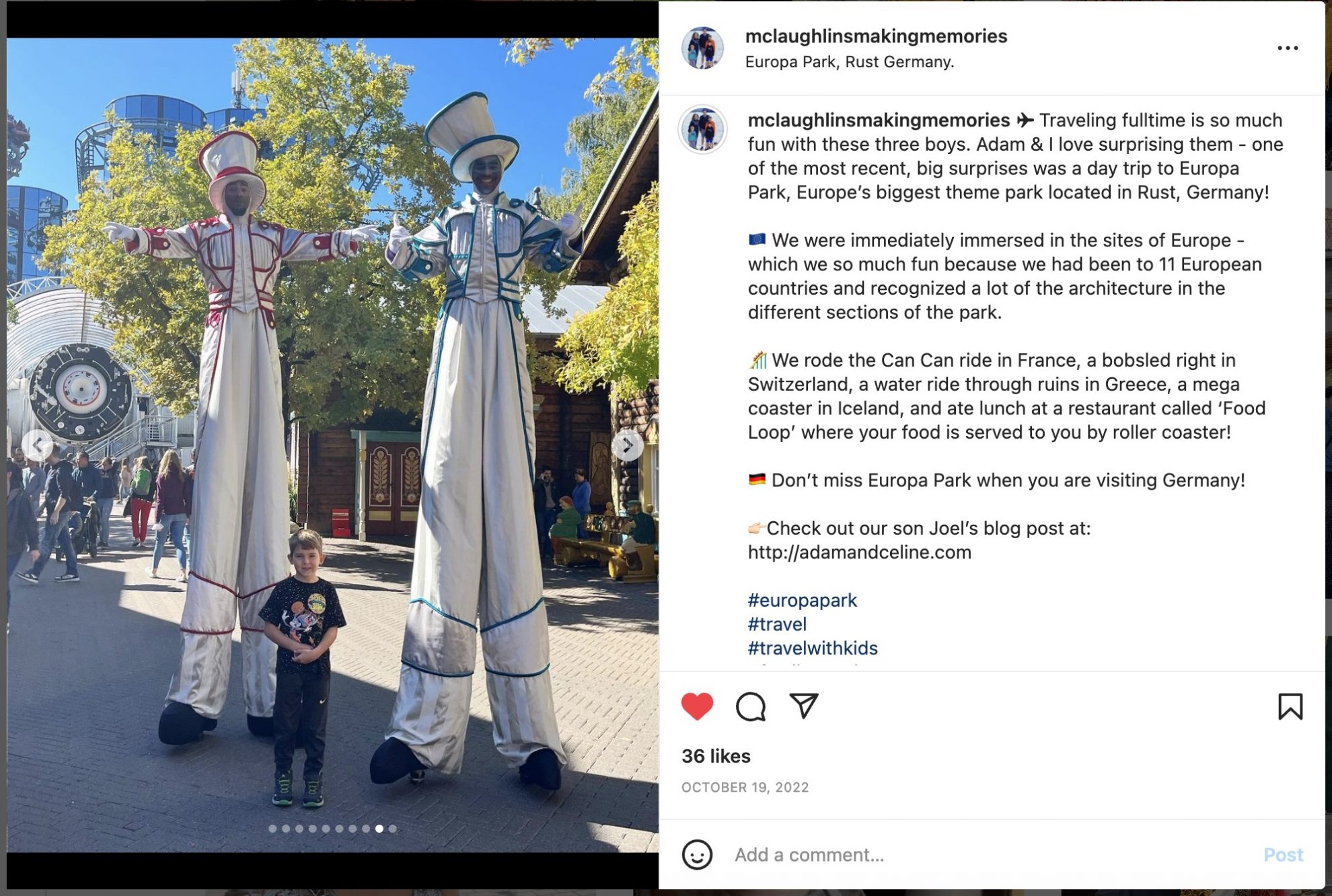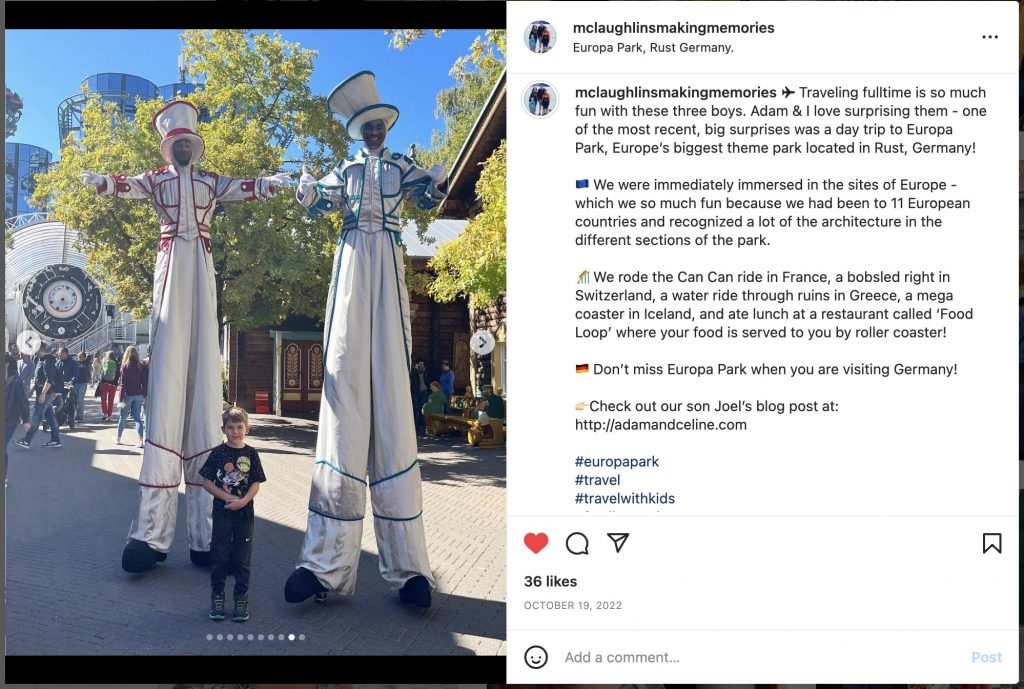 In the Iceland section of the park, there are 2 big roller coasters, Blue Fire Mega Coaster and Wodan TimburCoaster.
Blue Fire Mega Coaster is a coaster that launches you out of the station and does 4 inversions! It also has a big loop and lots of twists and turns.
Wodan TimburCoaster was Europe's first giant, wooden roller coaster! It goes 100 km per hour and is 1,050 meters long. This coaster, although a bit bumpy, is fun to ride.
In the France section of the park, righthe 2 roller coasters we went on were Silver Star and Eurosat – Can Can Coaster.
Silver Star is huge coaster that makes you feel like you're flying as you zoom up and down the huge hills. The only restraint is a lap bar, so when you go down the hills, you rise out of your seat!
Eurosat – Can Can Coaster is an indoor roller coaster based on the Can Can dance. Can Can dancing type music plays during the whole ride. You zoom so closely past lights and statues that it feels like you are going to hit them.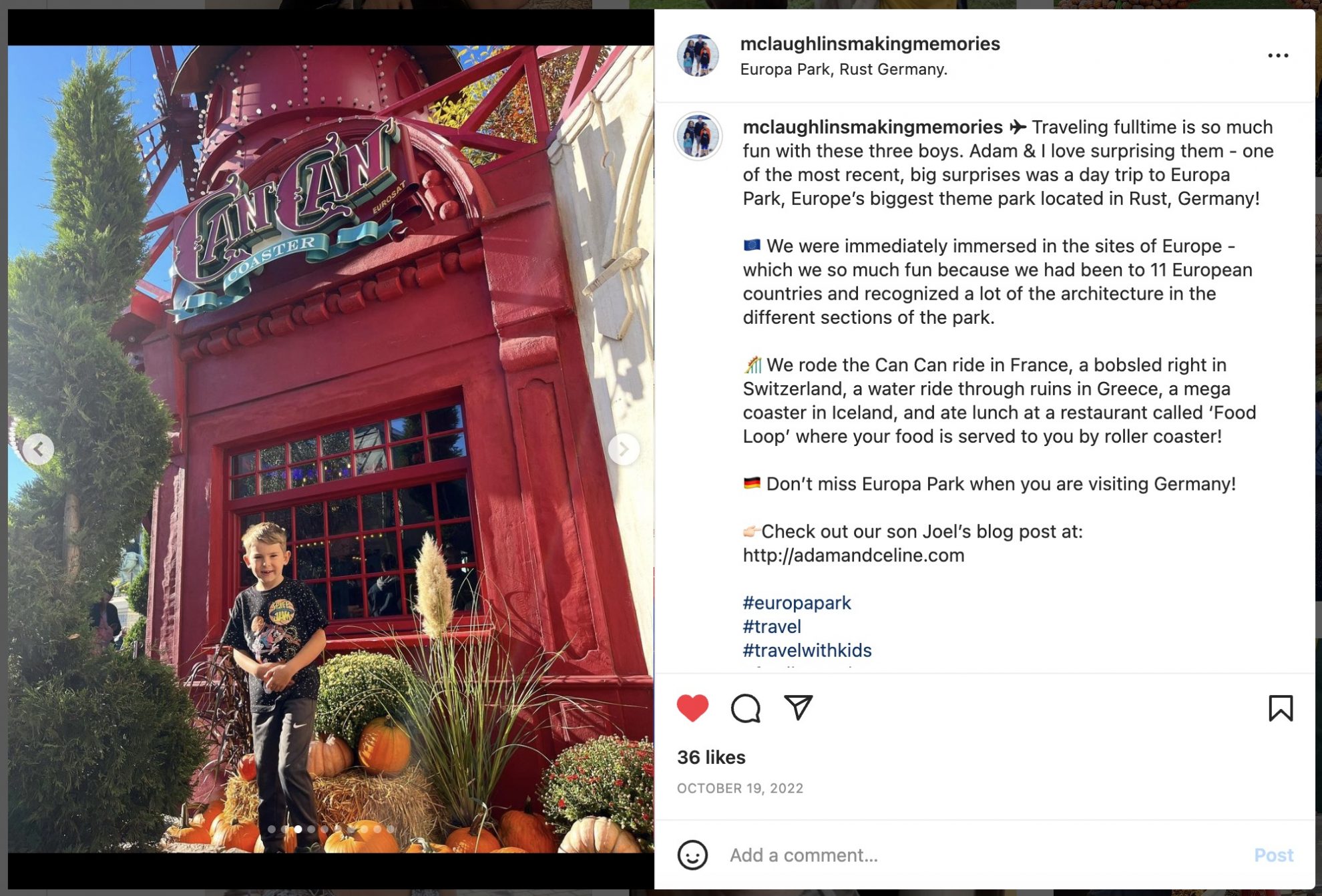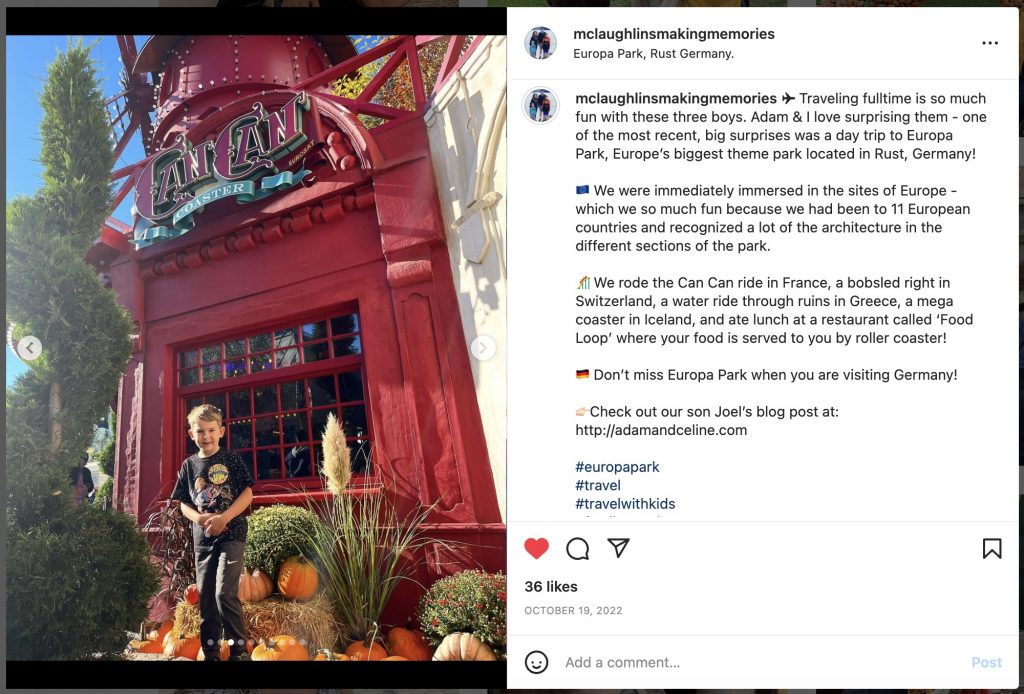 The Greece section of the park has lots of rides for all ages. We went on Poseidon, Pegasus, Cassandra's Curse, and Atlantis Adventure.
Poseidon is a water roller coaster where you ride in a boat. You start off in an area filled with water that is surrounded by Greek statues and ruins. You then go up a hill and ride on the roller coaster part of the ride. It has twists and turns until you eventually ride down a big hill into a pool of water and make a splash! Then, when you are done the big hill, you ride in another water area and then go up another hill. At the top of this hill, you turn and go down the biggest drop into another pool of water and get wet again!
Pegasus is a family coaster that is short and fast. First, the ride takes you up a hill. Then it drops you down a hill and twists through some tight turns before going back to the station. This ride is perfect for little riders or for people who want to go on a coaster, just don't want to go on a big one.
Cassandra's Curse is a ride that is dizzying, optical illusion. You are sitting in seats on a platform that moves back and forth like a swing while the walls around you are spinning. At some points of the ride, it feels like you are upside down! But, in real life, you don't actually go upside-down on this ride.
Atlantis is an interactive ride where you ride around in a car on a track and shoot lights with a laser gun to earn points. The ride is a flat ride so there aren't any hills or drops. The theme is Atlantis which is an underwater city.
The Switzerland-themed area of the park has 2 main rides which are Matterhorn Blitz and Swiss Bob Run.
Matterhorn Blitz is a wild mouse ride and the theme is a Swiss farm. Your roller coaster car goes up an elevator at the beginning of the ride. Next, it goes around some sharp turns and down steep hills as you ride along a track until the end of the fast ride.
Swiss Bob Run is a bobsled ride. It looks like it would be lots of fun but we found it to be very bumpy. There isn't a track, just a long slide that the bobsled car goes on. It's fun when the sled moves quickly around turns and bends because you go up the sides of the slide.
The Austria section of Europa Park has a really cool, mine train roller coaster called 'Alpine Coaster Enzian'. You pick up speed little by little as you zoom along the track outside. Next, the ride takes you inside a building decorated like a cave with lots of dim lights where the coaster continues. When you exit the cave, you ride back into the station where the ride started. But when you'd expect the ride to end, you pick up speed and zoom through the station, riding the entire track again!
Russia has one main coaster, Euro Mir. It is a roller coaster where you can chose a forward-facing or backwards-facing seat. Each train has 4 circular-shaped cars that have 2 seats facing backwards and 2 seats facing forwards. The ride's cars spin throughout the ride. So, even if you sit in a backwards-facing seat, you could end up facing forwards as the cars climb a track to the top of the ride. Halfway through, the cars turn and lock into place so everyone does half the coaster forwards and the other half backwards.
When you get hungry and need a break from the rides, visit Europa Park's coolest restaurant called 'Food Loop'. It is the very first restaurant in the world to serve your food by roller coaster. You order your meal on a digital screen at your table, and your food will travel down a roller coaster track on a little coaster car to your table. Some of the roller coaster tracks make your food (strapped securely in a coaster car) do a loop before arriving at your table. It is really fun to watch all of the food and drinks people are ordering zooming down, around, and upside down through the restaurant to the tables of customers.
In Europa Park, kids ages 12 and under can sign up for their free Junior Club. Each kid gets a special, personalized card with their name printed on it. Every time you line up for a ride, look around for a Club Card scanner. If you scan your Junior Club card for a ride, you get stars. The stars can then be redeemed for a fast pass to skip the line on a ride. We didn't get the card until the afternoon on the day we visit the park, so we didn't earn enough stars to get a fast pass. It's a fun way to earn rewards for riding the rides when you visit the park.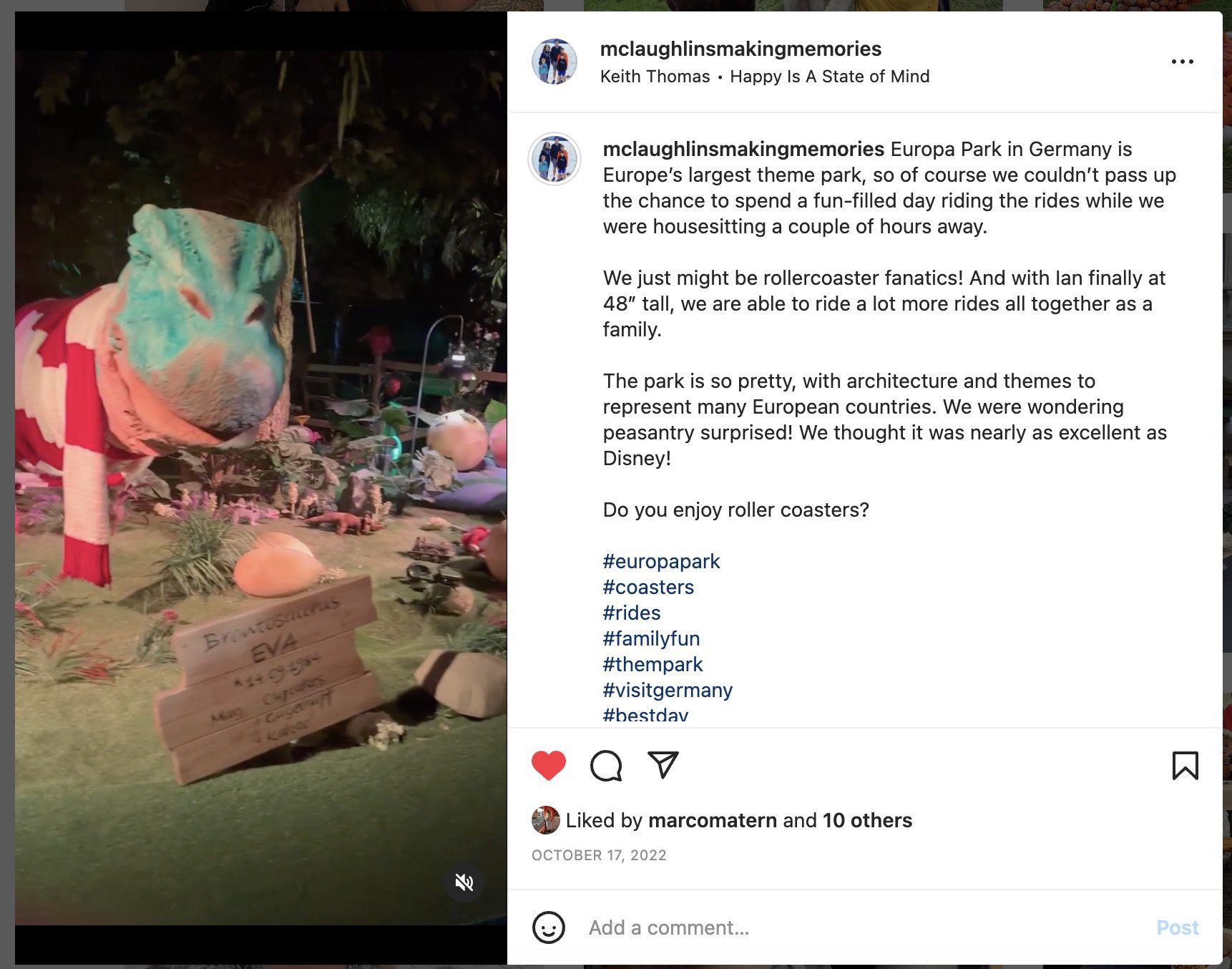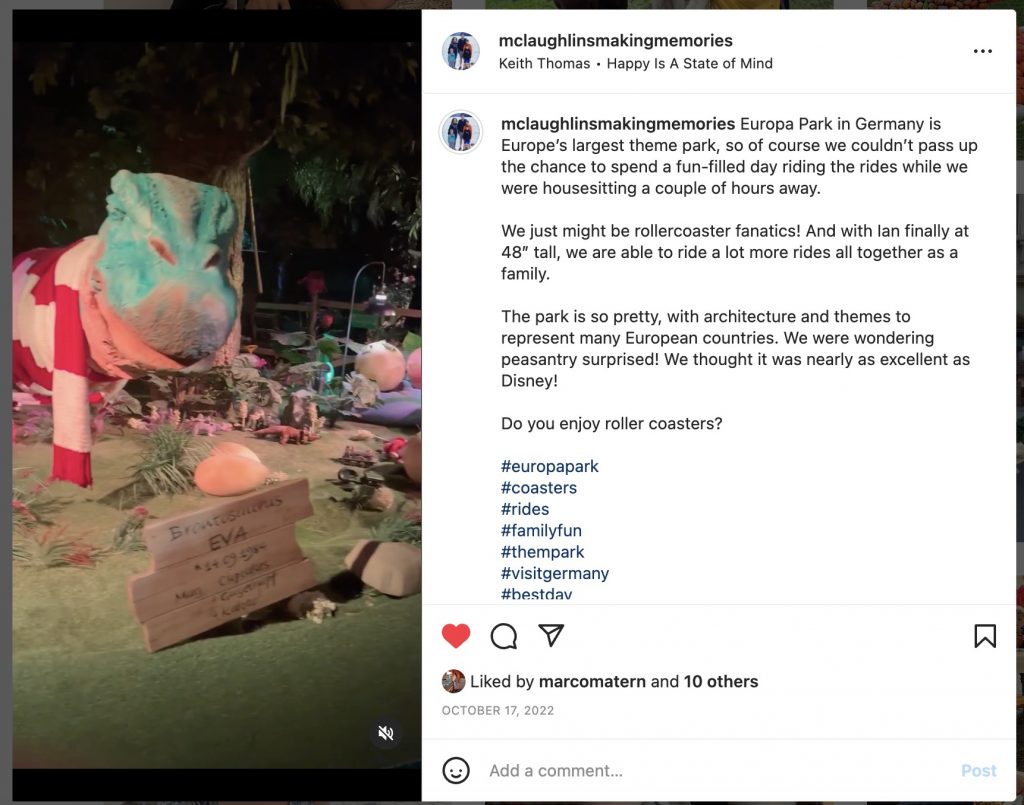 A helpful tip I can give you is to plan on staying until the park closes. The last hour or so of the park being open is the least busiest. When we wanted to ride Euro-Mir during the middle of day, we waited in line for one hour to get on it. But in the last hour of the day, we got on the ride after waiting only 5 minutes!
Other rides had no line ups, so we were allowed to stay on the ride to ride it again, as many times as we wanted!
Besides rides, most of the sections of the park have shows that run every hour. There are ice shows, 4D shows, musical performances, and more! The theatres have signs outside them telling you when the shows are happening. You can see the show schedules on the Europa Park app so you can plan your day to include catching a few of the shows.
I loved going to Europa Park with my family and would recommend it to anyone visiting Germany. Whether you like roller coasters, fair rides, water rides, or family rides, this park has something for everyone. Because there were so many exciting things to see and do, I was entertained non-stop. Even the areas where you line up for rides were decorated with the theme of that ride to create an exciting and fun atmosphere. It was so fun to spend an entire day there.
As you plan your trip to Europa Park, look through my list of recommended items that you should bring along with you. Click on any of the items to purchase them online: