Thorpe Park, UK is a theme park in southern England, just west of London. It has a lot of rides including roller coasters, a drop tower, bumper cars, and more. They also have a water park open for a couple of months during the summer.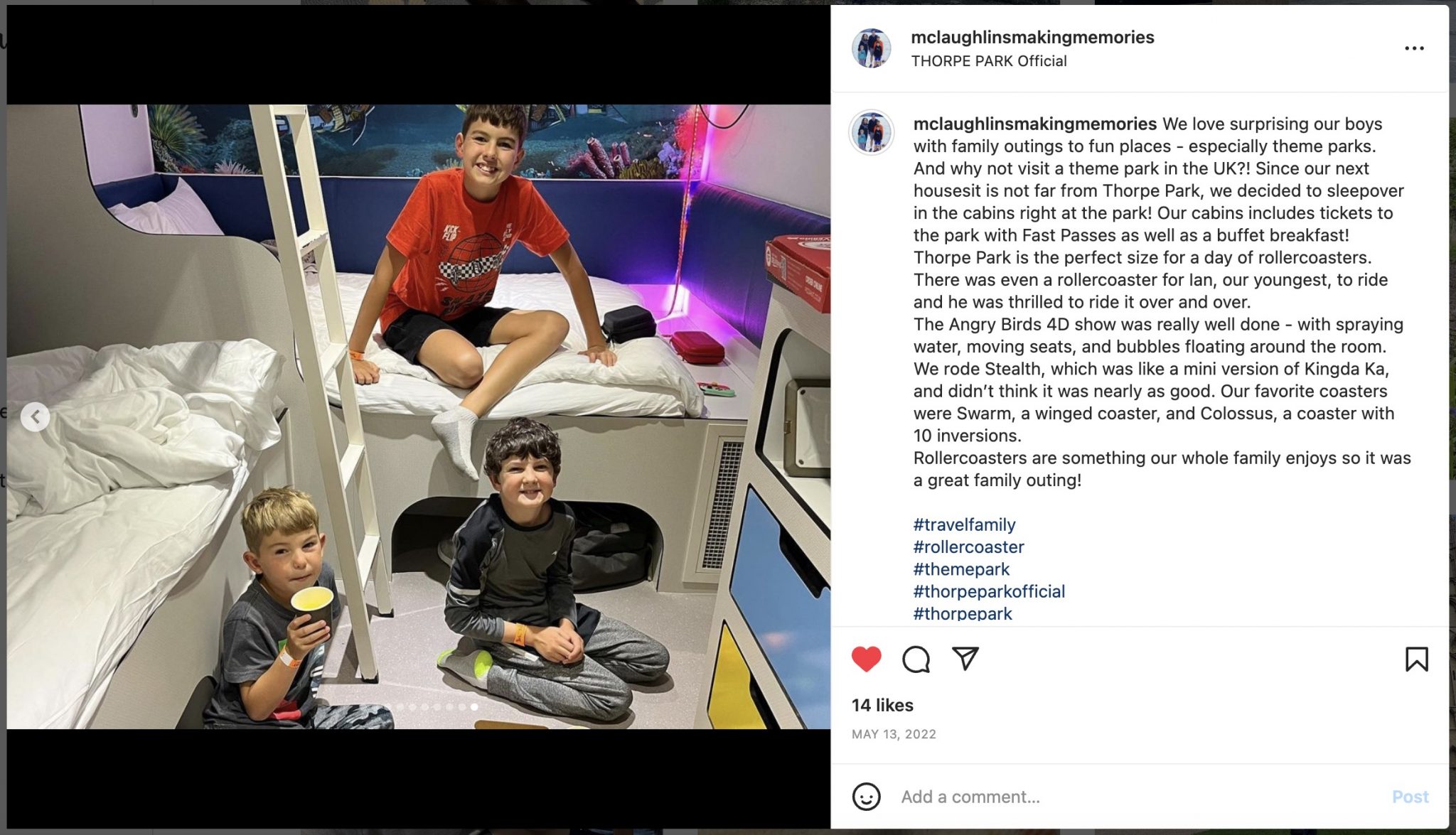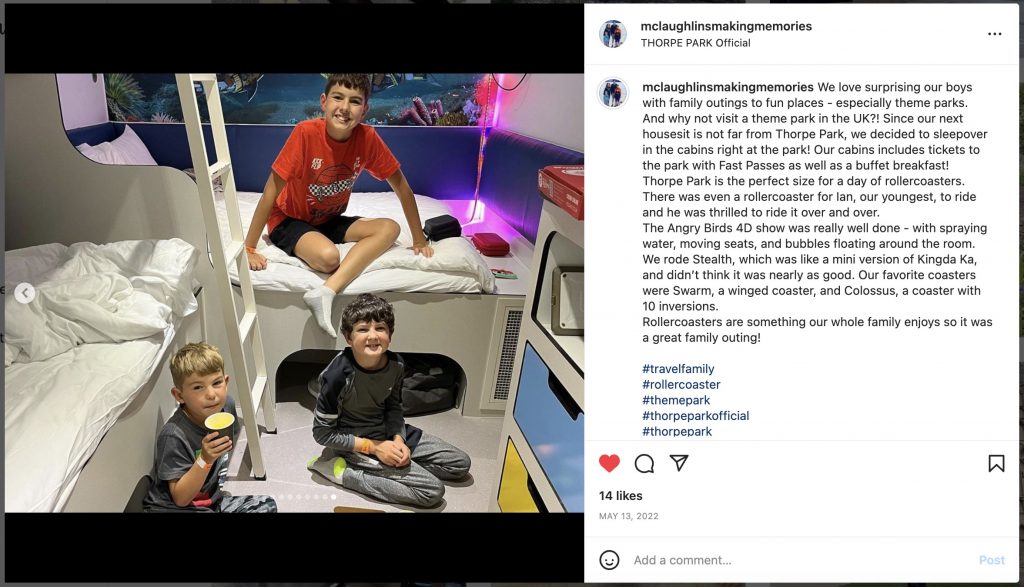 My family and I visited Thorpe Park in May 2022 and stayed in The Shark Hotel at the Thorpe Park resort.
As soon as you arrive and follow the path to the cabins, you get to walk through a shark that was built using recycled materials from the park. We booked two cabins because each one only sleeps four people and we are a family of five.
Each cabin in The Shark Hotel has one double bed and a set of bunk beds.
You will also find an interactive tv as well. You can use it to watch tv shows or use the special Thorpe Park program to play games or learn about what rides are at the park. In the morning, there is a large, breakfast buffet included with your hotel room. They serve hot food, toast, cereal, and juice/coffee.
When you book one night at The Shark Hotel you get to spend two days at the park – the day you arrive and the day you check out. We booked the hotel for a Thursday night, but the rides were closed that day.
Instead of having two days at the park, Thorpe Park gave us all Fast Passes to skip the lines of rides on the Friday that we were there.
We spent most of our time petsitting in England, so it was a nice change to get to visit a hotel.
Is Thorpe Park Good For Kids?
It's great for kids over 48″ but we found that there were not very many rides for kids under that height (like my youngest brother).
For under 48″, there was a 4D Angry Birds experience, a fish roller coaster (called the flying fish) with a few small hills, a river rapids ride, and a couple of smaller fair-like rides in Angrybirds Land.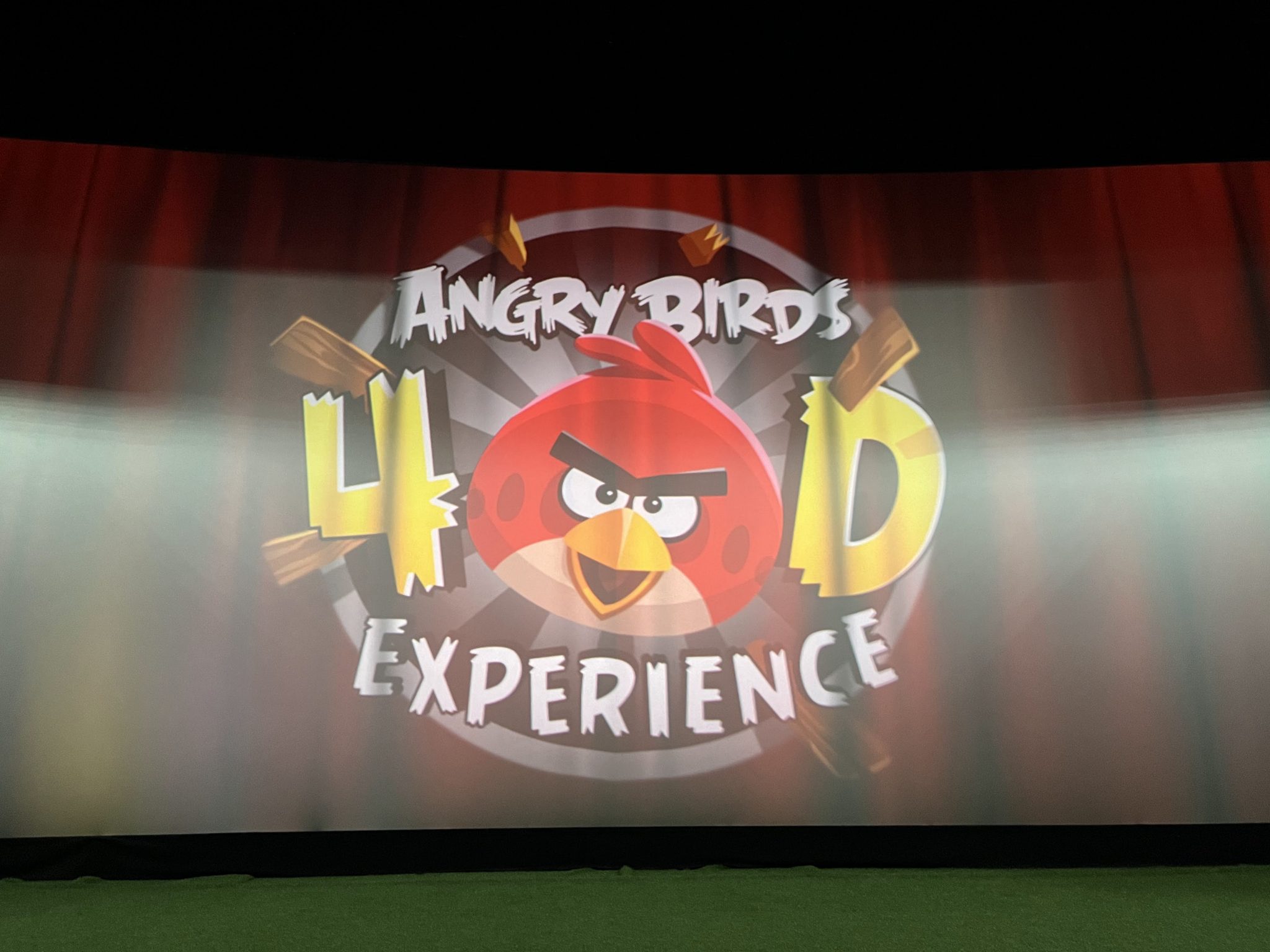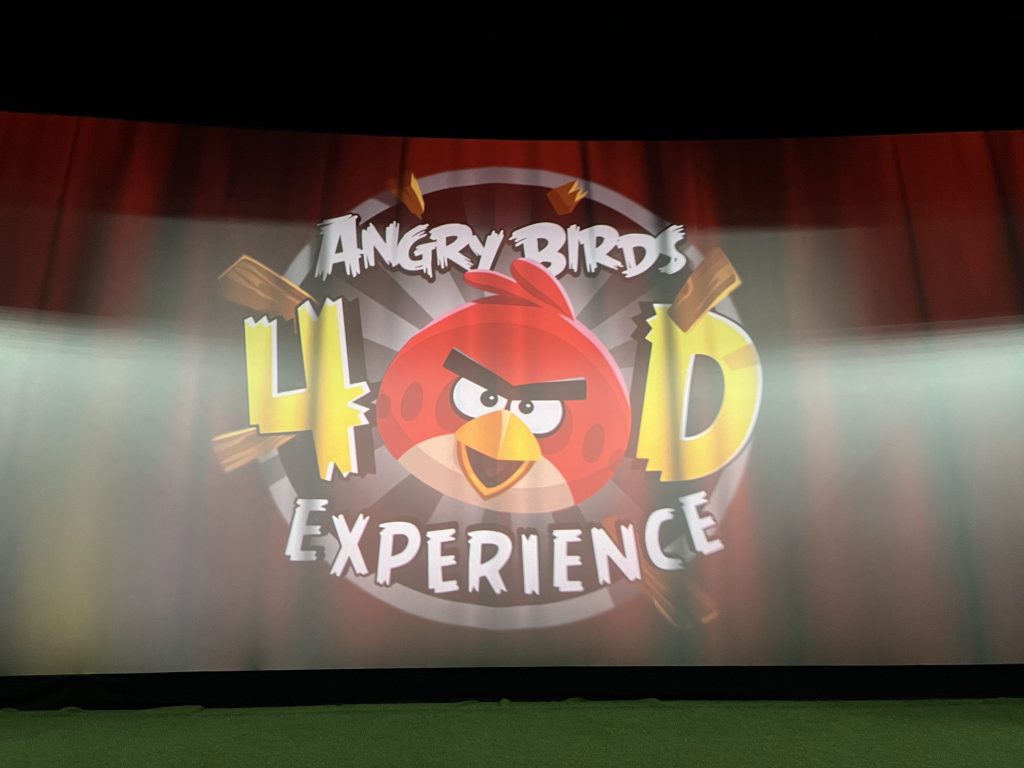 One of the sections of Thorpe Park is Angry Birds land. It is really fun to walk around in because there are big blocks, crates, and other displays from the Angry Birds games. Angry Birds land has two rides, Detonator and King Pig's Wild Dogems.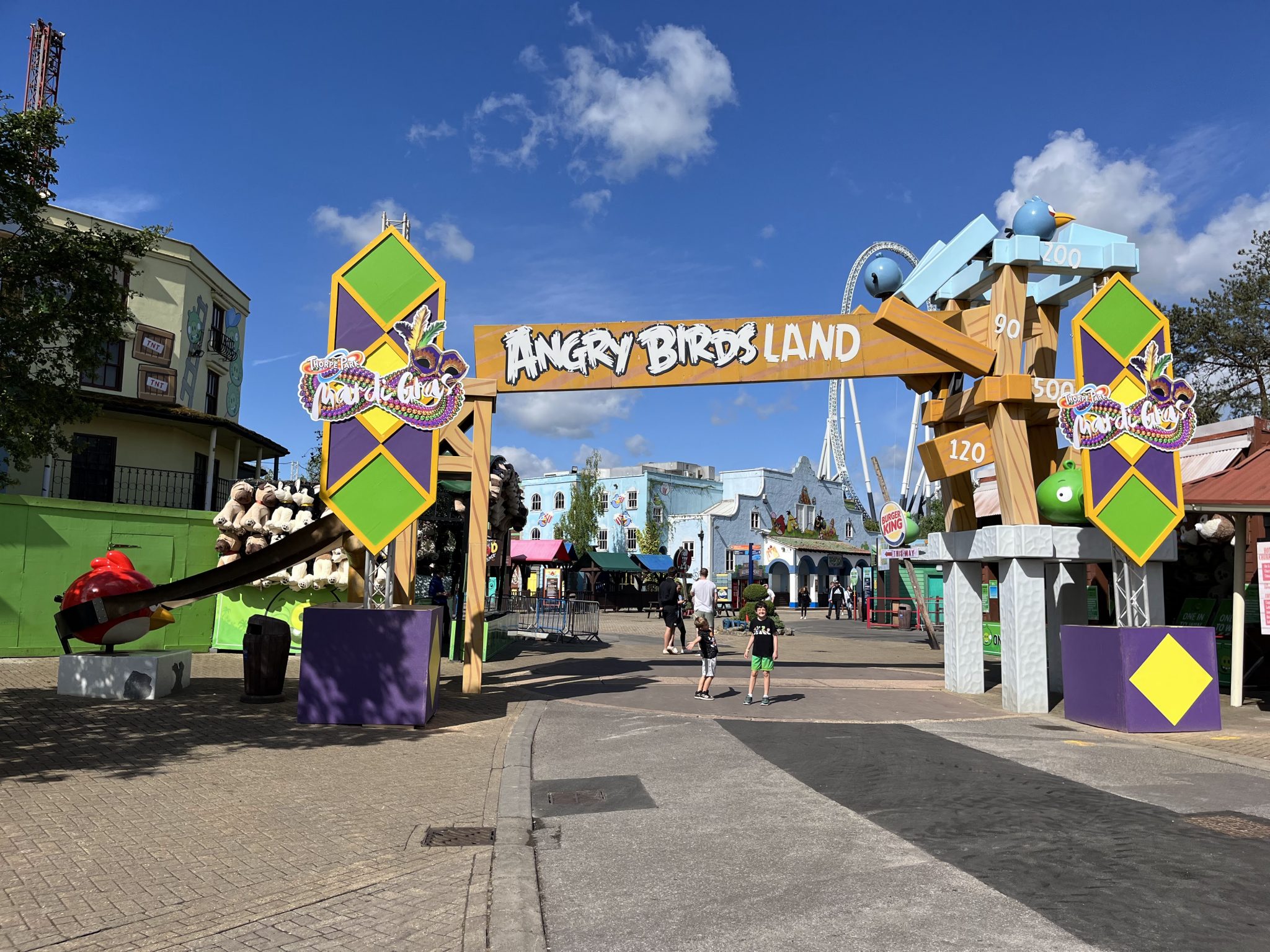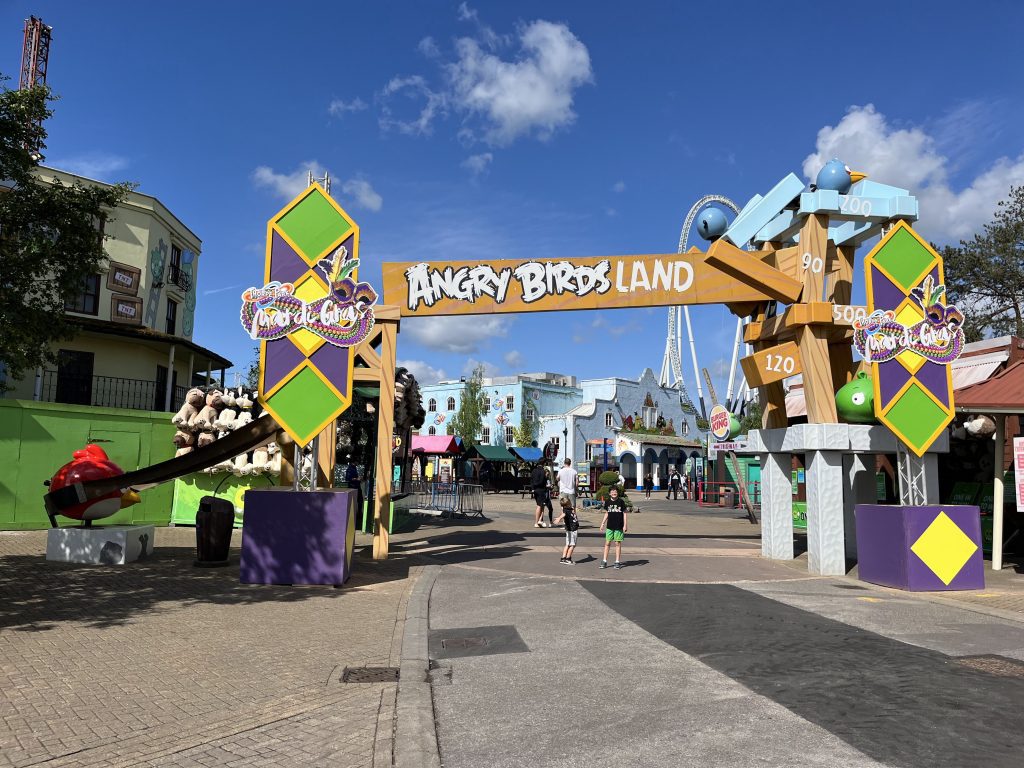 Detonator is a drop tower. It's based on the character Bomb from Angry Birds. You ride up to the top of a one-hundred-foot tall tower, then drop down at fifty miles per hour.
King Pig's Wild Dogems is a bumper car ride. Choose to ride in a character bumper car, either Red the bird or a bad pig, and try not to get hit by one of the other cars.
Angry Birds land also has a show called Angry Birds 4D experience. You get to watch a 3D cartoon episode of Angry Birds while sitting in moving seats. Expect to be sprayed with water, have air blown at you, and experience other fun surprises.
Thorpe Park has five main roller coasters
Saw The Ride, Colossus, Stealth, Nemesis Inferno, and The Swarm.
Saw The Ride is a roller coaster based on the movie series 'Saw'. It was the first roller coaster to be based on a horror movie. The ride starts indoors with decorations that make you feel like you are in a set from the movies and takes you outside during the ride. I'd recommend this ride if you are twelve years or older.
Colossus is a roller coaster with the third most inversions in the world – it has ten inversions! An inversion is when a roller coaster goes upside down. Colossus has a quadruple barrel roll which means it has four inversions in a row.
Stealth is a launch coaster that launches you from zero to eighty miles per hour in less than two seconds! It is the fastest and second tallest roller coaster in the United Kingdom.
Nemesis Inferno is a volcano-themed, inverted coaster. A section of the ride queue is on the side of the volcano. As the ride begins, you zoom through the volcano.
The Swarm was the world's second wing coaster. A wing coaster is a roller coaster where the seats hang off the sides of the track. It has five inversions and is 2,543 feet long! My favourite ride is Swarm because wing coasters make me feel like I'm flying.
I hope you can make a trip to Thorpe Park someday – you will have a really great time! And if you get the chance to visit other theme parks in England, you should visit England's largest theme park, Alton Towers.
It's always good to be prepared for your fun day out at a theme park.  I'd like to help you out by recommending some things to take with you for your trip to Thorpe Park. Click on any of these items to purchase them online:
Click here to buy tickets for Thorpe Park.
If heading west of London and Stonehenge is on your bucket list, here are a few things to do on your day trip to Stonehenge.