It's always been a dream to visit Europe. My dad was a first-generation immigrant from Scotland to Canada, and other than a trip there with my parents when I was 6-months old, I'd never been back. Scotland was only one of many places on our list for Europe.
We were concerned about prices in Europe, from hotels to transportation, groceries, gas (or petrol as they call it in the UK). And add on top of that the fact that we're a family of 5, so we've got more mouths to feed than the average Instagram travel influencer.
In January 2022, on the recommendation of another full-time traveling family, we joined TrustedHousesitters.com – a service for homeowners, who are going away on a trip, to find a reliable person or family to housesit their property and care for their pets.
A few days after signing up for a free trusted housesitters trial account, we successfully booked our first housesit about an hour north of London, England where we decided was a good place to start our 7-month trip to Europe.
(As a side note, housesitting is a great option for a family road trip, a weekend away, or just a change of scenery in your own city not just going to Europe. Here's how you can housesit for your summer vacation!)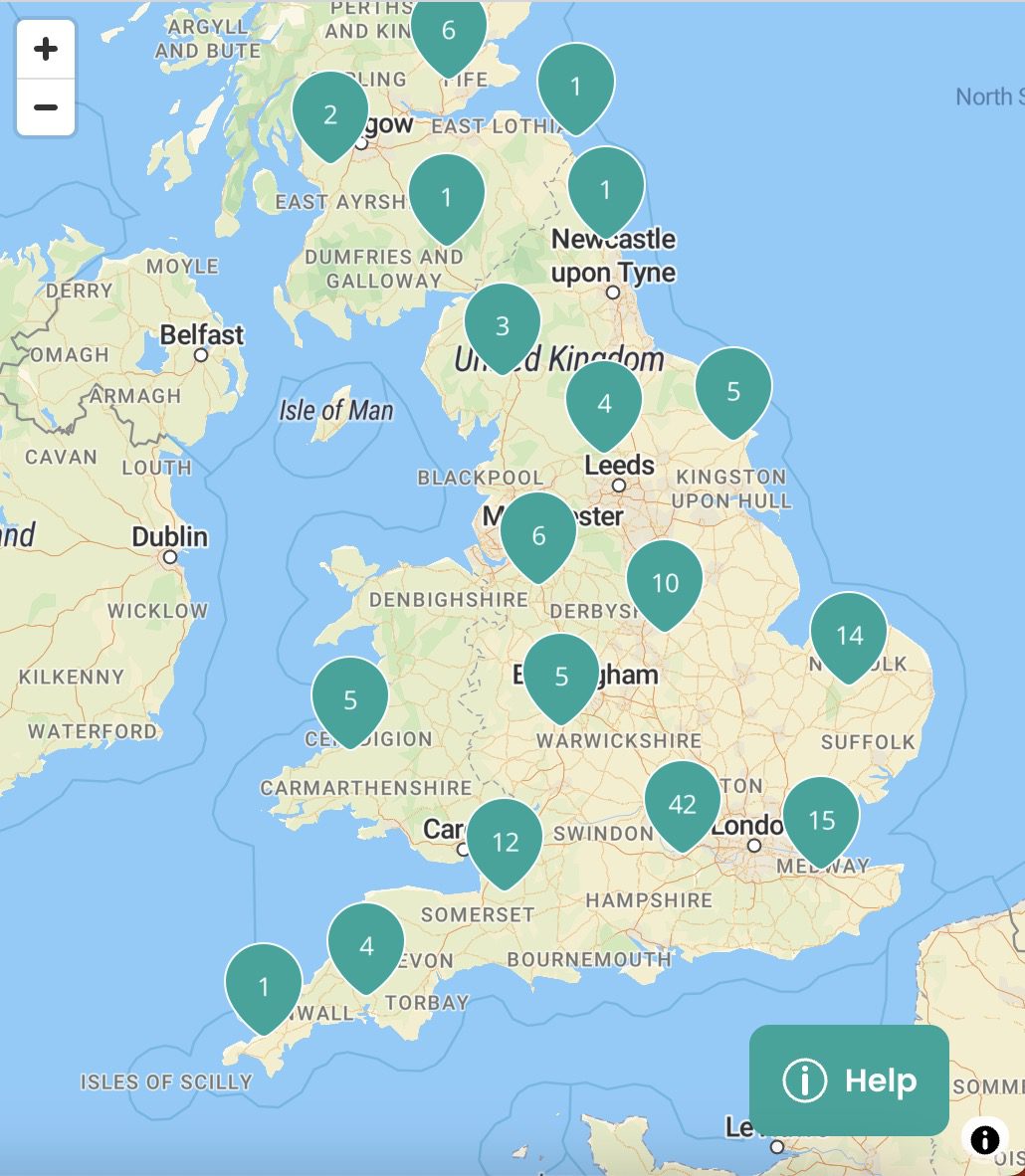 In April of 2022, we hopped on a plane from Boston, Massachusettes overseas to London, England (with a 7-hour layover in Rome), and landed for 2 nights in London so we could get adjusted to the time difference. Then, we took a train an hour north of the city to a little village called 'Sandy' to begin a 10-night housesit with an energetic dog, a fluffy indoor/outdoor cat that we mostly saw for breakfast and evening cuddles, and three chickens in the backyard that our boys couldn't get enough of.
Our first housesit was better than we imagined – the homeowners were very welcoming, made us all feel comfortable in their home, and were so pleased when they returned from their trip to a clean home and happy pets.
After 10 nights in Sandy, we continued on to a 16-night housesitting opportunity in a village near Cambridge (with 2 dogs), then 2 nights near Milton Keyes (with 2 cats), and after that was 4 nights outside of Huntingdon and St. Ives (with a dog, cat, and a few chickens). It was wonderful having all of those housesits scheduled back-to-back.
To finish off our time in England, we stayed one night in a hotel at Thorpe Park on our way to a 10-night house-sit near Stonehenge (with 1 dog), and spent a night in a hotel near the port in Portsmouth before boarding the ferry on our way to a visit family, then stay at a farm in France.
To summarize our first 6 weeks in England, we stayed in hotels for four nights out of fifty thanks to Trusted Housesitters.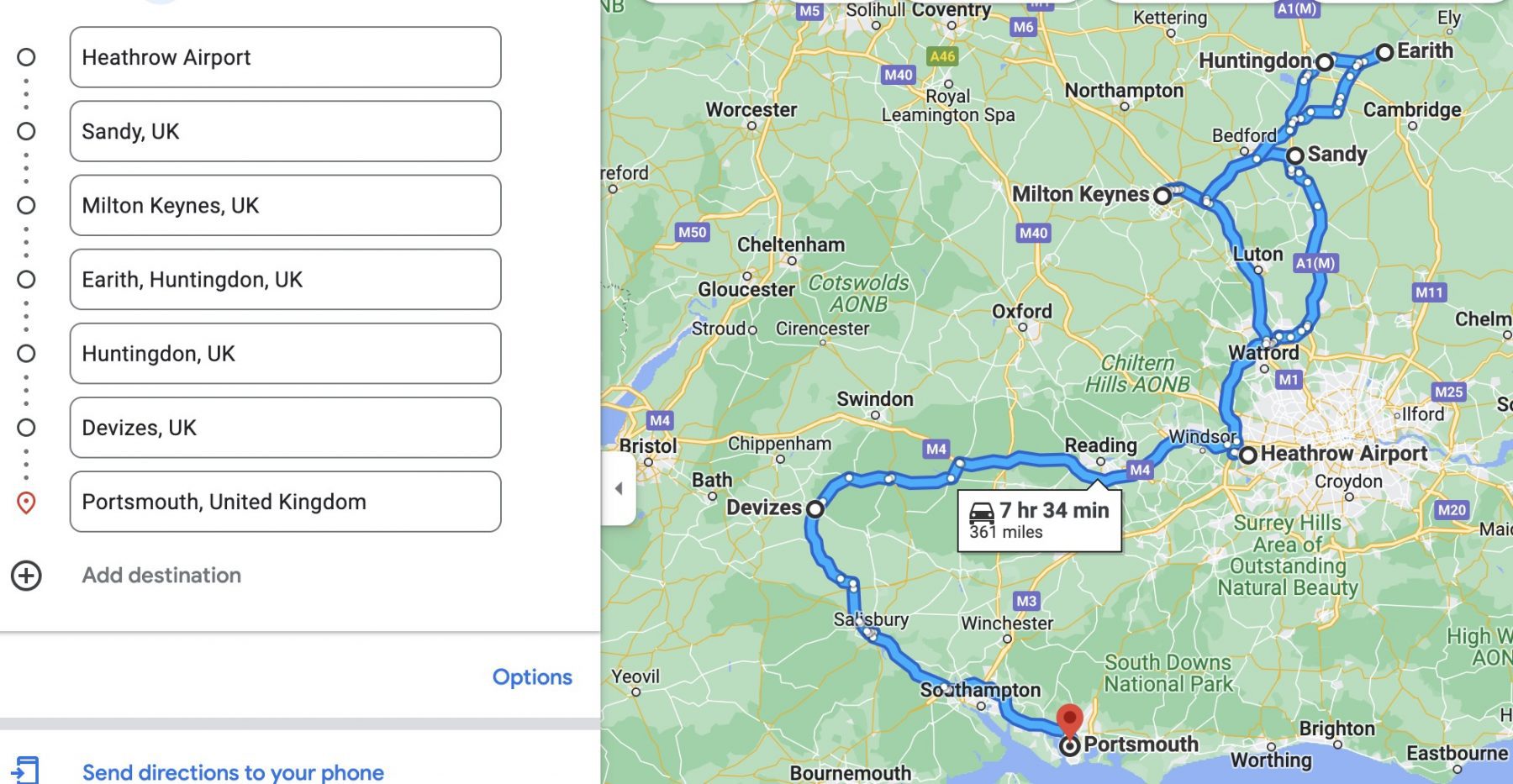 Here are the most common questions we get asked about our experience house-sitting as a family:
Do you pay to stay in people's homes? Do they pay you to watch their pet?
We pay a yearly membership fee to be part of TrustedHousesitters.com, as do the home/pet owners, and no money is exchanged between the house sitter and the homeowner:
We don't pay them to stay in their house.
They don't pay us to watch their property and care for their pets.
They get a reliable person or family to care for their home and pets, and we get a free place to stay and the company of their pets.
Based on our four nights in hotels in England (functional but not fancy hotels), we can confidently say that our trusted house sitters yearly membership was less than the expense of two of the four hotel nights.
What does the process look like to find a house sit?The homeowner lists their information, including the area where they live, the dates of their trip, and the pets you'll be watching.
(Some housesit opportunities are not pet-sits, but the majority that we've seen listed include pet sitting).
Listings also include additional information, like if a car is required (or if they're property is within a reasonable walking distance to amenities, or if public transport is sufficient) and if their listing is family-friendly (whether or not their pets are suitable for children, or the host would rather not have children in their house).
As a housesitter, when we find a listing that suits us, we apply to the house-sit listing right away.
Then, the host has the opportunity to look through all of the applications and decide who to follow up with before making a decision (usually after a video call with us) and confirming the house-sit.
Tips For Applying:
When we had our first house-sit, we knew what location we wanted to stay in and the dates we were available in order to find our next house sit. We wanted to stay fairly close to the same area we were in and, if possible, find our next house-sit without any breaks in between where we would need to pay for a hotel. While we were already in England housesitting, we realized what our specific requirements and criteria were, and kept those in mind as we looked for our next housesit. Here's how we got five housesits (nearly) back-to-back:
Offer to schedule a video call or phone call in the application. We tell the host a bit about us and (to be clear) that we're traveling as a family of five with three boys. We would love to house-sit (pet's name), and we'd be happy to find a time for a video call to meet before making a decision.
A video call allows you to meet the homeowner and get to know them a little bit, and they get to feel more comfortable with you before they make a decision. You'll get a much more accurate first impression by video than by corresponding through the Trusted Housesitters app by text only.
Create a complete profile. Fill out every detail about yourself on the app. Homeowners want to learn as much about you as possible before deciding if they'll leave their house and pet(s) with you while they go away. Filling out as much information as possible means they'll have a complete picture of who you are and what they can expect from choosing you. We've uploaded the maximum number of photos of us traveling as a family and our boys with animals – petting llamas at a farm, riding a horse, and cuddling with a dog – to our profile.
Apply to NEW (recent) listings first. In the app, you'll see some listings marked as 'new'. Start sorting through these and choose some to apply for. Check back often for more new listings. You're more likely to be considered by the homeowner for their house-sit if you're first in line than if you're applicant number 4 or 5. Out of the five housesits that we completed in England, two of them were first-time listers. As first-timers, they didn't know how many applications they might get, so they were eager to accept our application in order to confirm their vacation plans.
It's fine to apply for listings that aren't marked as new or listings that indicate that they have a few applicants already. However, our best (and quickest) success with getting approved has been when we're close to first in line with our application on a recent listing.
Mention your flexibility. Some people would like you to visit their homes and pets before they leave for vacation to show you how to feed the pets or take you for a walk with their dog on their usual route. Sometimes it's as easy as stopping by their house a night before, and many homeowners will offer to let you stay in their home the night before their trip if you're going to be sleeping in their guest room. For our first house sit, we said we'd be flying into London 3 nights before the house-sit was scheduled to begin. We stayed 2 nights in a hotel at the start of our trip. Then we arrived at our first house-sit the night before the homeowner left for their trip, and we stayed the night in their house (while the homeowners stayed at a friend's house for the night). They stopped by to check in on us the next morning before they took the train to the airport. For our next house-sit, we rented a car and stopped by that house a few days early to meet the pets. And then, we arrived at that house to house-sit on the same day the homeowner was leaving for their trip, because we were already comfortable with their pets and home. Mention your flexibility in the application – say, "We'd be happy to come to your house a few days ahead of your trip to meet you and meet your pets," or say, "We're open to coming a day early to learn our way around," which takes some concern off of the homeowner.
DON'T agree to the housesit in the video call. Ask all of your questions and end the video call with, "Let's think about it overnight, and if you think that we will be a good fit for you, let's confirm tomorrow." You're going to be excited with the possibility of the house-sit working out for you, but make sure that you have already taken time to learn about what's in that local area, and consider your mode of transportation while you are there – if you'll need to rent a car (and drive on the LEFT side of the road in the UK), because their location is out of town in the countryside. Or consider if you'll be able to sleep well in a city centre with the house's windows open in July, because there is no air conditioning in their building, while there is lots of nighttime activity in the city.
Ask if their house is smoke-free. We would like to see this added to the listings on TrustedHousesitters.com, but if there's no indication that the house is smoke-free in the description, we always ask. We're sensitive to cigarette smoke, and I would hate to travel any distance with the plan to stay somewhere for a week and arrive to find out at the last moment that we're unable to stay in their house because it's been smoked in, and the homeowner is then stuck without someone to watch their pet. We always say, "We don't smoke, and we're sensitive to that, so we just want to check that your house is smoke-free."
Start with a local stay. Like most other services, you can see reviews from people who have stayed at the house you are considering housesitting at in the past (assuming you're not their first housesitter), and they can see the reviews on your profile that other pet owners have left for you. This can be a bit of a chicken-and-egg to get reviews your first time. If you choose to apply your first house-sit in your local area, you can offer to go visit the home and pet before confirming that you'll do the sit, and many homeowners would love to meet you in person first in order to get a positive review.
Tips For Getting Great Reviews
We didn't have any concerns with booking house-sits without having any reviews. Our first four houses were easily booked before we had completed our first house-sit, but that's not to assume that reviews don't hold any weight.
Here are a few things that we found helped us get great housesitting reviews (5/5 stars on every review so far)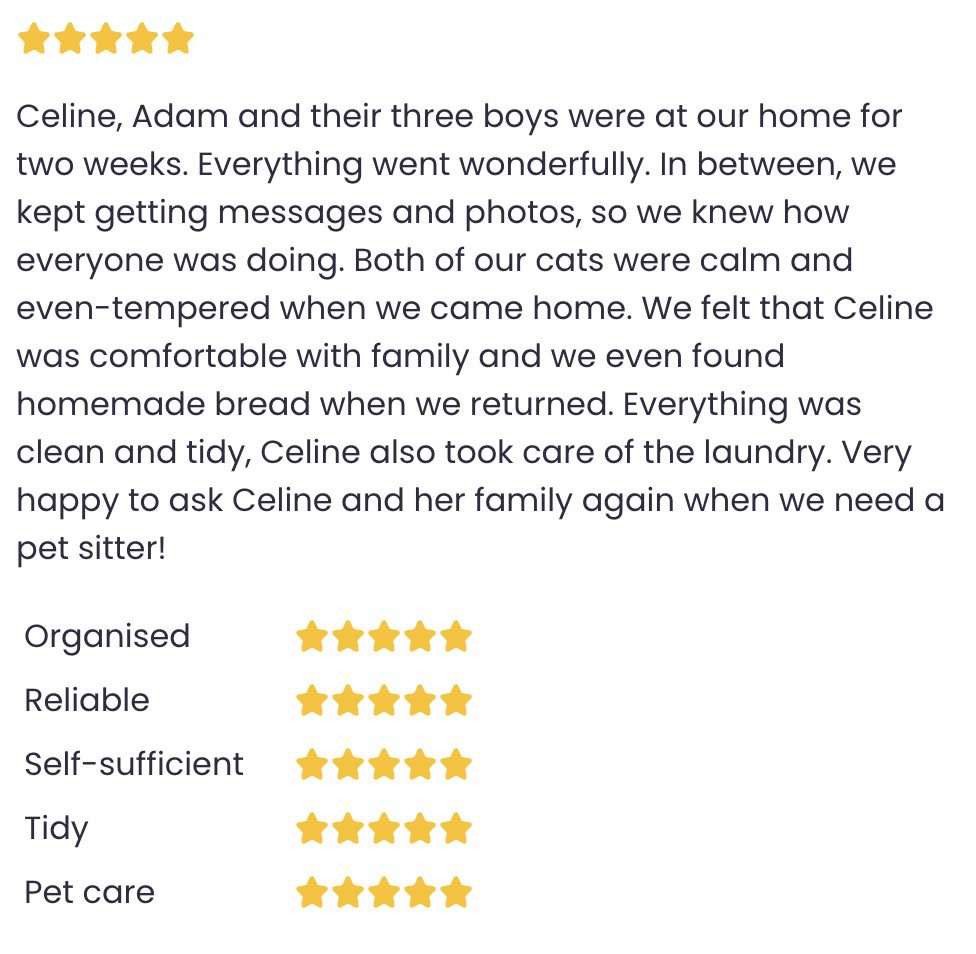 Stay in touch throughout the stay. We ask if someone was going away on a work trip or a vacation. If for vacation, we try not to interrupt, and for a work trip, we would try to send a message to the homeowner in the evenings instead of during the day. But a cute cat picture or a photo of their dog curled up on the couch with one of our boys every few days goes a long way to ease their mind about how their pet is being taken care of.
Communicate on the way to the housesit. Stay in touch through their vacation by sending a few messages, such as, "Our plane just landed, so we will see you in a few days," or "Our boys are looking forward to meeting your pet in a couple of days." This reassures the homeowner – they feel comfortable and know that you're en route, and everything is still on track for the house-sit/pet-sit.
Check-in when the homeowner is on their way home. Check-in to see that flights are running on time and if there's anything the homeowner would like you to pick up at the grocery store before they get home. Do something simple, yet thoughtful, to prepare for the homeowner's return, such as making sure there is fresh bread on the counter for them and milk in the fridge. This could save them a trip to the store when they're already tired from traveling.
Clean up before the homeowner gets back. Don't wait until they arrive to pack your bags, tidy the bathroom, and pull your clothes out of the dryer. The homeowner is returning from being away and will be ready to have their house back, and will not want to wait for you to tidy up. We go the extra mile by putting the used bedding into the washing machine before we leave, so that the homeowner can put it to the dryer when they get home.
Have a light snack ready. Ask the homeowner if you can prepare a snack or a light meal for them in advance, so that it's ready when they arrive back home. After traveling, they may want something to eat when they arrive home, and this is a good opportunity for you to chat with them about how your stay went. You can mention anything that may have come up (like how a window latch broke during our first house sit), and give the homeowners the opportunity to ask if everything went well with the pets.
Be aware that some homeowners may not want to socialize. They just got off a plane, took a train home, or have driven from relatives, and the homeowners are not interested in spending time with you. They're not being rude, but they may simply be exhausted. Don't plan to stay in order to visit for the afternoon together, and be ready to head out as soon as you feel like they're ready to have their space to themselves. You don't want to leave a poor impression, because the homeowner's final step in the process is to leave you a review online.
Add the finishing touches. Find fresh flowers to replace the wilted ones, set out some fresh baking, or a small 'thank you' gift like a bottle of wine or a cheese basket. These are some great ways to leave a lasting impression on the homeowners, especially if you're leaving their house before they're back and your paths won't cross with them again. This happened few times at the end of our house-sits ,when the homeowner got delayed an hour or two, or we were heading out to catch a train an hour before they arrived back.
Our goal was always to make a good, lasting impression, so that the homeowner would say, "We would love to have you guys come back sometime," when they'd return (usually, one bite of Celine's homemade cinnamon buns will do the trick).
In our first 6 months in Europe, we visited 13 countries, completed 11 house-sits, and stayed in hotels 22 nights – the rest of our time there was spent pet sitting. With so many places to go and things to see, this is how we decided where to visit in Europe.
If you're ready to get started with housesitting, here's a referral link to get a discount on your Trusted Housesitters membership – as a bonus, we get an extension to our membership at no cost to you!
There are quite a few housesitting apps out there – most specialize in a specific area – so here's our review of Trusted Housesitters: what we like and what could be improved.