We spent six months house-sitting in Europe in the summer of 2022 with our three boys (8, 10, and 12 at the time).
It was always a bucket-list thing for us to visit Europe but the cost of hotels for that length of time was only reasonable if we stayed far outside of the major cities or got the full-month discount on Airbnb or vrbo (which would limit how often we could travel around.)
Our friends referred us to Trusted house sitters.
(Disclaimer: This blog post includes affiliate links. If you choose to make a purchase based on our recommendation, we may receive a commission at no cost to you. We gotta pay for flights somehow).
One of the nice things is that you can see most listings before you sign up for a free account with Trusted Housesitters. This was the confidence we needed to ensure there were enough pet-sitting opportunities in England that if we signed up, we could find relevant petsits to apply for and start our overseas visit in the UK.
We completed 12 pet sits in 2022:
5 in Southern England (Bedford, Huntingdon, Milton Keynes, Cambridge, and Devizes)
1 at a hobby farm in Bretagne, France
1 in Zurich, Switzerland
2 in Glasgow, Scotland
1 in Edinburgh, Scotland
1 in Stuttgart, Germany
1 in San Jose, California
1 in London, Ontario, Canada
The shortest of our house-sitting stays was two nights, and the longest was two weeks. We prefer housesitting to staying at hotels since there is more room to stretch out and access to a full kitchen.
We can cook meals in our RV kitchen, but there's nothing like having all of the space of a full kitchen.
Our Trusted House Sitters Review: From a family of 5
What we like about Trusted House sitters:
Specifically, we like that there are so many listings (Currently 5316 the day I'm writing this).
While there are pockets of more popular areas (the UK and Australia offer a lot of pet sitting, for instance), we've seen listings for house-sitting opportunities in Vietnam, Canada, Singapore, Kenya, and Czech Republic, Costa Rica, and locations from downtown Manhattan apartments to hobby farms in Spain to beachfront condos in Hawaii.
We like that you can sort listings by newest (we've found the best success by applying for the newest listings and being at the top of the applicant list).
How Does The TrustedHousesitters App (and Website) Work?
On the home page of the app, you can search by "Where would you like to go?" including the option of choosing "Anywhere."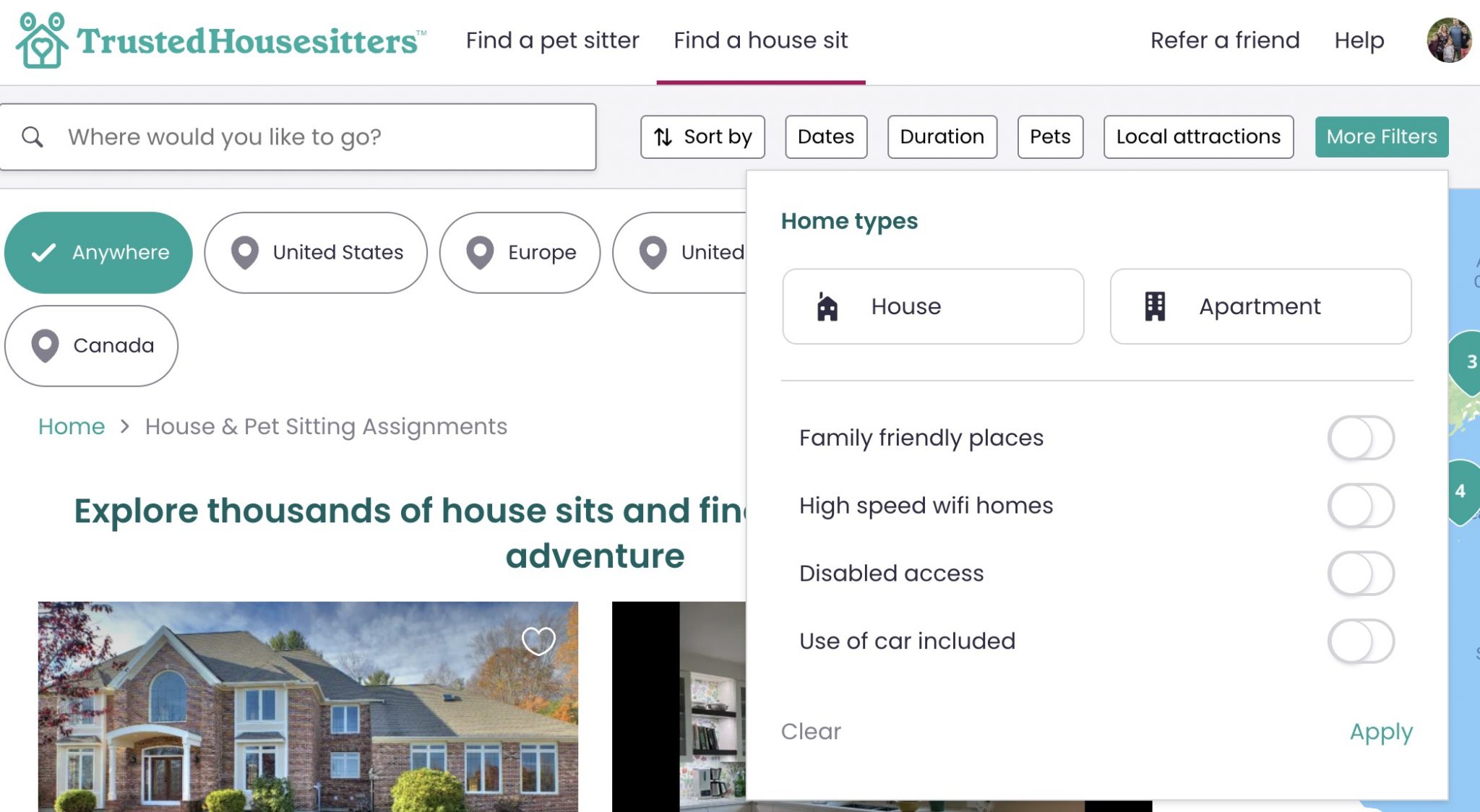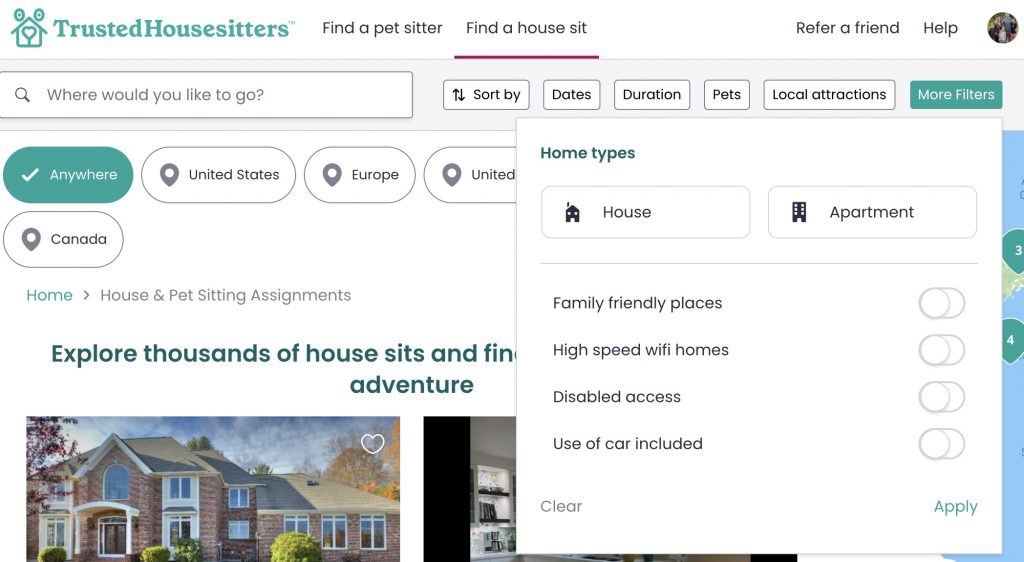 You can filter available housesits:
From and To Dates
Types of pets (All pets, Dogs, cats, reptiles, horses, fish, birds, poultry, livestock, small pets, or no pets)
Sit Duration
Local attractions (whether the listing is in proximity to a beach, in the city, in the country, or in the mountains)
Home type (Either House or Apartment)
Family Friendly listings
High-speed Wi-Fi
Disabled Access
Use of Car Included
When we're looking for a house sit, we'll usually go straight to the filters and turn on "Family Friendly Listings" since we have three boys.
There's no point getting our hopes up on the perfect sitter dates and location to apply and find out the pet doesn't do well with kids or that the homeowners prefer not to have kids in their home.
Once you click on a listing, you'll be able to see photos that the home owners have uploaded of their home and their pets, feedback from previous sitters (like reviews), information about their home and location (like whether the sitter needs to have a car) and a section for responsibilities (how often do the pets get fed, walked, etc).
From there, you can view the dates and apply to sit.
What we don't like about the TrustedHousesitters app:
Missing: 'Sitter Needs A Car' Filter
We were coming from North America to Europe, so we preferred not to have the expense of renting a car.
Since the app already lists in the "Home and Location" section if the sitter needs a car and if the house is "Accessible By Public Transportation" we would like to be able to filter out "House sits that require a car." These are often house sits in rural areas not easily reached by public transport or places where you would need a car to get them to the vet in an emergency with the pet.


You can sometimes get around this by sorting in local attractions to include "city," but sometimes the homeowner will consider their little village without a grocery store to be in the city (rather than in the country on a rural farm).
You can also sort by House Type for "Apartments" only so you'll know you'll be in the city, but that rules out listings of full houses that could be just as accessible to public transport.
Since it's already included in the "home and location" section, it seems like it could be filtered for.
Missing: "Smoking or Non-Smoking" Filter
We would like to see only listings for non-smoking homes. We are sensitive to smoke, so if we arrived at a house that smelled like smoke, we wouldn't be able to stay, which would put both us and the homeowner (about to leave on vacation) in a difficult situation.
We ask during the introductory Zoom call before we accept any house sit – we say, "We don't smoke, and we're sensitive to smoke, so we just want to check that that home is a smoke-free home."
Sum it up: Our Trusted House Sitters Review
We completed 11 house sits in 6 months in Europe. We had no problem with the app during that time.
All of our housesits were accurate to their listing
We would do it again with Trusted House Sitters (no brainer)
We would like to see additional filtering options to find the listings that would be helpful for us.
Click here to save 25% on you Trusted House Sitters Annual Membership
Here are some of the most common questions we get about House Sits
Do you pay TrustedHousesitters?
Yes, you pay an annual membership fee to apply to listings, and homeowners pay the house sitting site a fee to list their location and dates, but no money changes hands between the house sitters and the homeowners.
Homeowners are not paying us to pet sit and watch their house and take care of their pet; we're not paying them to stay on their property – it's a mutual exchange.
Is TrustedHousesitters legit?
Yep. We traveled across the Atlantic from the US to England in June 2022 to complete our first house sit. Thankfully it's legit, or we would have been scrambling in London for a hotel.
We recommend anyone considering using Trusted House sitters to book a zoom call with the homeowner before agreeing to any housesit since there's a fair amount of trust for both the house and pet sitter and the home and pet owners.
In our first six weeks in England, we completed 5 housesits and only stayed in hotels for four nights. Two nights when we arrived to adjust to the time change, one in between a housesit and one night before we took the ferry (Where Adam almost killed a goat while petsitting in France).
How does trusted house sitters work?
The homeowners create a listing with photos, location, and dates.
We browse listings, apply for a house sit that we would like to complete, and offer to meet by video call.
The homeowners choose an applicant (based on a zoom call, sitter verifications, and good reviews).
The homeowners 'offer' you the pet sit officially on the website, and you click to confirm that you've decided to accept their offer to take care of their house and pet.
We like to show up before the homeowner leaves to meet the pets, learn about their routine, and get any specifics about the property – sometimes the day before and sometimes the day they leave.
After we complete the pet sit, we leave a review for the home owner, and they leave a review for us on trustedhousesitters.com.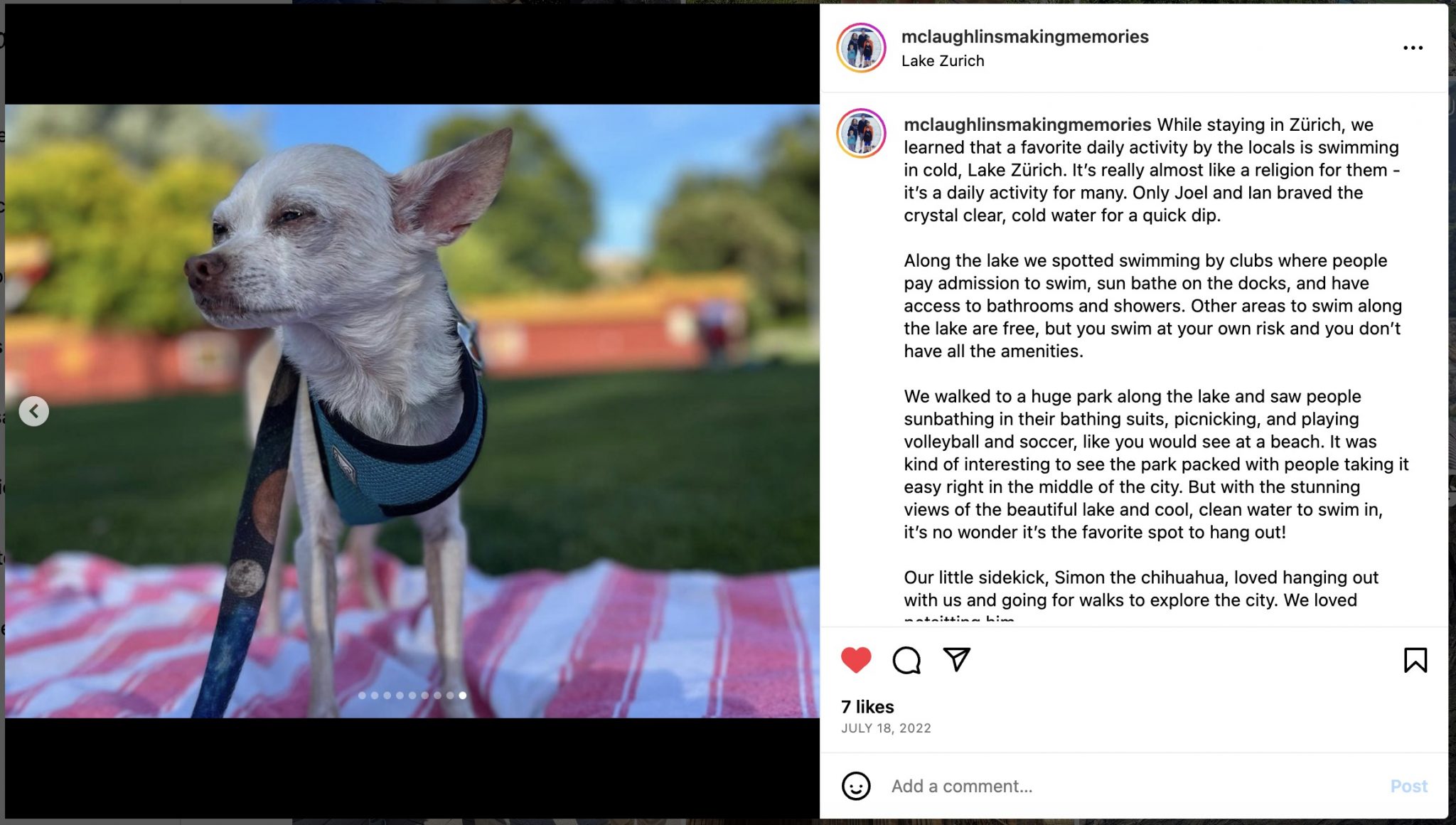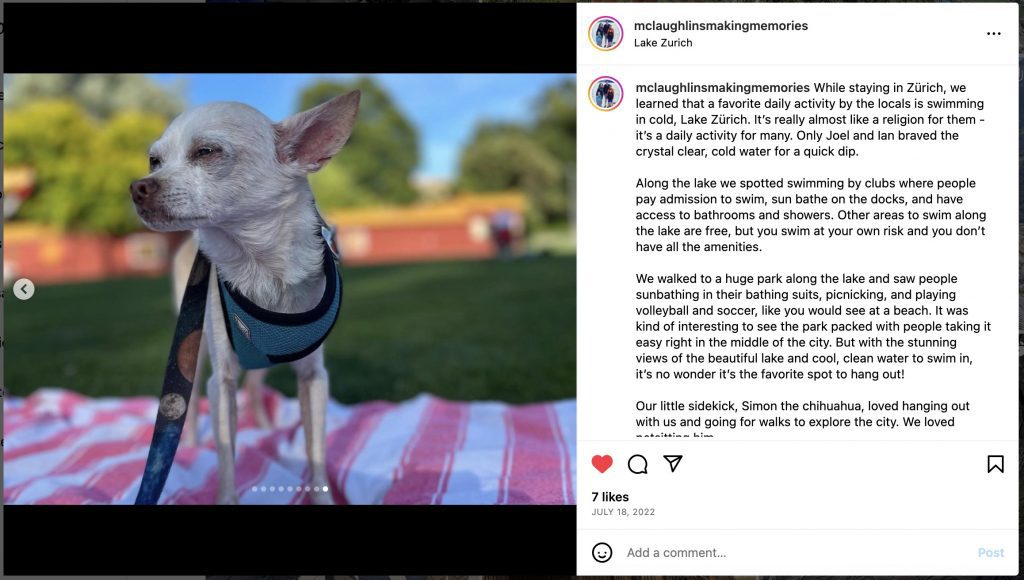 What is similar to trusted house sitters?
There are other house-sitting websites similar to Trusted Housesitters. Many house sitting sites are specifically regional – specific to the United States or the UK, and some will even offer you payment to care for their pet (which is less expensive than paying for a kennel or alternative pet care for pet owners).
We've found as housesitters that trusted house sitters is the broadest-used, meaning there are the most listings for someone who is not set on a specific location but is open to traveling wherever the opportunities are.
Here's a great list of alternative housesitting sites from HousesittingMagazine.com
How much is the annual fee for TrustedHousesitters?
There are tiered membership options for house sitters: Basic, Standard, and Premium membership.
The annual fee for Trusted Housesitters starts at $129/year (USD) for the most basic membership fee. (Allows you to see listings and apply).
The Standard membership fee is $169/year (USD) and includes some accident and liability insurance if the pet you're caring for caused harm or damage (like bit a neighbor on a walk).
The standard membership also allows you to have 'saved search' – for instance, if you'd like to visit Spain during April and are looking for housesits that are family-friendly in a city, then you can create that search and save all of those parameters for next time you visit the site.
We chose the basic membership when we started with the site to explore options and apply for some housesits. Once we secured a housesit, we decided that we would like the additional liability insurance (covering property damage and public liability), so we upgraded to the standard membership.
In hindsight, the extra peace of mind of the premium membership's sit cancellation insurance would have been worth the additional cost for a family crossing the Atlantic – the premium membership would have been much less costly than finding alternative accommodation if one of our eleven house sitting arrangements hadn't panned out.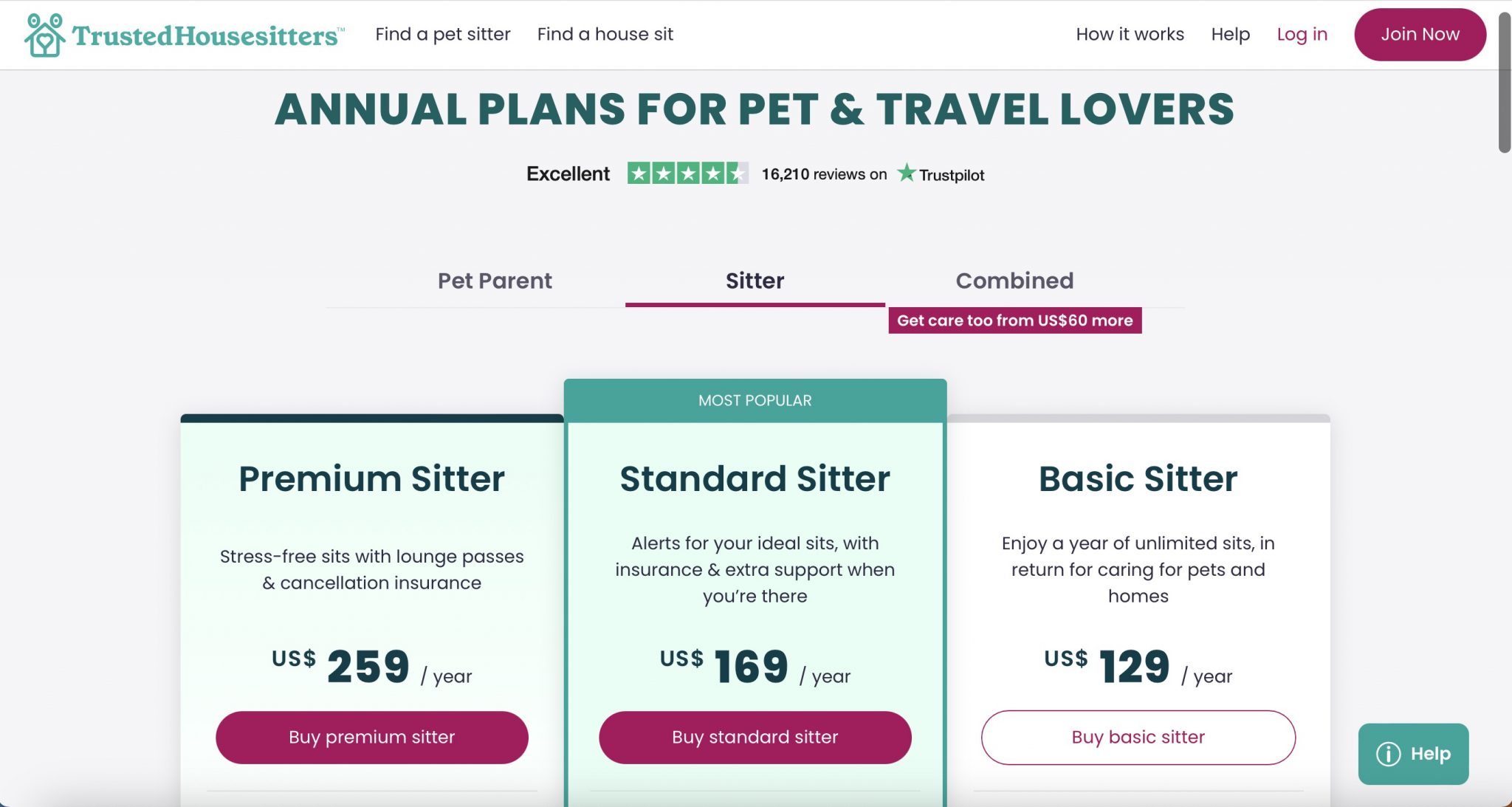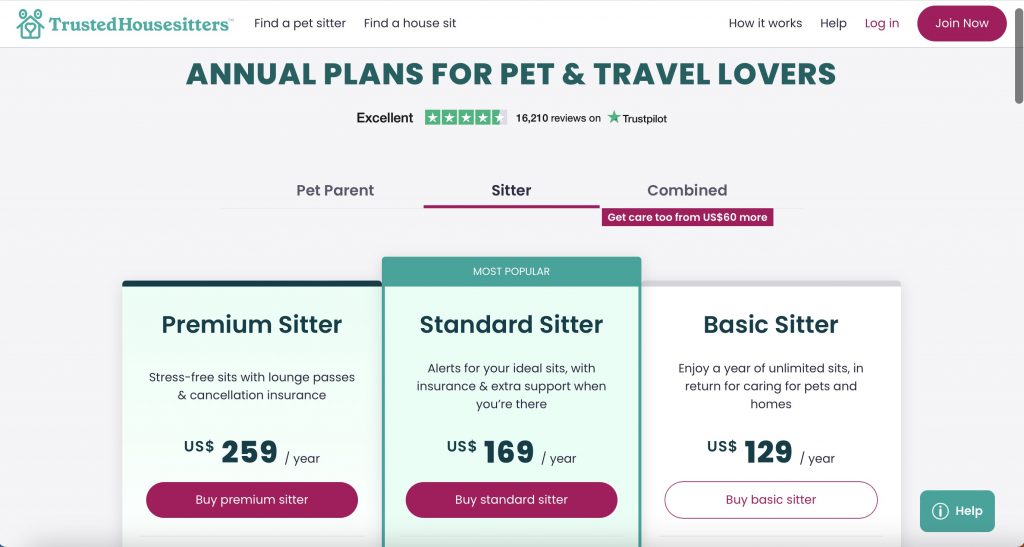 What is premium membership on TrustedHousesitters?
Premium membership is $259/year (USD) and the biggest feature is sitting cancellation insurance ($150/night compensation up to $1500 if your host – pet parent – cancels the sit and you need to find alternative accommodations.)
Additionally, you'll get two global airport lounge passes (one-time use) which weren't as much of a benefit for us as a family of 5. The extra cost of three more global airport lounge passes wouldn't have been valuable for us.
You'll also get a "premium badge" on your membership which may encourage home owners to choose you over someone with a basic membership without liability insurance for instance.
Is trusted sitters annual membership worth it?
We pet sitted in England for six weeks and only spent four nights in hotels. Each night in a hotel cost us about $200 USD, so our yearly TrustedHousesitters membership cost us less than one night in a hotel helping us save money while visiting Europe compared to hotels or airbnbs.
Over our six months completing eleven housesits in Europe, we spent 33 nights in hotels, 28 days staying with family and friends, and 152 nights house-sitting.
(We spent our 7th month at an Airbnb in Croatia to finish up our trip to Europe.)
Add in the option for global airport lounge passes with the premium membership and dedicated member support, and Trusted house sitters is definitely worth it for pet lovers and travel lovers alike.
If you're both a pet owner and a house sitter, there is a combined membership where you can travel to provide pet care while someone is caring for your house and pet back home.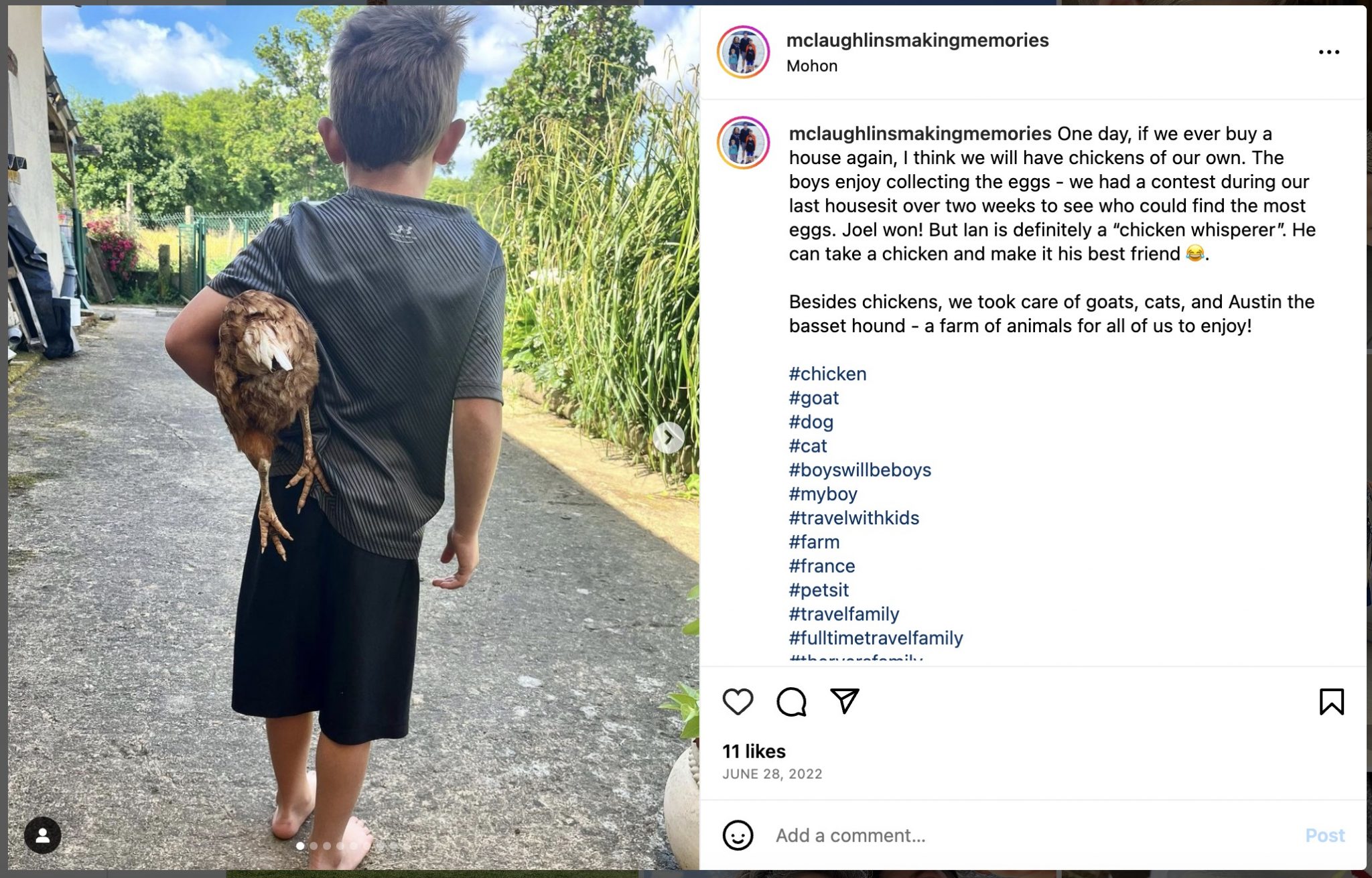 Do you make money on TrustedHousesitters?
No money changes hands between the homeowner and the reliable house sitter. The only costs are to the membership to Trustedhousesitters.com
Can I trust TrustedHousesitters?
We haven't had any interaction with Trusted House sitters themselves, only with homeowners. We have no idea what their timeline is to pay out a verified sitters cancellation insurance if you have the premium membership or what it's like to deal with their liability insurance if you have the standard or premium membership option.
If you have concerns about trusting a homeowner you're going to petsit for, you may want to choose the premium membership, so you have the cancellation insurance. Alternatively, decline to stay at someone's house if you're not confident in how they're representing themselves.
As of today, there are 5316 pet sits worldwide on TrustedHousesitters.com, so there's no shortage. Find a home owner that makes you feel comfortable with your decision.
How do I verify pet sitters on trusted house sitters?
Trustedhousesitters.com verifies users with a background check, and on completing a housesit, each sitter receives a review from the homeowner. If you're unsure about a sitter, then choose another applicant who has reviews that meet you confidence level.
Can I get my money back TrustedHousesitters?
Refund options exist if you've applied and not found a pet sitter or house sitting opportunity or if you're a home owner who hasn't received any applications on your first listing. (Dig into the details yourself before making a decision).
What do house sitters expect from home owners?
This is a good question from potential pet owners (or pet parents as they're called).
As pet sitters, we want your listing to be as accurate as possible
Don't try to oversell your listing by saying "Easy access to rail lines" (if you're willing to walk 40 minutes) and "Nearby grocery store just 7 minutes walk away" if that "grocery store" is just a fruit stand only open on weekends.
You might think that making your house sound remote will deter applicants from applying, but WORSE than that is a poor review from an applicant saying that your listing wasn't represented well at all.
15-20 photos of your property and pet
Five photos of your pet sitting on the couch poorly represents where we're committing to stay for a week or a month.
Is there room for all of us?
Is the kitchen equipped for us to make meals for our whole visit?
Is there indoor and outdoor space?
Will I have room to work while my "co-workers" have their own space to talk about Pokemon and play Minecraft?
We also don't need ten photos of nearby attractions.
It's pretty clear that the historic statue is not your front yard, and the waterfall isn't on the back corner of your property – especially if the pictures of local attractions end up taking the place of actual photos of your home where we'll be staying and the lovely pets we'll be staying with.
Please, No Roommates while we're housesitting
Maybe this is unique to us since we're a family bringing kids with us, but we've gotten into conversations with two listings where they told us that a brother would be staying in the spare room while we were there or a friend (who doesn't speak English) lives in the apartment upstairs and will be using the kitchen in the evenings.
If you have a roommate, maybe they can look after your cat while you're away.
As a family, I won't bring my kids to share a space with someone we've never met. I also wouldn't choose that for myself if we weren't traveling with kids. Again, maybe this is unique to us, but it was the end of the conversation in both cases.
Are there any Trusted Housesitters Listings without pets?
Most listings include pet care. Most homeowners don't need a house sitter if they don't have a pet to care for while away.
You can filter trusted house sitters listings with 'no pets,' but those listings are rare. Today for example, there are 5316 pet-sitting listings on Trustedhousesitters.com worldwide, and only three listings have no pets.
Tips for securing your first Trusted Hosue Sitters house sit
We dig in deeper in this post about Tips for using Trusted House Sitters, but as a general overview:
Apply for new listings – you're more likely to be considered if you're the first applicant than if you're at the bottom of the applicant list.
Complete your profile – all of the description fields and photos help a potential homeowner get to know you.
Request a zoom call – get to know the homeowners by video
Keep in mind that the impression the homeowner gets when arriving back home will be how they leave a review for you.
Try securing a local house sit first where you can go and visit the home owner before the house sit. This will give them confidence by meeting you, and you'll have a positive review for your account for applying for more remote sits.
Is Trusted house sitters good for a family?
Yes! Our three boys are pet lovers and can't get enough of meeting new pets, snuggling with cats, playing with hamsters, holding a tortoise for the first time, or running through the park with a big floppy dog.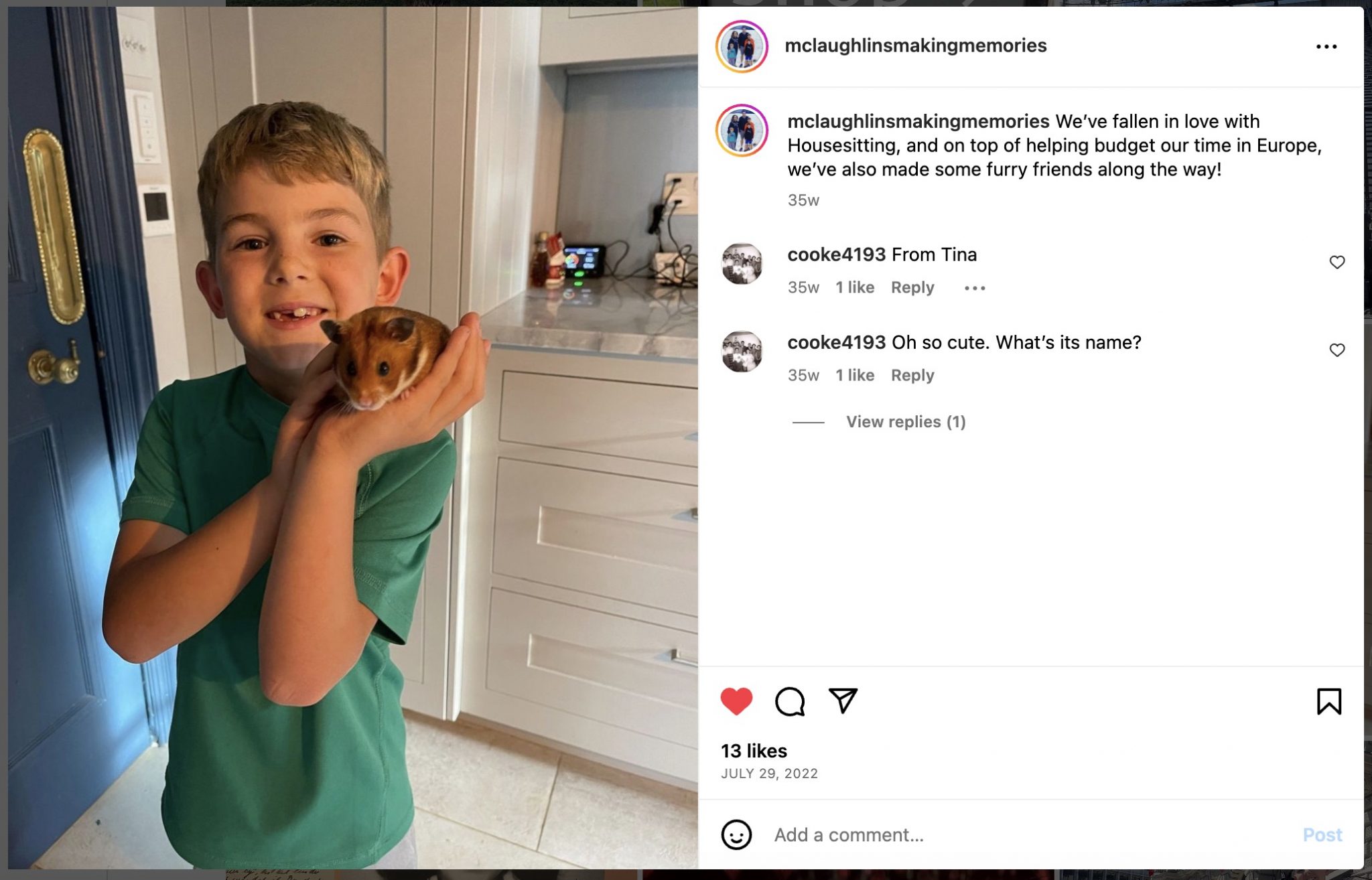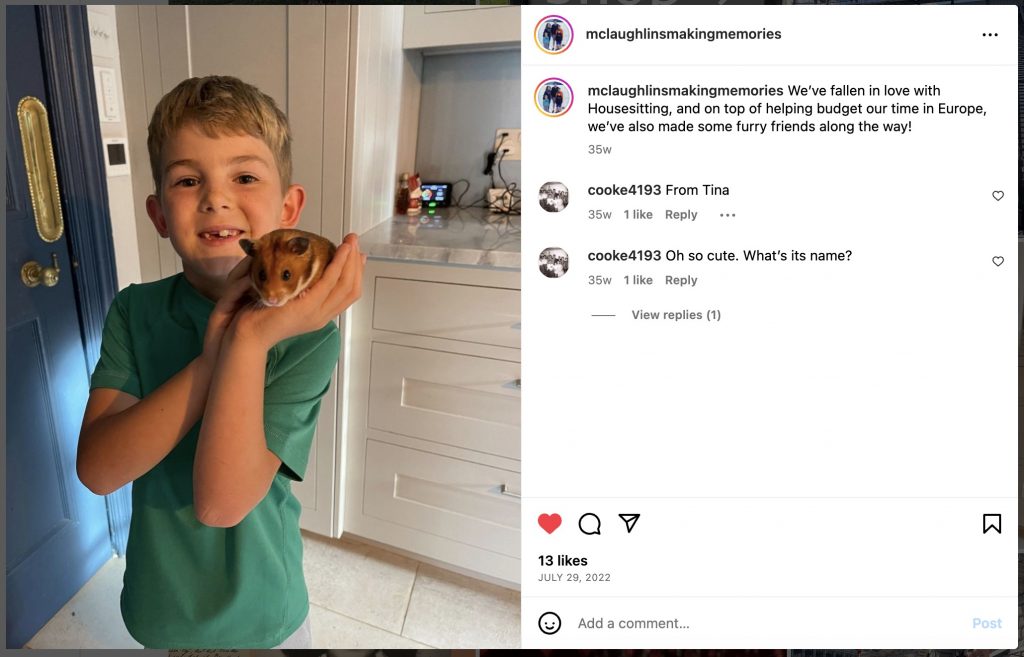 As house sitters, we can search house sitting listings by only ones that are "family friendly" which allows us to find listings where the home owners are already open to having kids staying at their house and involved in pet care.
Why do homeowners choose Trusted Housesitters instead of a professional pet sitting business?
A standard house sitting rate UK can be £50 (About $65) per day and professional dog walking businesses are more reasonable, but it means that a pet will only be getting attention a few hours per day on a walk, not someone staying with them to let them out in the evening or feed them first thing in the morning.
Aside from walking the dog and saving money with a TrustedHousesitters.com Membership compared to a kennel or professional dog walking business, the homeowner can expect their petsitter to water the plants as instructed, watch the house if something were to go wrong (like a water leak) and do things outside of typical drop in services (like feeding the tortoise some lettuce, or cleaning the chicken coop).
Looking for a discount or a Trusted Housesitters coupons?
Save 25% on your Trusted Housesitters Annual membership here!
Since we've returned back to North America, we've been using pet sitting as an opportunity to take a break from our RV and parking in driveways when RV parks in the city were outside our budget.
Here's how we've made petsitting part of our RV Travels.