Before we bought our first RV, we wondered what cooking was going to be like:
Would we have to blow our budget eating out because the RV Kitchen was so small, and there's limited counter space?
Would we be making a diet out of hot dogs and marshmallows?
Would we even get to experience a real meal together in our RV?
How could we save money on campgrounds to afford to eat out all the time?
While it's true that without exception, in an RV you'll have a small kitchen, it's also true that, with a few easy modifications, you can make almost any recipes in your camper kitchen that you can cook in a home kitchen.
We save a lot of money by continuing to prepare meals in our RV kitchen.
Here's proof that Celine's homemade cookies still turn out perfectly in an RV oven:
Many people think that living in an RV full-time is just like camping, except you don't come home after the weekend.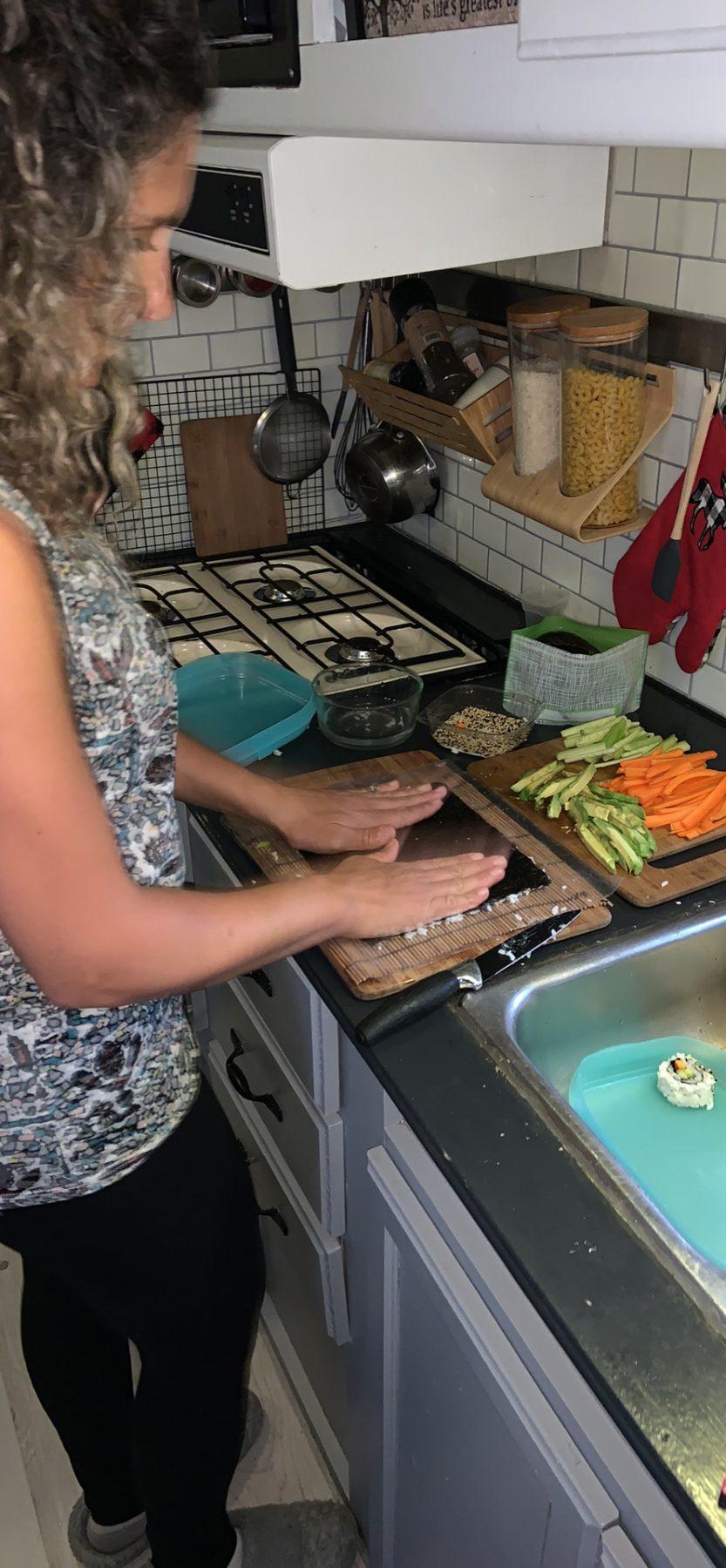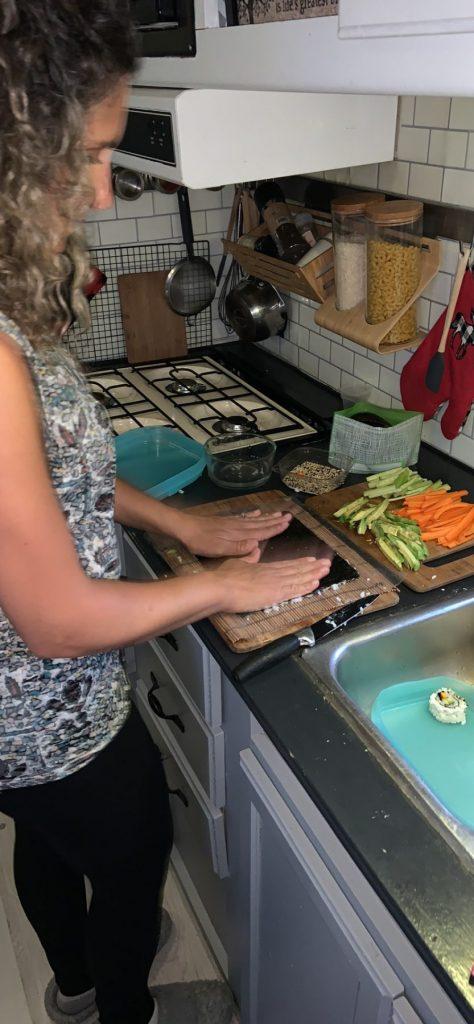 That's not really true when it comes to cooking. More than once we've heard people say "Oh, you RV full-time? You must be sick of hotdogs and s'mores!"
For most people, camping for a weekend is having everything you need in your home kitchen, and packing up what you need for a weekend.
Since we live full-time in our RV, we need everything on board, not just what we'll need for a weekend or a couple of weeks at a time. Sometimes we're out camping on BLM land away from everything and we don't want to have to drive 40 minutes to pick up one spice.
You know those spices you only use every few months? We have to find storage for those too!
Often, a friend's 'weekend camping' means a menu of hotdogs, a big fried breakfast, a couple of bags of chips for snacks, and some late-night ice cream.
While we would love to eat that as our regular menu (at least for a little while), RVing is not weekending for us, but this is our full-time home, so we need to figure out ways to make meals beyond, "What can we fit in the RV cupboards for this weekend's meal recipes?"
Storage is something that we've constantly adjusted since starting RVing in 2018, and a big one of our 21 RV Life Hacks every RVer should know.
One of the biggest adjustments with RV cooking is in space, which may seem obvious, but we've found that there's one cooking adjustment that even more important than space: Smells!
The number one adjustment for cooking in an RV Kitchen: Smells!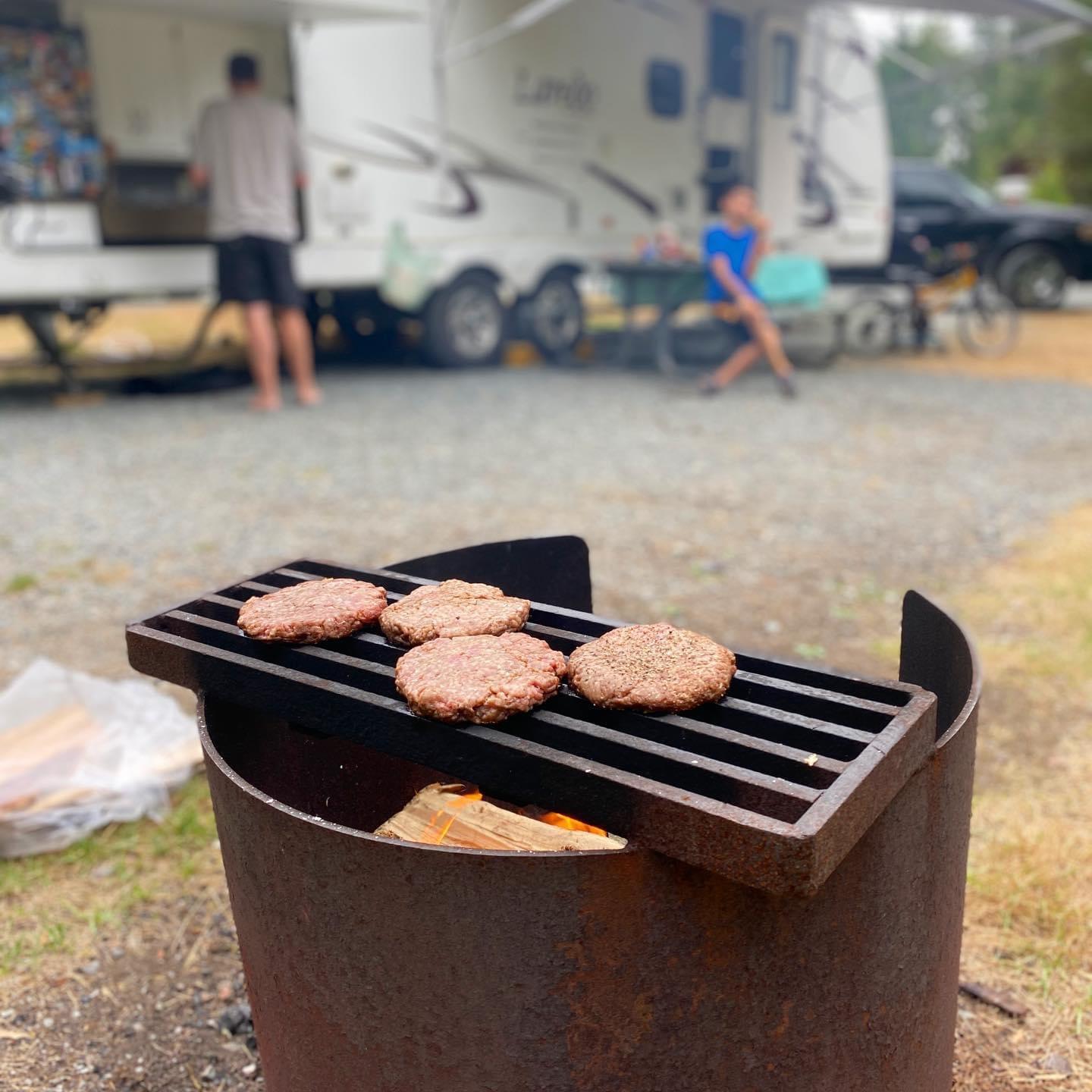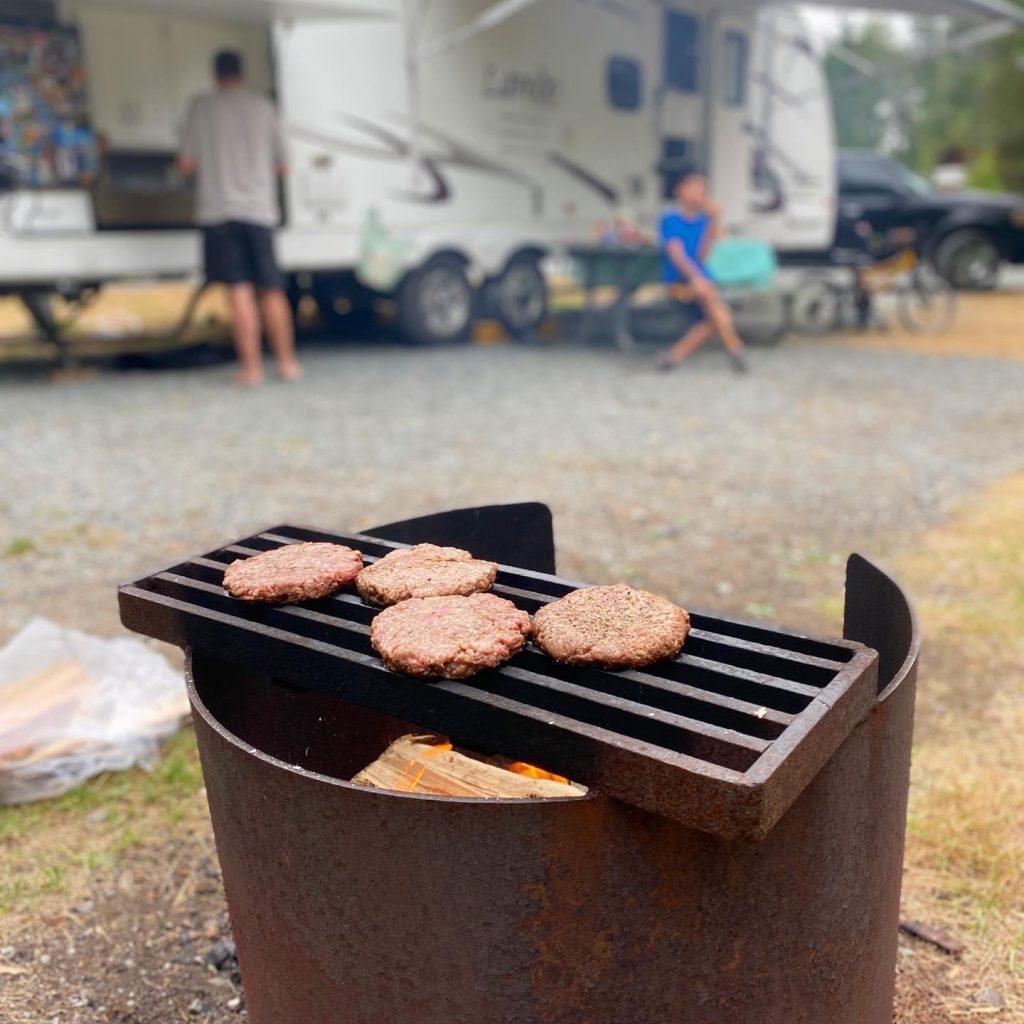 It's amazing at the moment to walk through the door and smell garlic, onions, and mushrooms sauteeing in a cast iron pan. One of the greatest gifts Celine can give me is waking up to the smell of bacon and coffee.
While those smells are amazing, some of them are not so amazing the next day when you put on a clean shirt from the closet that smells like yesterday's curry chicken, or you come back to the trailer and open the door to the smell of fried onions from last weekend.
Because your space is small, and all of your belongings are not that far away from the kitchen, you'll want to have a way to cook certain foods outside.
We're now living in our 2nd trailer, which has an outdoor kitchen – a flap on the outside of the trailer with a propane grill, cooktop, a sink, bar fridge, and some cupboard space.
We specifically use our RV outdoor kitchen for frying bacon, making onions, boiling water which may create a lot of moisture in the trailer, and of course, grilling on the BBQ.
The outdoor kitchen is also a great way to keep your RV cool in the summer.
In our first trailer, we didn't have an outdoor kitchen, so we were equipped with some things that gave us a way to make many delicious (and easy-to-make) meals outside, including on the campfire. These are a few of our favorite things:
The best accessories for cooking RV meals outside:
Honorable mention goes to our friend's table-top propane pizza oven we tried out last week. Maybe not an RV cooking necessity, but once you try it, you might think differently.
You may want to add one of these practical gifts to your gift list, so your family doesn't feel the need to give your kids stuffed animals and inflatable toys. Here's a way to gently tell them about helpful gift ideas for traveling and RVing families.
Bonus Tips: Heating up your RV Oven (or not)
In some seasons (or chilly evenings) you may want to retain as much extra heat in your RV as possible. That's the perfect night to turn on the propane RV oven to make baked potatoes, your favorite baked lasagna, or warm-up a delicious apple pie.
In the dead heat of summer, you may not want to be generating extra heat inside. Using the options above will allow you to make meals outside that are going to cause condensation (like boiling pasta or rice) or unwanted heat in hot seasons.
Here are 17 tips to keep your RV cool in the summer.
Space: The Final Frontier (in an RV Kitchen)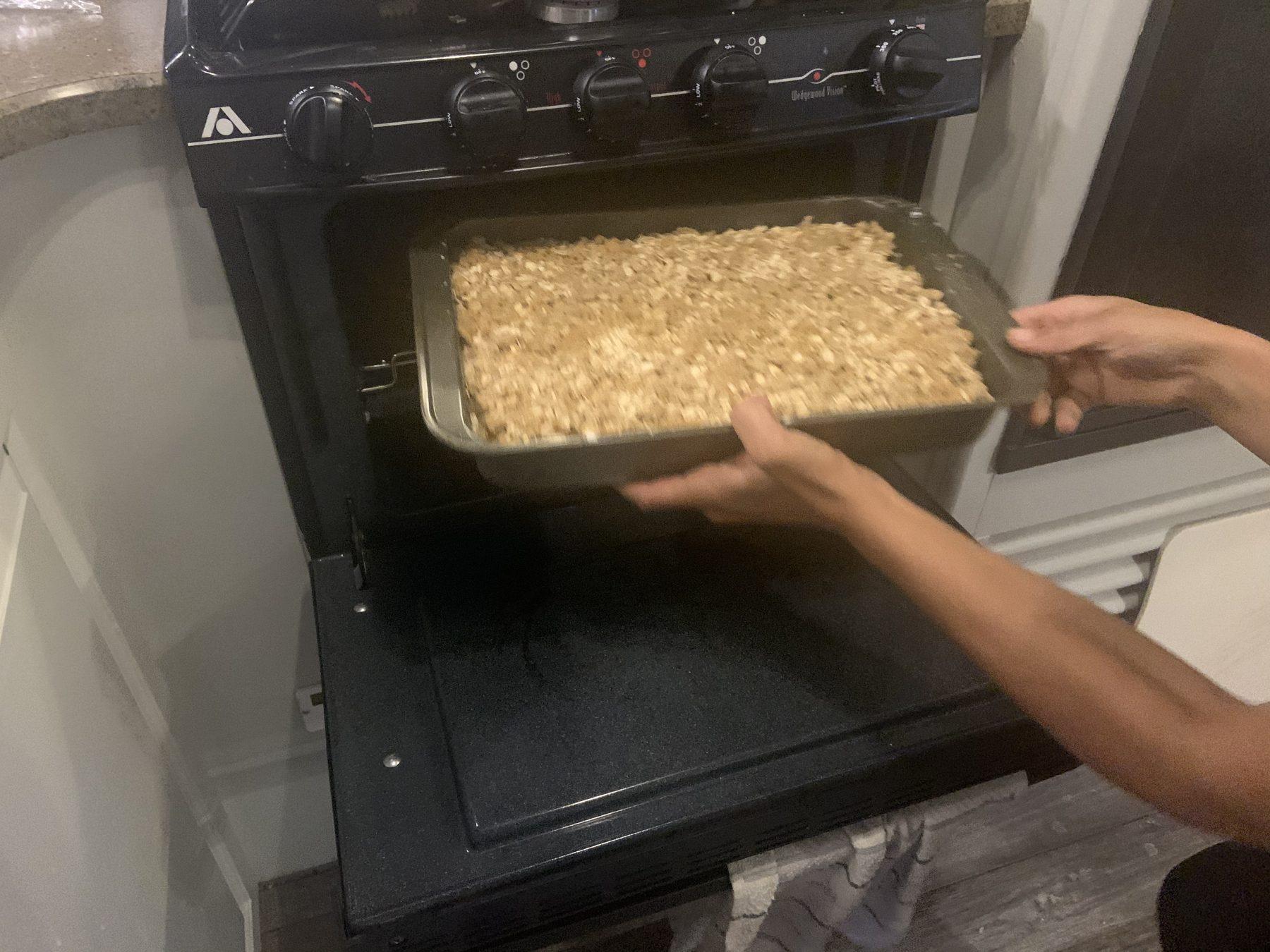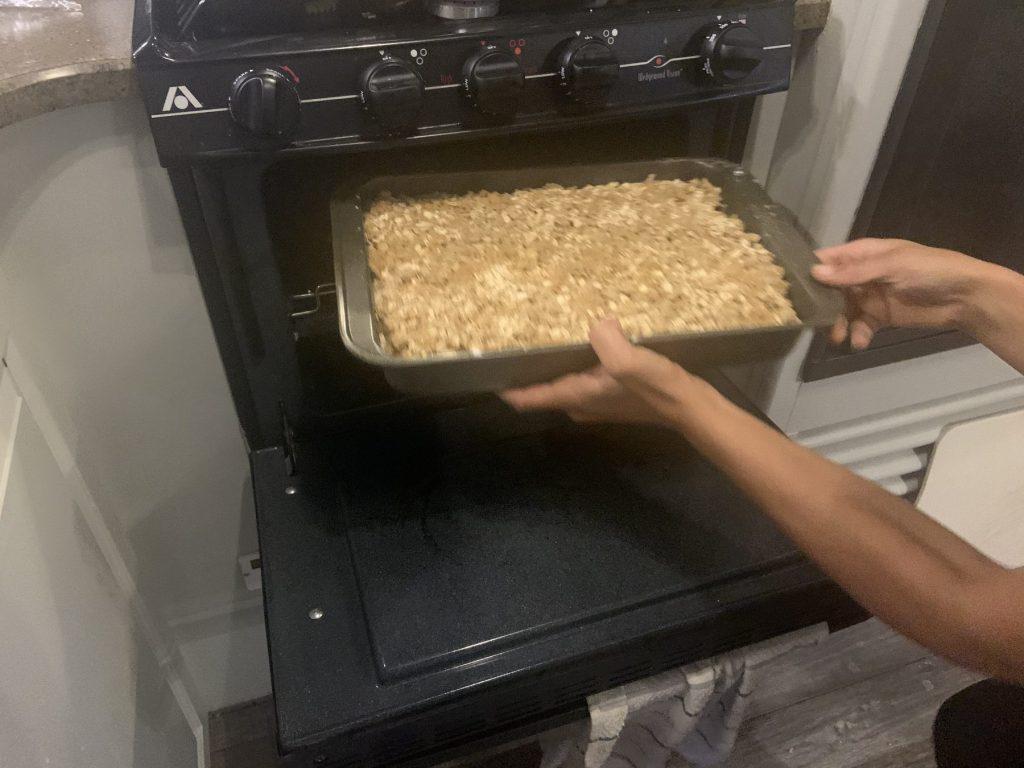 We've come up with a few easy tricks to save space, and they're also related to time, because rather than taking everything out at once and trying to do this and that all on your limited counter space, cook in waves.
Our Instant Pot is one of our biggest assets since we can cook ingredients or side dishes like beans in a few minutes, or cook an entire pot of chili for dinner from frozen ingredients in 20 minutes. Throw some cheese on top when it comes out, and our 3 boys are happy with a delicious meal.
It may also seem counter-intuitive to cook plenty when you're making something because of the limited fridge and freezer storage in your RV, but take last night's leftover BBQ chicken and throw it on nachos with cheese tonight, last night's bread and make it into croutons for tonight's salad, last night's ham from the instant pot and mix it in with noodles and alfredo sauce for tonight's dinner, or the left-over rice fried up with some leftover veggies and meat for a quick and easy meal.
Leftovers are a great way to have simple, ready-made ingredients for the next meal (or evening snack), saving on both time and countertop surfaces.
Many of our meals coming back from a hike or exploring a city for a day are throwing together things left over from the last few days, and especially if we're boondocking or dry camping and want to conserve power without the microwave or instapot.
RV Life is about going out and exploring new places, not rushing home from a hike or museum to start preparing dinner, so it's not unusual for us to make extra food one day to have leftovers made for the next.
RV Cooking: delicious meals in a small oven
First, yes, it's possible to cook a simple meal in an RV oven, (although, Celine lives the opportunity to stretch out in a full kitchen when we're house sitting on the road) but one of the factors you'll need to consider is that RV ovens are not one size fits all. Some have multiple racks, convection settings, and broiler burners, but a typical RV oven is going to have a single bottom burner (not often a top and bottom burner) and a single (small) rack.
Ours is one of those typical sizes, but it's still great for the main course of RV meals, cookies, fresh loaves of bread, and Celine's famous cinnamon buns (which are actually just a Cinnabon recipe, but still incredible).
Our Best Small RV Oven Tip: A Pizza Stone!
One of the best cooking tips for an RV oven is to put a pizza stone on the rack to even out the heat, then put your baking tray or casserole dish on top of that. We leave our pizza stone in the oven all the time, but depending on where your oven is located in your RV, you may want to remove the pizza stone and wrap it in a towel in the sink for travel days.
It seems like RV travel in a motorhome is a bit smoother than a towable, so your motorhome might work to leave the pizza stone in the oven, but you may want to take the extra step to preserve your pizza stone if you have a travel trailer or a fifth wheel.
The 'Grocery Stores' Challenge
It may seem like a cheesy 80's TV show, but it's part of everyday life if you're a full-time RVers on the road. We're never quite sure which grocery store is going to be nearest to our campground, or how easy the store will be set up once we get there.
This is not just a curse but sometimes a blessing as we get to discover foods we haven't tried before.
Sometimes there are multiple grocery stores nearby, so it's not just about settling for what we find first but asking others at the campground which they would recommend or calling ahead if there's a specific product we're looking for.
Sometimes, the best recipes have come from trying a new specialty cheese, or a local spice or flavor, or trying a recipe with a specific food that we learned about that day (like our trip to the Tabasco Factory in Louisiana). Often, just sticking with a tried and true recipe is a good fallback after a long day on the road.
So, What Can I Cook While RVing?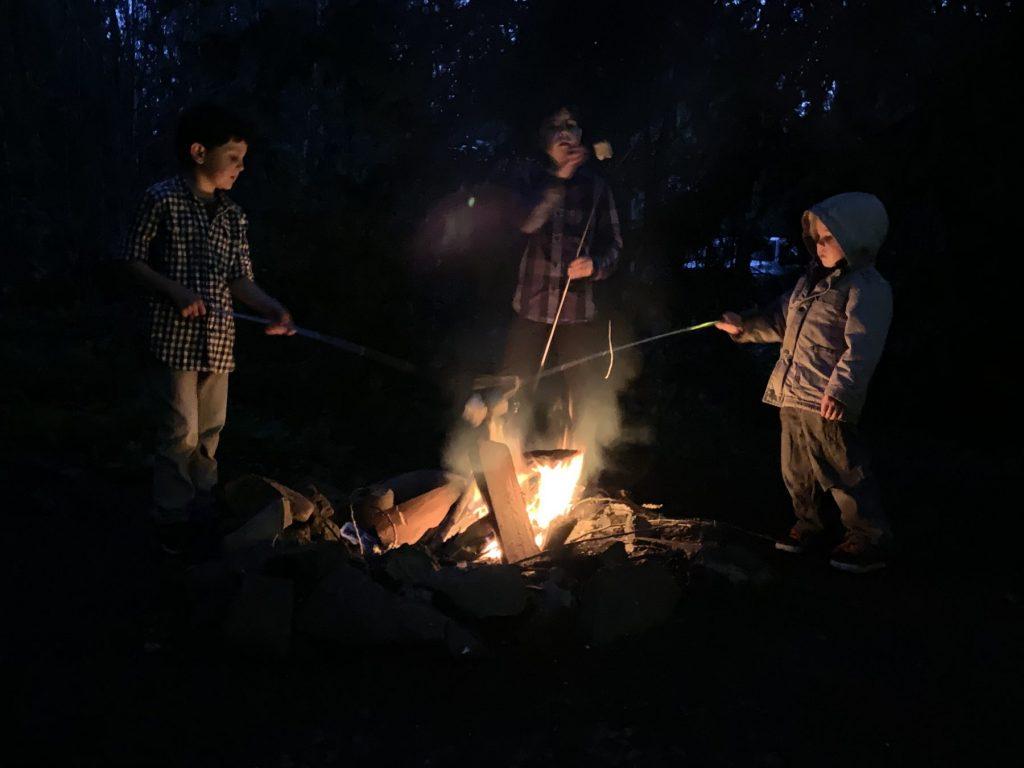 The answer is that you can prepare just about any meal in an RV that you could cook in a great kitchen, but you'll need to be strategic about the process and space. Here is a summary of great tips for RV cooking your favorite delicious recipes:
Cook meals outside of your RV when possible – save unnecessary heat, smells, and moisture from hanging out in your RV. If you're getting cold, bake some food in your oven.
Counter space is a premium – prepare meals in stages, or get all of your ingredients separated into portions before starting to mix them all together.
Prepare extra main ingredients for leftovers – go ahead and put some extra chicken in the cooker, or sautee a few more veggies in the olive oil since the skillet is already heated, or throw another cup of rice into that pot. They'll come in handy later for something!
Plan for a "camping" meal – If RVing on the road isn't full-time for you, then your family probably wants to do typical hotdogs and marshmallows on the fire. Let them have it, save yourself some preparation time.
Use simple recipes with a few ingredients – storage for that one spice you'll only use twice a year on that special dish may not be worth the effort. Simplify your menu, or learn new recipes that use the best things already in your cupboards.
Can I bring my cast-iron frying pan to the RV?
Sure! Here is a great recipe for success that helped us figure out what we needed to prepare delicious meals in our RV:
Figure out which dishes and appliances you'll use over and over– (and maximize your storage with these easy RV Storage hacks) if you have a healthy smoothie every morning for breakfast, pack the blender, and if you can't live without your favorite cast iron frying pan, pack that too. We can't live without our instant pot, but after a year on the road, we realized we didn't really use our slow cooker or electric skillet that often, so it made sense to leave them home for year two.
Find cooking gear meant for camping – did you know you can buy a collapsable pasta strainer, or a swing to put your dutch oven over a campfire, or a 17″ gas griddle for a picnic table top? All of these great ideas are designed to save space and help you make the most of your RV living.
Leave a pizza stone in your RV oven – This is a simple tip, but it will allow for even heat to hit your baking rack, rather than the concentrated heat right above the burner. Measure your rack size before finding the perfect pizza stone on Amazon.
Good recipes and healthy meal options are endless!
Whether you're cooking breakfast, lunch, dinner, or a midnight snack under the stars, there's nothing that we haven't been able to cook while RV camping from healthy meals to indulgent snacks, local tastes, or a long-time go-to dish, the RV cooking ideas are endless once you understand how to make the space restrictions work for you!
By cooking outselves, we've been able to allocate our RVing budget to activities more than eating out (since we often get asked How much does it cost to travel in an RV full time?)
If you're going to be RVing in cooler temperatures (or even just some cool evenings in the spring or fall) then turning on the stove to bake cookies is a great (and delicious) way to keep your RV warm.
Here are some other tips to keep your RV warm in the cold.