Disclaimer: This article contains affiliate links. If you choose to purchase from one of our recommended links we may make a commission at no cost to you.
We have learned a lot since we started RVing in the summer of 2018. We are excited to share these full-time RV living hacks (and RV packing hacks) that we have learned with you.
Whatever your style of RV living is (full-time travel, full-time stationary, RV over the summertime, or random camping trips each year), we hope these tips and tricks will be helpful for RV owners.
21 RV Hacks from full-time RVers:
Pack a first aid kit in your RV
Since we live in our RV full-time, our bathroom is stocked with typical first-aid necessities: bandaids, cotton balls, gauss, and half a dozen essential oils.
If you are a weekender RVer (or just starting out with RVing), then having a first-aid kit on hand is a good idea. In a minor emergency, you won't need to run into town for bandaids. It's easy to buy a first-aid kit already stocked full of everything you need rather than trying to piece it together yourself.
Leveling your RV: How it benefits your RV refrigerator, fresh water tank, and more
Leveling your RV is one of the most important things you can learn to do properly. Everything from cooking food on the stove (why is all of the sauce running to one side?) to eating at the table (why is my soup sloshing out of my bowl?) to getting a good night's sleep can be affected by how level your RV is.
Remember that full-time RV living is different than going away for a weekend. Is your RV not entirely level while on a weekend camping trip? You can probably tough it out. But, if you're going to be staying at a campground for a few weeks, or a month, that's a different story.
Having a level RV isn't just about being comfortable while inside it. It affects more things that are just as important. Some propane fridges won't work if you're not level. Don't forget about the cantilevered weight of a slide-out – your RV can go from 'kinda-level' to 'definitely slanted' by extending your slide-out.
While you can adjust the tongue level on a bumper pull and may have some front-to-back play with other RV styles, your side-to-side is the most difficult to compensate for once you're parked. So, we want to share with you a few tools we have found to be very helpful when leveling your RV.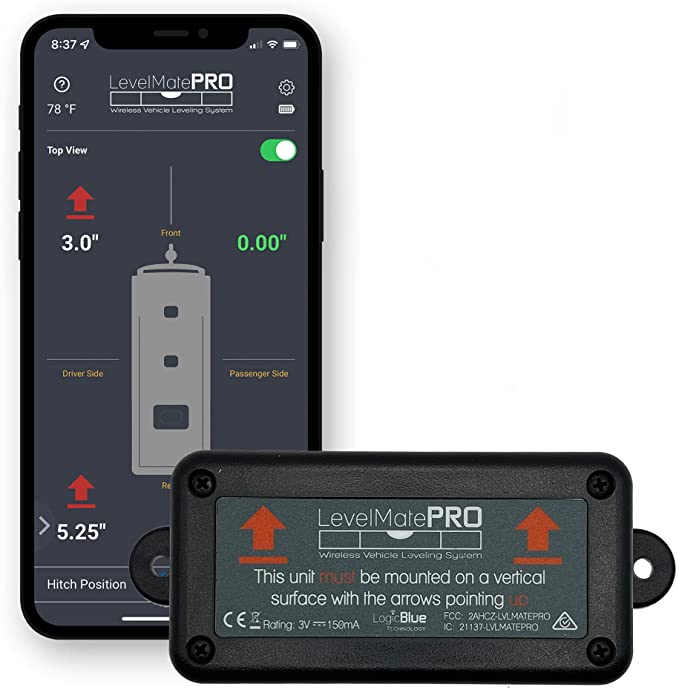 Level Mate Pro – Set this up while your RV is on a flat, level surface with all of your slides out. It connects to a phone with Bluetooth (we recommend the driver's phone). As you are getting ready to park, you can see if one side or the other needs additional leveling blocks. While this may not be necessary if you are stationary, this is a game changer for driving into BLM land and finding a place to boondock for a few nights.
RV Leveling blocks. We use two styles of leveling blocks. The first kind are blocks that stack on top of each other. This is great for loose surfaces (like sand, grass, or loose gravel). Stack them on top of each other and 'walk' your rig back and forth (drive onto one block, reverse onto two blocks, drive up onto three blocks, etc.) until you reach the proper height.
Leveling Ramps: The second kind of leveling blocks we use are leveling ramps. The further you drive onto the ramps, the higher they raise your wheels until you are level. These are a bit touchy to use. If you are 3 inches off, for instance, you can drive up the ramp and get your RV level. But, that half-inch pull once you put the vehicle into park might be enough to roll your RV back that tiny bit off-level again.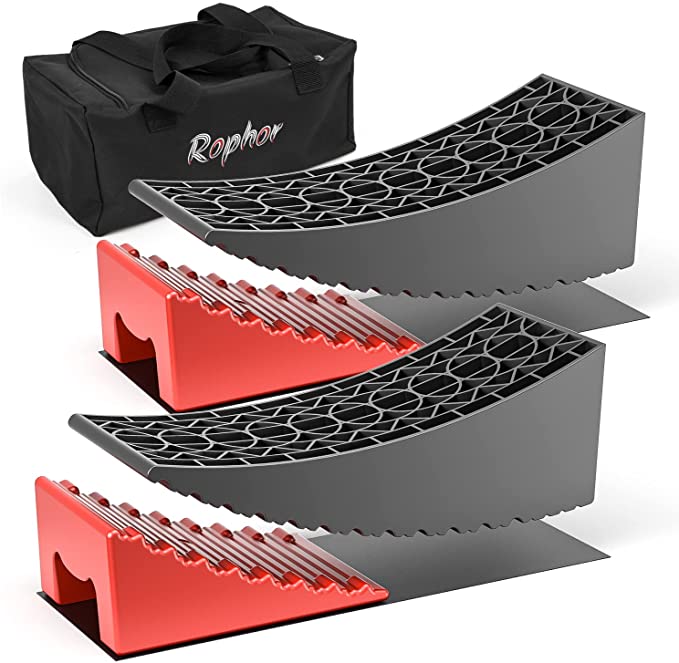 Our goal is to be level every time we park our trailer in a campsite, but we are okay with a tolerance of 0.5 inches. An inch off-level might not seem like a lot but spread across 30 feet front to back or 11 feet side to side (8-foot wide trailer + 3-foot slide out), and that one-inch offset is very noticeable when you are inside.
We started with using a 4-foot level, but being level while parking did not account for the offset our slide would cause when fully extended. That's why we love our level mate pro.
Back to the freshwater tank: If you are like us and enjoy spending time off-grid, then you understand the importance of getting every drop possible into your freshwater tank. Water is an RVer's most precious resource. We have solar and lithium batteries that can recharge, but once we are out of water, it takes work to get more. We'll often stay overnight at a campground in order to flush out our waste tanks and refill our fresh water. Then, we can go off-grid again for a while (or we find a dump station at a gas station, Camping World, or a local RV dealer).
If we are not level while filling our freshwater tank, it is like filling a bucket that is not level. Once we get properly leveled, there will now be a lot of wasted space that we could have filled up with more fresh water. We are sure to be level before filling our fresh water tank to get every possible space of the tank filled.
The same is true for your waste tanks. If you don't want them to be "full" with a 20% air pocket still at the top, then you must be sure your RV is level.
Comfort Control RV Hacks
The biggest camping hack we've learned for keeping our RV cool in the summer or keeping our RV warm in the winter is this: Getting our bodies to a comfortable temperature is more important than getting our RV to a comfortable temperature.
For example, we're currently dry camping at a beach in Mexico just steps from the water. It doesn't matter to us that we don't have air conditioning because we can stick our feet in the water to cool off.
We find that when it's warm, the airflow of warm air is more important than temperature control or keeping the entire RV cool. Having a low-energy fan that creates airflow is often as effective as trying to run your air conditioning to keep your RV temperature in the 70s.
In the winter (even in the moderate, winter temperatures in the desert), keeping our RV at the perfect temperature is less important than finding ways to stay warm in our beds at night.
Having access to a microwave bean bag or hot water bottle for the purpose of keeping us warm requires less energy than running the furnace at 75F all night. We will still run our propane furnace when we need to, but only when our trailer drops down to 50F, mostly to take the cold edge off.
Here are our best tips and tricks for RVing in more extreme temperatures. (Yes, we RV'd in Canada for a few months of winter one year in British Columbia, just north of the Washington State border.)
Keep in mind that your RV is not going to hold up in extreme temperatures:
If you are going to spend the winter in Alaska, your RV isn't where you will want to stay.
If you are going to spend the summer in Florida, Texas, or Arizona, your RV's air conditioner will not keep you at a comfortable 75F.
Bring a basic tool kit in your RV
Trust me when I say that all I know how to wield is a BASIC tool kit.
A solid multi-headed screwdriver is great if you need to tighten something when you have a screw loose. And if the handle is solid enough, it can also save you from having to pull out a hammer in a pinch.
A can of WD-40 is great for an annoying front door squeak that might wake the kids after they've binged s'mores at the campfire and finally sugar-crashed.
I'd also recommend carrying a set of 12V automotive fuses and some spare lightbulbs.
The first time I had to replace a fuse (we were in Banff National Park), it was after hours, and the hardware stores were closed. I had to visit three gas stations to find one that had the 30amp fuse I needed. The most recent time our fuse blew, I had a set on hand, so it was an easy switch to replace it.
Also, duct tape and bungee cords are great to have on hand. You just never know what you might need them for.
Be sure you have your RV Essentials
You'll need to have:
a sewer hose to dump your tanks
a drinking-water safe water hose to fill your fresh tank or hook up your RV to the city water spigot
a water pressure regulator so there isn't too much pressure on your RV's plumbing
a power management system (like a power watchdog) to reduce the likelihood that hooking up to faulty wiring or a sudden power surge is going to do damage to your RV.
That's just a start.
Here's the list of 15 RV essentials we needed in the first 90 days of RVing.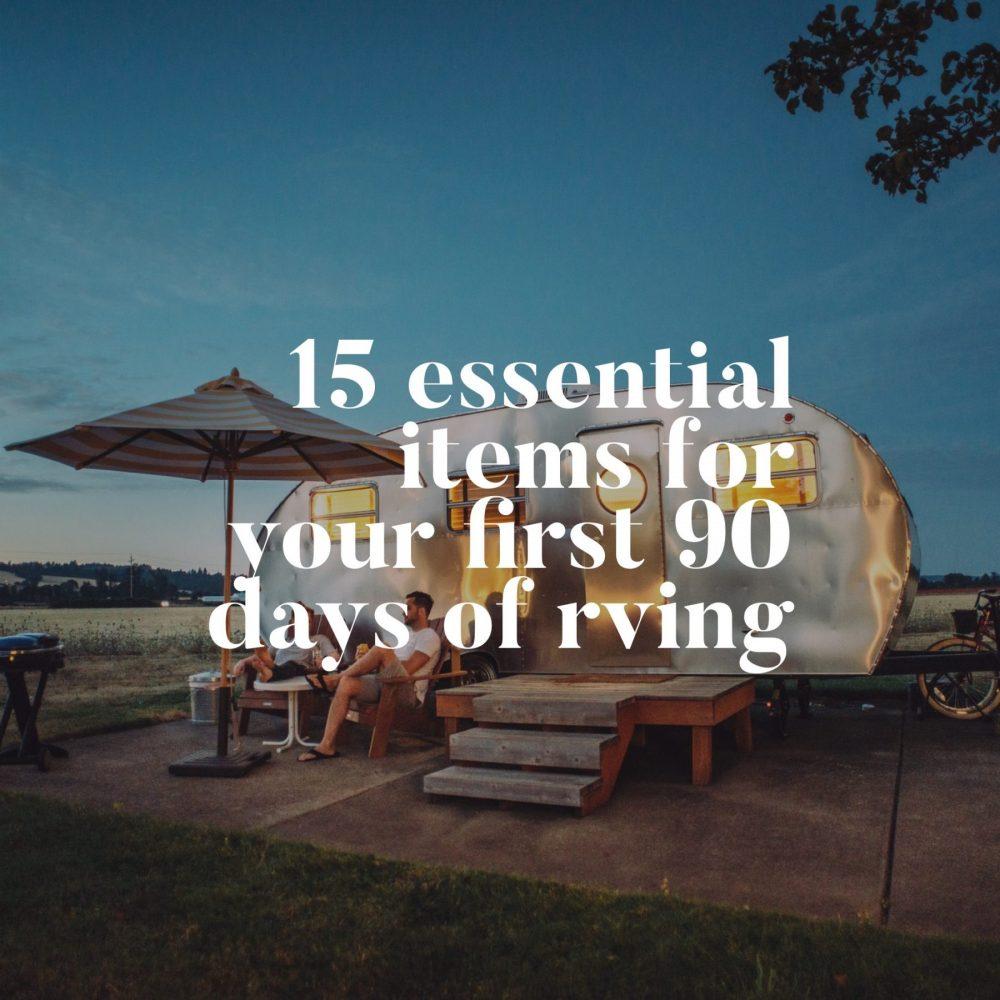 These things are essentials, not necessarily upgrades, to improve your RVing experience. However, not having to run to the hardware store to get a sewer hose when your tank is completely full for the first time will make your RVing experience much better.
Watch your propane level with a gauge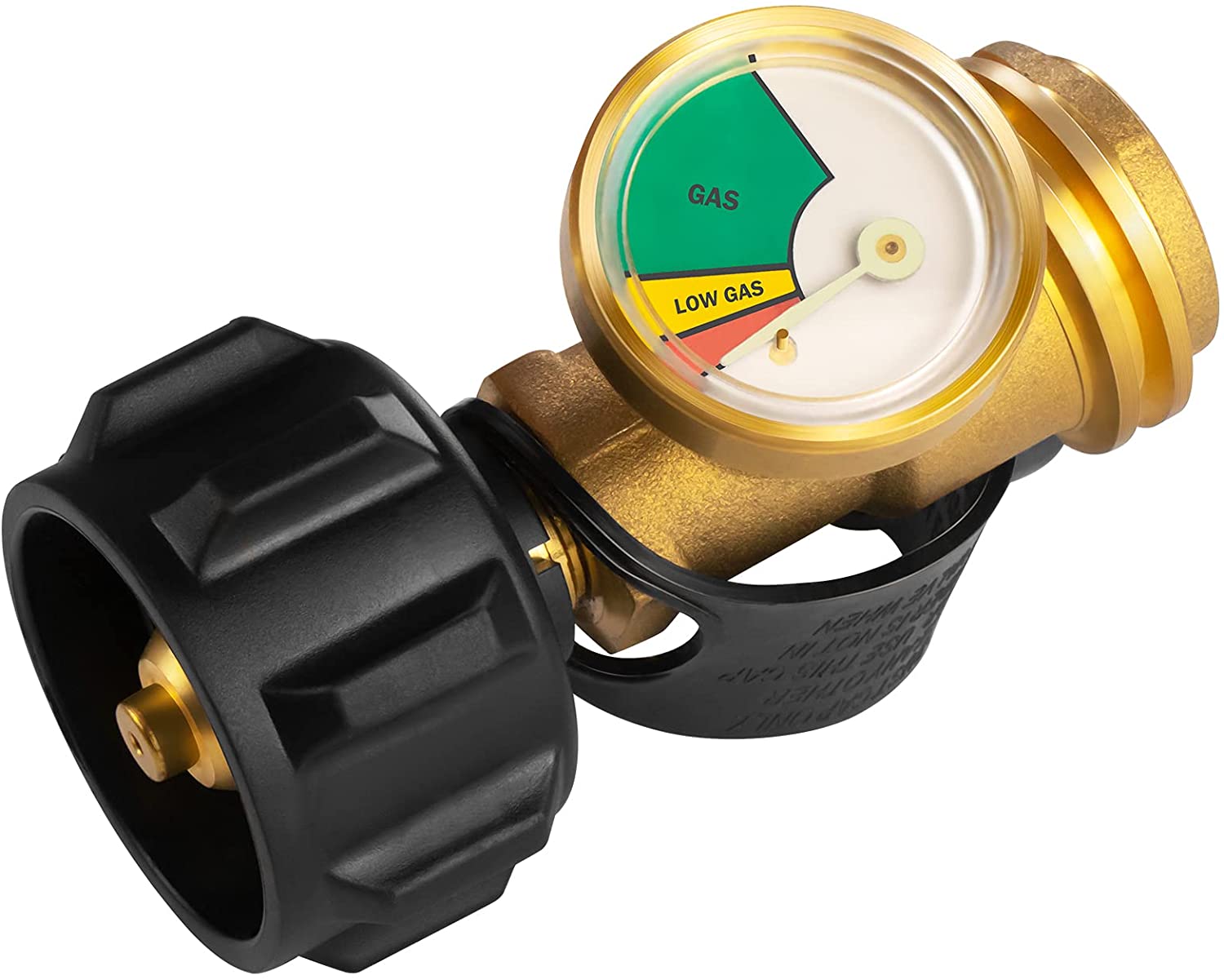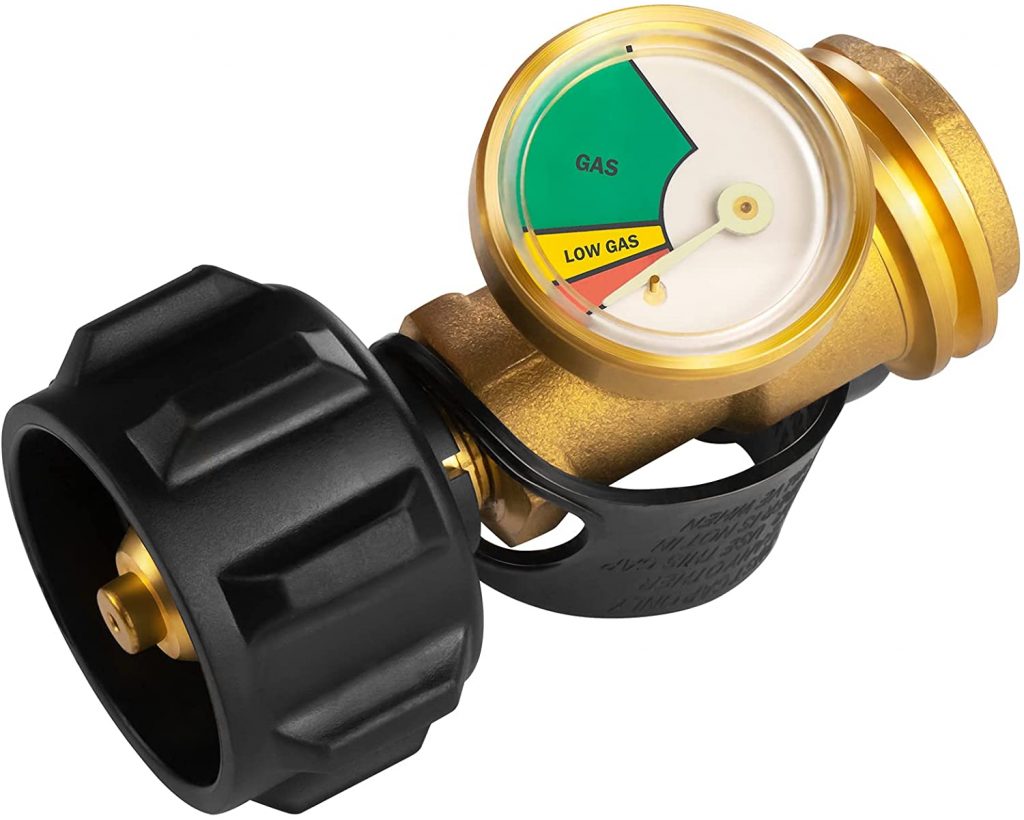 We do not have a propane gauge (but writing this reminds me that it's probably a good idea).
Some RVs have a single propane tank. If that's you, I would recommend a propane gauge, so you know when the tank is close to being empty.
Our travel trailer has two 35lb propane tanks. When one runs out, we turn on the other and take time to go out and refill the empty one as soon as possible. When our RV's propane valve is open, we have a knob that switches the flow from one propane tank to the other so we can't run both at once.
Some people will turn on both propane tanks and bypass that valve (here is where I shouldn't have to remind you to get a professional's help if you're making any modifications to propane connections or propane lines.)
We have decided that running both propane tanks at once isn't the best idea for us, because it means that when we hit empty, we hit empty on both tanks – no more propane to cool the fridge, run the furnace, heat water, or cook on the stove (and yes, you can cook in an RV kitchen!)
We treat our second propane tank like it is our backup tank.
You might think that if you run out of propane, you'll plan to cook dinner in the microwave instead or enjoy a cold meal like a salad that doesn't have to be cooked. But in many cases, your fridge will run off propane, and keeping your food fresh will require a constant supply.
Running out of propane is not an urgent issue if you are plugged into electricity at an RV park. If you are boondocking off-grid and run out of propane, that means your RV refrigerator will stop cooling.
Create an RV departure checklist
As much as it might seem that this could be standardized, you will find things on your checklist that are unique to your RV and processes.
Close all of your RV windows
Open the ceiling vent in your RV bathroom
Did you put away that outdoor paper towel holder?
Are there wet towels or dirty clothes hanging off bungee cords tied from the bush to the back of your rig?
Did you take down the suspension rod for hanging towels in your bathroom?
Have you turned on your tire monitoring system?
Did you put away the sewer hose after emptying your waste tank?
Did you clean up from breakfast so you don't have broken eggs in your RV kitchen on arrival?
Do you have portable solar panels and batteries that need to be stored?
Did you flip up or put away your RV steps?
It will probably seem like a pointless process (of course, you're going to pack up the foldable picnic table before pulling away from your campsite), but reading through every item on a checklist will assure you that nothing is forgotten so you can focus on your road trip.
Just about anything can get missed when a neighbor comes over to say goodbye or your 9-year-old has to figure out where his new favorite stick will fit into your RV storage compartment before you pull away (hypothetically).
Set up an exterior hand washing (or foot washing) station outside your RV
While we are RVing on the beach (or the woods, or anywhere our youngest decides that playing barefoot is better than wearing shoes), we fill up a Rubbermaid tote with water and set it outside our steps so we can rinse our feet before coming back into the RV (even when we have access to campground showers, sometimes it's nice to rinse our feet RIGHT before we walk into the trailer).
There has rarely been a spot we've stayed at over the past two months in Mexico where we haven't used a footwash outside with an old towel for drying off before coming into our RV.
This hasn't changed the fact that our youngest's bed still looks like a sand castle fell apart overnight on his mattress, but it's the thought that counts.
Pack a hairdryer
Ok, how did this get in here? This must have been an edit after I (Adam) wrote the original post.
Clearly the editor (Celine) is taking editorial liberties with my work.
Hairdryers waste a lot of energy, and the benefit is mostly cosmetic. We're RVing off-grid, not going to prom.
Bring Earplugs While RVing
Fair is fair. If a hairdryer makes the list, then so do earplugs.
For some people, RVing is a weekend event – time to relax and unwind in nature. For us, RVing is how we live, so it's not just about having the time to read a book and sit around a campfire.
Because we run our business from our RV, there are times when I don't need to hear my "coworkers" talking about Pokemon and Captain Underpants while I'm writing a blog post.
I don't wear earplugs, but I will often put on my headphones and listen to background music for 2 reasons:
First, it dulls some of the noise of having three boys coming and going from the RV
It acts as an indicator that I'm not available to be interrupted. If I'm working without headphones on, then it's like my office door is open – come ask a question or show me something. If I'm working with my headphones on, it's like my office door is closed and I need to concentrate on this work right now so I can complete my to-do list and whoop my oldest at a game of Settlers of Catan this evening.
If I need to make a call or do a podcast interview, I usually go out to our truck where I can (usually) have quiet and not disrupt what everyone else is working on in the trailer.
We also petsit while RVing which helps us all to have some space to ourselves for a few days while enjoying the company of some furry friends. Petsitting is also a great way to save money on campgrounds in a big city.
Use your phone and some FREE apps to plan your camping trips
We use a few different apps when we are looking for places to camp overnight as we head to specific destinations.
Campendium – great for finding both campgrounds and free places to RV.
iOverlander – Like Campendium, this also offers more remote locations and harder-to-reach camping spots that might be better for tenting.
Passport America – Not free, but a 50% discount club for private campgrounds. If you stay two nights at 50% off, then the app basically pays for itself. Each campground sets its own rules (some only offer the discount on Thursdays, others offer the discount only in low seasons, or discount stays for a maximum of 2 nights, and some require a minimum of 2 nights). If we need a campsite and can find one that meets the requirements with Passport America, then we save 50% off the nightly rate. We are lifetime members, so searching Passport America's campground list is where we start when looking for our next stay at a campground.
Apple or Google Maps – These are the best free options. There are some that have a charge and these allow you to put in your rig dimensions and choose the best route (so you don't end up driving under a bridge that's too low or take hairpin turns that are too tight for your RV). We discovered that, while in Mexico, Google Maps will most likely show the campground name and address, whereas Apple Maps will often not show the business name, requiring you to type in the actual address.
Gas Buddy – We use this to find the best local price if there are multiple gas stations in the area. Sometimes we end up having to stop at whatever gas station is nearest if the tank is getting low. But we try to plan ahead and use the app since we can search for gas stations that are miles away.
If your RV has solar power, or a generator, or if you're willing to tough it out without electricity for a few days at a time, here's how to find free RV camping in the US and Canada.
Stock Up on Collapsible Storage (like our favorite collapsible laundry basket) to conserve space in your RV
Collapsible storage is great for pulling out something the size and shape of a frisbee that turns into a bucket. For instance, our drying rack for our dishes will collapse until it is a few inches tall and can fit under our sink. The name of the RV life game is 'Save Space.'
Here are some other collapsible items that we use to conserve RV storage space:
Here are a few things that our friends find helpful:
If you want to REALLY dig into our best RV storage ideas, click here!
Command Hooks are an RVer's Best Friend
Our RV is an aluminum frame, so we can't nail into the studs. We have found that hanging things on the wall is best done with command hooks.
We use command hooks to hold our keys at the front door, hang our hoodies in our bedroom on the back of our sliding doors, hang some pictures in our travel trailer, and inside our cabinet doors to give some extra organization options.
Our boys have command hooks in their bed spaces to hang stuffed animal hammocks that organize their collection of stuffed animals.
Know camping slang, and don't ever just "wing it" if you don't understand the terminology
The 'fake it til you make it' slogan was not pioneered by RVers. If someone gives you instructions or throws around terms or acronyms you don't understand, stop and ask for clarification.
Misunderstanding an instruction could damage your RV, tow vehicle, or yourself personally. It would be like putting diesel in your gas tank or gas in your diesel tank because you asked for "fuel" and just went with whatever was available.
Quick RVing Terminology Quiz:
If the campground tells you to plug in with a 'dog bone', do you know what they are referring to, or would you be hoping for the best as you figure out how to get electricity to your rig?
If not, here are some other RVing terms we learned early on.
Create more storage space by adding a stacking shelf or plastic bins in your RV cabinets
This is probably for the RVers (like us) who live in their RV full-time where space is a premium and not just an avenue to get you through the weekend or a week of travel over summer break.
We had friends who renovated their weekend RV, and the first thing they did was remove the "useless" cupboards that ran the length of their slide-out. I just about choked when I found out, but I quickly realized that my perspective as a full-time RVer meant that every inch of storage is valuable to us.
We use stackable shelves in our clothing cupboards in our bedroom (instead of a stack of 10 T-shirts on top of shorts and pants, I can have some on the bottom of the cupboard and some on the shelf just above to be more organized).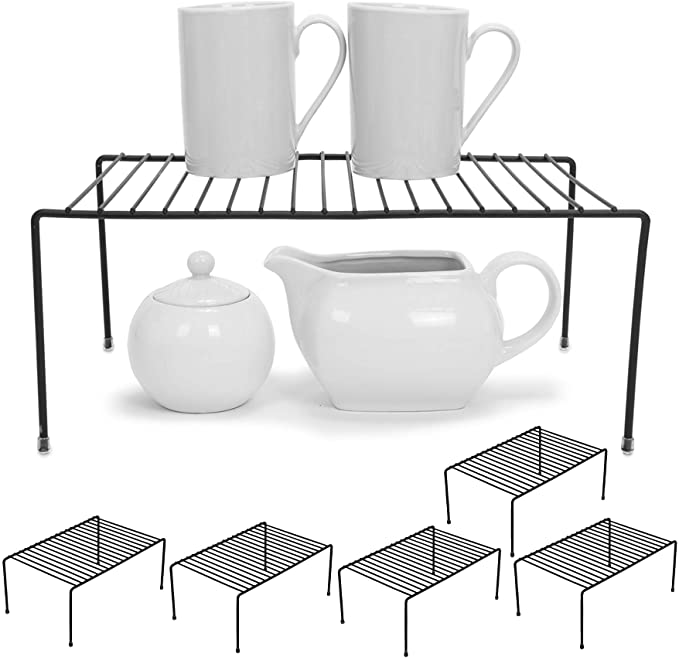 We also have a few that sit in our upper kitchen cupboards for the same reason.
Before you get too excited and buy a shelf for every cupboard in your RV, we've found that they are practical for about one-third of our cupboards, and the other cupboards have some plastic bins for organization.
Solar Lights can save the day (or the night)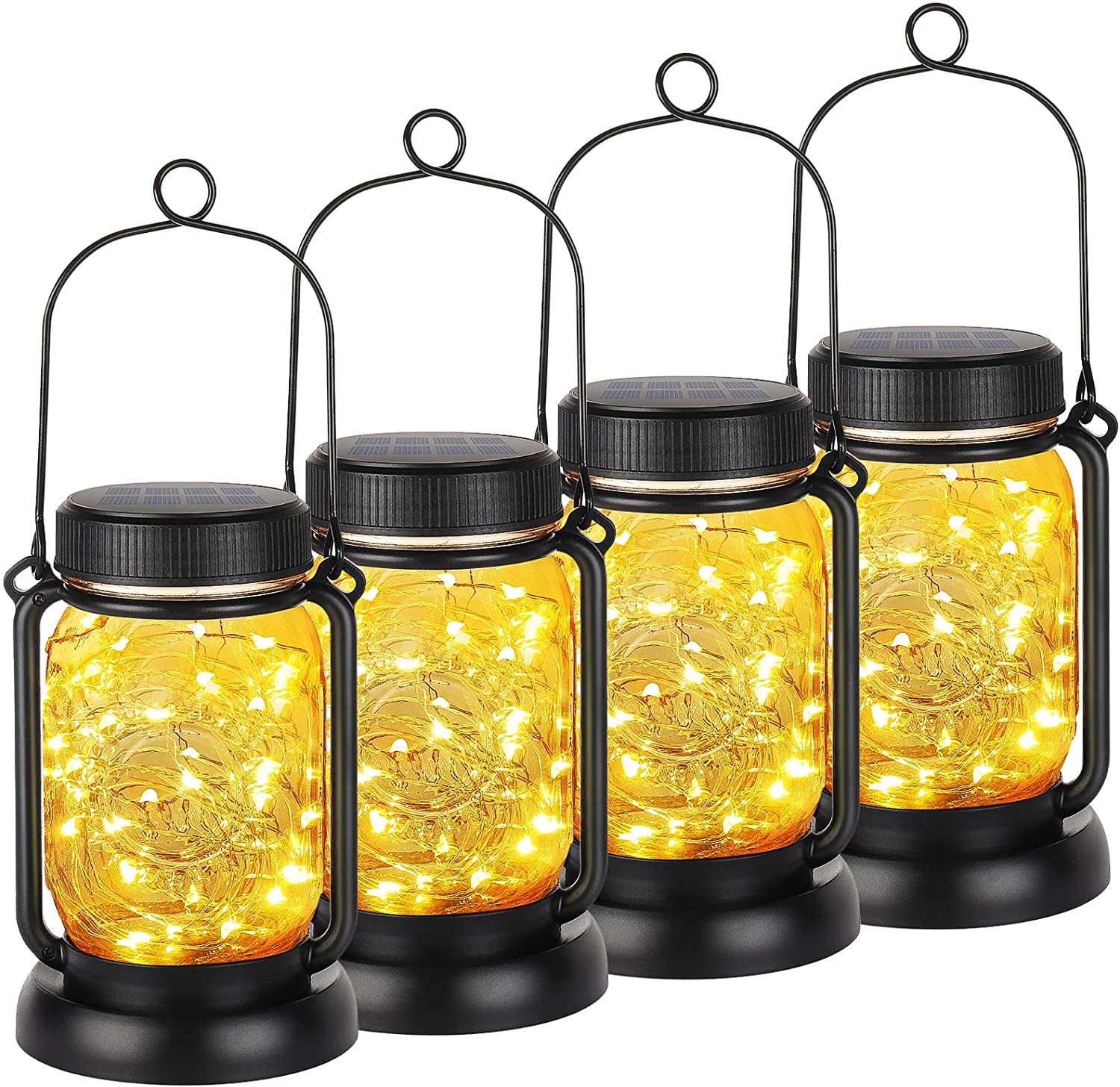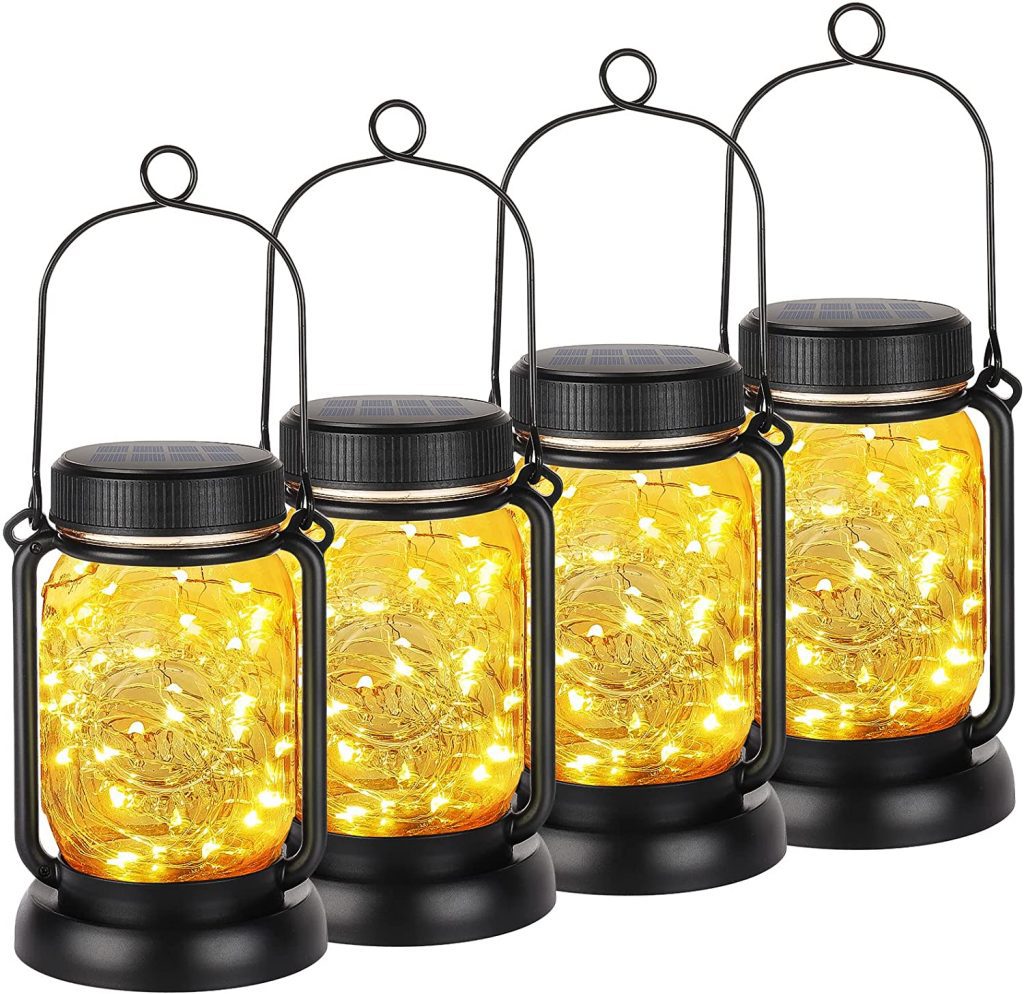 When we are off-grid, we will often use self-contained solar lights to light up our RV in the evenings, whether we are sitting out under the awning or playing a board game inside.
If you are at a campground, then an ambiance of solar light is nice in the evening when you are not having a campfire.
If the electricity goes out for some reason, it is always helpful to have a backup that doesn't drain your onboard battery (which you may not have if you are stationary).
Playing a card game by flashlight is interesting, but we prefer the bright light of our solar lamps (a perfect Christmas gift for an RVing family).
The Best Board Games and Card Games For RVing
If you are RVing on weekends or for holidays, you might take some time to unplug and enjoy spending time with family aside from being online.
If are like us and full-time RV, you might have times when you have no cell signal (our case as I'm writing this blog post) or might want to set aside time each week to take a break from devices.
You might be tempted to pull out a childhood favorite game, but that might not be the speed your kids want to play at. You might have a younger child who won't invest 3 hours into a game of Monopoly or Settlers of Catan, or you might have an older child who wants something with a bit more strategy than 'Go Fish.'
Here are 12 of our favorite card games and board games for camping (as ranked by our 3 boys).
Quick BONUS RV Tips and Tricks:
Pool Noodles on RV slideouts
If you have a slide-out that is approximately head height (more likely on fifth wheels and motorhomes than travel trailers), then buy a pool noodle. Slice the pool noodle from one end to the other, and wrap your sharp slide-out edges with it.
With a few pool noodles, you can save yourself a head injury standing up after digging in your basement storage space.
Glow in the dark duct tape on RV Steps
Glow-in-the-dark duct tape on your RV steps is great for nighttime when it is very dark while you are camping or when you are coming home from a neighbor's campfire.
Bring your own internet
Campgrounds provide wireless internet often, but not always – assume that it will not be reliable (even if it's there).
Non-Slip Liners in Kitchen Cabinets
Put a non-slip liner on every cabinet shelf so your glass dishes and breakable items don't slide around while you are driving. This also works well with anything that you might keep out on your countertops while you drive.
We hope these camper hacks and RV hacks are helpful RV tips
Whatever your RV lifestyle, whether you travel full-time, spend your summers stationery, or enjoy weekend camping trips a few times each year, we hope these RV tips help you.
As a full-time RVers, you might also discover that your relatives don't get the hint when it comes to Christmas and birthday gifts. Let us take the heat. Pass on this blog post to them about 15 Christmas gift ideas for RVing Families.
Have an RV tip? Share it with us below: