There's a difference between packing your RV for a camping trip for a week and packing your RV to live in full-time. We'll focus on full-time RV living (since that's the RV life we know best), and if you're looking for storage ideas for your weekend RV trip, you'll find some helpful tips and RV storage ideas here too.
(Disclaimer: Some of our recommendations here will pay an affiliate commission at no cost to you if you choose to make a purchase. Someone has to keep the RV refrigerator full.)
RV Organization Rule #1: Bring fewer items into the RV than you think you need:
This is the biggest hurdle you'll need to overcome (we know because it was for us when we started RVing full-time in 2018), so we'll camp here and dig deep.
Prioritizing and be mindful about what you pack. Remember that the limited space in an RV can quickly become cluttered and cramped if overloaded with unnecessary items.
1. Make a list of what to pack in your RV:
Create a packing list that focuses on essential items. This will help you avoid unnecessary clutter and make tracking what you're bringing easier. We started making a packing list before we even bought our RV of the essentials – clothing, toys, bedding, dishes, Celine's stand mixer, and an instant pot (You know, just the requirements).
Having a rough idea of how much we needed to bring help us recognize if the RV we were shopping for would have enough for our "essentials" list.
2. Choose multi-functional items:
Opt for items that serve multiple purposes, such as a multi-purpose cooking utensil (like an instant pot or a cast iron pan that can be used for frying or baking) or a versatile clothing item.
We use empty pasta jars for drinking glasses and reusable storage containers (to put leftover soup in our RV refrigerator, for instance).
Find ways to reduce the number of items you need to pack while maintaining functionality. This is one of our 21 hacks for improving your RV experience.
(Do you really need both paper towels and toilet paper? Ok, some things aren't worth skimping on.)
3. Pack versatile clothing:
Bring clothes that can be mixed, matched, or used in different weather conditions. Consider packing clothing items that can be layered or suitable for daytime and evening activities. You probably will have less space in your RV closet than in your sticks and bricks home, so decide what can serve multiple functions and leave the rest in storage for a special occasion.
Since you will only have a little room to store dirty clothes before you do laundry, you won't need five hoodies at 17 pairs of jeans anyway. Take what you need and donate the rest.
4. Enjoy digital entertainment:
Instead of bringing physical books, games, or DVDs, plan to use your tablet or e-reader or renew your subscription to your favorite streaming services and buy an Apple TV if your RV's TV doesn't have built-in streaming.
(But we should admit that we love having a few of our favorite games on hand. Here are our boys' picks for the 12 Best board games and card games for RVing families)
5. Limit duplicates:
Avoid packing multiple versions of the same item. For example, do you really need three different pots and pans, or can you manage with just one or two? Our family of 5 has eight dish settings (in case we have friends over), but we don't need fancy and everyday dish sets onboard.
We have friends (family of four) who have four sets of dishes – one for each of them – and they wash their dishes after every meal for the next.
We have side plates, full-size plates, bowls, glasses, and more coffee mugs than I'd care to admit for someone writing a blog post about RV organization and storage solutions for your RV kitchen.
6. Consider renting/borrowing items when needed:
If there are items you only need occasionally during your trip, consider renting or borrowing them from a friend or business rather than bringing them in your RV. The Home Depot rental department charges much less for a daily rate when needed than pulling the air compressor out of the undercarriage storage whenever you want to get to your lawn chairs.
This applies not just to tools but consider the space savings of not bringing along your kayaks and jetskis and paying a rental fee when needed.
7. Use your space wisely: Collapsible Kitchen Gadgets for the win
You can optimize the available storage space in your RV by using items that can collapse or fold when not in use. When we were still 'considering' RVing, I bought Celine some collapsible strainers for Christmas "just in case" we decided to start RVing. Replace large items with collapsible options before you start loading up your RV.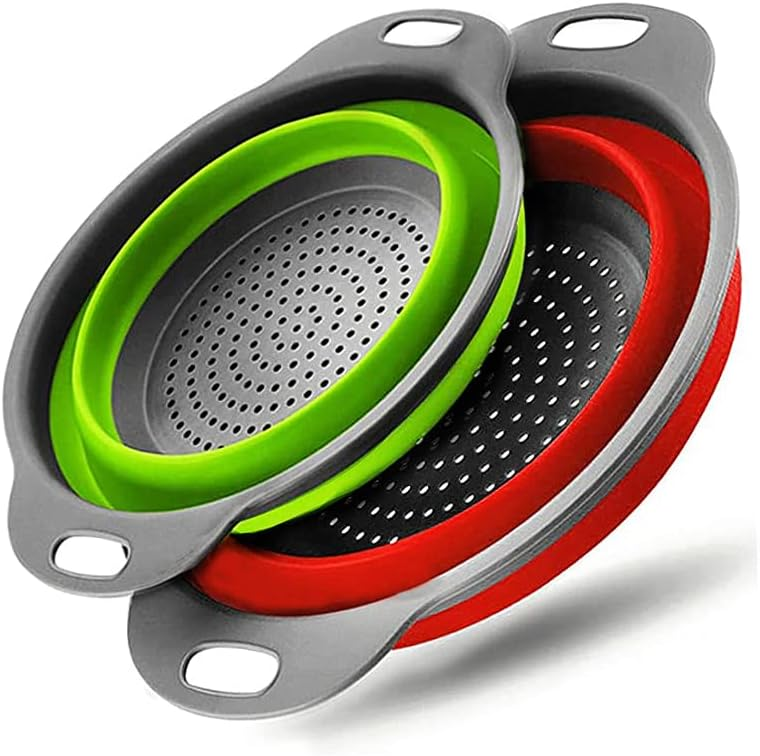 These retractable marshmallow and hot dog sticks are now an RVing staple: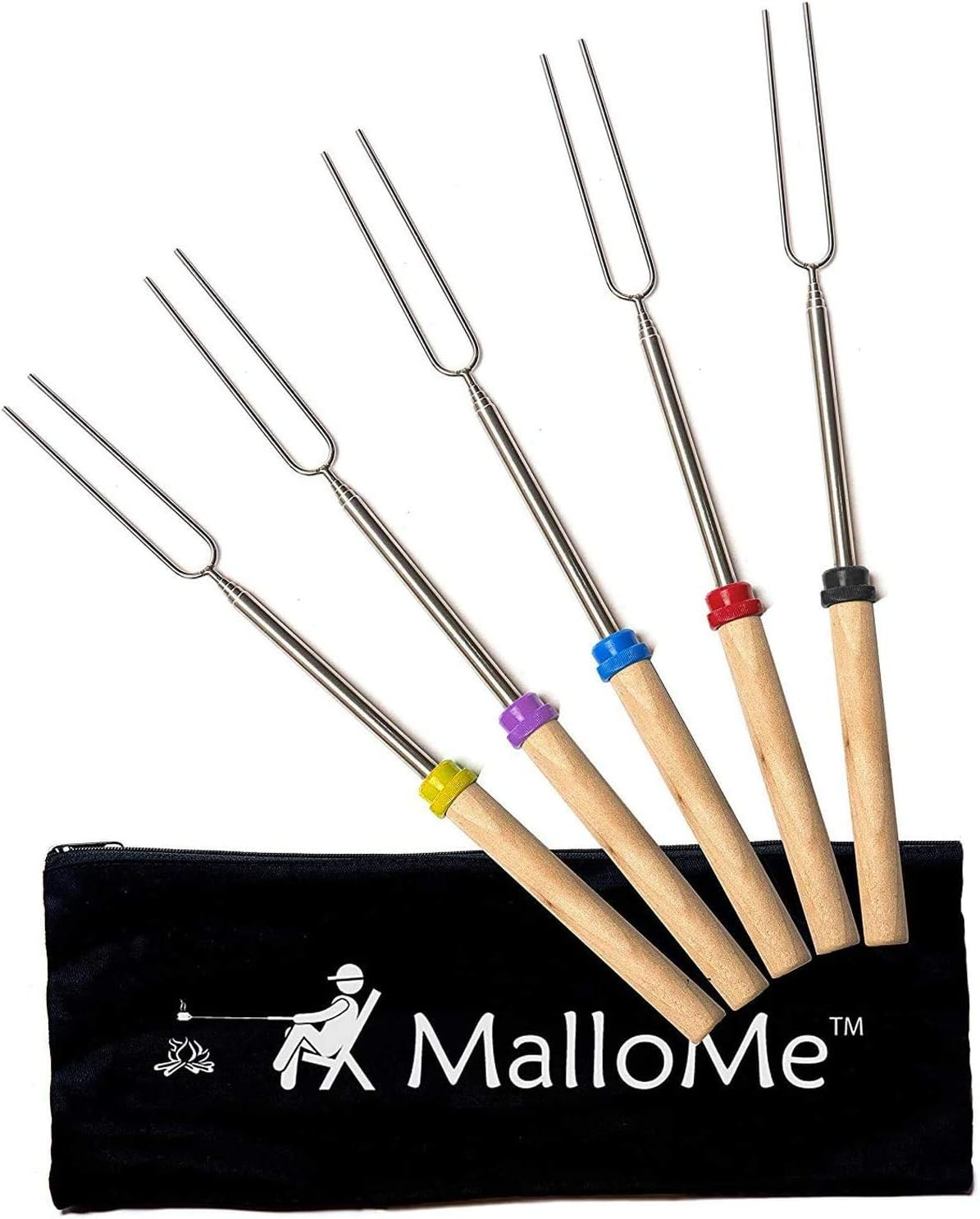 8. Re-evaluate your RV storage every year:
Most summers, we return to our hometown (in Woodstock, Ontario, Canada), and that's our time to have a yard sale and decide what stays in the RV and what needs to be reevaluated. If you didn't use particular items in the last year, consider leaving them behind (or replacing them with something more practical).
For us, most of what we move out of our travel trailer is items that our boys no longer use:
Clothes our boys have outgrown or that are worn out and faded
Books we no longer read (or don't plan to read again)
Games and toys that aren't being used very often
The pasta maker we only use once a year (actually, we keep that around 'just in case)
---
How will I know if I've left behind something I need in my "Quest for RV Organization"?
You probably won't know until you realize you need it, but when we bought our first RV, we took a week to a campground just 20 minutes from Woodstock.
This meant family and friends could visit and see our setup, but it also meant that if we realized we were missing something, we could go to where our things were being stored and dig it out. Within a few minutes drive of a Walmart and a hardware store, we also discovered a few things we needed (like this list of 15 things we found we needed in our first 90 days of RVing full-time.)
Take a maiden voyage to work out the kinks, have a short "first travel day," and settle in for your first night of full-time RVing with the comfort of knowing you've got a safety net not too far away.
---
Now that you've decided WHAT to store in your RV, we'll talk about HOW to store it efficiently and avoid clutter with these RV Storage Ideas
One of our favorite RV Organization tips: Repackage Dry Goods From The Grocery Store
Repacking dry goods from their original packaging into smaller containers is a fantastic way to save space and maintain organization in an RV. In addition to occupying less space, transferring dry goods to containers also offers several other benefits:
1. Improved organization:
Consistent container size and shape allow more efficient use of space, making it easier to stack and store them in your pantry or RV kitchen cabinets.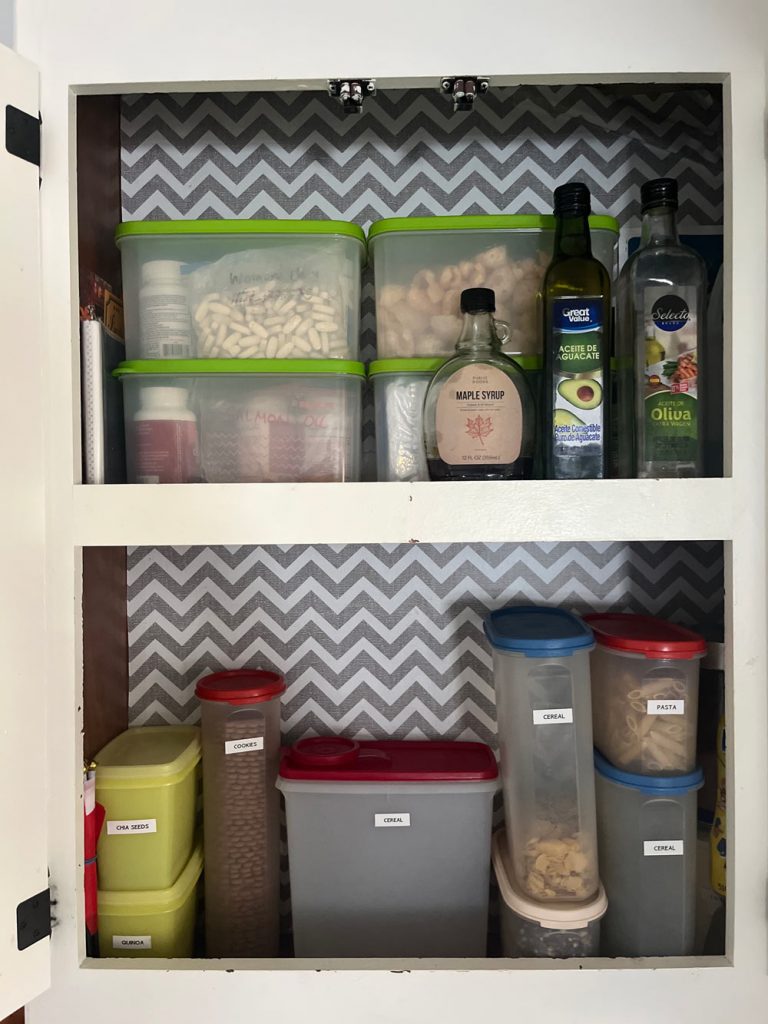 2. Increased freshness:
Transferring dry goods to airtight containers can help maintain freshness and prevent spoilage by keeping out moisture (because sometimes the kids don't remember to roll down the cereal bag and add a clip).
3. Reduced clutter and waste:
Removing bulky packaging reduces visual clutter and the amount of trash you need to dispose of as you use the items. We save all our cereal and cracker boxes and use them as fire starters when we're in the mood for s'mores. We store them in a box in the bed of our truck that we call the 'fire box' instead of throwing them in the trash.
4. Label The Containers in your RV Cupboards:
Adding labels to your containers lets you quickly identify the contents and avoid confusion about what's inside each one. Our kids still joke about "cumin" toast (when we confused cinnamon for cumin and put it on their breakfast).
5. Easier accessibility:
You can easily see the contents with transparent containers, simplifying meal planning and saving time while searching for ingredients. The stackable containers are much more manageable for our kids than pouring cereal from a plastic bag.
It also is a visual reminder of what's left and what needs to be replaced. We're less likely to realize there's only one serving of cereal left in an opaque container.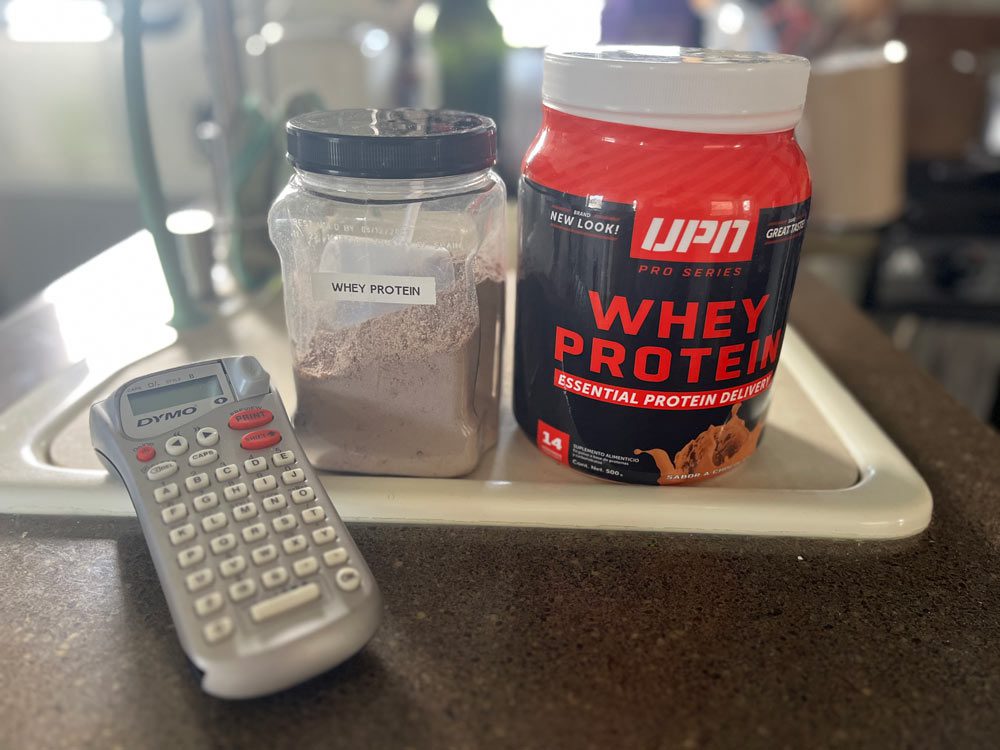 When repacking dry goods into smaller containers, choose airtight containers to maintain freshness and use stackable containers to maximize storage space. Remember to label each storage container with the item's name and expiration date, ensuring you use up things before they spoil.
---
General Camper organization ideas
Keep Your RV Clean and Decluttered:
Maintain a neat and organized environment by regularly cleaning and putting items away in their designated storage spots. In a small shared space (like our 30-foot travel trailer for our family of 5), it only takes each person to leave out 1 or 2 things before the tiny space looks like a hoarding situation.
How To Store Your RV Accessories For Easy Access:
Designate specific spots for frequently used items and consider using hooks, shelves, or magnetic strips to keep them easily accessible. We also find for things that can't hang (like our water hose or electric cable) that velcro straps help keep coiled items from tangling (most of the time).
Use Command Hooks For towel holders, hats, key hooks, and artwork in your RV:
Use damage-free command hooks to save space and avoid drilling holes in your RV walls. In many cases, there aren't studs, or you can't find studs in the exact location where you want your hook (and the walls aren't drywall, so they won't hold in a screw or anchor), so a command hook is a perfect option.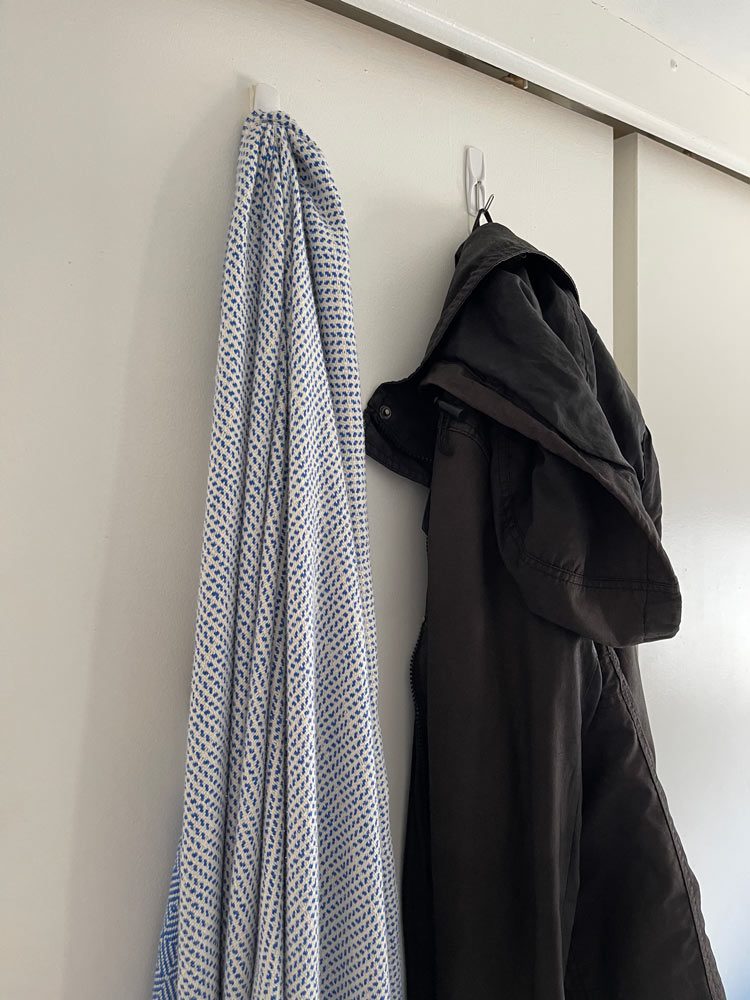 Remove Unusable Components To Make RV Organization More Practical:
When we bought our second travel trailer, there was a loveseat in the slide (that pulled out to a single bed), and the bottom 3rd of the loveseat was a storage drawer.
Yes, it's hard to remove functional storage drawer space, but we also knew that we didn't use the couch space in our first trailer, so that the loveseat wouldn't be practical for us in our second trailer. It was a two-seater that faced straight into the kitchen sink, so not as if we were going to have friends come over to socialize on the loveseat.
We removed the loveseat, made an office space, and used the cupboards above for my office supplies.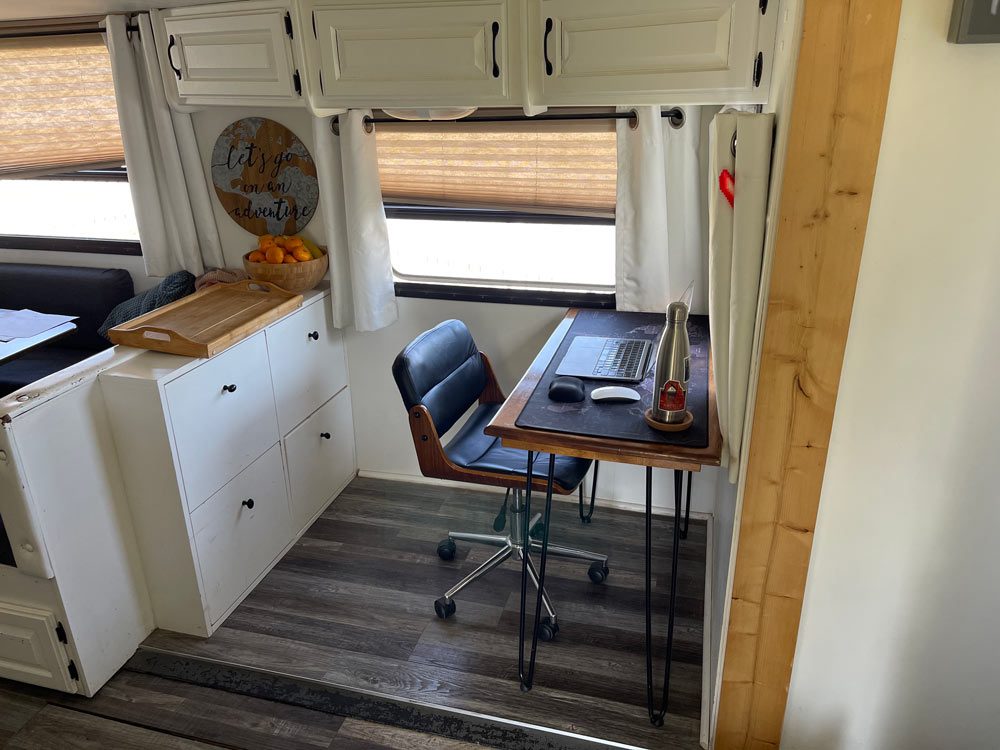 Now, I don't have to clean up my space to set the dinner table available every evening, and we have another "counter space" to set things down with my desk in that area.
Since I didn't need the entire width of the loveseat for an office, we found a compact (6″ deep) shoe storage shelf that could back into the dinette and give us an extra bit of counter space.
We use the counter space on top of the shoe rack more often than we open the shoe rack.
Sliding Basket Organizers – great for inside a cabinet and "hard to reach" areas:
You can install sliding basket organizers to act as drawers in your cabinets for easy access to items stored in the back. We don't have any in our travel trailer, but we've considered it with the storage under our dining seats.
It's nice to be able to lift the seat and have a ton of storage space, but it is hard to get to the items across the back seating area, and we end up using that storage space for things we don't get around to using anyway (like that once-a-year pasta maker).
---
RV Kitchen Storage Ideas
Stackable Shelving For Cupboards:
You can't create any more surface space in your RV, but you can start making the most of the vertical space. Be sure you're using the highest shelves for the tallest items rather than putting short things on tall shelves and then deciding you need more space for that tall vinegar jug or olive oil bottle.
After you've put your tallest items on your tallest shelves, then you use stackable racks to create layers of storage in your RV cupboards or your RV refrigerator.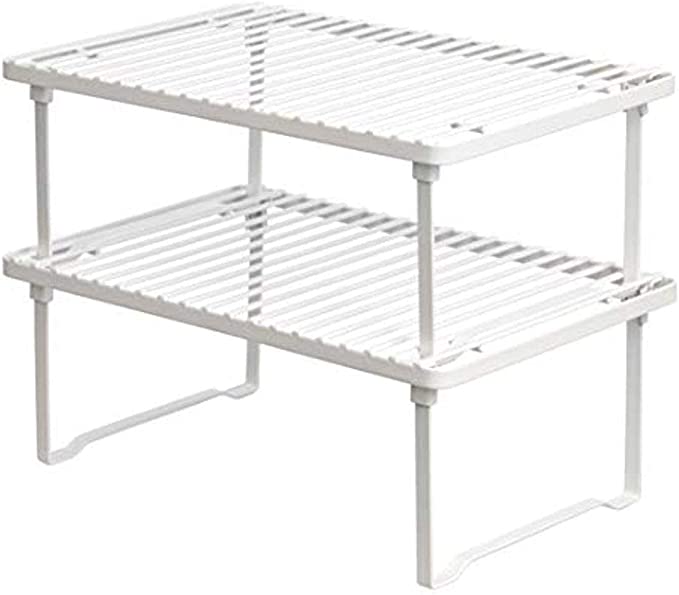 Magnetic Knife Rack:
In the same way that stacking shelving help preserve valuable vertical space, a magnetic knife rack can help with RV kitchen organization by keeping your knife block off the counter and using the backsplash space.
Don't cheap out. Buy a strong magnetic knife rack since it will have a fair amount of movement while traveling down the road.
Opt For Multi-Functional Accessories:
Choose accessories and appliances that serve multiple purposes to save space and make your RV more functional.
We have a kitchen-aid stand mixer which takes up a good portion of our counter. Still, by getting the attachments for peeling vegetables, shredding cheese, and the dough hook for making homemade bread, we've saved a lot of space compared to having individual appliances for each. (and yes, you can cook full meals in an RV kitchen!)
We could save even more space by not having a mixer and doing those things by hand, but our other RV storage ideas have helped us save enough space to bring the mixer with us (plus, there are a lot of cost savings to making our own bread and buying blocks of cheese instead of shredded.)
Under-Cabinet Tray for under RV kitchen cabinets:
You can maximize kitchen space by adding an under-cabinet tray for additional storage. Like a sliding drawer for your storage spaces, a sliding tray will allow you to easily access the things hidden out of sight at the back of the tray.
Mount Holders Inside Kitchen Cabinet Doors
This is one of those RV storage ideas you have to figure out how to do work for you. Sometimes there's no space inside the cabinet once the door is closed to have something mounted to the door, but almost every RVer that we know suggests some kind of holder for the cabinet door under the sink since that's usually wasted space.
We keep our dish scrubbers in that little holder (held in place by command hooks), which means we don't have to find a place for them to be on travel days, and they're always in place when we need them.
Maximize Counter Space: Sink Cover Cutting Board
Choose a sink cover with a built-in cutting board for a convenient, space-saving solution when preparing food.
We have 2: One that covers the sink (from the manufacturer) to create more countertop space and a wooden butcher block we got from the "as-is" section at IKEA, which we use to cover the stove when we're not using the burners for additional countertop space.
---
RV Bathroom Storage Ideas
Hanging Shower Caddy for your RV Shower:
Install a hanging shower caddy to store shower essentials, saving space and tidying your bathroom. This also saves space and serves double duty if you're visiting a campground, so everything you need to go for a shower is in an easy-to-carry caddy.
Over-Door-Organizer for Personal Items and Bathroom Products:
Utilize vertical space by installing an over-door organizer to store personal items and bathroom products. The back side of your RV bathroom door is usually less functional space anyway. I say "usually" because sometimes you need that space to stand in your RV bathroom.
Wall-mounted shelves with ledges:
Add extra storage space with wall-mounted or cabinet-mounted metal baskets in your RV bathroom. We did this in our bathroom with old bread pans picked up at the thrift store. With a coat of black spray paint, we screwed the bread pans into the wall, and we now have shelving that holds everything in place on travel days.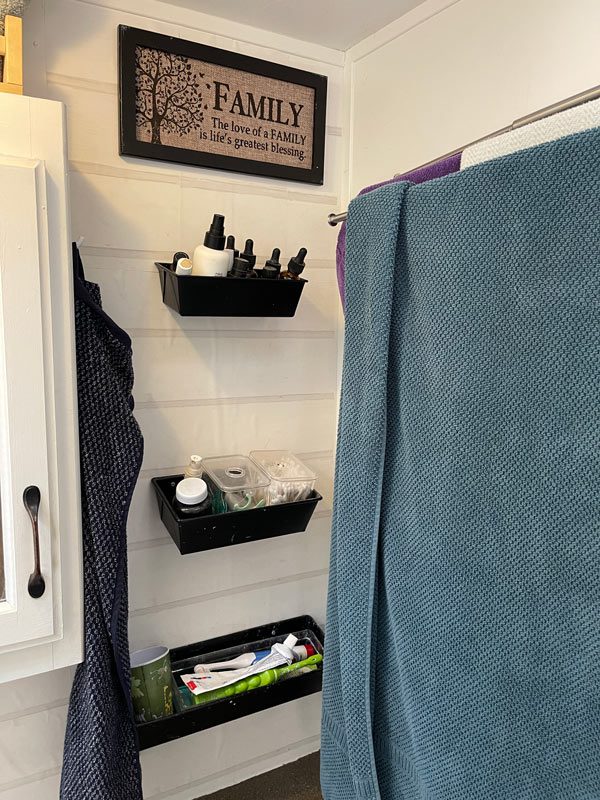 Create a Cupboard From Unused Wall Space:
You can use empty wall spaces by installing shelves to create a functional pantry or storage area in your RV. We've considered doing this in the space between the bathroom mirror and the corner wall in the bathroom picture above. Otherwise, that space is almost unusable, so we've considered closing it in or putting in full-width shelving with a ledge.
We would only go part way down to the counter since having some counter in your RV bathroom is helpful.
---
RV Bedroom organization ideas
Tension Bars For Curtain Rods on RV Bedroom doors:
We used tension bars or dowels to create curtain spaces in our trailer. Sometimes it's not about keeping the boys' room organized but more about the ability to pull the curtain and not have to see it.
Each of their bunks has a dowel with a curtain so they can close their curtain any time they're in bed and have some space to themselves. Across the doorway to their bedroom, we've got a tension bar as a curtain rod, but that falls quite often, so we'll probably replace it with a dowel when we stop in our home base next.
I've also considered adding some curtains around my office space, but we all know no amount of curtains will stop our boys' noise.
The same is true in your RV Bathroom: Get a shower curtain that's nicer to look at than the clutter in the tub itself (a handy spot to stick things out of the way temporarily), and hang the shower curtain with a tension rod if necessary.
Use baskets or containers to store like items together:
Group similar items in baskets to make it easier to find what you need and keep your RV looking organized. We find that just the visuals of a group of similar containers look less cluttered than having our cupboards chock full of different packaging and labels.
Our first trailer came with a bunkhouse with four bunks. Since we have three boys, we removed one of the bottom bunks to give the boys some indoor floor space. We found empty bean bags that are meant for storing stuffed animals. This cleaned up the look of the kids' bedrooms (since there weren't stuffed animals cluttering up the space) and gave us the functionality of extra seats.
Besides stuffed animals, we also started using bean bags for storing hoodies and fluffy winter clothes when we needed closet space for summer wear.
Find Hidden Storage Space In Your RV:
Our master bedroom is at the front of our travel trailer. For aerodynamics, the front of the trailer is bowed, which means that the top of our closet is deep enough for a hanger, but at the bottom of our closet space, the front bow makes the closet almost 3 feet deep.
We use that depth to store a space heater, a small ironing board, and a manual water jug pump I have to return to Walmart sometime on my side of the bed. In Celine's closet… I don't even ask.
We had a built-in stereo system under our TV with ceiling speakers throughout the trailer and a pair outside, and while that seemed like an excellent idea when we bought the RV, we never actually used the stereo, so we pulled it out and now use that space with a storage basket to organize our charging cables for iPhones and iPads.
In our outside kitchen, there's such a small space between the wall and the fridge, and we realized we could store rolls of paper towels there – too bulky to store anywhere else.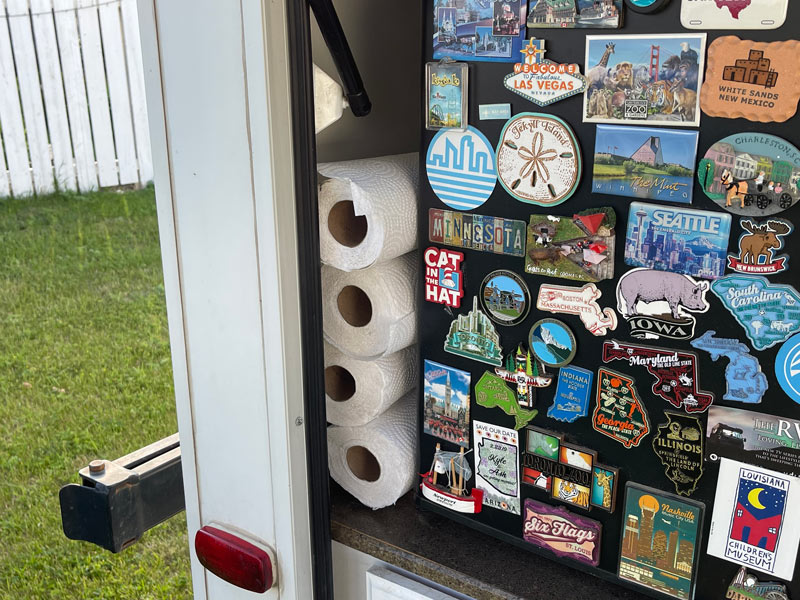 We've heard of RV owners removing microwaves they didn't use and put in a cupboard space, removing the oven for more shelving, or removing a panel to find more usable space.
---
Camper Storage Ideas: The Great Outdoors
Depending on how often you move, there may be more effective solutions than outdoor storage.
We have friends who travel once every couple of weeks, and all of their favorite RV storage ideas involve setting up a clam tent outside and moving things from the inside of the RV to the bed of their truck when they're not towing a fifth-wheel.
We move every few days to a week (usually), so we tend not to spend much effort considering outside as part of our RV organization strategy since we'll need to clean it all up in just a few days.
We do, however, like to put out the awning and hang wet towels to dry outside to keep the humidity out of the RV, and if we're experiencing a bout of RV organization fever, we'll unpack an area in our RV kitchen or another storage area to give us some open area outside of our small RV space to reorganize and restock.
In our first RV, we had a clothes drying rack to avoid putting out the awning, but we found that carrying that around was impractical. We also didn't have an outdoor RV kitchen in our first trailer (although the upside was we had a residential refrigerator instead of an RV refrigerator, so we had more inside fridge space), so we had a folding table and an electric skillet that we could bring outside if we were going to fry anything with strong smells from bacon to onions, or bacon and onions.
Obviously, we didn't want the smell of bacon lingering in our small space, but it also meant we needed to find extra storage for a folding table.
RV Bumper Storage Ideas
Some people will add a cargo carrying rack to the back of their trailer. It can be attached with a hitch mount and give you extra storage without taking up valuable floor or interior space.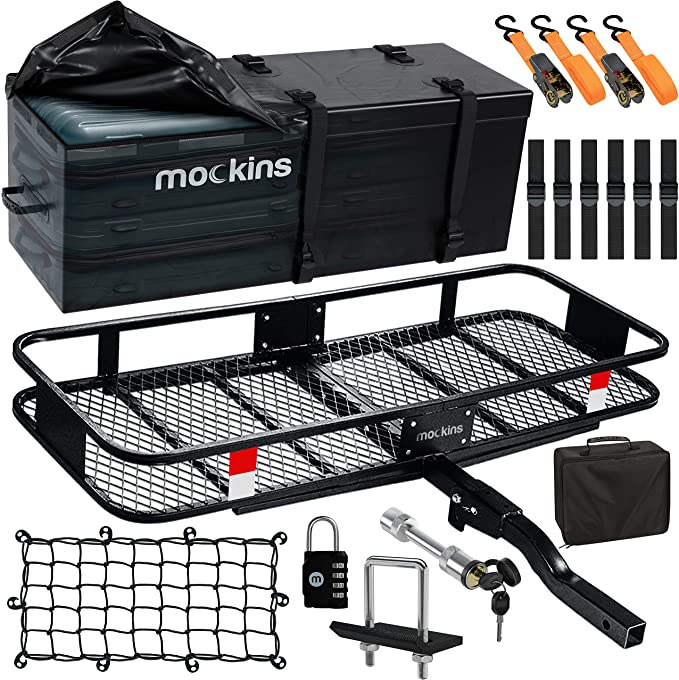 Camper storage ideas will vary from one person to another depending on your RV life, frequency of travel, size of your RV, and how many people live in your small space together.
---
Conclusion: RV Organization is worth the effort
Effective RV storage is crucial for an enjoyable and stress-free camping experience. One of the main benefits is maximizing the limited space available in an RV. By organizing belongings efficiently and using space-saving solutions like stackable storage containers, collapsible items, and wall-mounted storage, you can optimize your RV's interior and make it more spacious.
Being intentional with your RV storage provides numerous benefits, including maximizing available space, improved organization, easier maintenance of cleanliness, and protection of items. By focusing on efficient storage solutions, you can enhance your overall camping experience, making each trip more enjoyable and hassle-free.
Also, if you're new to RVing, your extended family might decide to go a bit overboard for your first Christmas, birthday, or just whatever. We'll take the blame. Send them the link to 15 practical gift ideas for RV families.
You might also like one of our most popular articles: 9 ways to save money on campgrounds.