Disclaimer: This article contains affiliate links. If you choose to make a purchase by clicking on a recommendation, we will receive a commission at no cost to you. Someone's gotta pay for the gas.
What does BLM (Bureau of Land Management) mean?
What does BLM stand for? Camping on public land is managed by the Bureau of Land Management (BLM), a United States government department that manages public federal lands like national conservation lands and national forests. (In Canada, public land is known as Crown Land).
BLM-managed lands are available for public use, from camping to target practice to off-road vehicle use. There are BLM campgrounds and areas throughout the US, but the largest concentration is in the Desert Southwest (Utah, Nevada, California, Arizona, and New Mexico).
Some dispersed BLM campsites are areas you pull off from the main highway for overnight parking. Others are protected wilderness areas or national conservation areas (sometimes called back country camping) set aside to preserve the habitats of wildlife in the area.
Others still are historic trails that are being preserved by the federal government for present and future generations.
BLM manages lands that allow RV camping next to scenic rivers, valley views from mountain tops, mountain views from foothills, dry lake beds, and cliffs. It's not unusual to see livestock grazing through the wilderness, and sometimes the only signs a human has been there before are pit toilets off in the distance (or a hot air balloon landing).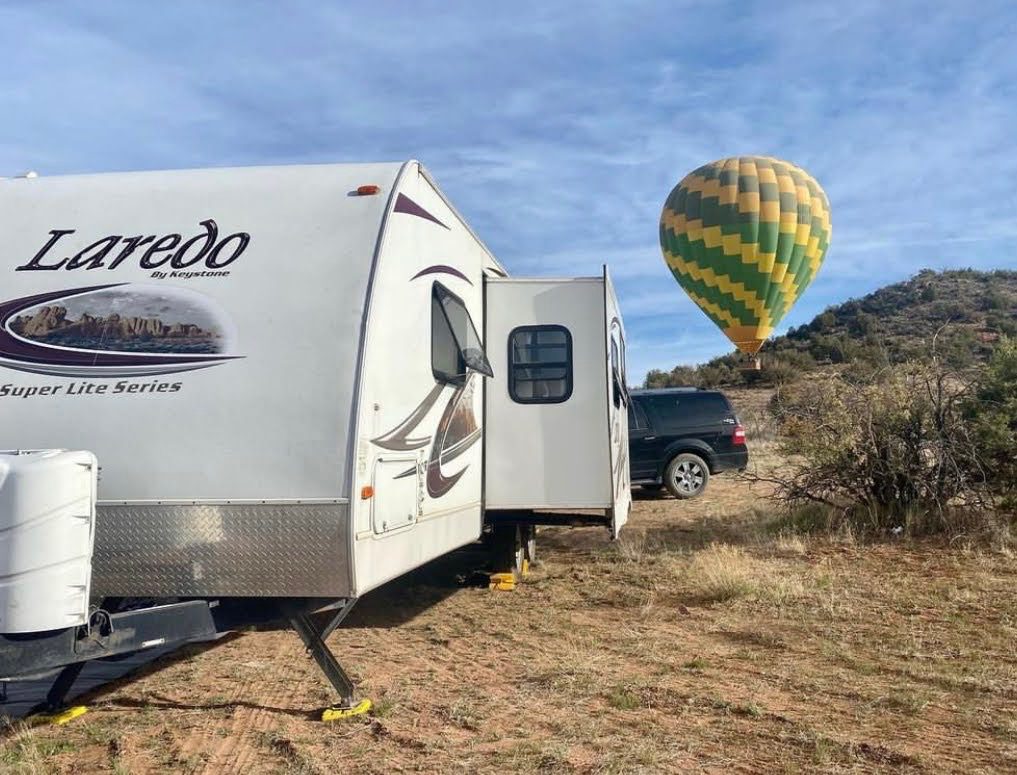 We didn't use public lands very often in our first year of RVing since the camping on BLM land is mostly dry camping with no water or electric hookups, and we didn't yet have solar.
(If that's your situation too, you might be interested in these 9 ways we cut our campground expenses in half our second year on the road.)
Also, there isn't as much BLM available in eastern states (most is west of the Mississippi River) and there's almost no BLM land in Florida where we were visiting. Instead, we use Harvest Hosts if we're wanting to save money by dry camping in the east. (Check out a Harvest Hosts membership here.)
For a deep dive to answer all of your questions, check out the Bureau of Land Management Camping Book.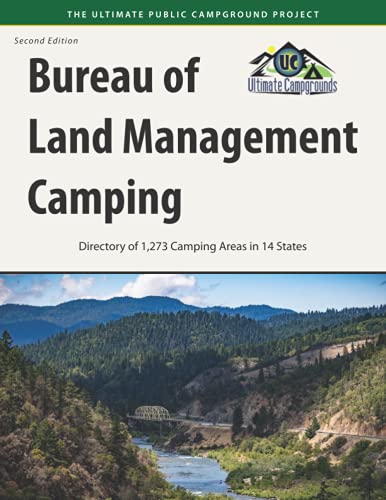 Since installing solar and lithium batteries in our travel trailer, we have spent most of our US and winter camping time on BLM land. Our first stop was the south entrance of Joshua Tree National Park:
We've found that we love boondocking. You won't often find us paying for a BLM campground or a campground at National parks since we can park our RV on free undeveloped public lands within easy reach.
There are a few BLM campgrounds run by locals on BLM land who may have hookups, but primarily BLM camping refers to free camping on public land with no hookups.
You've probably searched for "blm land near me" and if that hasn't returned the results you're looking for, here are our recommended tools:
Where to Find BLM Campgrounds
We use campendium.com primarily to find areas where we can camp on BLM land. While there are others (like the Dyrt or ioverlander.com to find BLM land) that are meant for much more off-road and rugged land perfect for taking a jeep or tenting, campendium gives us the information we need to figure out how accessible the area is for our truck and travel trailer, as well as how much cell signal we can expect to maintain internet access.
For us, this is important since we run our business from our RV.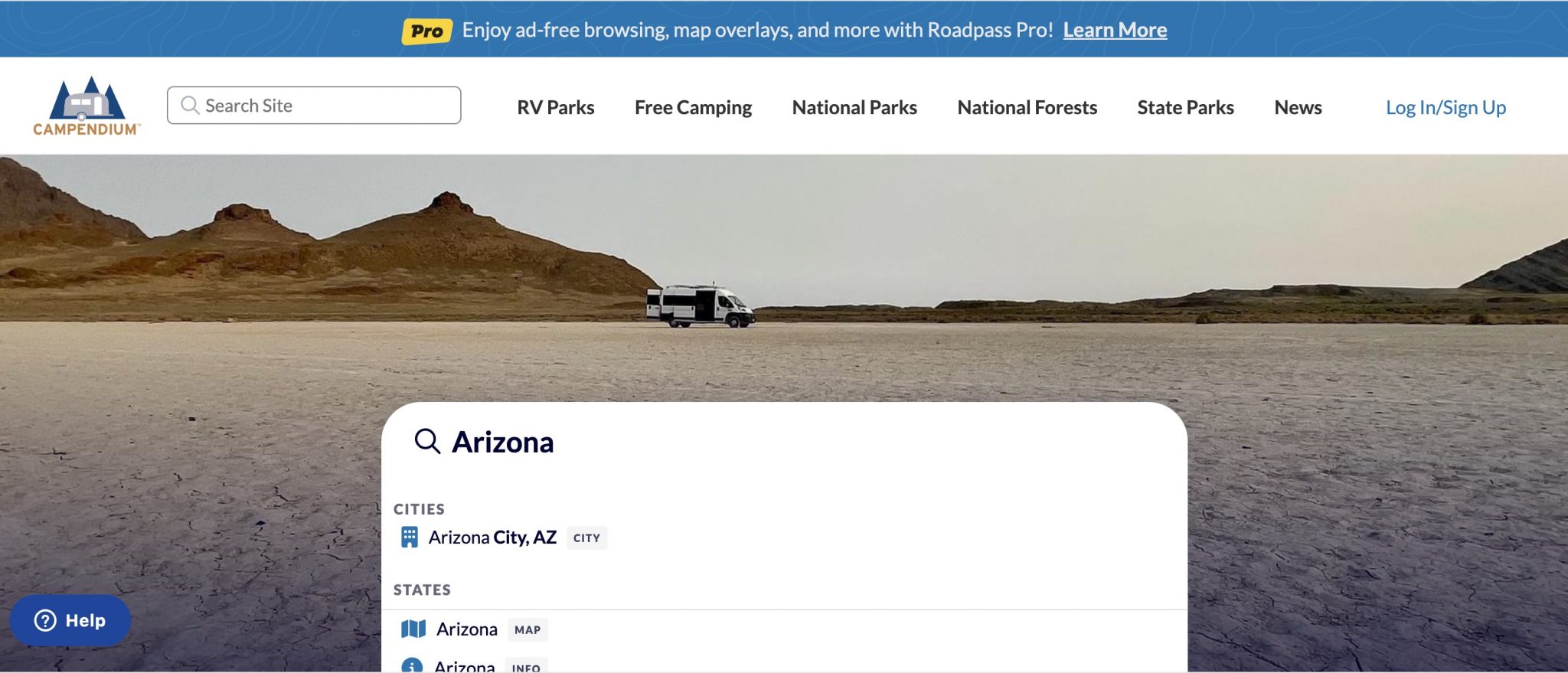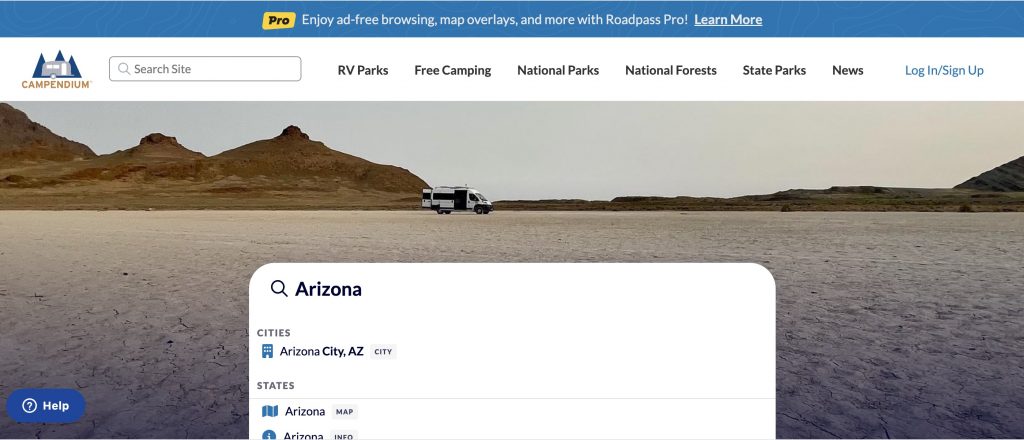 How to Find Free Camping Spots (Dispersed Camping) on BLM Land
Once we get to the spot on the GPS app, how will we know where we can or can't park?
We had the same concern. BLM is mostly open land – very few structures (other than the rare pit toilet), rarely paved roads, and often not much signage.
You'll find that unless you're going off-roading (which most of us aren't with an RV), you'll see dirt roads in BLM areas, so you'll know where to drive. Along the dirt roads will be turnouts where you can pull off and park your RV, and sometimes there will be some obvious indicators like metal fire rings made of a circle of rocks from a previous guest, and sometimes even a picnic table or marked campsites.
We've found marked campsites are much more common in National forests and at boondocking locations in Canada. The desert southwest BLM camping areas are often dried-out lake beds or foothills near mountains with some dirt roads with turnouts.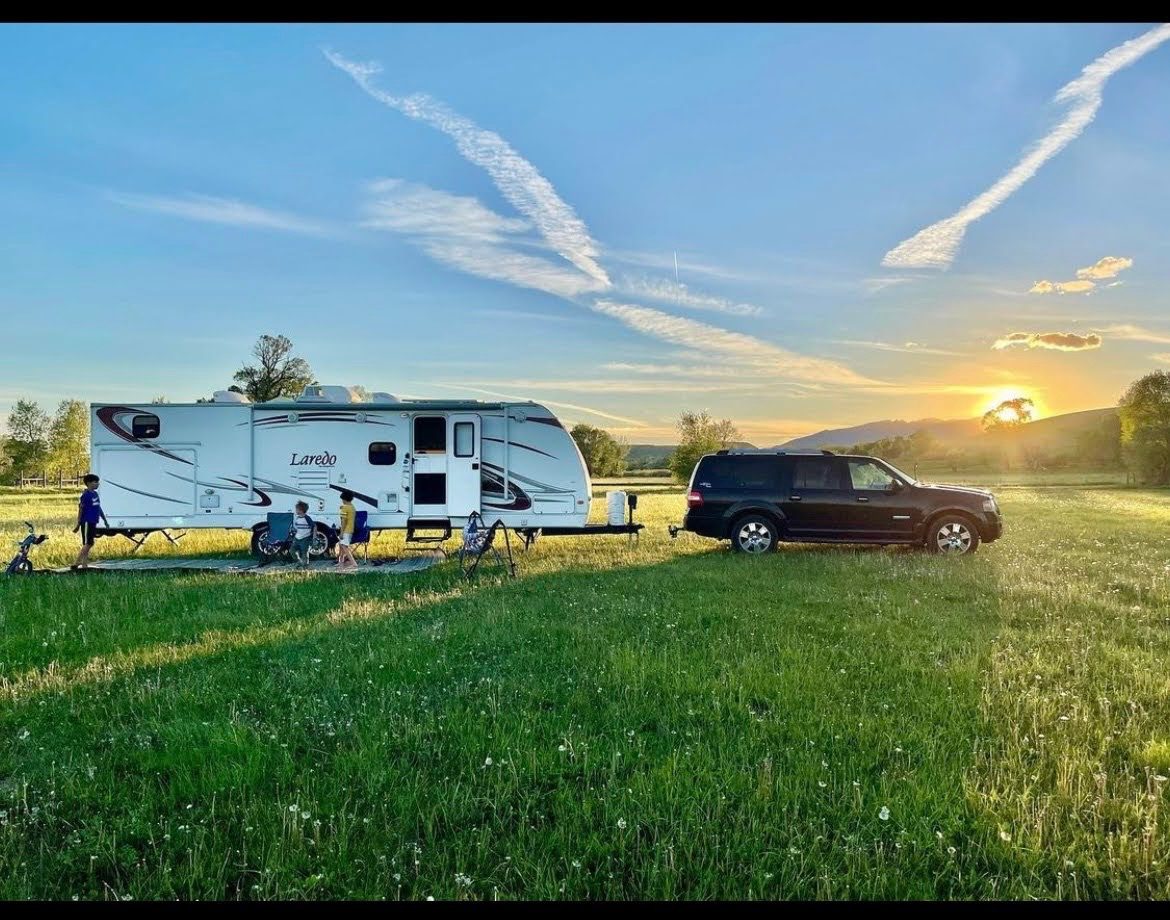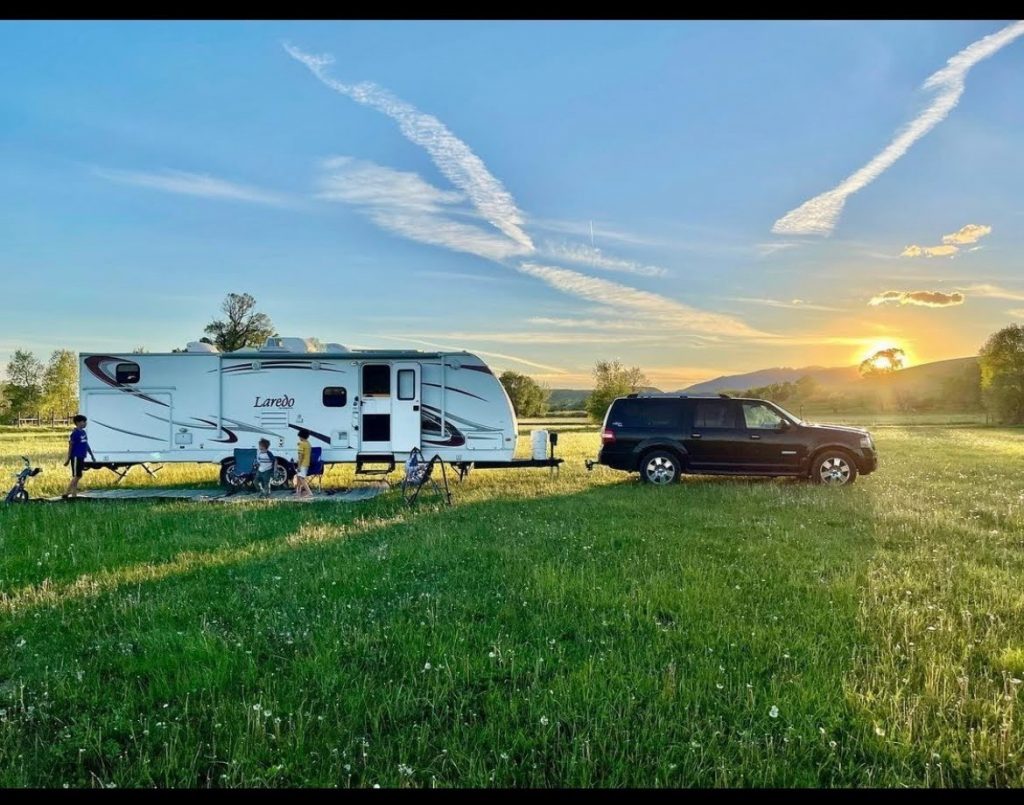 Is It Safe to Camp on BLM Land That's Not A BLM Campground?
We haven't had any concerns for our safety while camping on BLM land, (Georgia, California, throughout Canada, it hasn't been a concern anywhere) but we also consider a few things when out in the desert:
Arrive Before Dark
We never plan to arrive after dark, even as a contingency.
Arrive during the daylight so you can avoid sharp rocks and cacti instead of driving over them, decide where is an appropriate place to park, and give yourself a plan B option if you don't feel safe in a particular area.
There are no streetlights on public land, and while you might imagine your headlights are sufficient, you'd be surprised the tunnel vision that happens when your peripheral is taken away.
One night while dry camping with friends in the desert, I ran out of propane (rookie mistake). Since our fridge runs on propane, I had to make a trip into town.
Even at 9 pm with our outside lights on in the RV, our friends shining their flashlights on the road where I needed to drive, and my high beams on, I still drove over a dead cactus lying on the side of the dirt road.
If something comes up and we can't get where we wanted to get before dark, we'll find an alternative option at a campground or overnight in a Walmart.
Wildlife Lives on BLM Land
You're bringing your RV to park somewhere wildlife may have walked through freely just the night before. Stay away from plants they may be foraging for, and keep in a well-lit area or sit by the fire ring if you're going to be out in the dark.
We've had experiences where we could hear coyotes just outside our windows, had bison walk within a few feet of our RV, and had deer foraging for grass between our travel trailer and unhitched vehicle.
Give them space, and don't do anything that could startle the wildlife into reacting.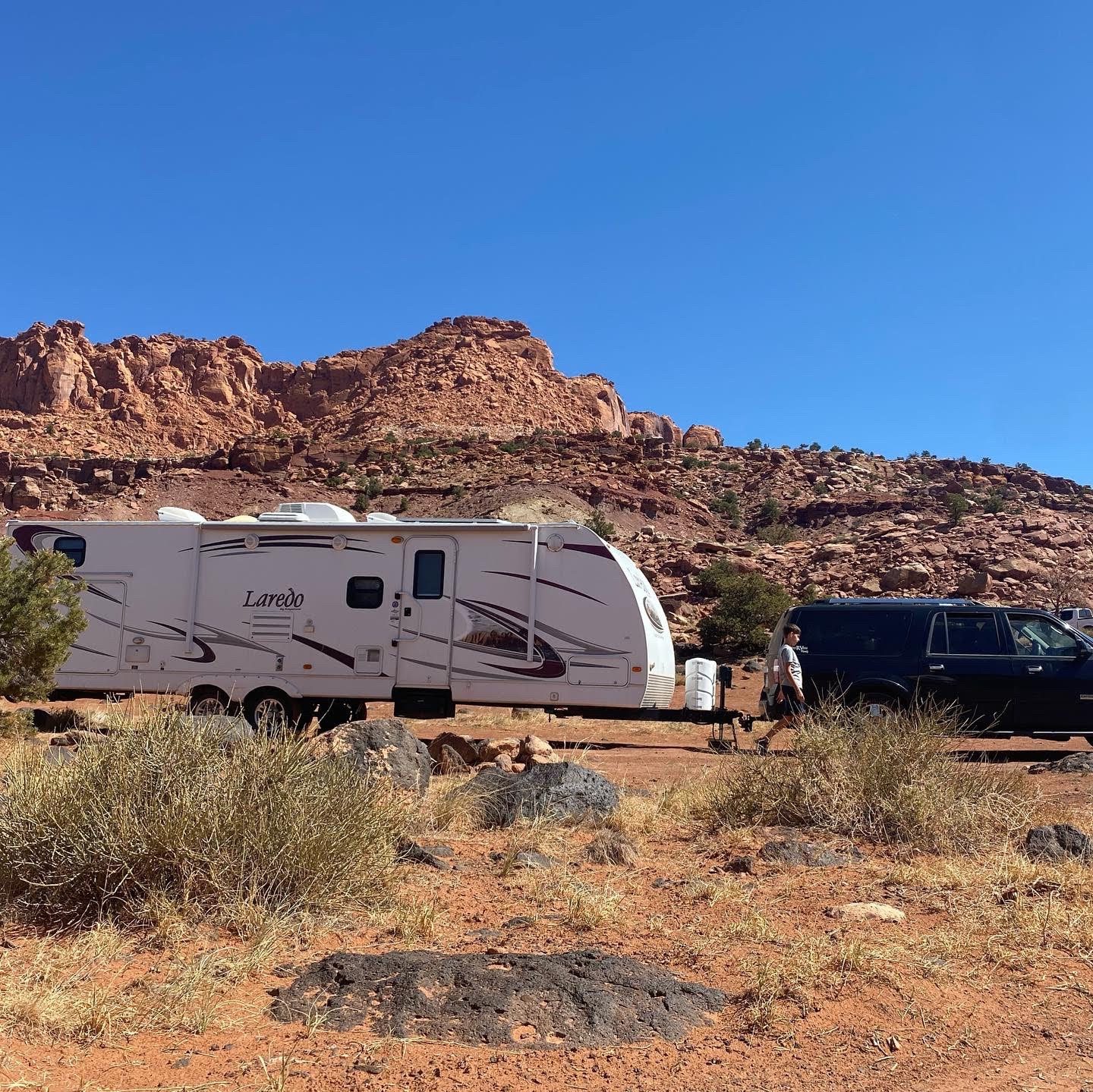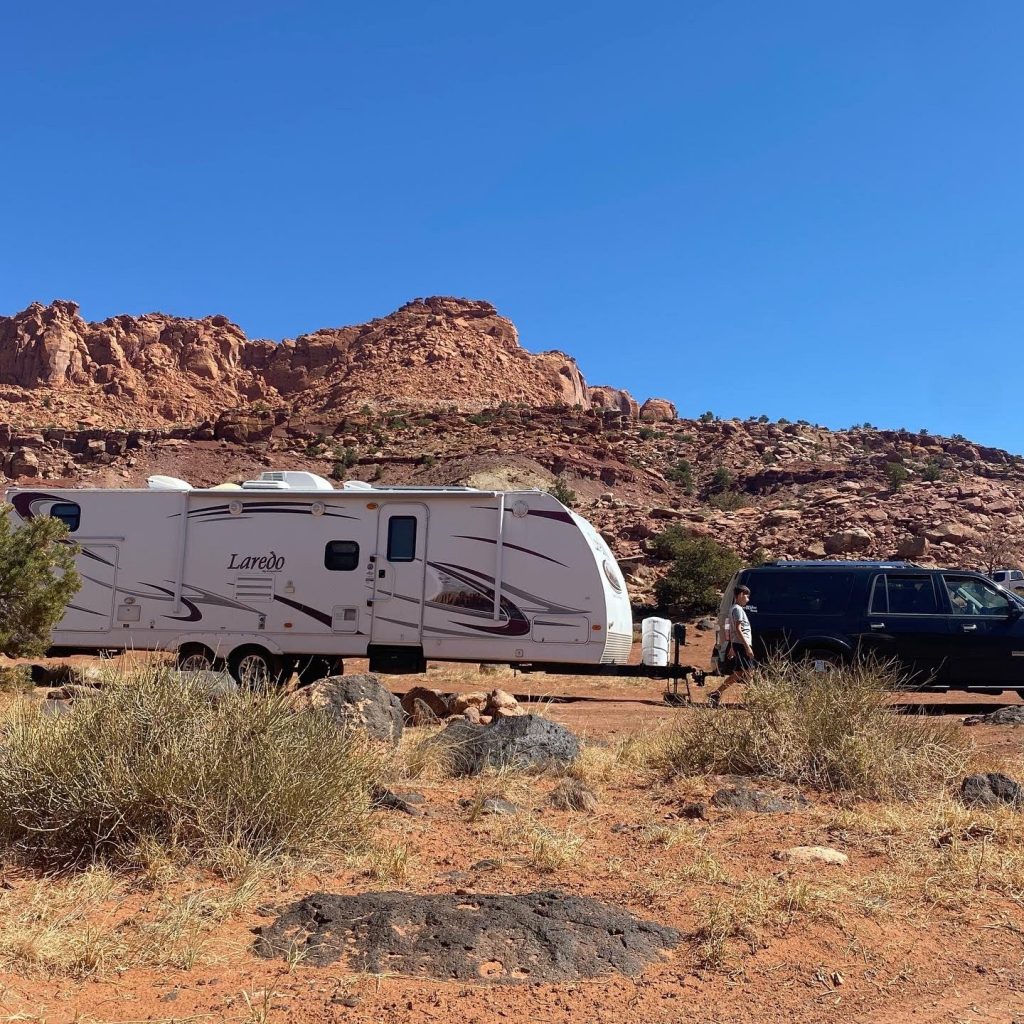 Other Campers on BLM land
We've only had great experiences meeting other people on BLM land, from someone who asked us to help jump-start his car just north of Joshua Tree, California (one of our favorite places to camp for free in Southern California), to another family who saw we had kids and asked if we wanted to join them for s'mores outside of Quartzsite, Arizona.
For the most part, we realize that people are camping in the desert because they want some time to themselves or with people they've traveled with, so we don't wander around trying to strike up a conversation.
Common courtesy goes a long way, so don't part too close to others when you have an entire desert to share and don't park between someone and their view of the mountains or lake or whatever they've positioned themselves to enjoy.
Stay on BLM where you have cell signal
As much as campendium helps sort out which areas do or don't have cell signal, if you're unsure about how safe BLM land is, then be sure to stay in a location where you have a cell signal to call 911 or jump in your car and map directions to the nearest hospital.
Since we have three boys who are always poking at things, jumping off things, and trying to wrestle with each other, we never want to be in an area where we can't get to medical help if needed.
That restricts where we can go to some degree, but if you're concerned about safety, don't go so deep into an area where you can't make a call if needed or get your vehicle to the road without having to crawl over rocks and washboard paths.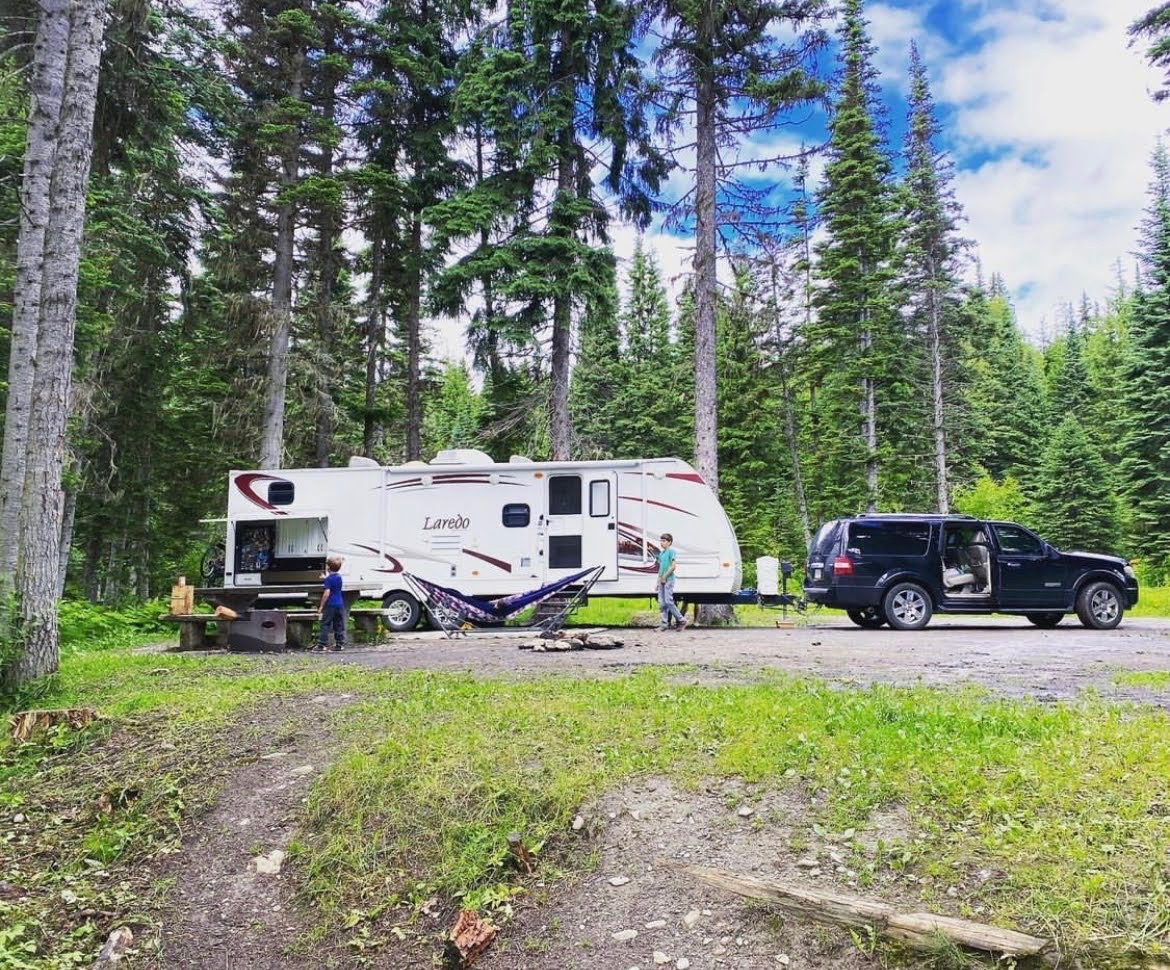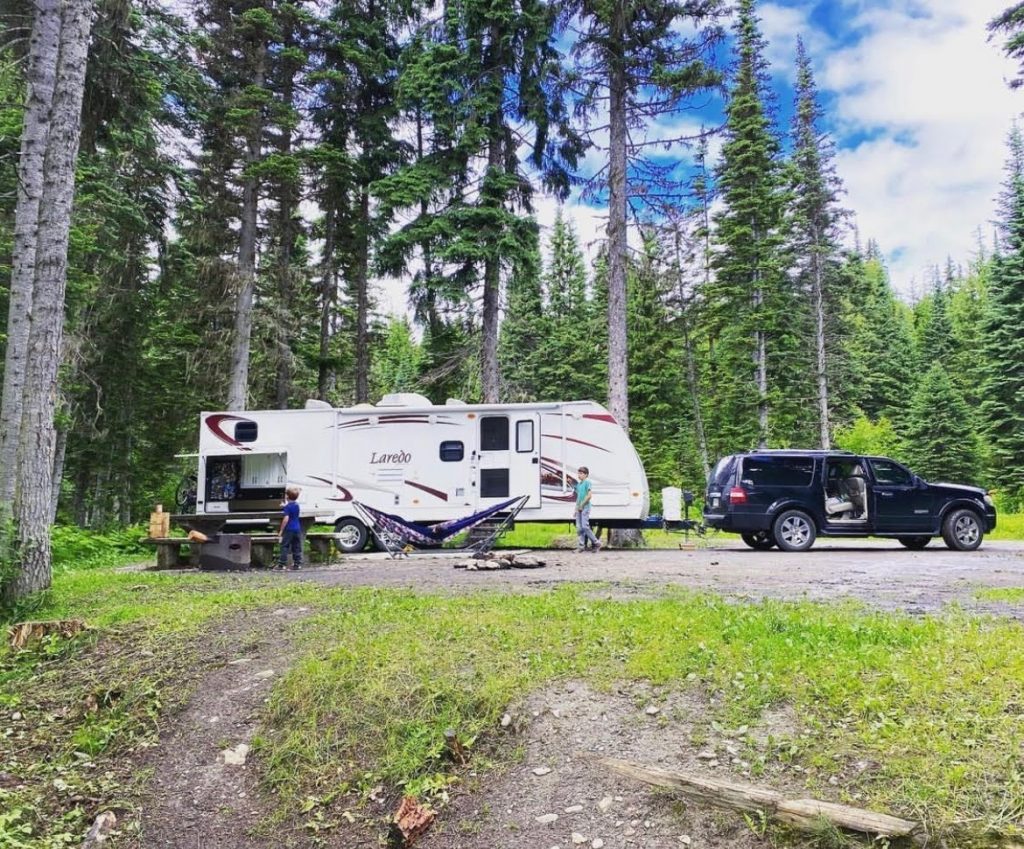 BLM Local Field Offices
There is often a Bureau of land management office near where you're staying, so if for some reason you feel unsafe, stop by the office during business hours. Since their job is land management, they'll be quick to address the concern.
Since any given visitor center or local field office is responsible for thousands of acres of undeveloped land and multiple BLM sites, you'll want to be able to give them specifics of your area if needed – a dropped pin on your interactive map can be helpful to help them address a specific concern.
Is it Safe to Leave my RV Unattended on BLM Land?
Use your best judgment and go with your gut. If you're parked just off a highway, then you may not want to leave your RV unattended with people driving by. If you're deep into the woods or not in plain sight, it may be less of a concern.
We'll often leave our travel trailer to run into town or go for an all-day hike, but we've never left our trailer unattended overnight.
Apple airtags have become a popular option for knowing that your RV hasn't moved from where you left it and are easy enough to stick in a drawer or under a bumper so they're not quickly discovered.
If you have a bumper pull, trailer hitch locks can be a great deterrent for someone looking for a convenient opportunity to pull up their truck and tow something away.
Whether your RV is driveable or towable, you might consider something more substantial than the factory-installed door latch with a heavy-duty RV door latch.
We take our laptops and wallets with us when we leave the RV on BLM land, in case there was a break-in. All of that being said, we've yet to hear of anyone who's had a problem.
BLM-Managed Campsites
We recently stayed in a BLM-managed campground. The views were nice, but we found nothing more unique than staying in any other campground, from amenities to pricing. Most BLM campgrounds aren't distinguishable from privately-owned campgrounds.
These campgrounds can be helpful as a dump station to empty your dirty tanks and fill up your fresh tank with water since they may be the closest option to where you're already camping in the desert, but unless we need the electrical hookups (to recharge our batteries after multiple cloudy or rainy days), then we're happy to enjoy free public land.
If you want a dispersed camping experience, staying at a Bureau of land management campground isn't going to give you that experience.
How Much Does It Cost to Camp on BLM Land?
Most BLM land is open land without any hookups, so it's free, but developed campgrounds will charge a nightly fee since you'll be using their amenities, electricity, and water.
There are various state-run public lands (not run by the federal BLM), and some of the state-run lands require a yearly permit of usually just a few dollars.
If you're on public land that requires a permit, it will be posted as you're entering the area to let you know that a permit is required.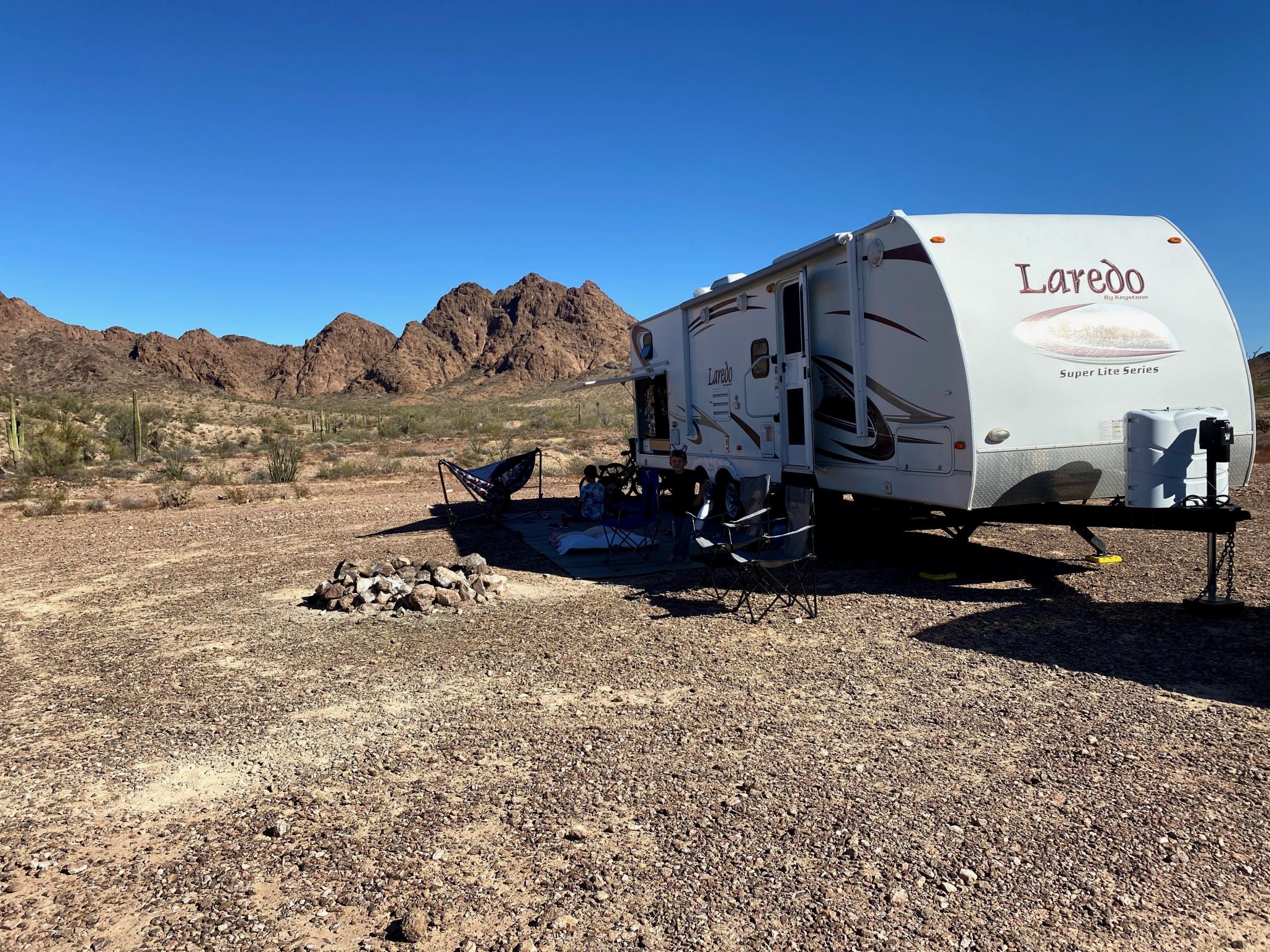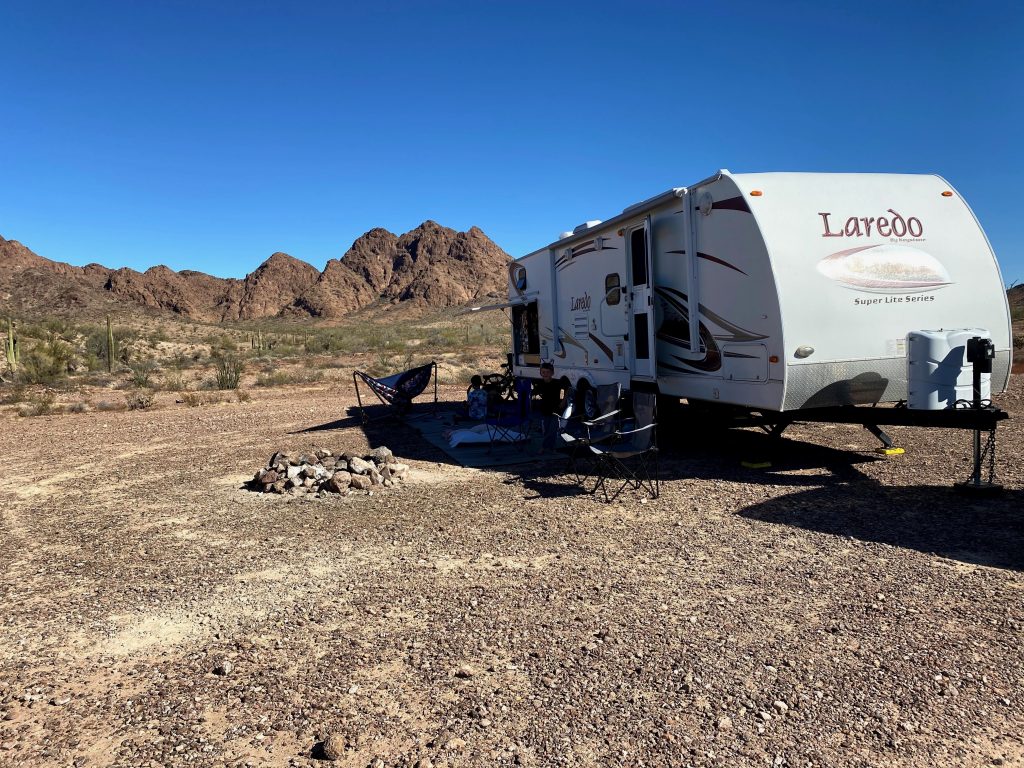 Essentials for Off-grid Camping
Since you'll be camping without hookups on BLM land, you'll need a few essentials if you'll be camping off-grid (Sometimes called dispersed camping or boondocking).
We've put together some ideas on how to keep your RV cool while off-grid.
Essentials for a few nights off-grid BLM Camping:
Here are some essentials if you're tent camping or if your RV rig isn't set up to run very long off of the battery:
Full propane tanks to run your propane fridge (our first year, we put bags of ice from the convenience store in the fridge since we only had an electric fridge which held us over for a few days).
Use propane in your oven and not your microwave
Portable USB charger to keep your phone charged in case of emergency (This one is our favorite since it's a USB power bank with a built-in solar panel to recharge)
Bottled water for drinking in case you lose power to run your water pump
Awareness that your power is limited. Will you need to bring in a slide or put up your tongue jack before your battery hits zero so you can tow or drive away?
(You might also be looking for these tips to improve your RVing experience whether you're off-grid or at a campground).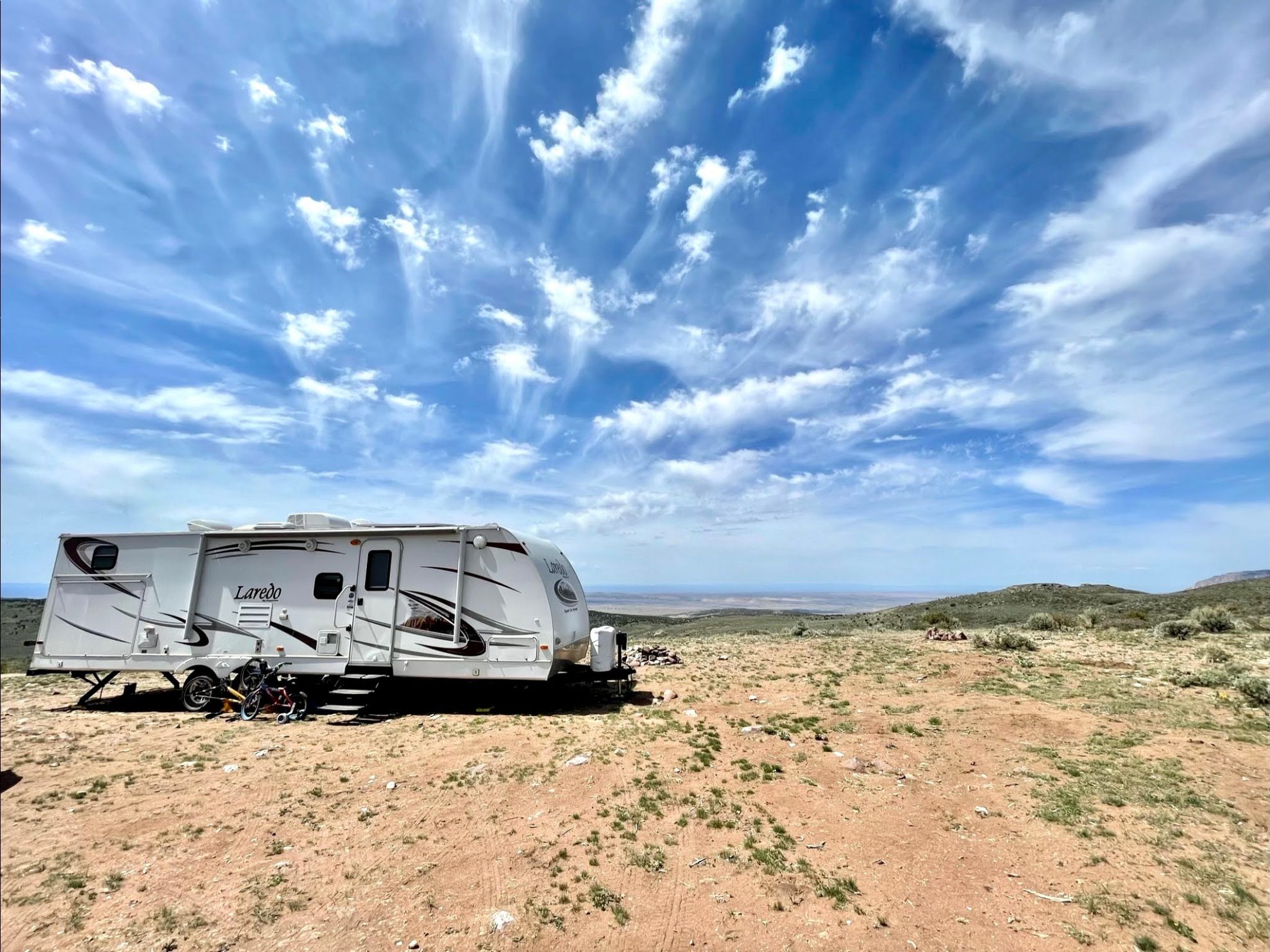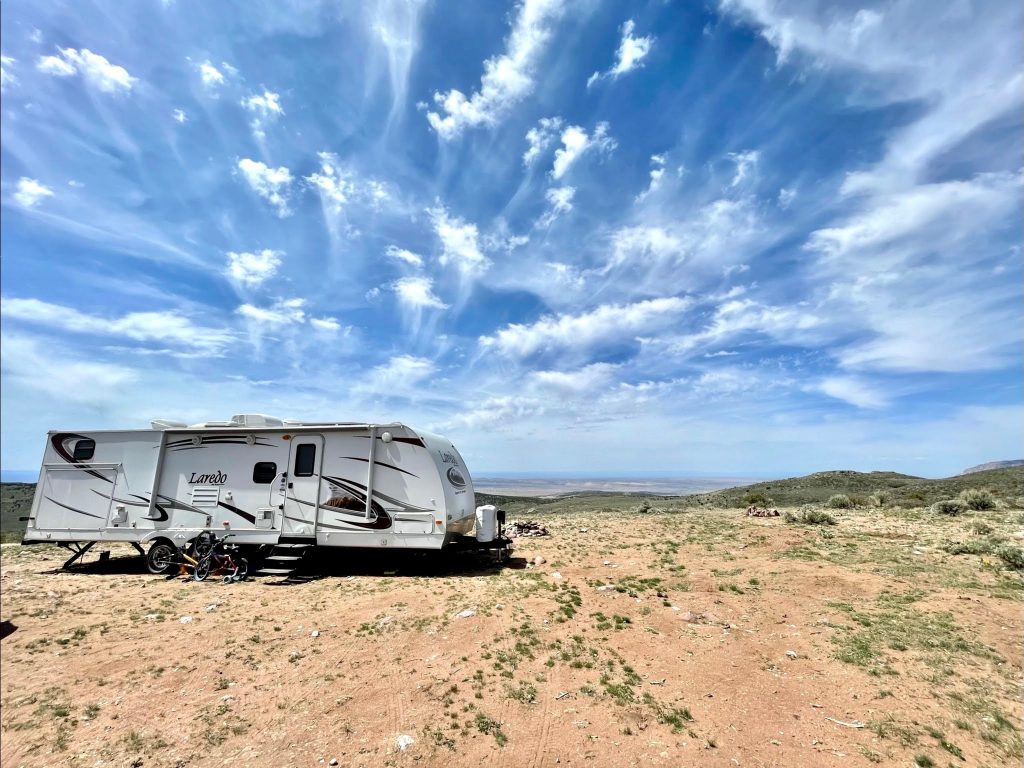 Helpful items for a week or more of off-grid BLM Camping:
If you're going to be off for more than a few nights (We've stretched out to as much as 10-nights at a time when we ended up needing to dump our tanks and refill our freshwater outside of Arches National Park), then there are a few more items that could be helpful, but what you need will depend on your goals.
For us, we're happy to camp out in public land, and our boys are happy out there for a couple days at a time, but more than 2 or 3 days, and they'd like to find friends to play with, go into a local library, or jump into the junior ranger activities at a National Park.
This means that we'll use restrooms while we're in town to preserve space in our tanks or pick up a couple of groceries here or there as needed.
We have friends who find a spot on BLM land to stay for a couple of weeks at a time, take enough groceries for 14 days, and don't leave that spot for any reason other than a hike or two.
Depending on your goals for an off-grid camping experience (boondocking or dry camping) you may consider needing the following: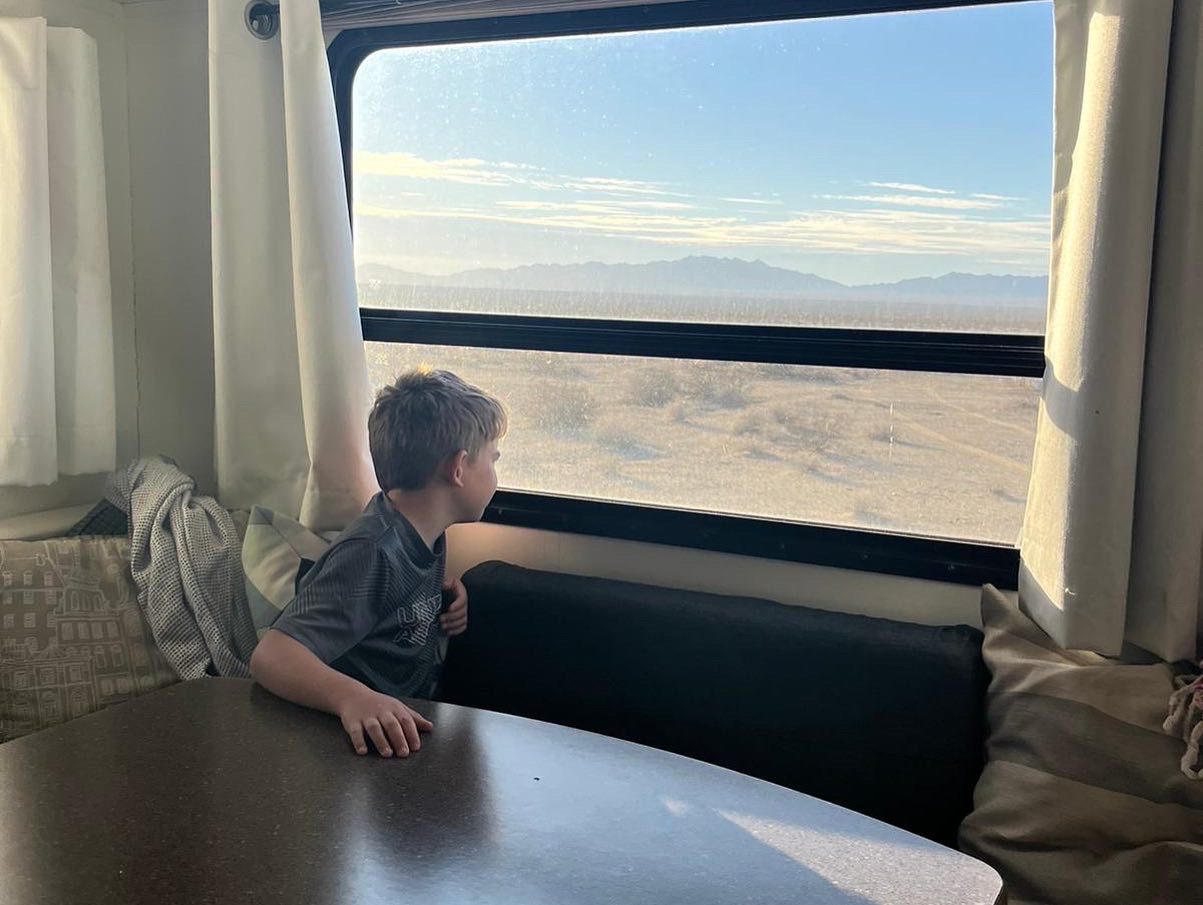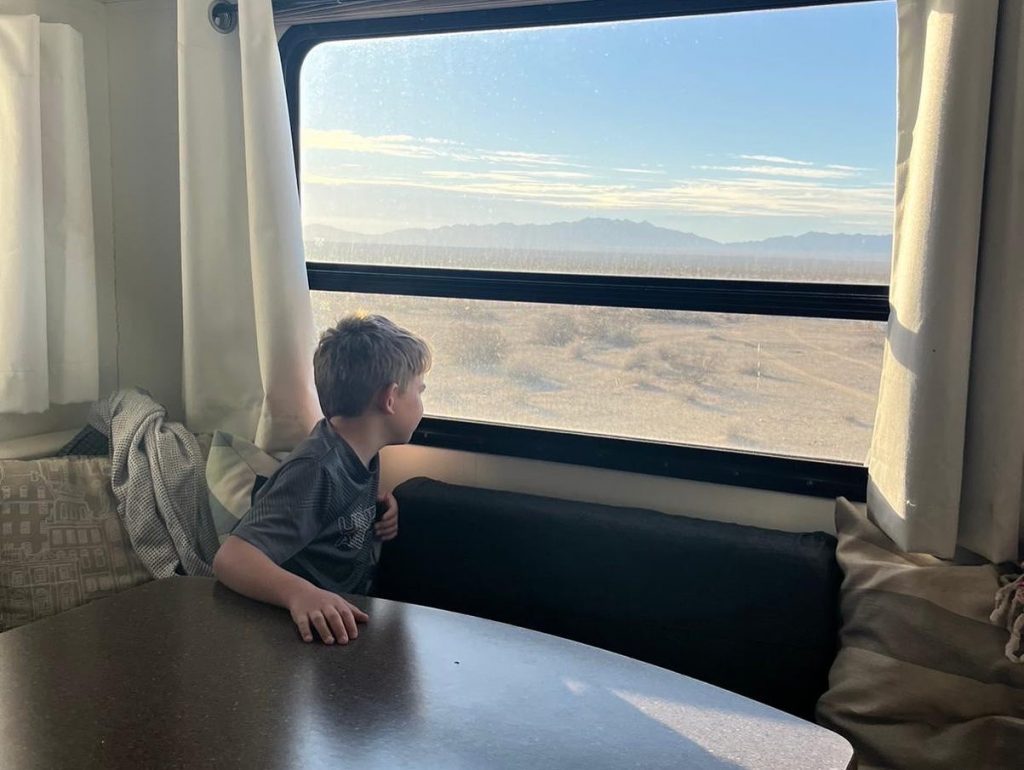 Solar Panels & Batteries for Boondocking on BLM Lands
This is so much that could be said about solar panels and batteries if you're ready to go off-grid and be self-sustained on BLM lands. Generators work well and are fairly reliable, but maybe you're going into the desert for some peace and quiet, not getting off-grid to listen to the rumble of your generator.
We had no idea where to start when friends offered to help us install solar panels and lithium batteries on our RV: How much do we need? What's the best kind? What type of batteries would be best for us? Where is the best location for the equipment?
If you're unsure where to start, here's A Novice's Guide To Solar Panels for an RV.