You've probably heard of boondocking (or some reference to being down in the boondocks) and also dry camping, with some minor differences. Boondocking and dry camping are similar – You're overnight parking, usually for free, with no hookups (water, electric, or sewer).
What is the difference between Dry Camping and Boondocking?
What Does Dry Camping Mean?
Dry camping (by most people's definition) is when there are no hookups, but you're at a developed campground.
What Does Boondocking Mean?
Boondocking also has no hookups, but you're staying the night outside a developed campground. For example – Protection Mountain Campground in Banff National Park or the Overflow Campground in Jasper National Park – both established campgrounds with no hookups (this is dry camping).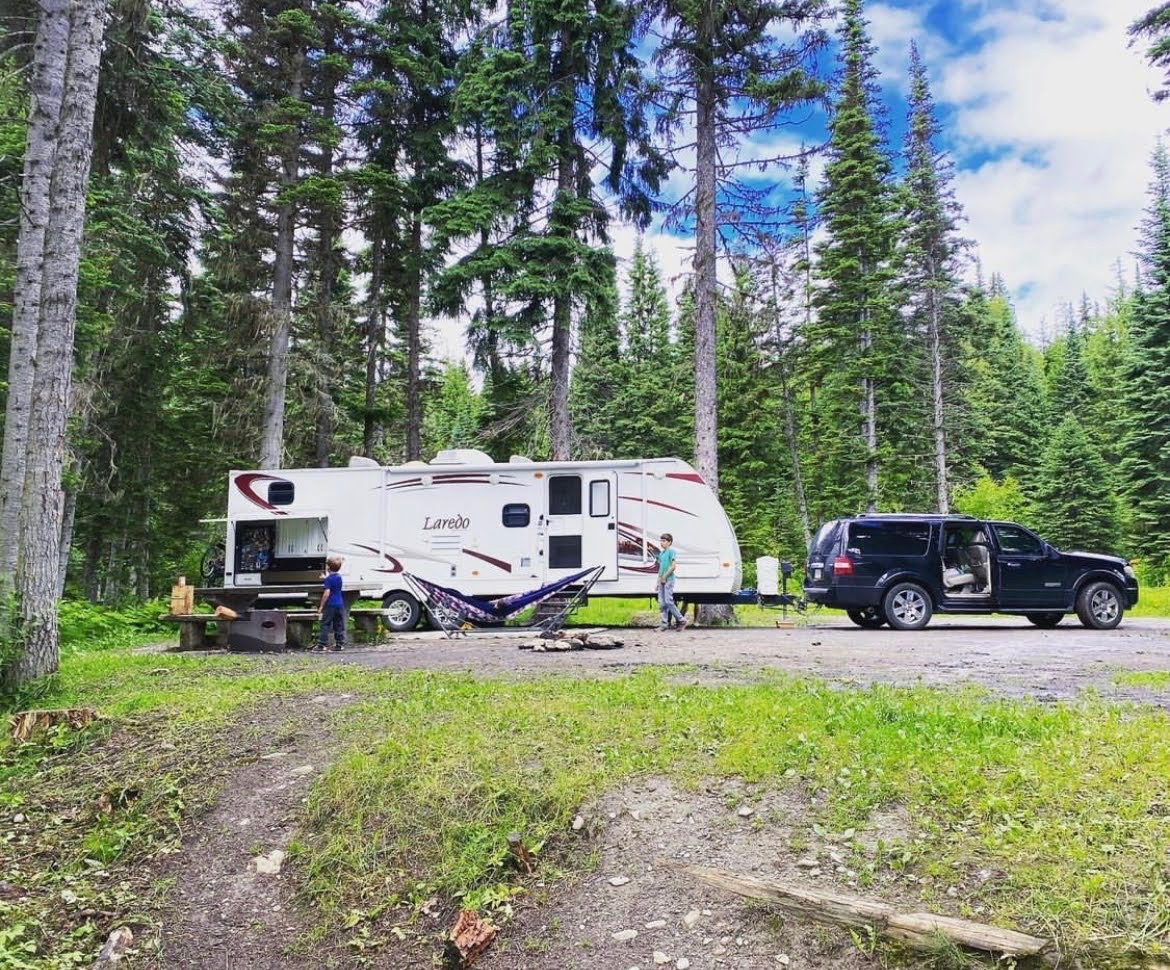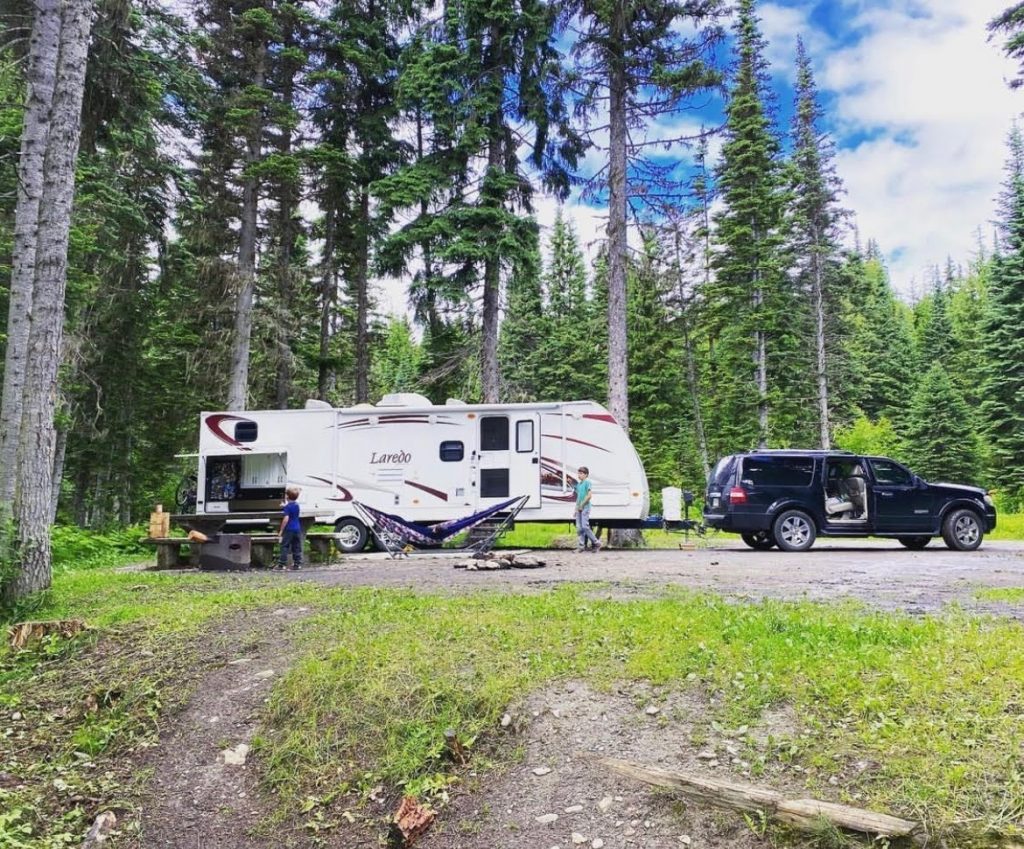 Pulling over to park somewhere other than a campground, like at a rest area on the highway, is Boondocking. (Pulling over in a Walmart parking lot is what is nicknamed "Wally-Docking").
For most conversations, there's no need to distinguish the difference with an RVer. Boondocking or Dry Camping is virtually the same thing for most of us – you're staying overnight somewhere with no hookups.
What is Moochdocking?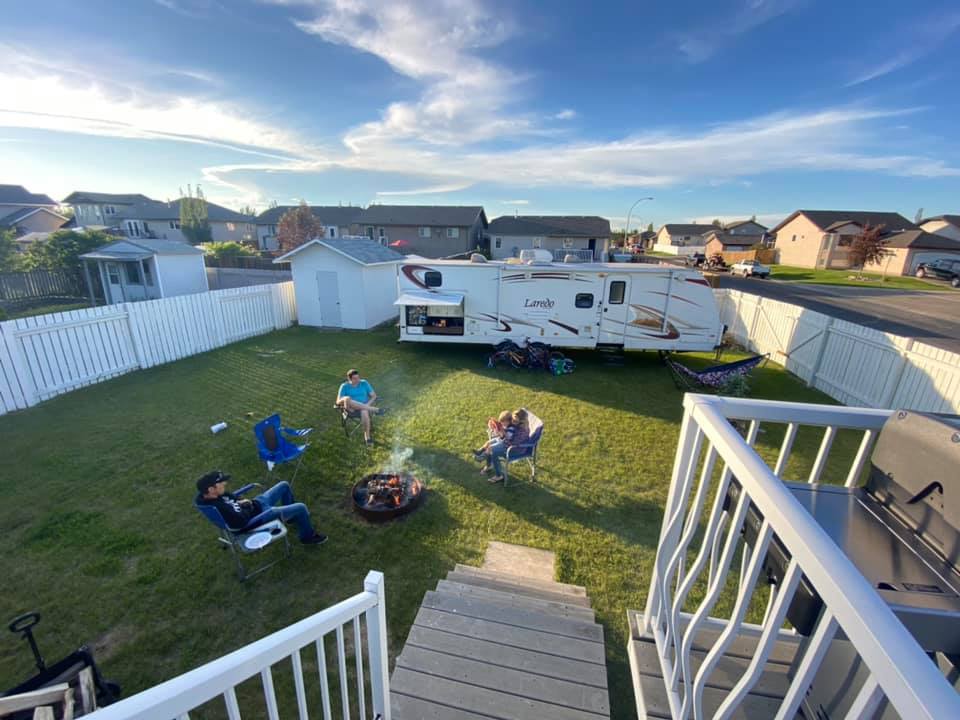 Moochdocking is another term you're not going to find in the dictionary. This is simply mooching off a friend or family member to park your RV in their driveway and get a few nights of free camping. (And maybe use their kitchen. Celine cooks in our RV kitchen quite often, but sometimes it's nice to stretch out.)
Most of the time, they'll run you an extension cord or let you hook up your hose for fresh water, so you're not actually boondocking.
Why would you want to Boondock in your RV?
Many RVers are perfectly happy to stay in a full-hookup campground or RV Park. There are often amenities, reliable power, water connections to fill your fresh water tank, wifi, a pool, or a laundry room. That being said, in many campgrounds you trade off the convenience of the amenities for being surrounded by people you don't know (or sometimes worse, people you DO know).
Sometimes those other campers are loud at night or leave all of their outside lights on when you want to stargaze, or their site is so close that when you open your blinds, you look into your neighbor's RV – not necessarily causing a problem for you, but also not providing much privacy.
Campground owners have an incentive to give you a small site and pack in as many sites as possible. More campsites = more paying campers.
Reason 1 to Boondock: Privacy and Solitude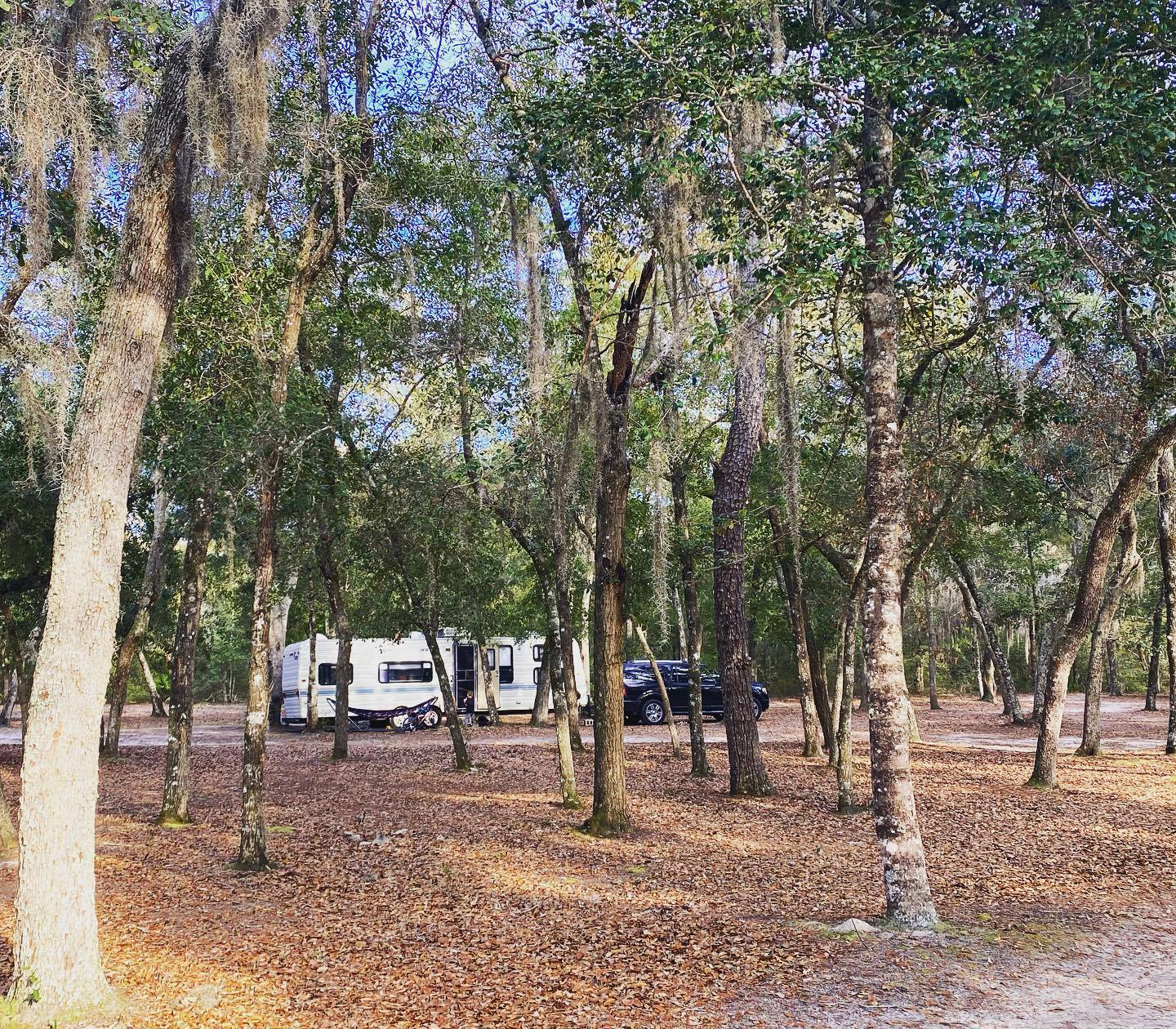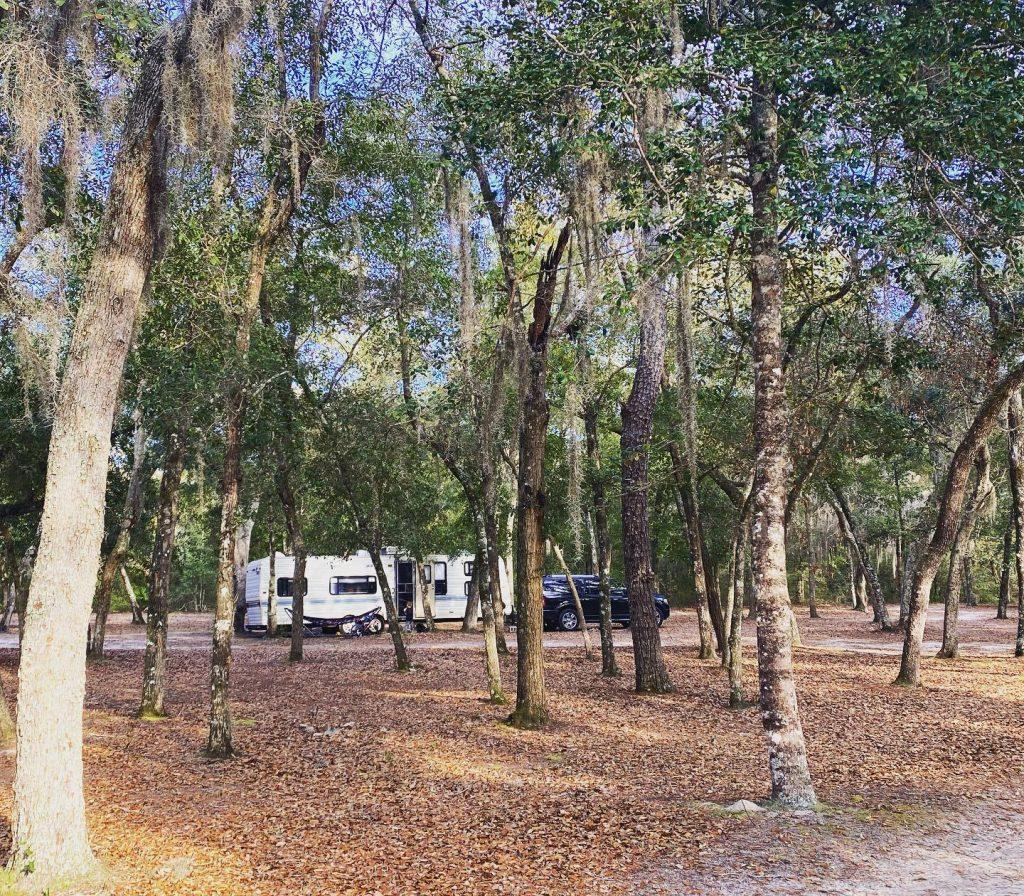 I like to have my own space. Celine likes to be meeting new people. We choose a combination of boondocking and spending time in a campground.
Our solar panel and lithium battery setup allows us to stay off-grid for many days at a time, limited mostly to the capacity of our water tank. As long as we have internet signal, I can work from our RV without any distractions from neighbors.
I don't mind the hustle and bustle of a city, but when I'm sitting around the fire at night, or laying in the hammock looking at the stars, I don't want neighbors walking past, or hearing them playing KumByYa for the 39th time on their out-of-tune guitar around their fire.
There are plenty of places to boondock for free. In the US, there is public land (or BLM: Bureau of Land Management) places where you can park in a National Forest or out in the desert. In Canada, there is Crown Land where you can park in the mountains or by a lake, or sometimes both.
Note: The majority of BLM in the states is on the west half of the country (west of the Rockies mostly), while Crown Land is pretty evenly spread throughout each province in Canada.
Reason 2: Cost Savings on Campgrounds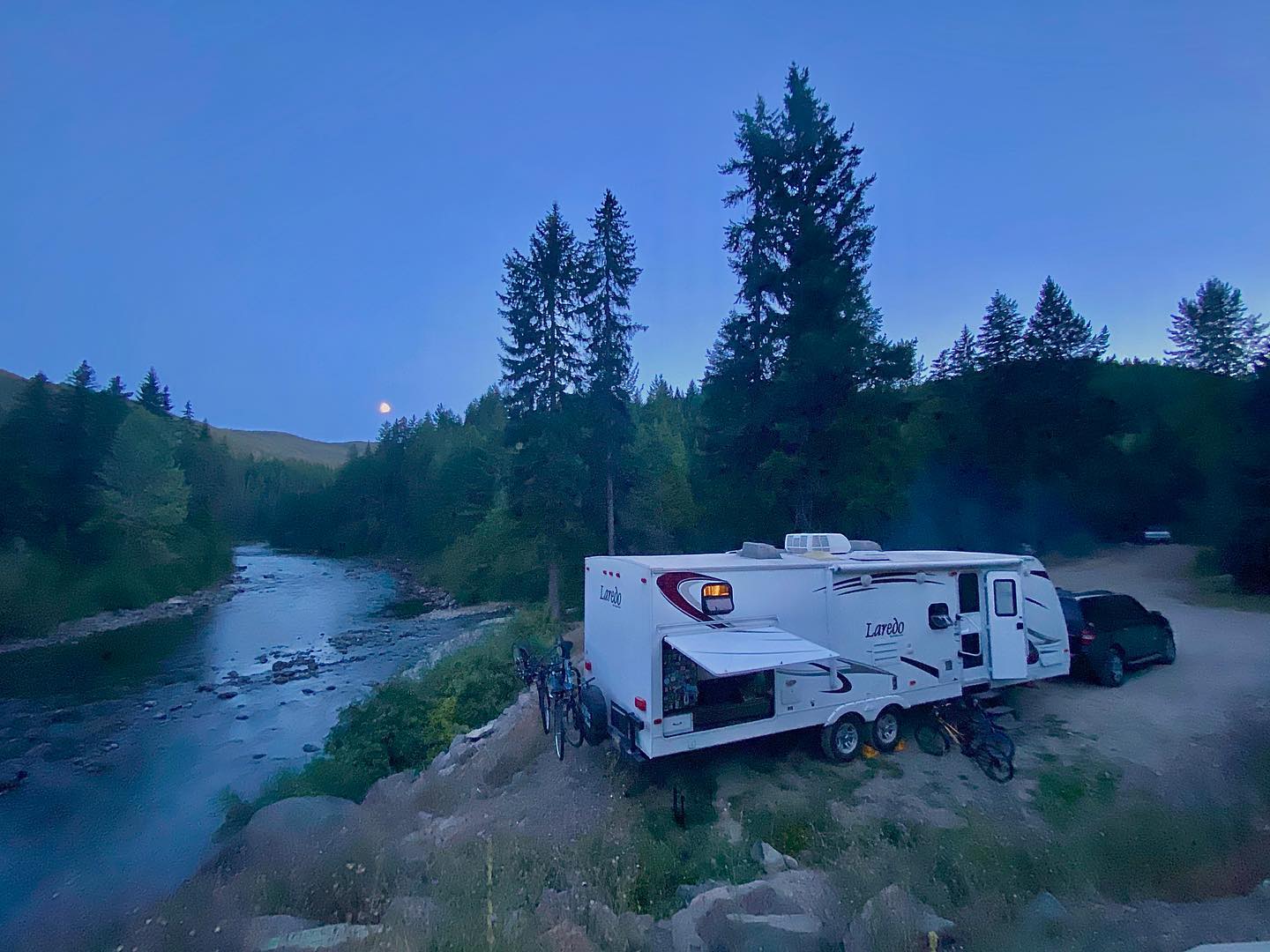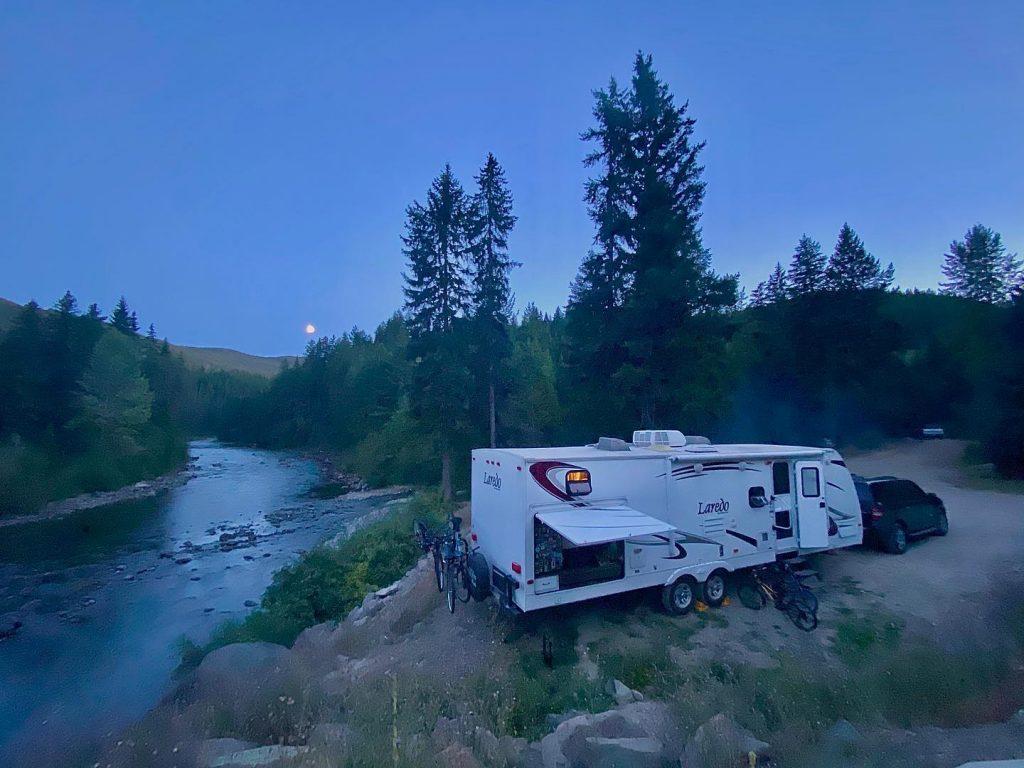 The second reason could be less of a motivator, and more like the icing on the cake.
We cut our campground expenses in half during our second year on the road, and boondocking was one of the ways that helped.
While campgrounds or RV parks can average $30-$50/night, an established campground, Harvest Hosts, or Boondockers Welcome with no hookups is much less – often working out to only a few dollars per night – and many spots are simply free camping.
If you make boondocking all about saving money, then it becomes like a necessity to keep your costs low, rather than an opportunity to enjoy nature. When we want to keep costs low while we're traveling for a couple of days and we need a quick stop overnight, we will look for a Harvest Hosts or Boondockers Welcome property to stay at.
Instead of pulling into a campground and having the hassle of hooking up just to leave the next morning, we'll stop in a Walmart parking lot, visitors center, truck stops, or a rest area on the way.
If cost savings are high on your list, then you may not be quick to rush to a campground if the temperature swings a bit cool or a bit warm. These might be helpful:
Reason 3: Location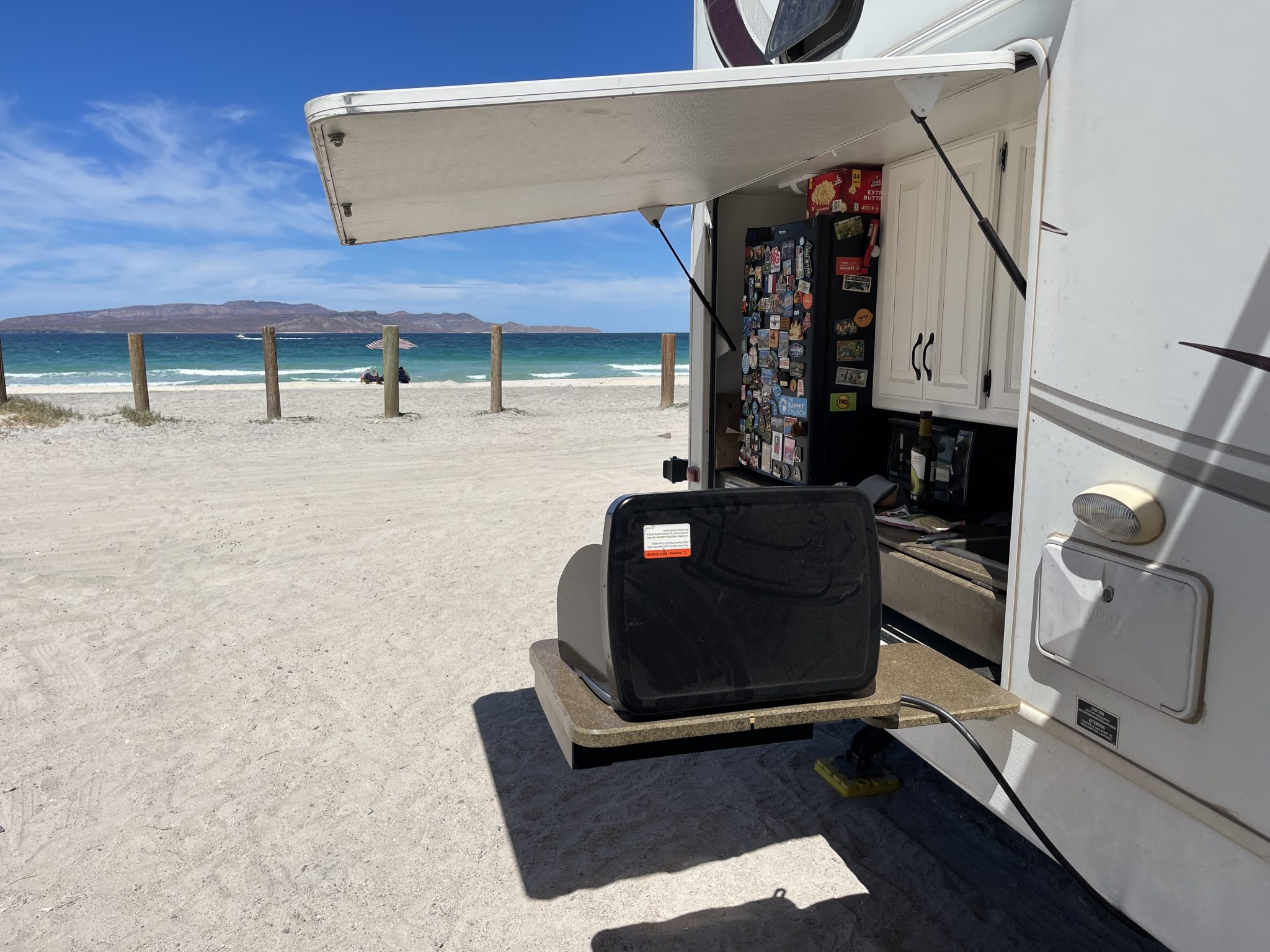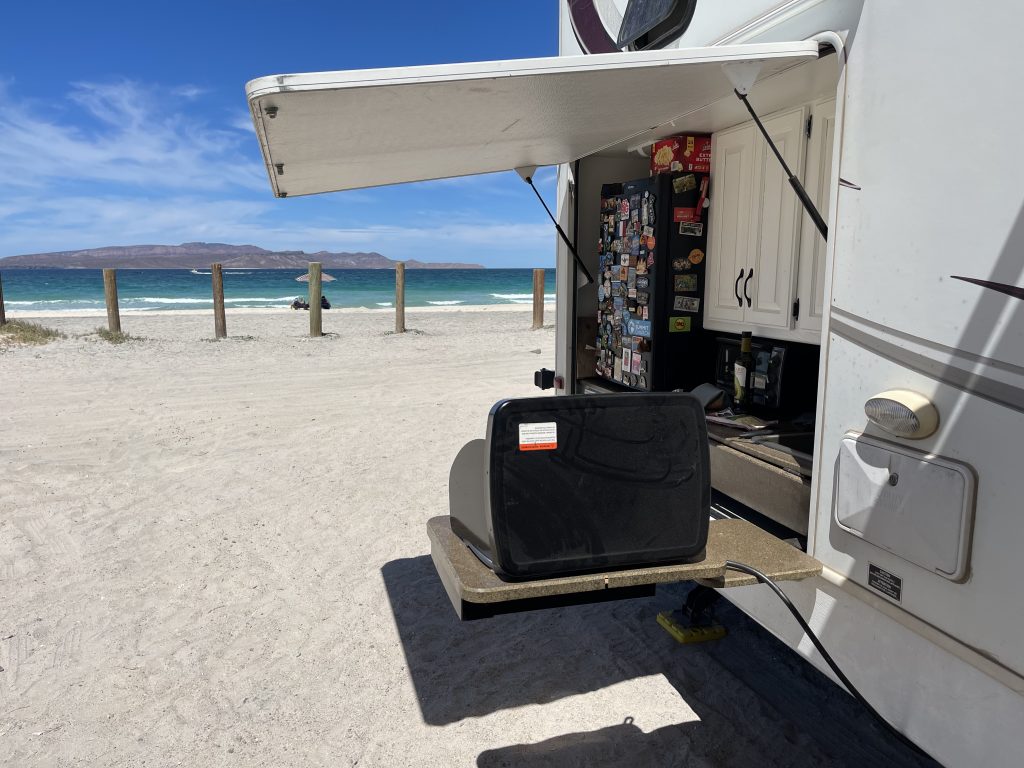 Some of the most amazing boondocking we've done is in Baja, Mexico along the Sea of Cortez.
While this specific boondocking on Tecolote beach was free, some others will be $10/night or $15/night and have some (primative) bathrooms available, plus by charging a little bit per night means that there's a minimum standard for people wanting to stay.
We haven't found boondocking on turquoise blue water anywhere else in our journey, and while a US RV park may have more amenities like full hookup sites, they're also going to come with a pretty hefty price tag to have a view anything like this.
There are plenty of RV parks in Baja, Mexico, but very few with views like you can get while dry camping on the beach.
We often get asked, "Do you have to speak Spanish fluently to RV in Mexico?" Thankfully, the answer is no!
Where is Boondocking Welcome?
Many people like the thought of boondocking and taking some time off-grid, but when you're not an RVer and you think of free overnight parking, you might think purely truck stops, or Walmarts, or in a friend's driveway. Finding out that there are dry camping or boondocking options almost anywhere is a whole new way of thinking, but you can't simply pull over and park the night anywhere your rig will fit.
Many streets have overnight parking restrictions, often parking lots are private property, and many city parks with large parking lots close at dusk, subject to trespassing violations.
Just because your RV will fit somewhere that looks vacant overnight doesn't mean you're welcome to boondock there.
Where to Boondock on Private Property: Harvest Hosts or Boondockers Welcome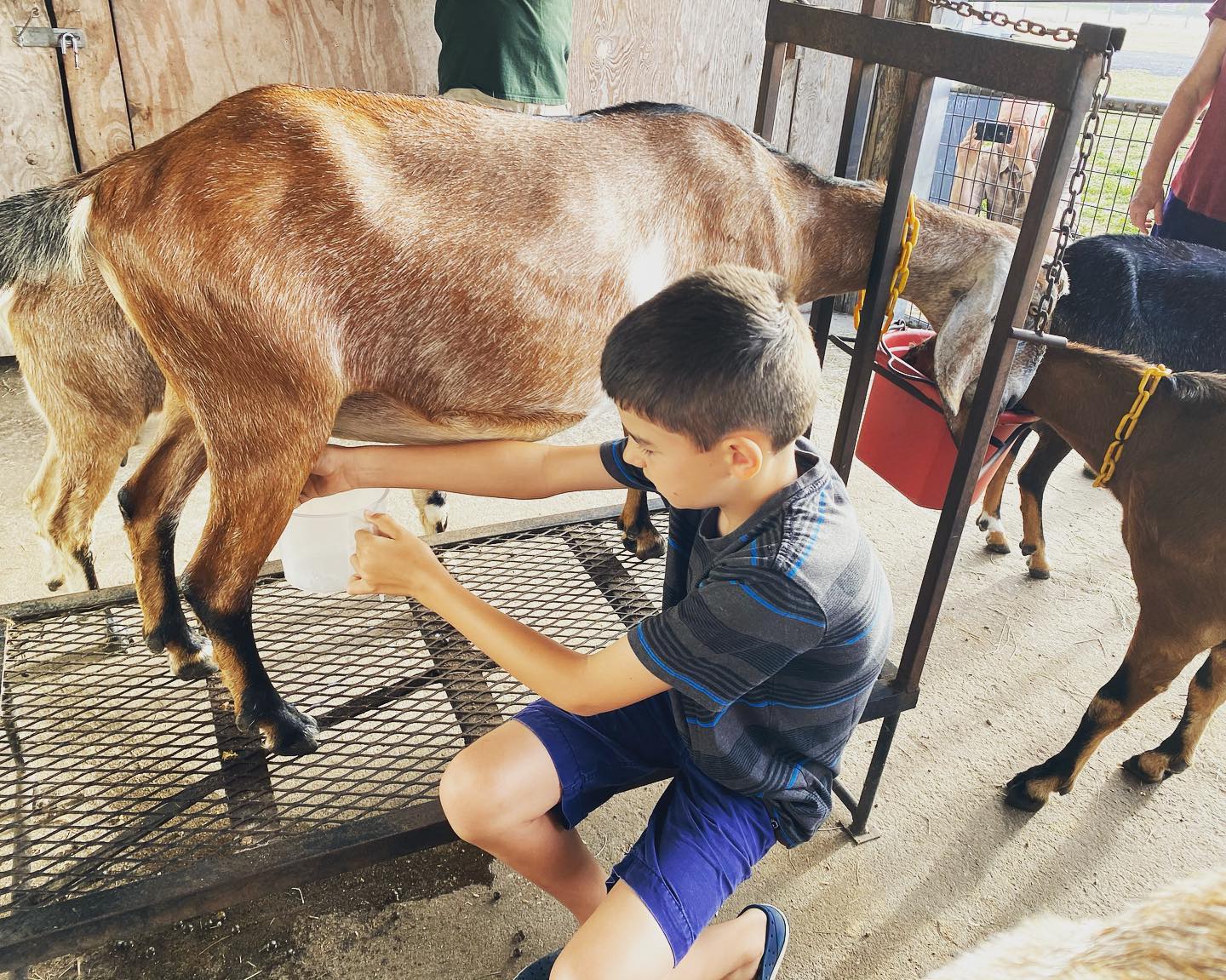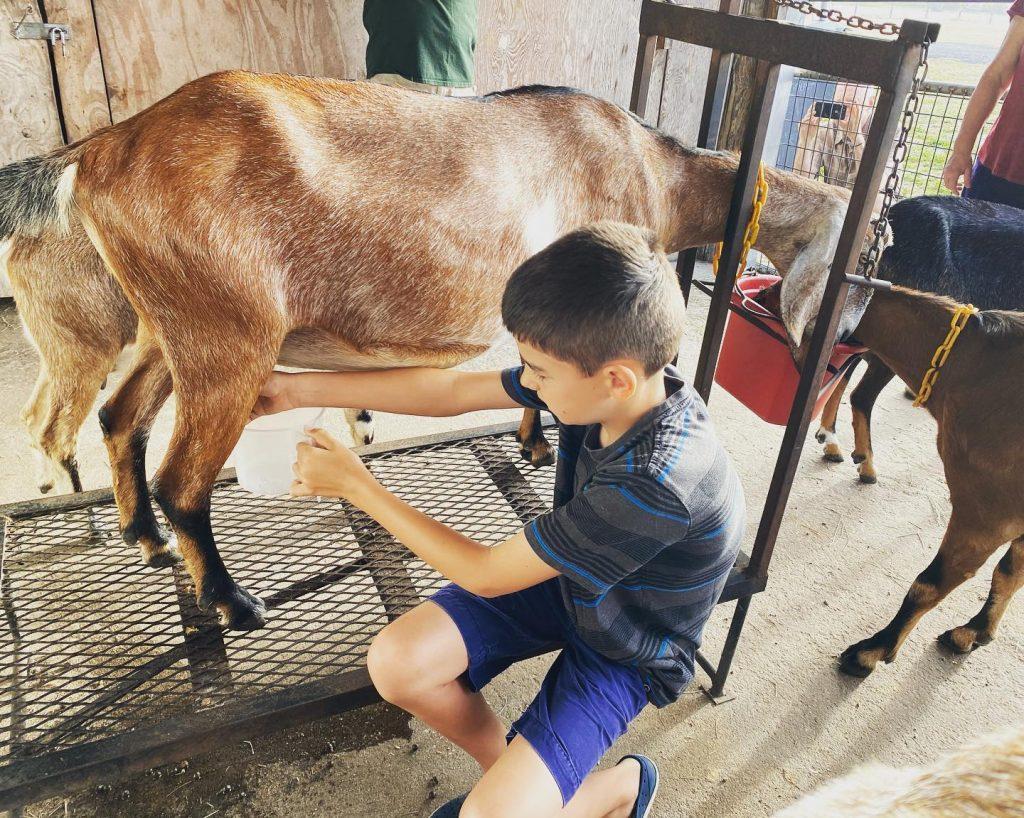 Harvest Hosts are often at farms, vineyards, and orchards. But there are also places to stay at museums, golf courses, and unique locations where you can boondock a night or two.
You pay a yearly membership which gives you access to their database of host locations, and while there is no cost to stay the night, as a courtesy, plan to spend about $20/adult in their restaurant, market, gift shop, or on a tour. In a pinch, some hosts offer water and electric connections. Learn more about Harvest Hosts here.
Boondockers Welcome is different from harvest hosts because you'll be parking on residential or private property – pulling into someone's driveway, yard, or field.
Locations are free (sometimes a few dollars extra if you'd like water or electricity) and a great way to meet friends as your hosts will come out and welcome you to their space and give you some ideas about what to do in the area. Learn more about Boondockers Welcome here.
A Boondockers Welcome map of host locations: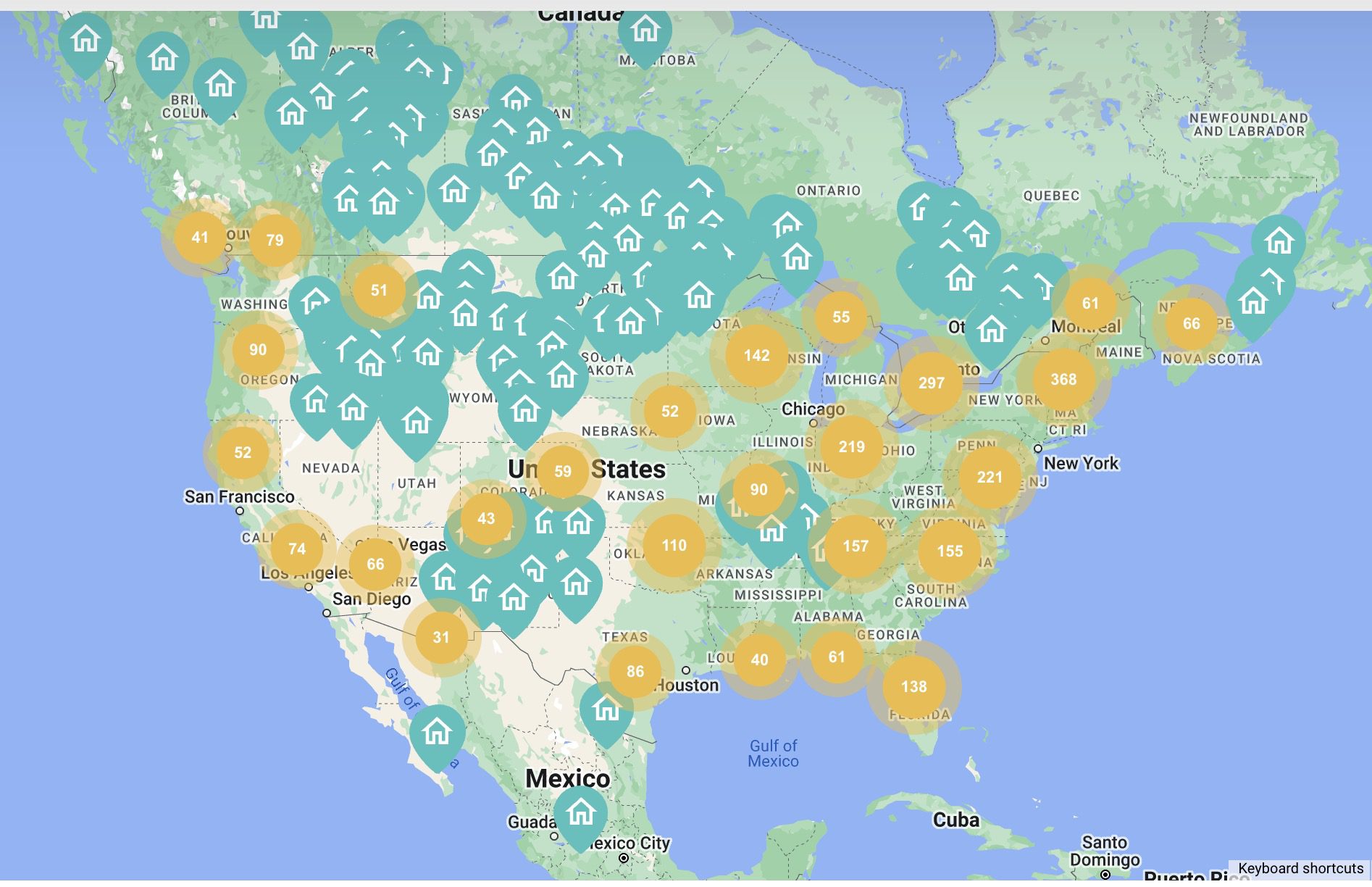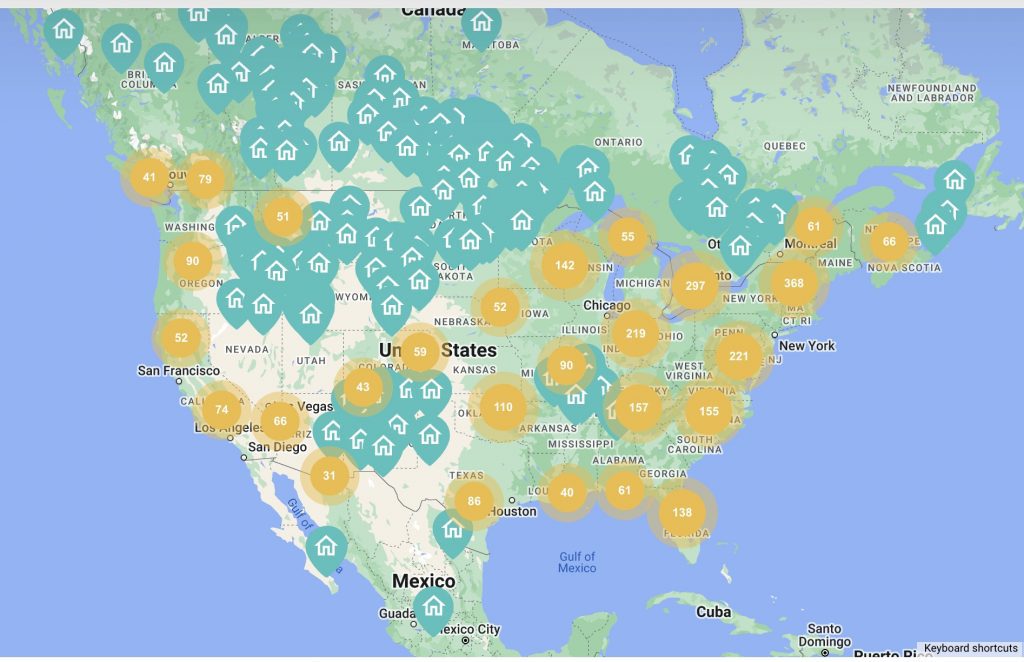 Until recently, the Boondockers Welcome vs. Harvest Hosts debate usually settled on getting both. The annual membership of each is so reasonable for the cost savings, plus you get to meet really nice people in wonderful boondockers welcome hosts and welcoming harvest hosts business owners.
A Bondockers welcome review would usually focus on the friendliness of the boondockers welcome host, and the harvest hosts reviews usually focus on the location and scenery.
Since they've merged, it's even easier to get both memberships so you have access to driveways and side yards through boondockers welcome and wineries, farms, and business parking lots through harvest hosts.
Public Lands: BLM and Crown Land
BLM in United States is public land, owned by the government, so while it may, at first glance, seem that you can go do whatever you'd like wherever you'd like, there are restrictions to where and how long you can camp on BLM land. Here's our guide for camping on BLM land.
Crown Land is the Canadian equivalent of BLM, but details and maps are specific to each province. For instance, in British Columbia, they have a site called SitesAndTrailsBC.ca (heads up that many are down dirt forest service roads). In Ontario, the site and restrictions are here. Look for the government website for crown land for whichever province you're going to be visiting for full details.
Can you boondock at Walmart? (aka WallyDocking)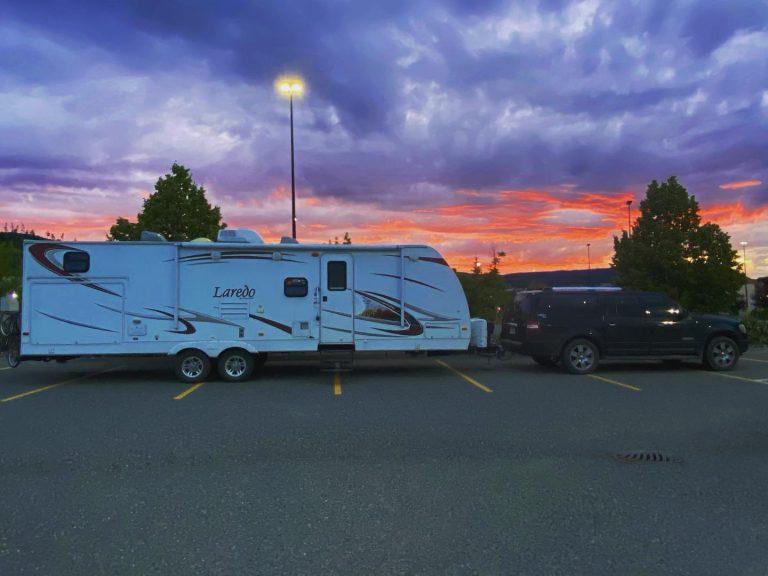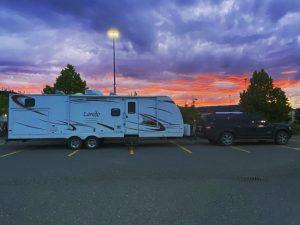 Walmart, Cracker Barrel, Cabela's, and Bass Pro Shops are some popular overnight stays for RVers, but each store is unique in its restrictions, either by the store manager's preference or the local ordinances which restrict overnight parking in their city.
While it's a safe bet to aim for one of these locations for a quick overnight stop, ALWAYS call the manager and ask if overnight parking is allowed at their specific location.
As a general rule, these are not developed campgrounds, and this is not a campsite. Here are a few notes of etiquette:
Don't get out your lawn chairs, start a fire, put out the slides or awning, or unhitch to stay for a few days.
Make sure that you leave the area where you park as clean as when you arrived the night before.
Don't dump your tanks or leave garbage.
Call the manager and ask permission.
Stay less than 12 hours.
Don't think of these as free camping. Think of boondocking at Walmart (or other parking lots) like an overnight stop on your way to or from your destination.
Will I have any power in my RV while Boondocking?
Most RVs have an onboard battery that will allow you to run your 12V systems – Refrigerator running off of propane (Still requiring 12V for the circuitry), lights, and built-in vent fans.
To run your outlets for plugging in a laptop, or cell phone, or TV, you'll need an inverter (which inverts 12V DV to 120V AC).
As an alternative, many people will run a generator, buy additional batteries to add to their RV, or simply go with 12V only, cook on the fire or with propane, and enjoy the wilderness, and conserve as much power as possible.
(I wrote an article about figuring out how much solar power you need on your RV to boondock. Read more here).
What are the ways I can use less power and save energy when I'm boondocking in my RV?
Besides your normal usage, finding ways to use less power will increase the amount of time your battery power will support you off-grid and give your solar panels the best chance to replenish as much power as possible.
You could add some of these items to your Christmas list (and send your family this blog post about Christmas Gift Ideas For RVers to avoid having to leave half of your gag gifts and new decorations behind.)
Here are a few ways to be more efficient when you're boondocking:
Replace your RV lightbulbs with LED bulbs. Every bit of power savings helps, plus LEDs will reduce heat when you're not running your Air Conditioning while boondocking. Even with LEDs, spend as much time as you can outside and use your lights as little as possible.
Charge your devices when needed. Rather than keeping your laptop or phone plugged in all the time, charge them when they need to be charged, and then unplug them once you're done using them.
Use your high-energy items when you have full sun. If your panels are getting full sun, and your batteries have hit full, the energy that your panels are creating is going nowhere, so now is the time to turn on that instant pot, fire up the second fridge (like our bar fridge in our outdoor kitchen), watch a movie, or recharge everything.
Boil water on the stove to make coffee or soup instead of using an electric coffee pot or the microwave.
Stay out late and enjoy the fire. Don't watch TV, drain your phone battery playing games, or use indoor lights when you could be sitting out after dark around a campfire. If the smell of campfire smoke isn't for you, take along an outdoor propane fire pit to serve the same purpose.
Cook outside on the fire or grill to keep the heat down in your RV. If it's getting cool and you want to warm up your RV, it's a great evening to cook inside. Don't ever use your stove only for the purpose of heating your trailer. If you're cooking a meal, make the most of the heat you're creating with your oven – you can leave the oven door open after you're done with it and have turned it off to let the heat warm your trailer.