If you haven't experienced camping in Southern California, you might think of the "desert next to Disneyland" (and you wouldn't be wrong.) You might not realize that southern California is a haven of slot canyon hikes to explore, hot springs in the middle of the desert, unique wildlife and plants, National Forests, and rock scrambling in the most accessible places like Joshua Tree National Park.
Of course, California has so much to explore, from Yosemite National Park (around the middle of California) or Lava Beds National Monument in Northern California near the Oregon border, the ocean, forests, mountains, and big cities.
The state is covered with land managed by the United States Forest Service (Angeles National Forest, Mendocino National Forest, Modoc National Forest, Los Padres National Forest, Inyo National Forest – to name a few) with free camping and established campsites throughout.
Many of these areas are prime for tent camping (especially in a National Forest) but since our family of five travels in a 30-foot travel trailer, we are more interested in dispersed camping areas that can accommodate an RV, and that's where our experience lies.
(Affiliate Disclaimer: If you make a purchase based on a recommended link in this post, we may receive a commission at no cost to you. Someone's got to feed these 3 boys…)
Winter Paradise: Free Camping In California
Being from Canada makes California an RVer's ideal winter getaway. There are very few bugs (unless you're dispersed camping near water), and land management offices are easy to find if you have any questions about what's permitted or getting specifics about locating a primitive dispersed camping area or finding out where free camping is allowed.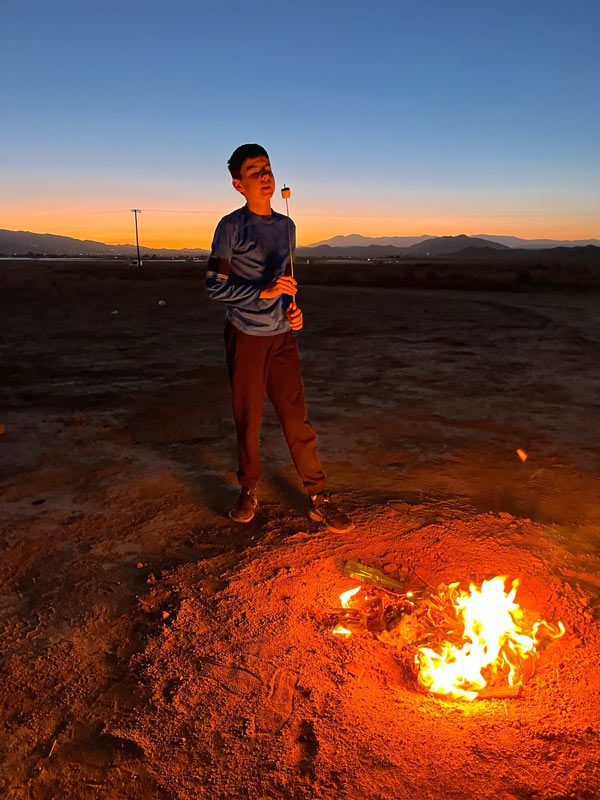 Which counties are part of southern California?
While particular counties are considered part of southern California (Los Angeles, Imperial, Inyo, Mono, Orange, Riverside, San Bernardino, San Diego, San Luis Obispo, Santa Barbara and Ventura), this blog post will consist of dispersed camping options in the southern portion of California, not just the specific counties "officially" included in Southern California.
We'll focus on south of the Sierra Nevada Mountains and Los Angeles (and the Angeles national forest) but there are also plenty of developed campgrounds as well as free camping in the Sierra Nevada Mountains or primitive dispersed camping areas near Death Valley National Park, for instance, which both touch the southern half of California.
What is Dispersed Camping (and why is southern California dispersed camping so good?)
Free dispersed camping (or primitive camping) is without any amenities – no electricity, water hookups, or facilities like pit toilets or picnic tables. Most state parks or National Parks wouldn't be considered dispersed camping (even if they have no electric or water hookups) since they often offer pit toilets, picnic tables, and fire rings.
Another name for dispersed camping is boondocking or dry camping, and while there may be some technicalities between the names, they're generally the same thing: Camping without hookups or amenities.
View this post on Instagram

Dispersed camping can be in an RV or a tent, but our choice is our RV since we've been close enough to hear coyotes howling past the trailer at night and couldn't handle the thought of sleeping in a soft-sided tent with wildlife so close by.
We find that southern California dispersed camping is so good in the winter because you'll experience warm sunny days, amazing sunsets, and cool evenings, perfect for sleeping with the windows open in our RV.
In many areas, bugs are few and far between in the winter, so sitting outside for a campfire on a cool evening doesn't get any better than in southern California.
On top of the amazing winter climate, dispersed campers enjoy (nearly) unlimited public land for camping in California, from lush vegetation in national forests to desert to mountain views – California has so many free camping options.
Free tools: How to find dispersed camping in Southern California
We have a few favorite tools for finding free camping in southern California:
Campedium – Campendium shows not just dispersed camping but also campgrounds, dump stations, and free public parking (like Walmart parking lots or bass pro shops)
iOverlander – iOverlander is great for similar listings as Campendium but includes more rugged off-road options if you're willing to jeep off-road or hike into a location for tent camping (in San Bernardino National Forest, for example) and includes hotels, hostels, and mechanics.
We use both Campedium and iOverlander regularly to find the best dispersed campsites.
Both are reliable when we're looking for BLM land (Bureau of Land Management) in southern California and sometimes one will have a listing or an insightful review that helps make our decision.
Dispersed Camping Areas in and Around Joshua Tree National Park
Joshua Tree South Entrance BLM Land
The first place we ever boondocked with our solar was the South Entrance of Joshua Tree National Park. It was amazing to go from paying for a campground to free camping.
This is a great place to boondock for the first time. Coming off of I-10, take the road leading to the park's south entrance, and you'll see clearings and people camping on either side of that road.
The road runs North to South, and there is camping on both to East and West sides of that road. We've had a few friends (some very experienced RVers) get stuck on the east side. We also saw a tow truck showing up to pull someone out of their campsite on the east side.
Anecdotally, someone I met at Thousand Trails Palm Springs said the same thing – they've only seen people get stuck on the east side.
(A Thousand Trails membership is one of our nine easy ways to save money on campgrounds).
In light of that, we choose to camp on the West side of the road when RVing near the south entrance of Joshua Tree National Park.
Our Favorite Southern California Family Hike
There is plenty to hike while you're dispersed camping in Southern California. There are rock scrambles in Joshua Tree National Park, nature hikes, flat and level hikes and plenty of family hiking options on AllTrails.com BUT our favorite hike in Southern California is called "Ladder Canyon Trail" in Mecca, California, about 40 minutes from Joshua Tree National Park's south entrance.
This being our favorite (maybe because it was our first slot canyon hike ever) doesn't take away from rock scrambling Skull Rock Trail, Hidden Valley Nature Trail, or Barker Dam all within JTNP.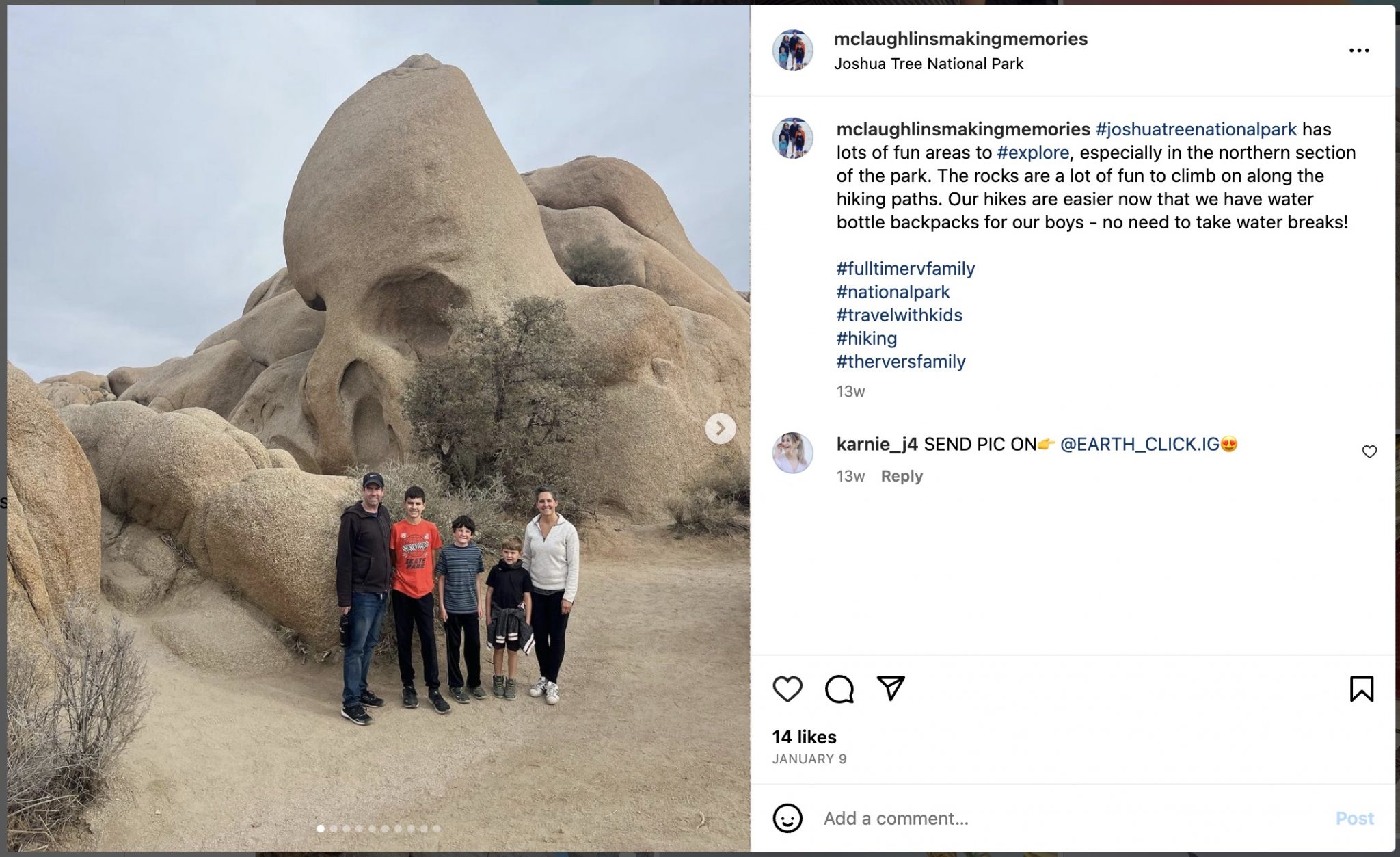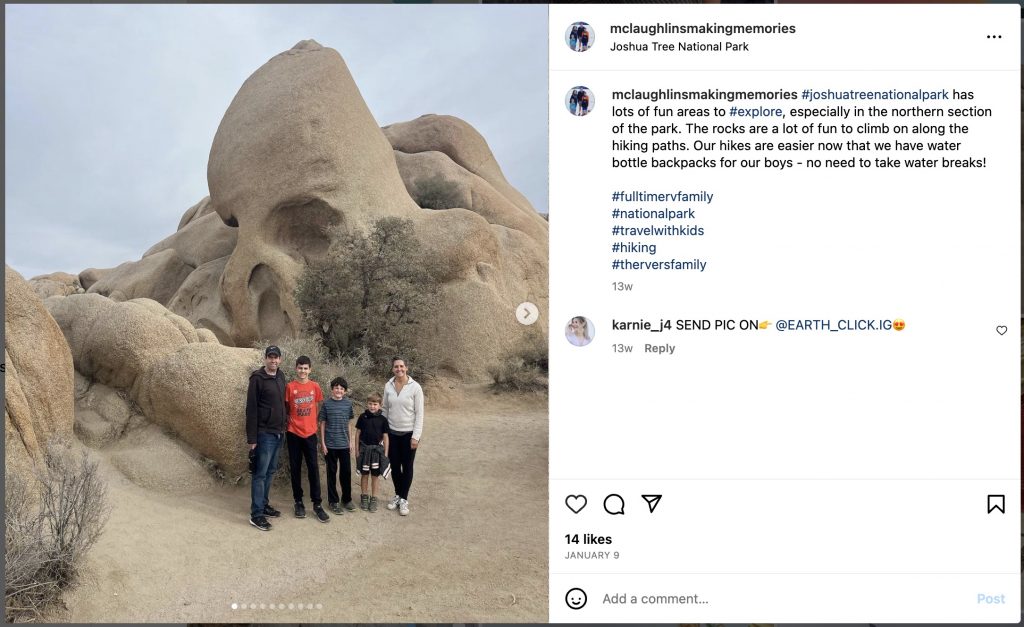 Best Free Camping Near Joshua Tree National Park: North Entrance BLM camping
The north entrance is on the outskirts of the town, Joshua Tree, California, and the nearest dry camping is at Joshua Tree North Dispersed Camping (Here's the Joshua Tree North Campendium Listing).
We've stayed in both the south entrance dispersed camping and Joshua Tree North dispersed camping.
We've found that the south entrance of the park gives better access to the park – just outside the National Park sign, but when you get to the south entrance visitor's center, they'll let you know that you'll have to drive to the north end of the park if you want to see a Joshua tree.
We liked that the north dispersed camping is in a small town, so there is a Dollar store nearby and a few restaurants, and Yucca Valley is about 20 minutes west, where you can get to a Walmart and a few restaurants, and a grocery store.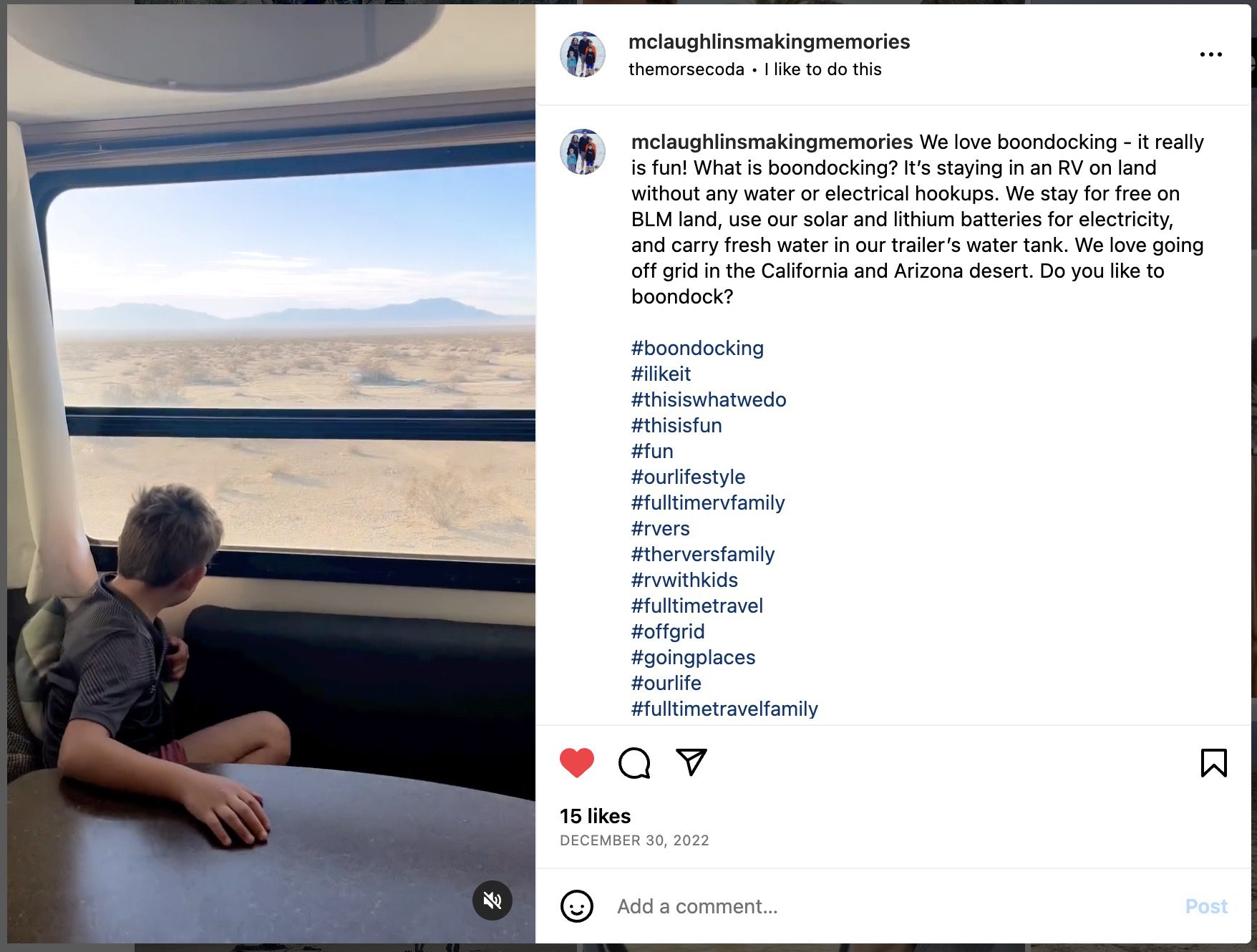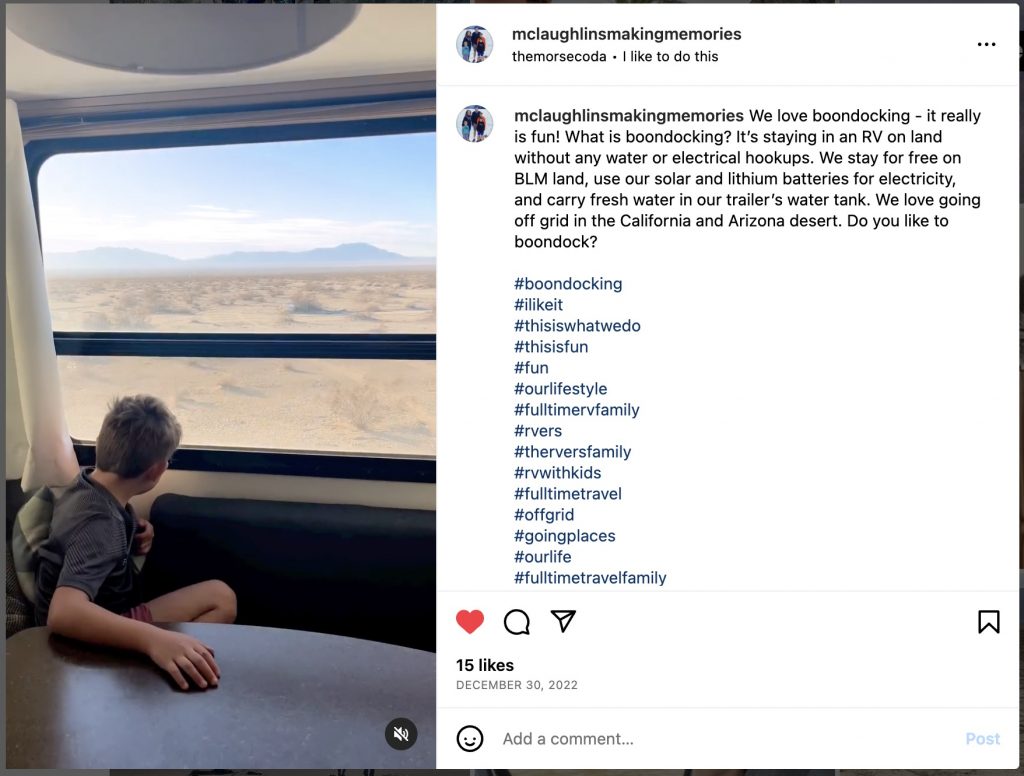 There is plenty of hiking in that area, so ideally, spend some time dispersed camping both near the sound entrance and hike around the southern half of the park, then move to the popular dispersed camping areas near the north entrance to enjoy some other hikes and see some Joshua trees.
Dry Camping within Joshua Tree National Park
The drive from the north entrance to the south entrance is about 60 miles of winding roads where you may be slowing or stopping for wildlife depending on the season, so if you plan to explore the park every day, then you may be better to pay the primitive campground fee and stay at one of the developed campgrounds within the park in exchange for the cost of fuel.
You might consider a few nights outside the south entrance (and visit Ladder Canyon in Mecca, CA while you're there – to hike since there are no dispersed campsites there), then a few nights inside the park, then a few nights north of Joshua Tree to get to explore the park for a week.
Where is dispersed camping allowed in California?
Dispersed camping is available throughout much of California. For a Southern California dispersed camping map to find camping sites in southern California, visit this map page on Campendium.com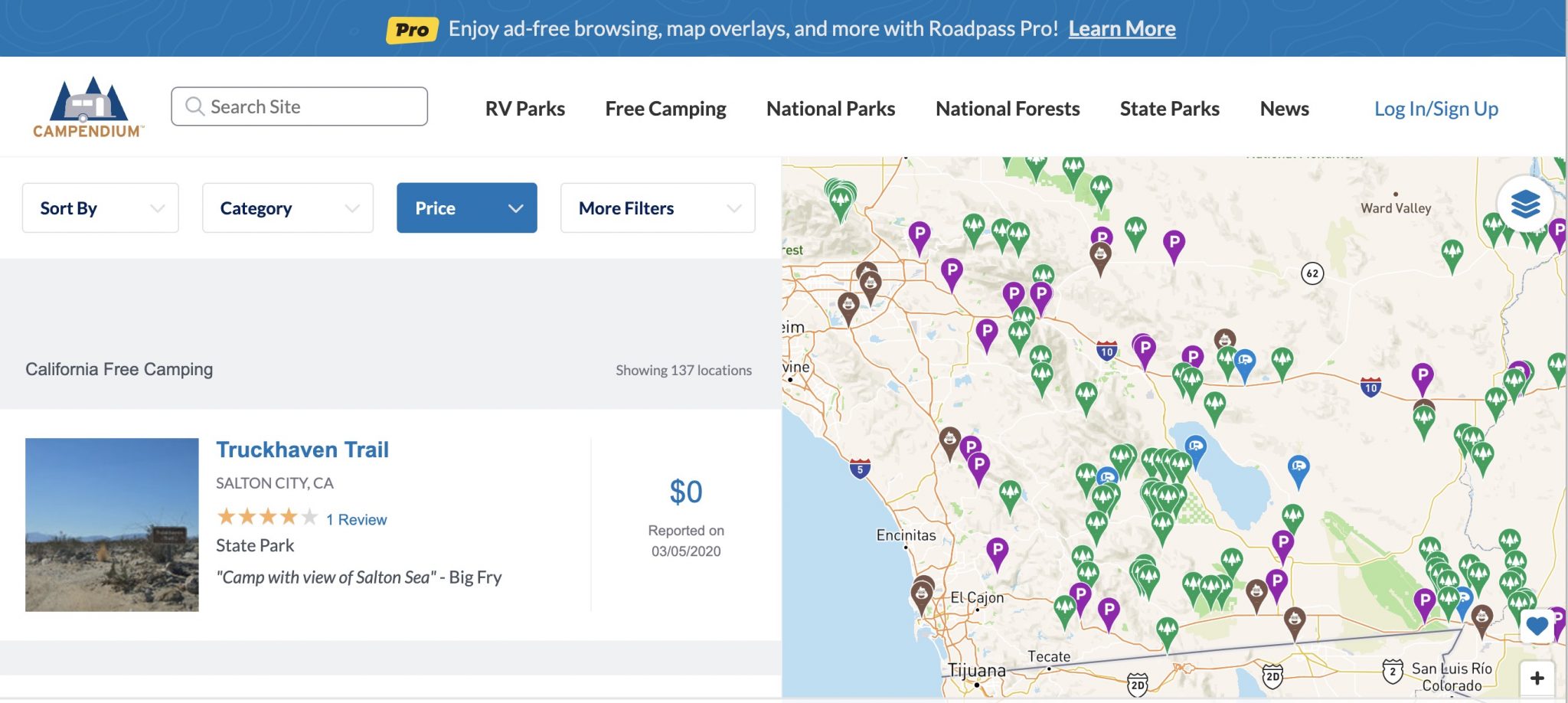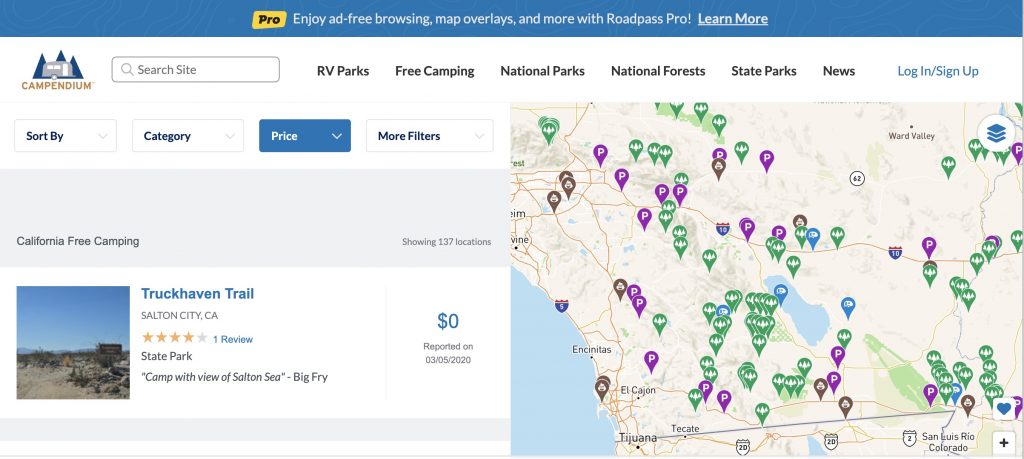 Outside of the major cities, there is plenty of dispersed camping in southern California. (As an RVing hack, we wanted to visit San Jose for ten days but couldn't find any free campgrounds or BLM land nearby, and campgrounds were pretty expensive, so we tried petsitting while in our RV!)
Closest Free Dispersed Camping Near San Diego: Cleveland National Forest
If you want to visit a city, you might be better off booking a campground (for instance, the closest free camping BLM land to San Diego is in the National Forest, which is an hour East) but if you're going to visit Death Valley or Palm Springs or the Salton Sea, then there is plenty of free camping nearby.
Best Free Camping Near Los Angeles
The closest dispersed camping area we could find near LA is in the Angeles National Forest, but we just needed a night's stopover on the way to Bakersfield, so we didn't want to spend extra time taking our trailer on forest service roads where Google maps couldn't find us any longer.
We ended up staying the night in a rest stop on i-5 (Tejon Pass Rest Area) with picnic areas where there were other campers staying the night 45 minutes south of Bakersfield. The truck stop was nearly empty, so we were fine with staying.
If the truck stop looks full, we keep going because we don't want to be taking up a parking spot if a trucker needs to rest for the night.
Since we couldn't find any free campsites on BLM land near LA, we stayed our first night at an RV park in Palmdale (just north of LA) then went to visit Knott's berry farm. That night, we stayed at a Harvest Hosts location about 20 minutes away from Knott's Berry Farm (where we were visiting with our three boys) and the following night, a boondockers welcome location in Corona (east LA) as we were heading to Palm Springs.
We paid for one night and stayed three total in the LA area on that trip. On our first camping trip to Los Angeles, we used our Thousand Trails membership to stay for free at a campground.
Our Family's Favorite Southern California Boondocking Spot
OK, it's hard to pick ONE favorite – we love so many California Dispersed camping locations, and there are many places we haven't yet visited (like the Salton Sea) BUT so far, our favorite hidden gem is the World War II Armoured Batallion Desert Training Monument Dispersed Camping.
It's a great spot to stop between Twenty Nine Palms/Yucca Valley and Parker on Highway 62, with a great view of the mountains to the south and great cell signal (since we could see the cell tower out our travel trailer's window.)
You can park just a short drive off the road (which we did for a one-night stopover) or you can go deeper into the area, which seemed relatively flat as you're approaching the foothills of the mountains.
We loved the ease of access to get into the spot, the cell signal, and
Find Your Next Dispersed Camping On The Colorado River
Again, this is experience speaking, but we love the numerous locations for free camping on the California side of Parker along the Colorado river.
We have friends that we've met in that area multiple times. They were traveling from Yuma to Las Vegas. We were traveling from Palm Springs to Lake Havasu. This is the perfect dispersed camping area if you're new to camping off grid.
Usually, we like to get away from people and meet friends or have family time off-grid, but in this dispersed camping area outside of Parker, there are enough people nearby that if you need something or have a question, it's easy to find someone who may be willing to help, and with being just minutes outside of Parker, you can stock up on supplies just a few minutes away without having to navigate the Walmart parking lot.
This area on both the California and Arizona side of the Colorado River has a few trails and no shortage of free camping on BLM (Bureau of Land Management) public lands.
Where are the dispersed campsites on BLM Land?
Before we took our first trip to go dispersed camping in California, we weren't sure how we would find dispersed campsites.
(If that's you, you might find this guide to BLM land helpful.)
Would the campsite locations be marked?
Would we be parking somewhere we weren't allowed?
Would we accidentally be on private property and asked to leave during the night?
What would happen if we broke camping rules?
What is the etiquette for how close to park near tent campers or other RVers?
How do we know if there are fire restrictions?
Would we get stuck on a national forest service road or in get ourselves into an area not meant for RVs that would be difficult to get out of?
Will it be safe for our kids to roam free?
BLM land is mostly open land. There are roads already tracked out, so stay on the already-carved roads and look for signs of free campsites – often indicated by fire rings made of stone.
View this post on Instagram
Watch for signs that indicate where vegetation is being protected or where vehicles are not permitted so your camping trip isn't interrupted by a ranger letting you know you'll need to move.
Use Campendium.com or iOverlander.com reviews to determine if the dispersed campsites you're considering are accessible with your vehicle type.
It's okay to ask for help while camping in California
If you're starting out with dry camping on BLM-managed land in California, check for other RVers to confirm you're in the right area, and if all else fails, find someone to ask, either at a Land management office or a fellow RVer in that camping area.
We were once approached during breakfast while free camping in Califonia by someone who was tent camping nearby. Their vehicle's battery had died overnight. After I boosted their vehicle, they offered us a jug of water they no longer needed so we could stay out a day longer.
Places we look forward to camping in Southern California
Here are some free camping in California that friends have told us they've enjoyed that we're adding to our "to-do" list:
American Girl Mine Road
Near the Salton Sea
In and around Death Valley National Park
In Sequoia National Forest
Alabama Hills… and the list seems to continue to grow each time we see a friend posting about a hike they've enjoyed or some breathtaking scenery where they stayed in their RV.
Northern California has plenty of free camping to explore
Common locations like Grizzly Flat Dispersed Campground, Eagle Lake, Williams Hill Campground, Modoc National Forest, and areas around Lava Beds National Monument.
Get out there and explore free camping in California! (Just watch out for a Dodge Ram 2500 when we're giving our kids driving lessons in the desert.)
View this post on Instagram