Disclaimer: This blog post includes affiliate links. If you choose to make a purchase, we will make a commission for the recommendation at no cost to you.
There are plenty of ways to keep your RV cool when the sun is heating up your rig, but whether you're boondocking off grid in the desert or you're trying to keep your rig cool while hooked up at an RV park with a 50 or 30 amp RV electrical system (or mooch docking in a friends driveway) means you'll have different goals and methods in mind.
We've learned that keeping ourselves cool is more important (and often easier) than keeping our entire RV cool. (by sealing RV seams or going overboard with tarps on the roof, for instance). More about keeping ourselves cool later.
As I write this, we're dry camping at Tecolote Beach in Baja, Mexico. (and in case you're curious, you don't have to speak Spanish to be able to RV in Baja, Mexico!) It's 80F today and we aren't hooked up to electricity to run our A/C, so these tips are how we're keeping our RV cool so it's ready for us in the evenings when we get back from cooling off in the water a few steps away.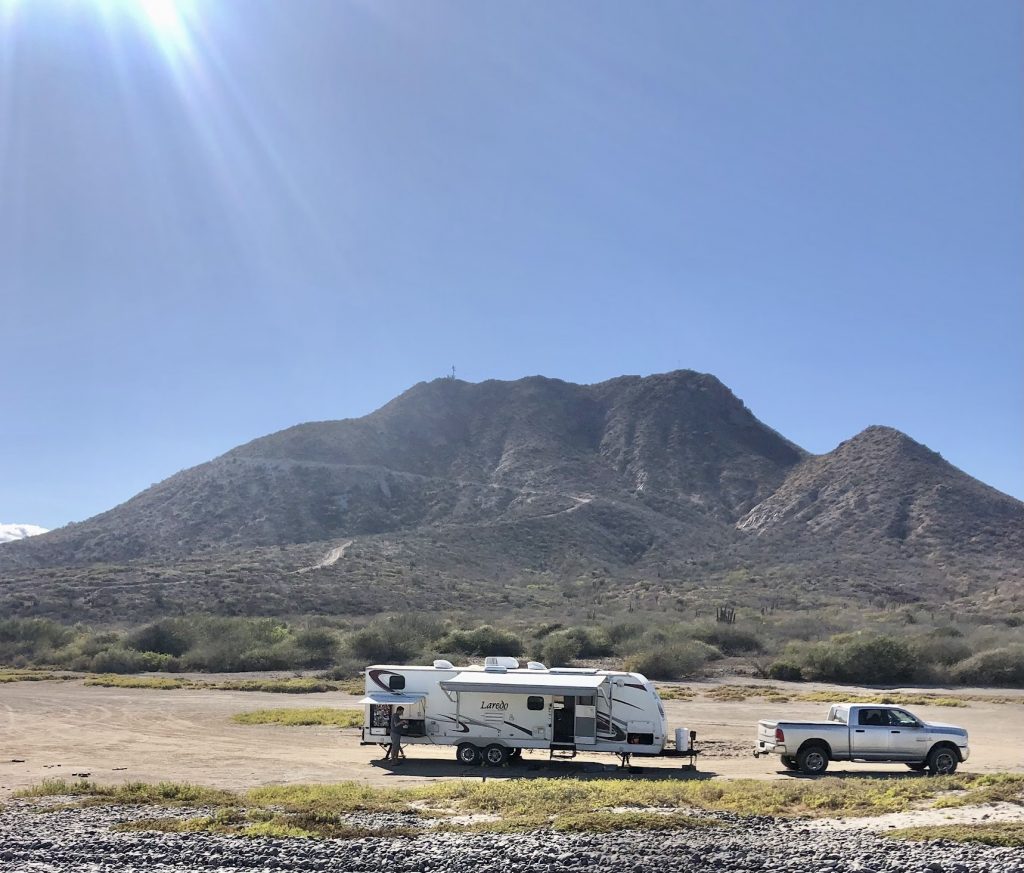 Not just tips for "How to keep an RV cool in summer"
These tips aren't just for the sun in Baja or keeping an RV cool in the extreme heat temperatures of summer in the south. You might find yourself trying to keep your RV cool during a warm day in late spring in Arizona, during the middle of summer heat in the mid-west, or hoping for a glimpse of cool air during a heat wave in the fall near the Great Lakes.
Keeping an RV cool in extreme heat:
I hate to be the bearer of bad news, but RVs with 2-inch walls are not built to allow you to breed penguins while enjoying free dispersed camping in Southern California in July or August. If you're in the south in the summer, your RV will get hot (even if you're hooked up to shore power and have your A/C on full blast).
Keeping your RV cool in extreme heat depends on how you define "cool" and "extreme heat."
These tips will help you reduce the heat of your RV, but you have to understand that there are limitations to how an RV is meant to be used and have reasonable expectations.
We find it's often better to focus on keeping yourself cool than to focus on trying to keep the RV cool. Going to the pool, working at a coffee shop, and drinking lots of ice water are great ways to stay cool even if your RV is hot.
Do RVs Have Air Conditioning?
Yes, RVs (since the 90s) have air conditioning, but you need to be plugged into electricity to use them at a campground or someone's driveway – very few RV Air Conditioners can be run off of solar power.
RV air conditioners can usually lower and sustain the inside temperature by about 10-15F. (for example, if it's 85F outside, you can reasonably expect to get to 75F inside)
How To Keep Your RV Cool In Summer Heat With These 17 Tips:
Park your RV in the shade (if possible)
This is a great solution if you're in a full hookup site (or at least one with electric hookups to run your air conditioning). By parking in the shade, you keep the afternoon sun from heating your rig, so your a/c doesn't have to work as hard to cool down your rig to a comfortable temperature.
If you're camping on BLM land and dependent on solar panels to power your rig, parking in the shade may keep your rig cool but also mean you've got limited or no incoming solar power.
However, boondocking (what is boondocking?) in the shade can work for a few-night stay where your batteries are sufficient to keep you running a fan for a few days without feeding in additional solar power.
In our case, our solar panels are at the front (tongue) end of our travel trailer, so if we can plan the path of the sun, we can try and shade the back 2/3rds of our rig and leave the front 3rd exposed when the sun is at its highest and putting in the most power.
We usually fail at aiming for partial shade, but we always convince ourselves it's an idea worth trying.
Usually, when we try this (south of the Grand Canyon, for instance, parked among the trees) we can get a couple of hours of direct sun which is enough to slow down the drain on our batteries while still keeping most of the rig shaded.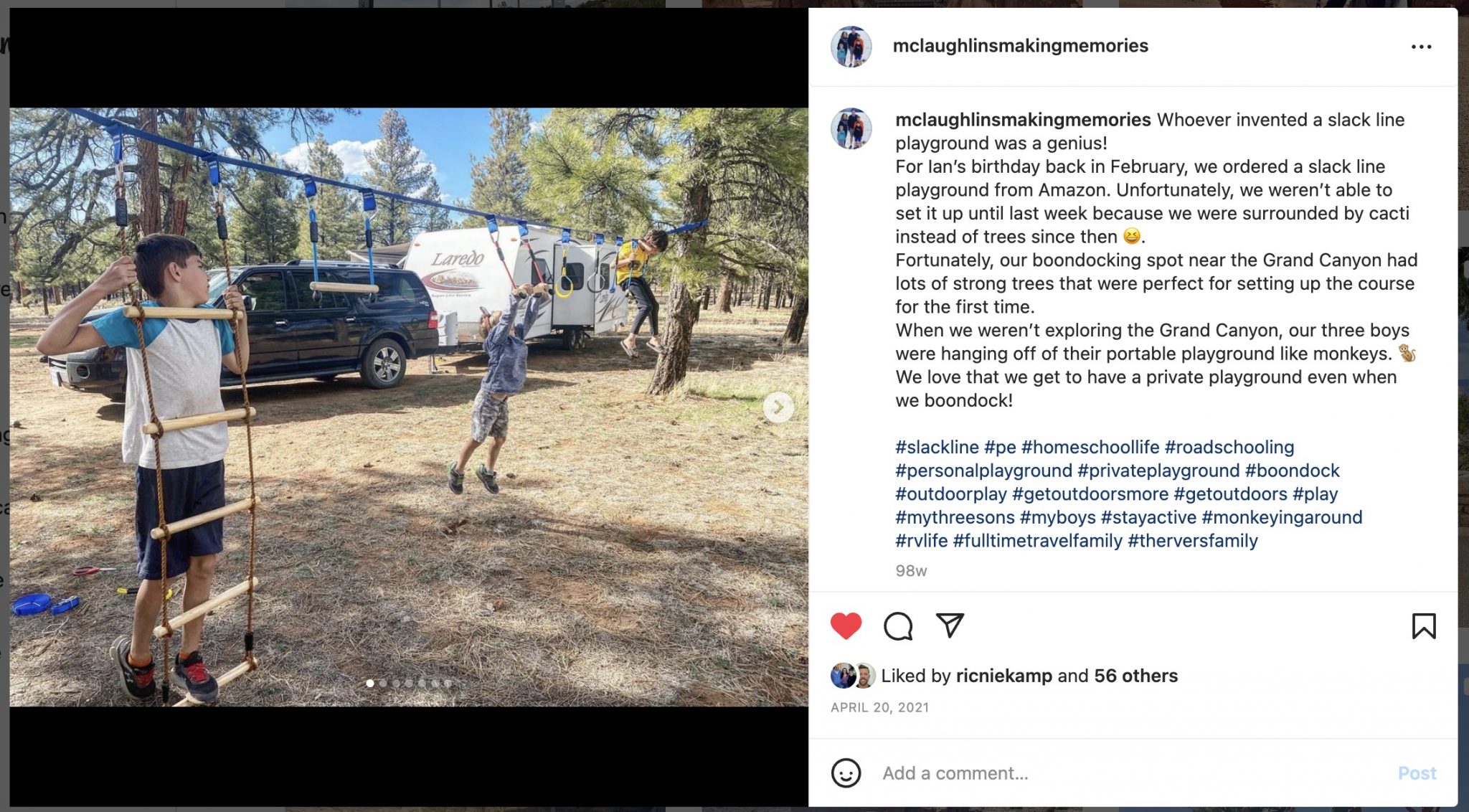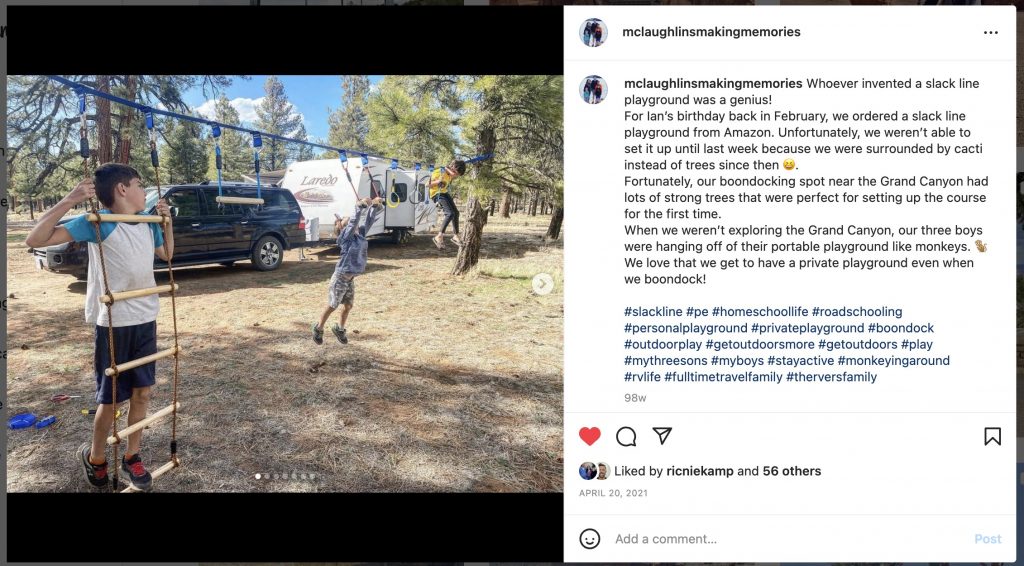 Here in Tecolote, Mexico, we're just out in the open, so shade isn't an option for us (unless we wanted to be back from the beach in the shade of the mountain, which we decided against).
Put A Microwavable Bean Bag In The Freezer
This one might seem a bit unconventional – and a trick that won't technically keep your RV cool, but beans (or rice, in our case, from our homemade microwaveable bags) hold cold just as well as heat.
Put that bean bag on my feet or in my lap after 20 minutes in the freezer, and it starts to cool my whole body. We've learned that staying cool ourselves is often an essential step on hot summer days.
One time, our A/C went out (while we were mooch docking in a friend's driveway), and I was scheduled to record this live video interview for Xantrex in our RV, so while it was the heat of the summer, and I had no A/C, my feet were using my bean bag (fresh out of the freezer) as a footstool to keep me cool.
Pull your RV window shades down
This might seem obvious, but stopping the sun from turning your rig into a greenhouse is a great way to stop the heat from getting into your rig, we also have to balance this with the shades blocking the cool breeze, which might actually cool us off.
Most of our windows open partially (the lower half or lower 3rd for instance), so we pull the blinds down to the point where the window opens, blocking most of the sun but having the window open enough to allow in the breeze.
Smart Window Orientation: Learn Where To Face Your RV
Your rig probably has some sides with more windows than others. In our case, our driver's side has a large bedroom window near the front, one near the rear, and large windows in the slide-out near the dinette and my office space (we took out the love seat and use that space as an RV office area).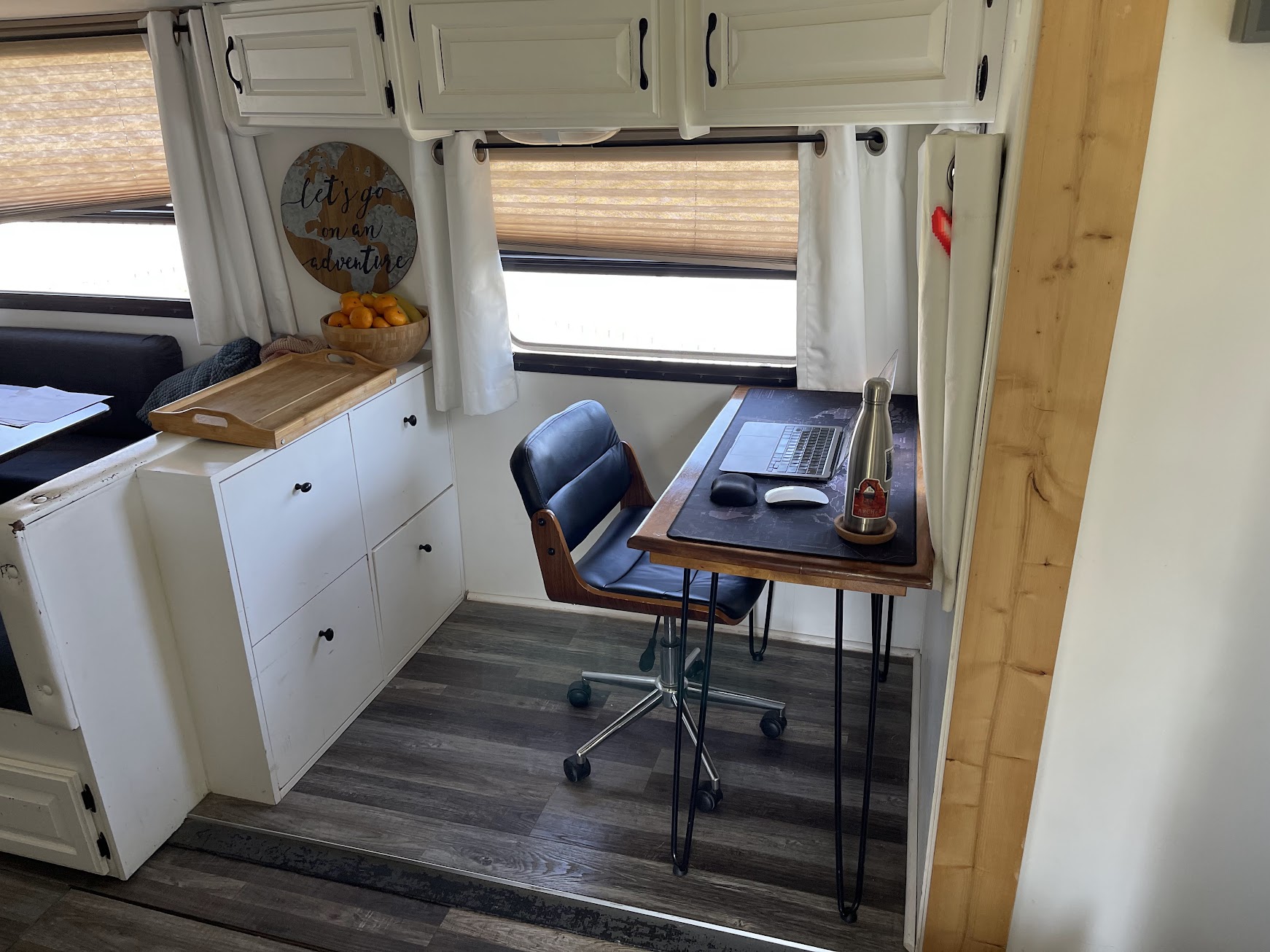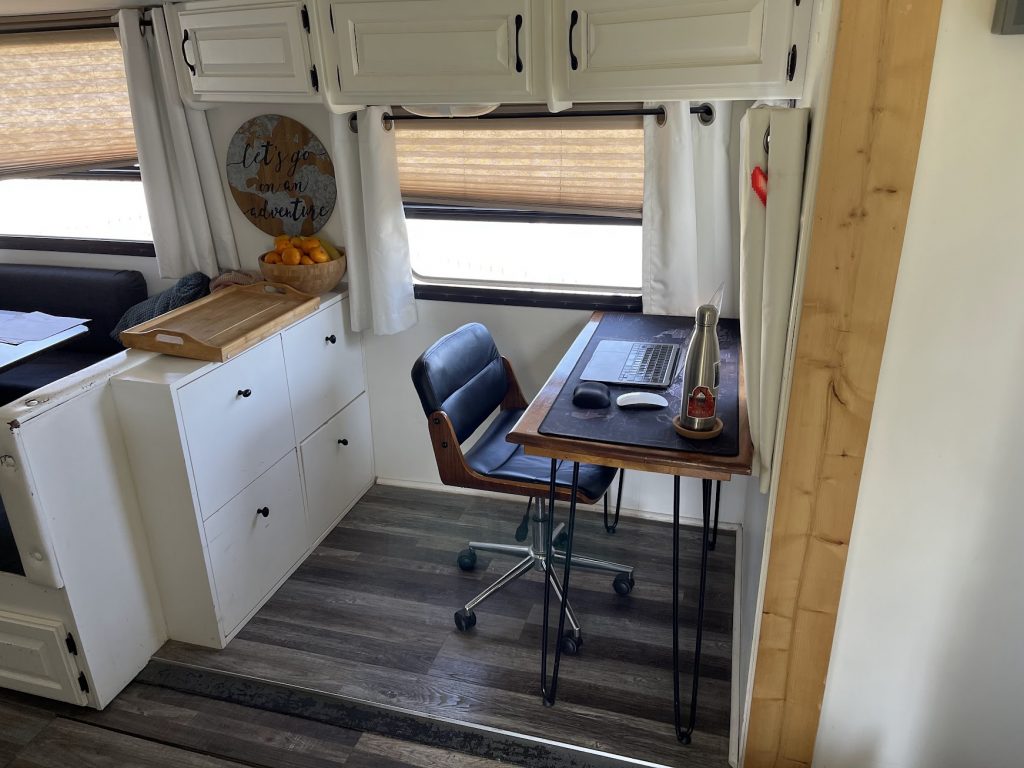 In the winter in the desert, we'll face this side of the rig southwest, so we get the sun moving East to West on the southern horizon and get lots of sun in these windows.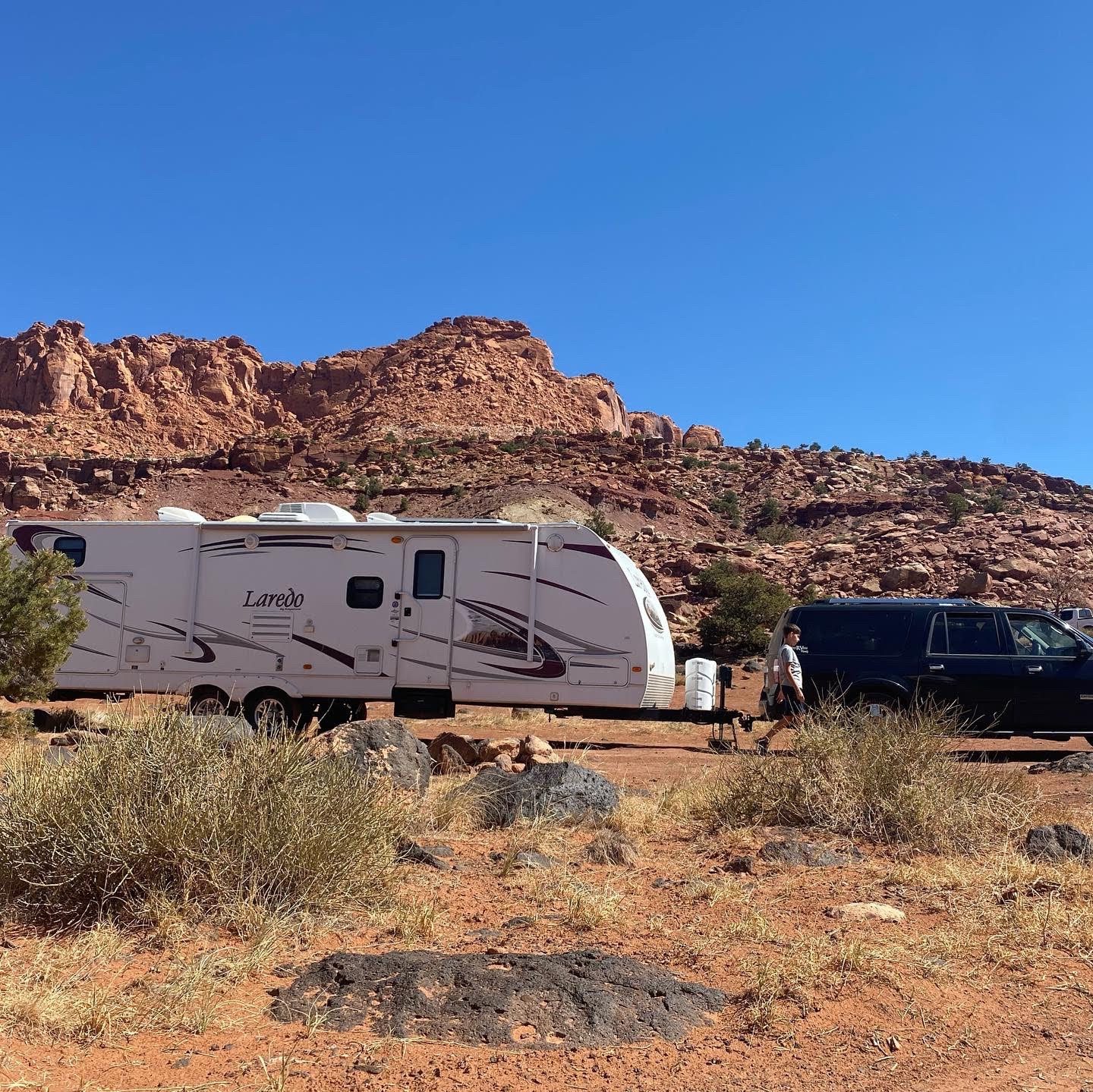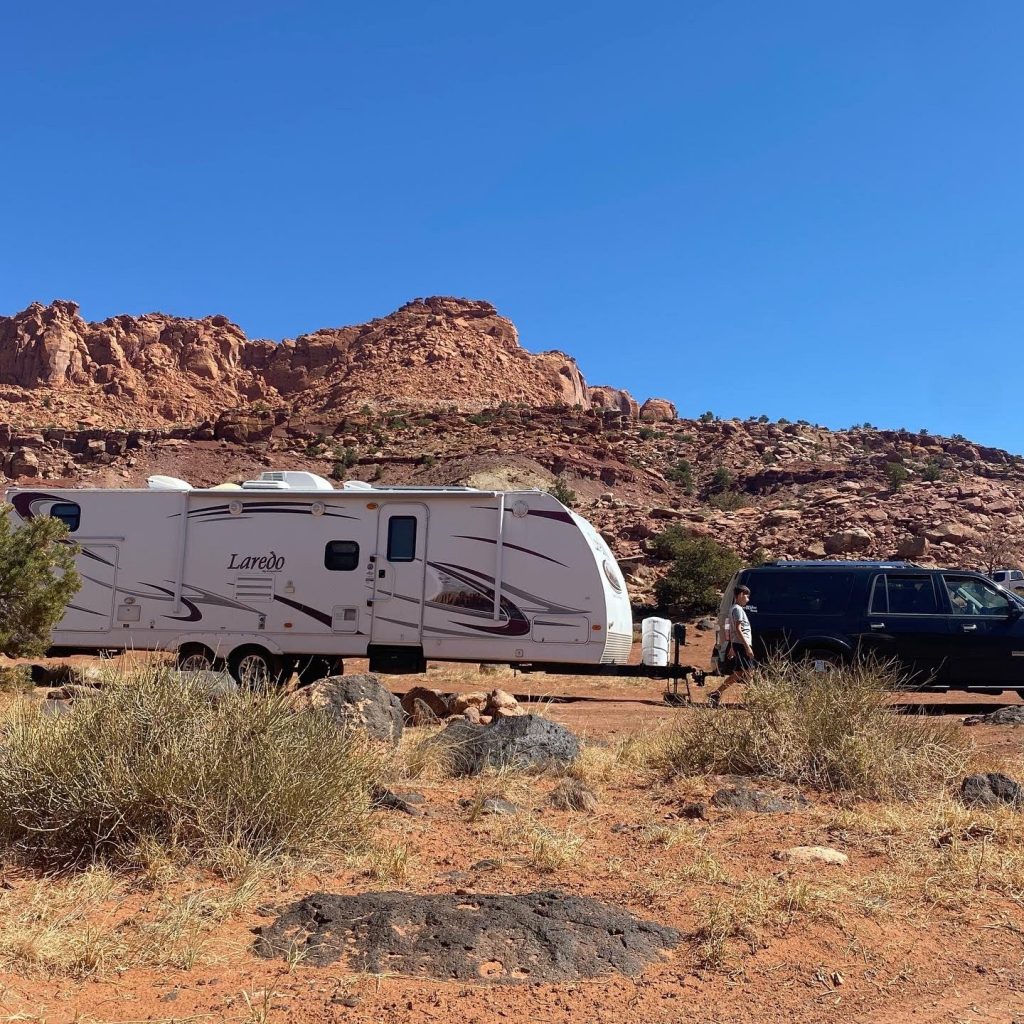 When we're trying to keep the RV cool in the summer (or later into the spring when we're looking to keep our camper cool on hot days), we park in the opposite direction so that the sun shines on the passenger side where we only have a small kitchen window and a small bedroom window.
You might have a large windshield at the front of your motorhome or a large picture window out the back of your fifth wheel, which changes the way you orient your RV.
Orientation isn't always an option in an RV park – the sites may all be facing a particular direction, or there may only be a few sites available, but when you get the choice, or you're camping on public land where you can face whatever direction you please, keep your windows in mind based on the season.
Use An RV Awning For Shade on Hot Days
While we're focusing on the direction to face your RV, remember that your awning helps shade the side of your RV from direct sunlight on the passenger side.
Unless it's too windy, your awning can create an excellent sunblock, allowing you to sit outside in the breeze in the awning's shade and also reduce the sun warming up the side of your RV, or sit inside in your RV air conditioning and reduce the incoming heat from the sun.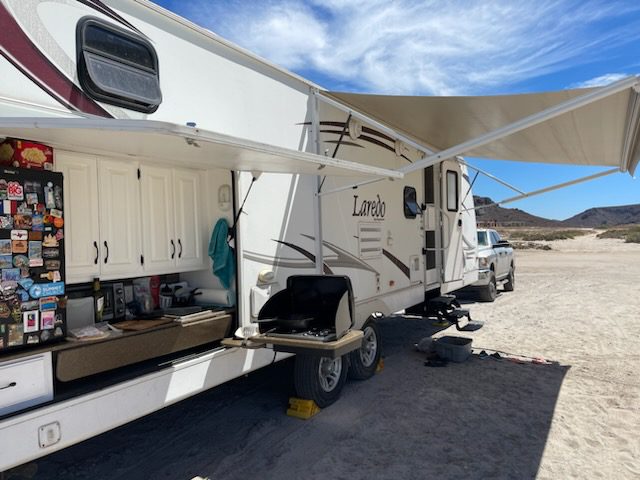 Additionally, you can add awnings above your slides that will automatically extend and retract with your slide to reduce the sun warming up the roof of your slide out and have the added benefit of protecting against rain, branches, leaves, and bird droppings.
Get Even More Air Flowing To Keep Your RV Cool
We swapped out a skylight in our kitchen for a fantastic fan vent. Not only does it act as an extra ventilation method while cooking strong-smelling foods, but it also creates airflow at a low volume.
Sitting near an open window (in my office space, for instance) I can feel the difference in airflow from the window between having the fan on or off.
Because it's a ceiling fan, it takes the warm air (since hot air rises) and pushes it out of the RV. This pulls in fresh air from the windows – not necessarily cooler air, but the air movement is always better when trying to cool off than still air.
It's also a reversible roof fan, so if our RV is filled with hot air when we get back at the end of the day (or if we forgot to open all of our RV windows while we were out during the afternoon sun) then we can pull cool air down into the RV instead of trying to push hot air out.
We have a second vent in our bathroom, so we'll often run that one with the door open to create additional airflow.
Use your RV roof vents to the fullest
Even if you don't install a fan, having a skylight in your RV ceiling that can open will naturally let the warmest air out of your RV, which pulls cold air flow in through the windows.
Of course, if you're hooked up to electricity, you'll want to keep your roof vents and windows closed to keep the cooled air in.
Try and reduce the number of times you (or your kids) use the door – the biggest opening to let your cooled air out and the heat from outside in… someone please tell my kids this.
Cook Outdoors to Keep Your RV Camper Cool
We have an outdoor kitchen and outdoor grill that we use to keep our RV cool. Boiling pasta, BBQ (Grilling), and frying foods outside allow us to keep the heat out of the RV (and the smell of onions and garlic, which seem to linger in our rig for days afterward).
If you don't have an outdoor kitchen, you can still grill outside, cook on the BBQ, use an outdoor pizza oven on a picnic table, or enjoy sandwiches, salads, or charcuteries on the warmest days.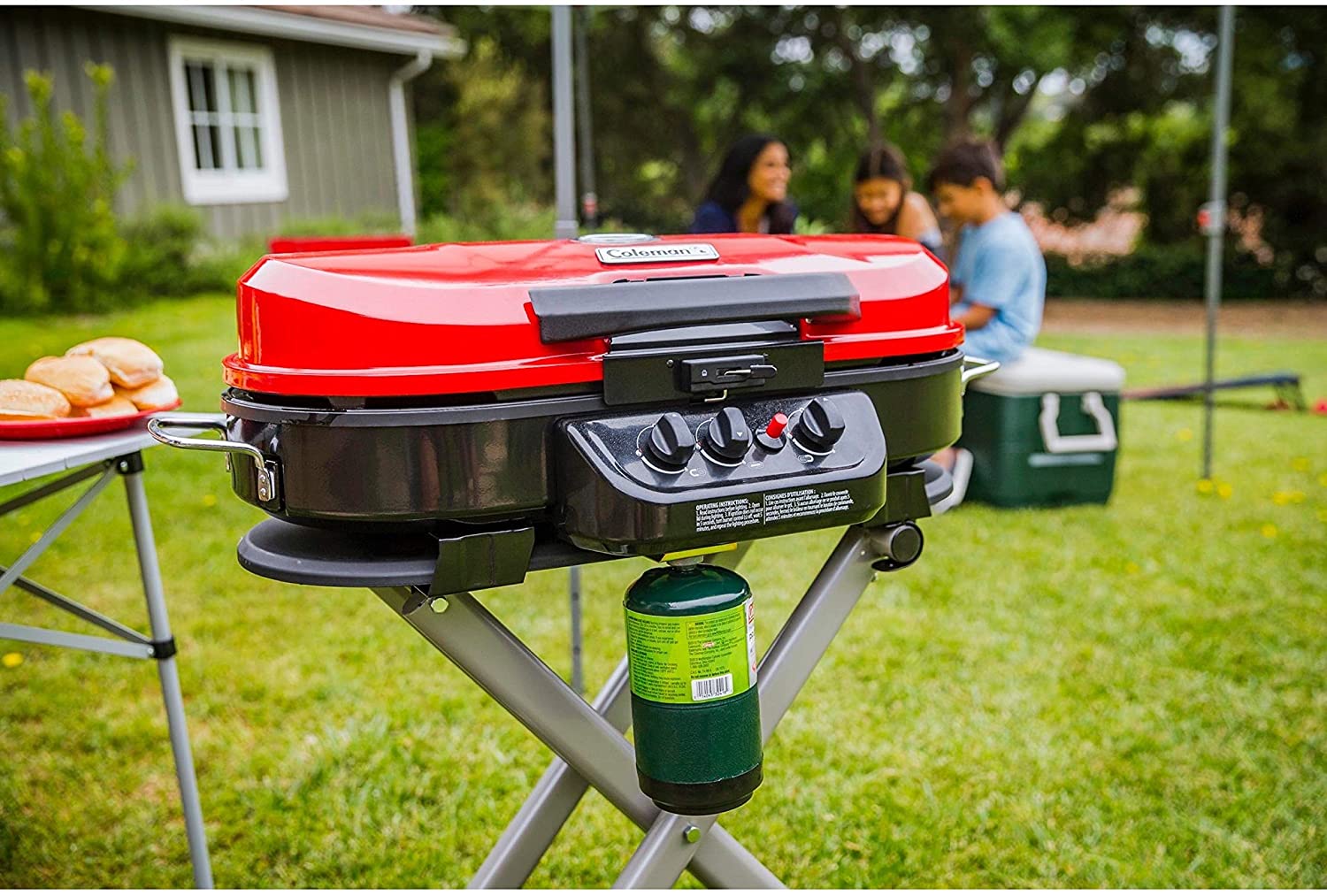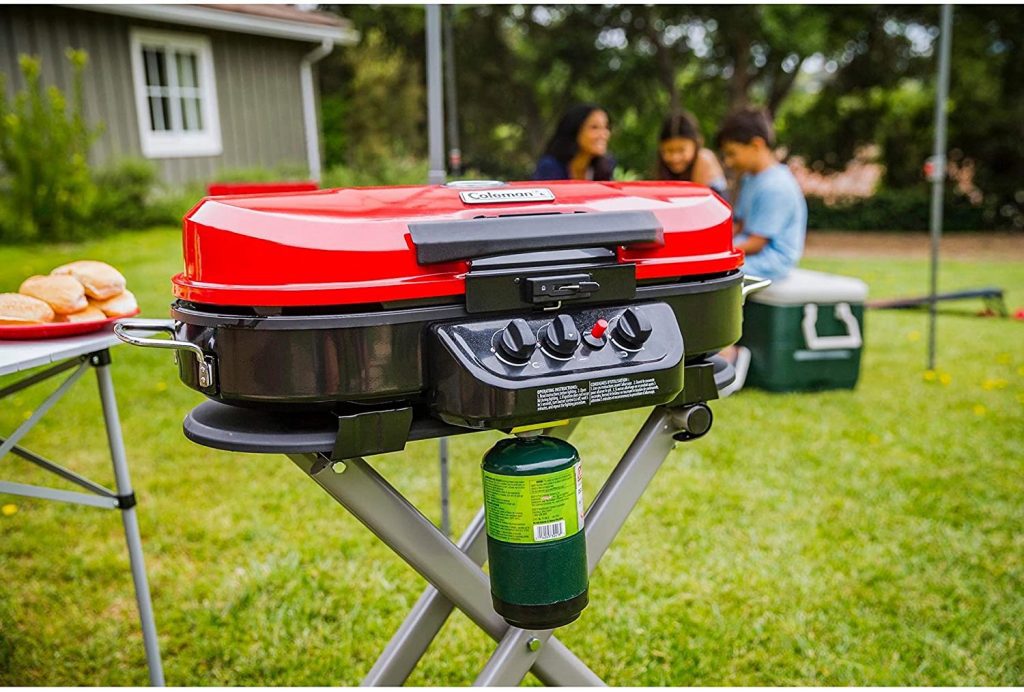 Not a fan of grilling?
You can still use your instapot, air fryer, or slow cooker, but use an outdoor outlet (either on your RV or your power pedestal). Outdoor cooking allows an RV owner to create (and leave) that heat outside in summer temperatures.
Whenever Celine makes cookies, I convince her it's too hot to heat up the RV by cooking in the kitchen (even if it's in the middle of winter). I'm a raw cookie dough fan, but I usually only get a few before they're baked.
Use Insulated Window Covers or Reflectix to Keep Your RV Cool
Insulated RV window covers (or Reflectix which looks like silver bubble wrap) are a popular option for the most extreme heat situations.
Unlike blinds that allow the heat into the RV windows and then stop it from getting into the RV interior, window covers stop the heat from getting into the RV in the first place.
The downside is that they also block almost all light, which requires you to turn more lights on – not usually a heat-generating problem if you're using LED lights, but it depends on your goals.
If you're boondocking to enjoy the views, then covering your RV windows isn't a great option (even if you put in the effort to take down the insulated covers every night).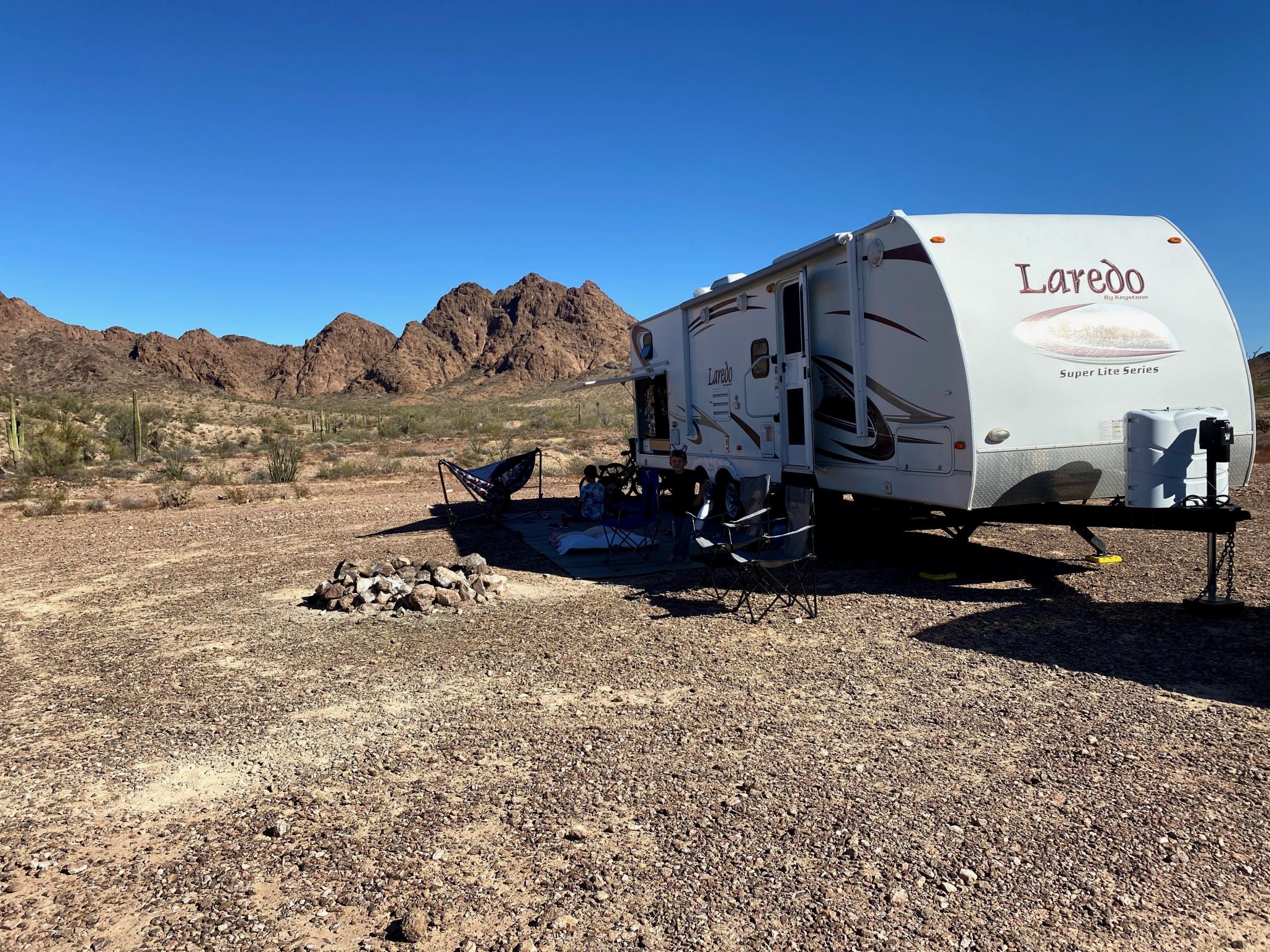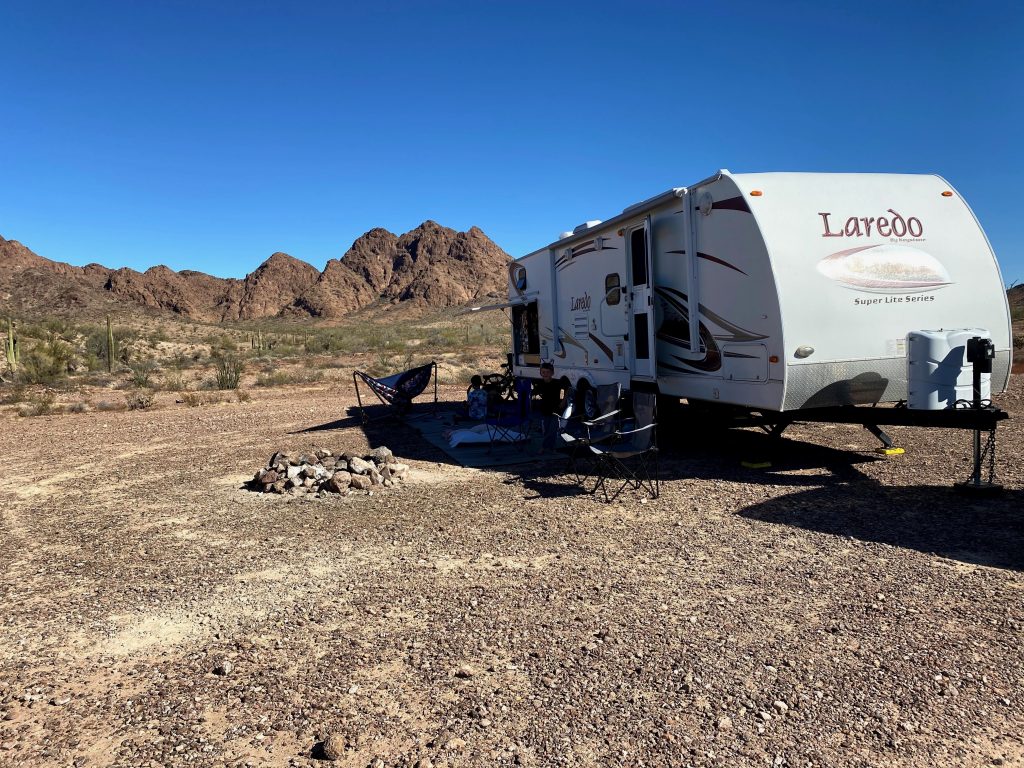 If you're trying to keep your RV cool while you go to work for the day or while you're out hiking in high temperatures on BLM land, then insulated RV window covers might be a great option, and used along with an air conditioner can make a huge difference for your electrical usage.
Clean Your Camper Air Conditioning Filters and AC Vents
Not only will clogged filters stop the air from flowing freely through your AC vents, they can also get inside the RV air conditioner itself and inhibit its performance.
Dirty air conditioning fins and coils can cause the life of your ac unit to be dramatically shortened, and if you think it's hot now, wait until you have NO a/c because your unit has died and you're waiting on a backorder.
RV Air Conditioners are not cheap, so regular RV air conditioner maintenance can cost less than having to replace your RV's A/C.
Test Your RV Air Conditioner In The Spring Before You Need It
Rather than waiting until you need to turn on your ac unit for the season, then finding out it needs to be replaced, test it in the spring to be sure the fan is working and that the air is cooling.
This way, you'll be ahead of everyone else who finds out at the beginning of the season that their unit needs to be replaced, and you won't have to wait for backorders if a part or a technician is needed.
Do the same by testing your RV awning – better to find out everything is working before the hot weather arrives.
Portable air conditioners: Alternative Options For When You're Hooked Up To An Electric Pedestal
Portable A/C units are an option if your built-in unit stops working or if you need a boost in your bedroom or a specific area of your hot RV, but some parks won't allow additional AC units because of the extra draw on the power.
In some cases, you won't be able to run both your onboard AC unit as well as a second air conditioner on 30amp power (with everyone else in the park also pulling A/C power.)
We haven't tried the Bouge RV Portable Air Conditioner (primarily a van life air conditioner), but we've heard some RVers swear by it.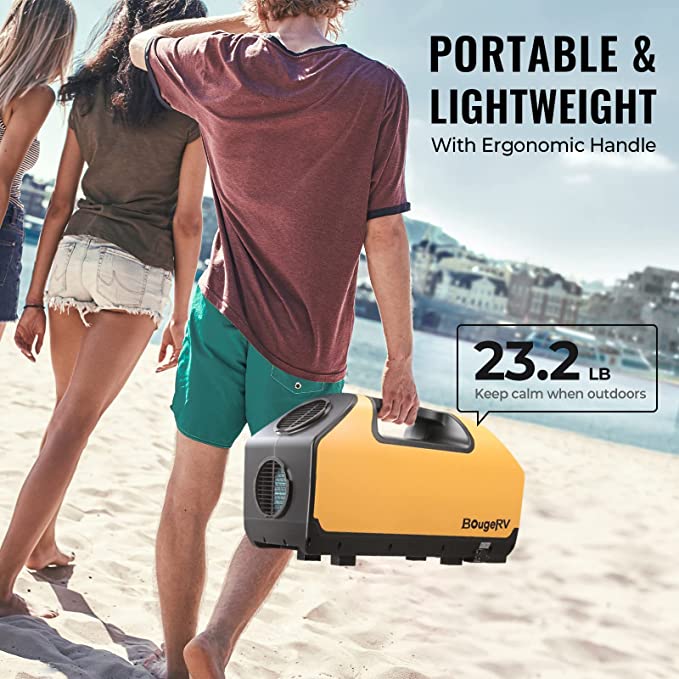 Consider A Dehumidifier or Portable Fans Instead of a Portable Air Conditioner
We've found that a dehumidifier pulls less energy that an air conditioner, doesn't need to be vented, and works well for taking the humidity out of the air.
Since your RV is a small space, removing the humidity is a simple task and makes a big difference in keeping your RV cool. Removing humid air maybe as important as cool air.
If you're not hooked up to power at an RV park, so not using your onboard AC and probably wouldn't have enough energy to power a dehumidifier for hours daily, fans are a great option.
Sometimes moving air, like a gentle breeze on a hot day, is a step closer to feeling cooler and requires less energy than generating cold air.
Insulators For RV Vent Fan And Skylight Vent Covers
RV skylight insulators are an option that we've got mixed feelings about.
Lots of people use RV vent cover insulators (basically pillows) to block the light and heat from a vent. Unfortunately, it also blocks escaping heat from that vent and cool air from getting in.

In our first rig, we had a vent in our kids' bunkhouse. We found the insulator was helpful for blocking morning light or late afternoon sunsets in northern Canada, but when we were trying to cool our RV, we would pull it out and vent out the ceiling.
In our current rig, the bunk room doesn't have a vent – something we've considered putting in – so we no longer use a skylight insulator in our rig.
Use LED Light Bulbs To Keep Your RV Cool
Incandescent light bulbs generate heat – enough that while we were renovating our first RV late into the evenings, we actually had the light covers bubbling from melting under the extended heat of the incandescent light bulbs – that being said, we had them on for 5-6 hours at a time from dusk until whenever that last coat of paint went on.
The benefit of using RV LED lights is a matter of scale. If you're weekending in your RV and want to keep it cool then maybe you can get by with flashlights or by only turning on one to two lights after dark for a couple hours.
If you're full-time like we are and want to be as efficient as possible with battery power usage to spend as much time off-grid as possible, or if you have kids who won't remember to turn their lights off no matter how many times you lovingly remind them, then LED lights drastically reduce your power usage and the heat output.
There are a few different bulb styles, so check your RV bulbs before ordering replacement LED lights for your RV.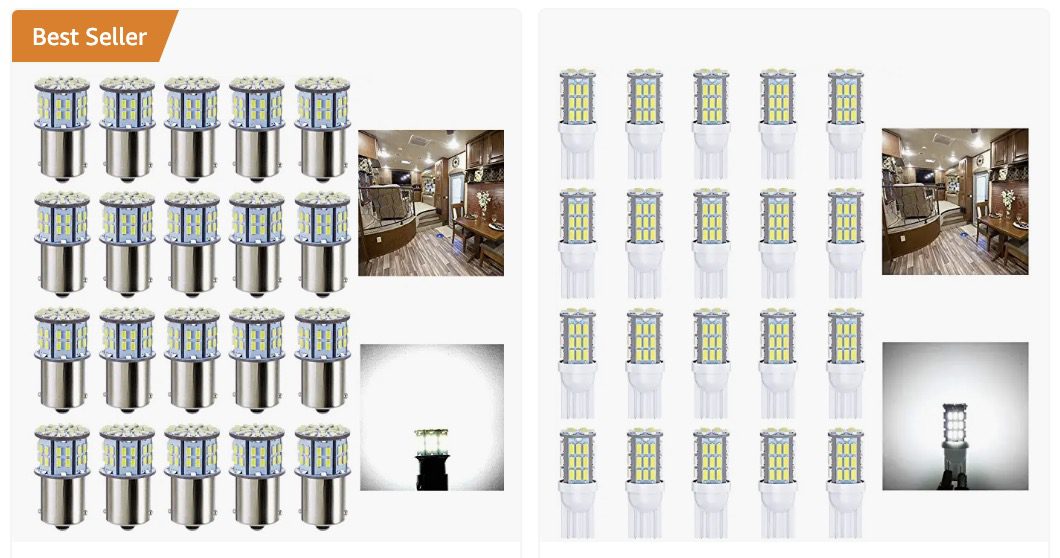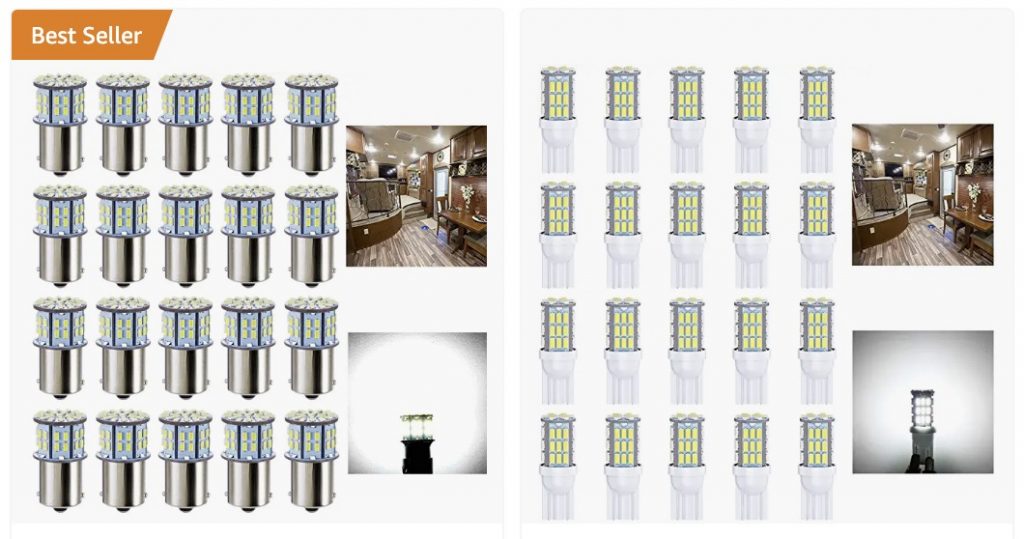 Unplug Unneeded Appliances To Keep Your RV Cooler
While the power draw and heat output is minimal on your TV in standby mode for instance, if you add up all of the small draws and small amount of heat along with the breaker panel or inverter cycling to keep those power items running on standby, then turning them off when not needed can make some difference.
Consider your TV, microwave, night lights, outdoor kitchen fridge (if not storing additional food that must be cooled), and device chargers that aren't in use.
Anything with a clock or indicator light on while not in use is drawing power.
If it's 80F outside and you're trying to get your rig cooled to 75F, this probably isn't going to make a difference, but if you're RVing in Texas, Arizona, or Florida heat, for example, and you're trying to get your rig from 104F down to ANYTHING in the 80s, then this extra power draw may help give you that competitive edge against the hot sun.
Get Out Of Your RV To Keep Cool
While not exactly a tip on keeping your camper cool, the goal is to both keep RV cool and yourself cool, so while it may not always be an option to keep your RV at 72F around the clock, you might consider some ways to stay cool yourself (during the heat of the day) and head back to enjoy your RV in the evening.
Make use of alternative locations for air conditioning
Visit a library, work at a coffee shop, go grocery shopping, go out to a movie, or eat out at a restaurant during the high heat of the afternoon on hot days.
Enjoy a Public Pool or your RV Park's Pool:
This is one of our favorite options while we're dry camping. A public pool (indoor or outdoor) allows us to cool off, and they often have showers so we can shower without using any of our fresh water or filling our grey tank.
If your RV park has a pool, spend an afternoon there (even with just your toes in the water) to cool off.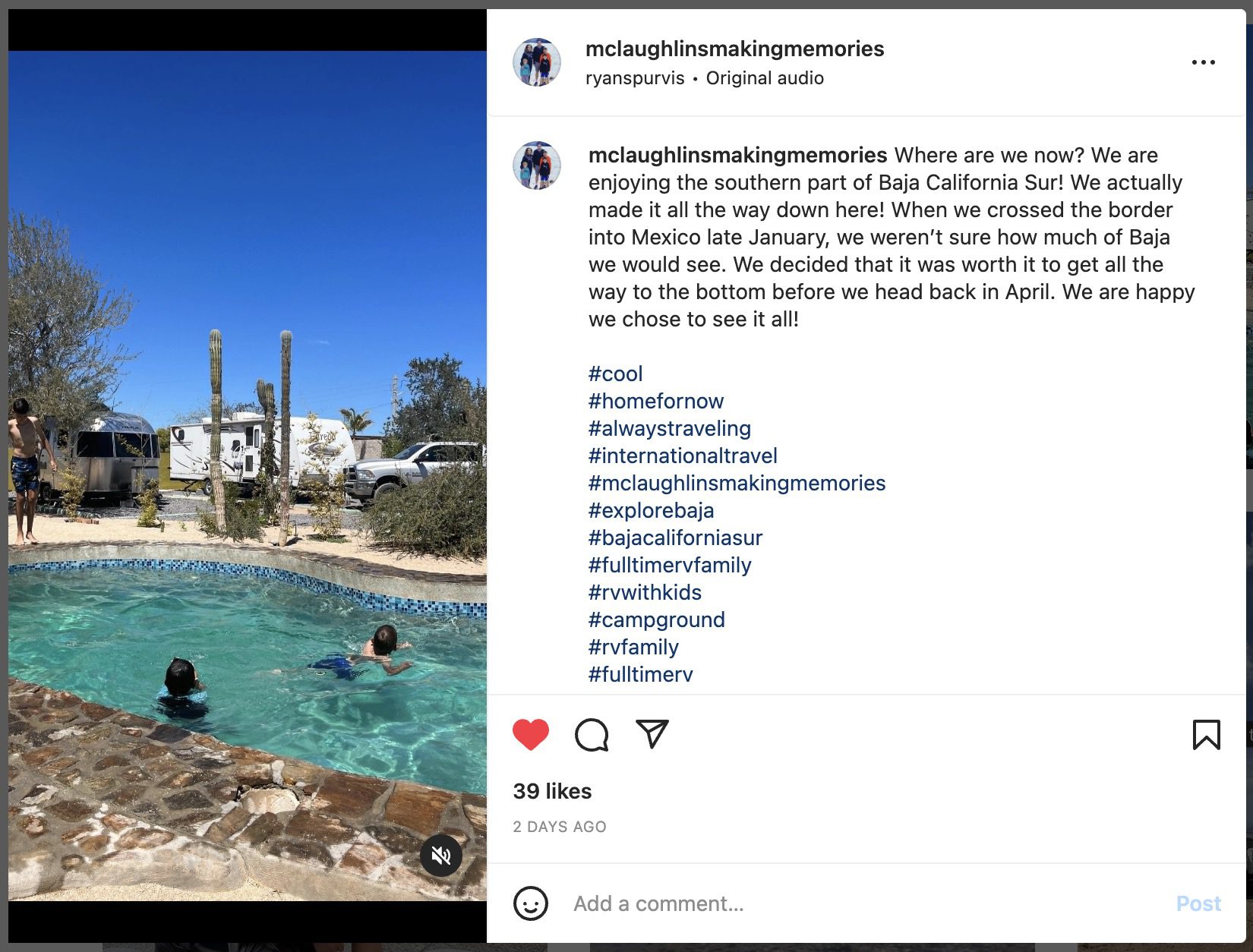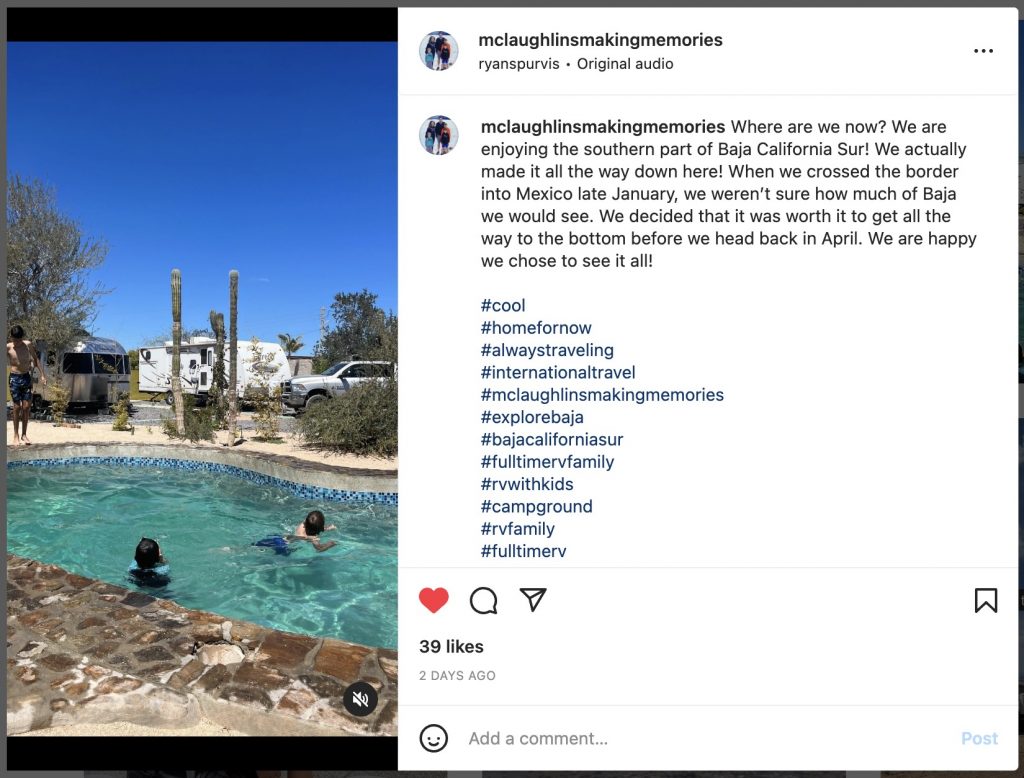 BONUS: (My favorite) Go to an ice cream shop!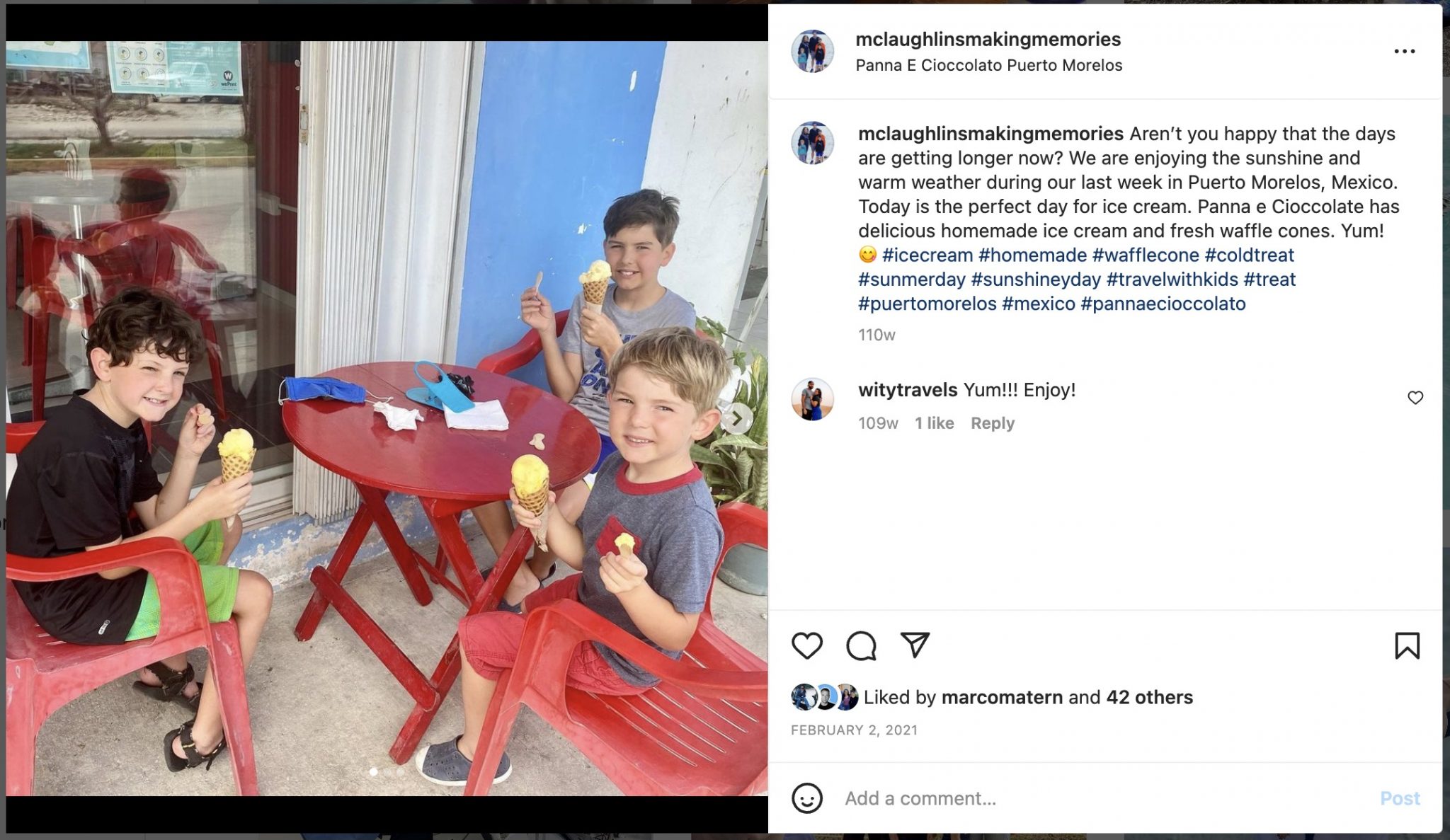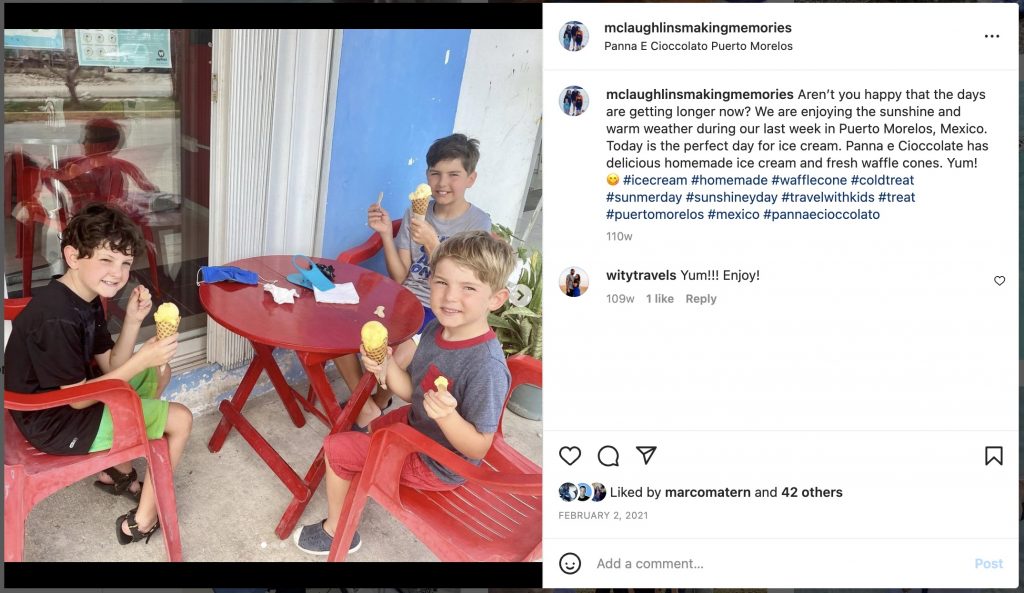 Ok, it doesn't have to be ice cream, and you don't even have to leave your rig, but enjoy frozen yogurt or make a smoothie with frozen fruit or suck on frozen grapes or blueberries: Get something cool in you and drink plenty of water to feel better.
You might think this goes without saying, but being prepared for a hot day with some extra ice made in the freezer or some frozen fruit can go a long way to helping you stay cool if you're at the point where you are so hot you feel like you can't think straight or make any decisions.
Plan ahead when you know a heat wave is coming and store up some of your favorite frozen treats, fill up that ice cube tray,  and stick a jug of water in the fridge to beat the heat.
If you're RVing through the summer, you might also be planning to RV in the winter in a few months. Here are some tips for RVing in the winter.