When friends and family hear that we've embarked on a Baja RV Adventure, they often ask about the need to speak Spanish when RVing in Mexico.
Sometimes the question comes from curiosity about our trip south of the border, and sometimes they are curious about the option of RV camping as a means to explore Baja themselves with understandable concerns about a possible language barrier.
None of us are fluent in Spanish (actually, we sometimes ask our boys for help with remembering a certain word in Spanish if we blank out for a moment, especially on Spanish numbers for some reason. And up until recently, the extent of our Spanish was what we learned from 'Sesame Street' growing up. There are a few things to keep in mind if you'd like to RV in Baja California – one of the most amazing areas of the planet that is easily accessible for RVers from the US.
The good news is that the term "RV" is very well known, even though it may not be a Spanish term itself. So, you won't have to figure out how to say, "recreational vehicle," or, "RV camper," in Spanish – RV will do!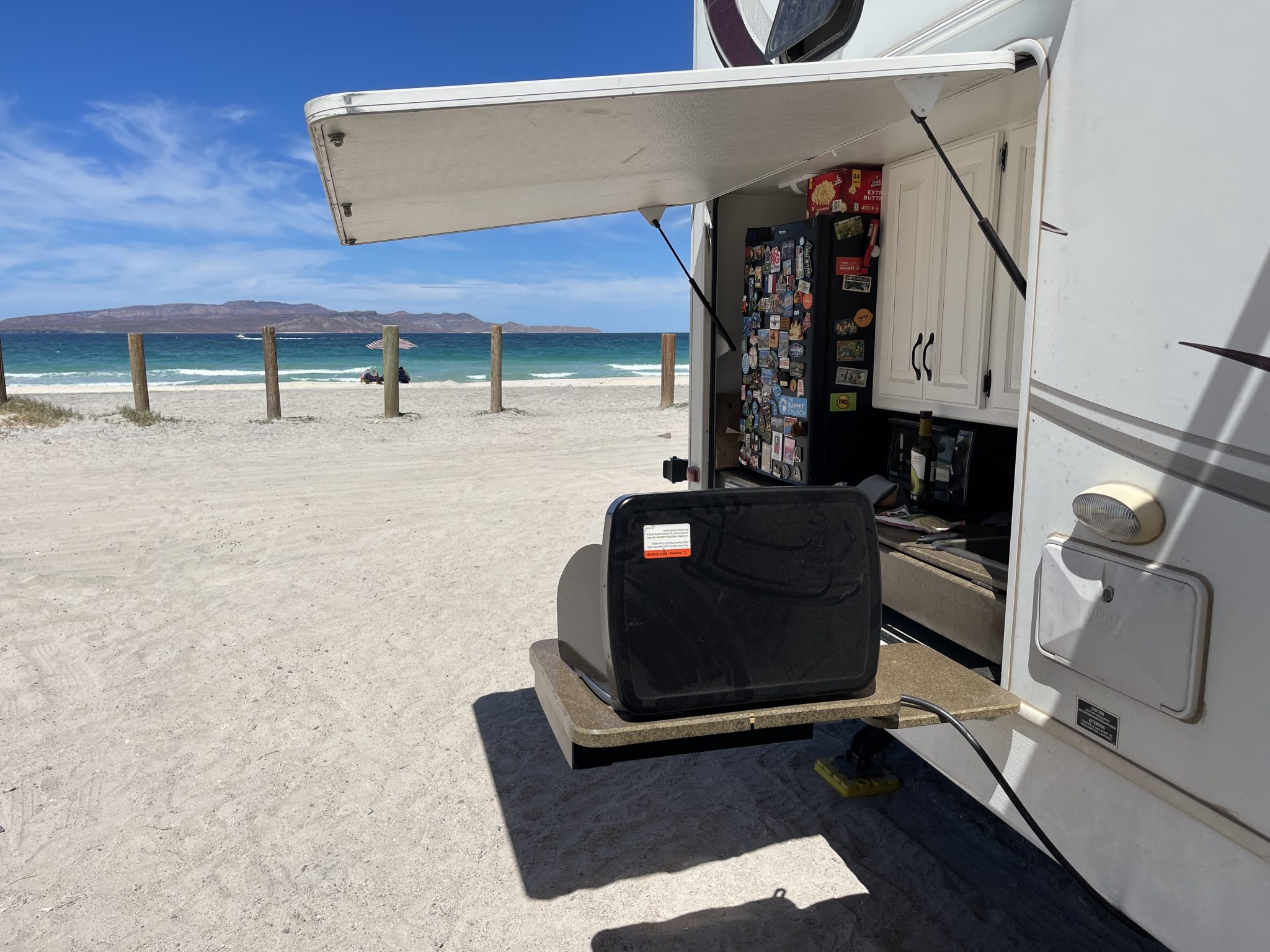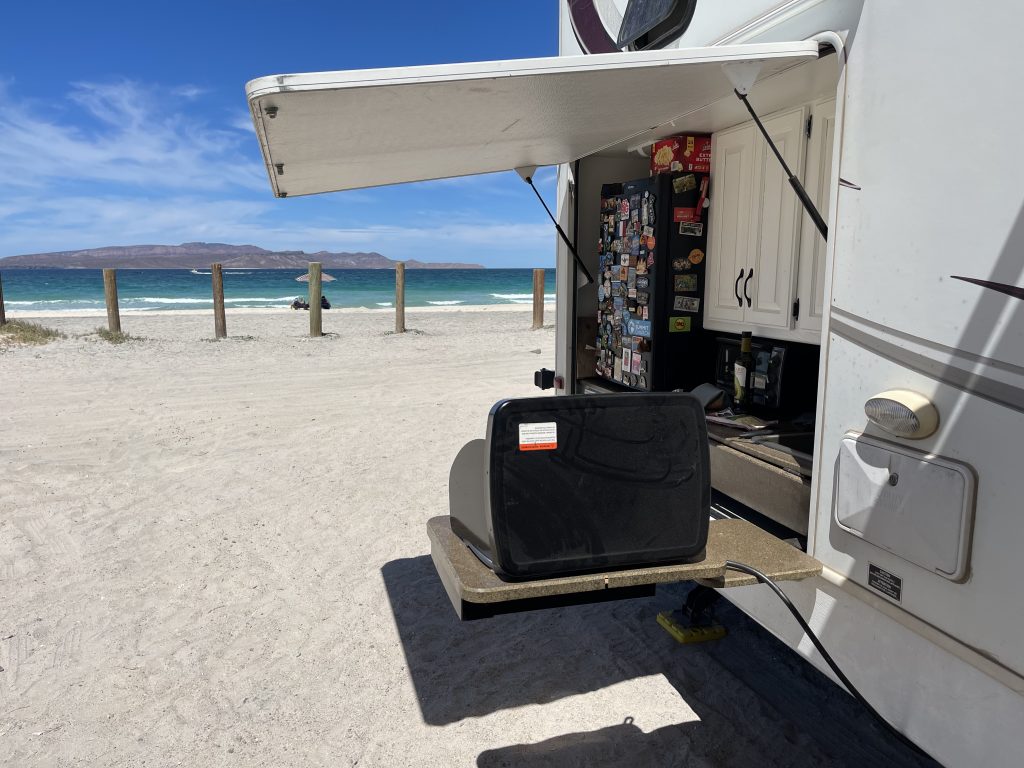 MOST businesses in tourist areas of Baja, Mexico speak English
I want to clarify something. The state that is in the top half of the Baja peninsula is called 'Baja California', and the southern state is called 'Baja California Sur'. As you are driving south, you cross into Baja California Sur from Baja California just north of the city of Guerro Negro (on the Pacific coast).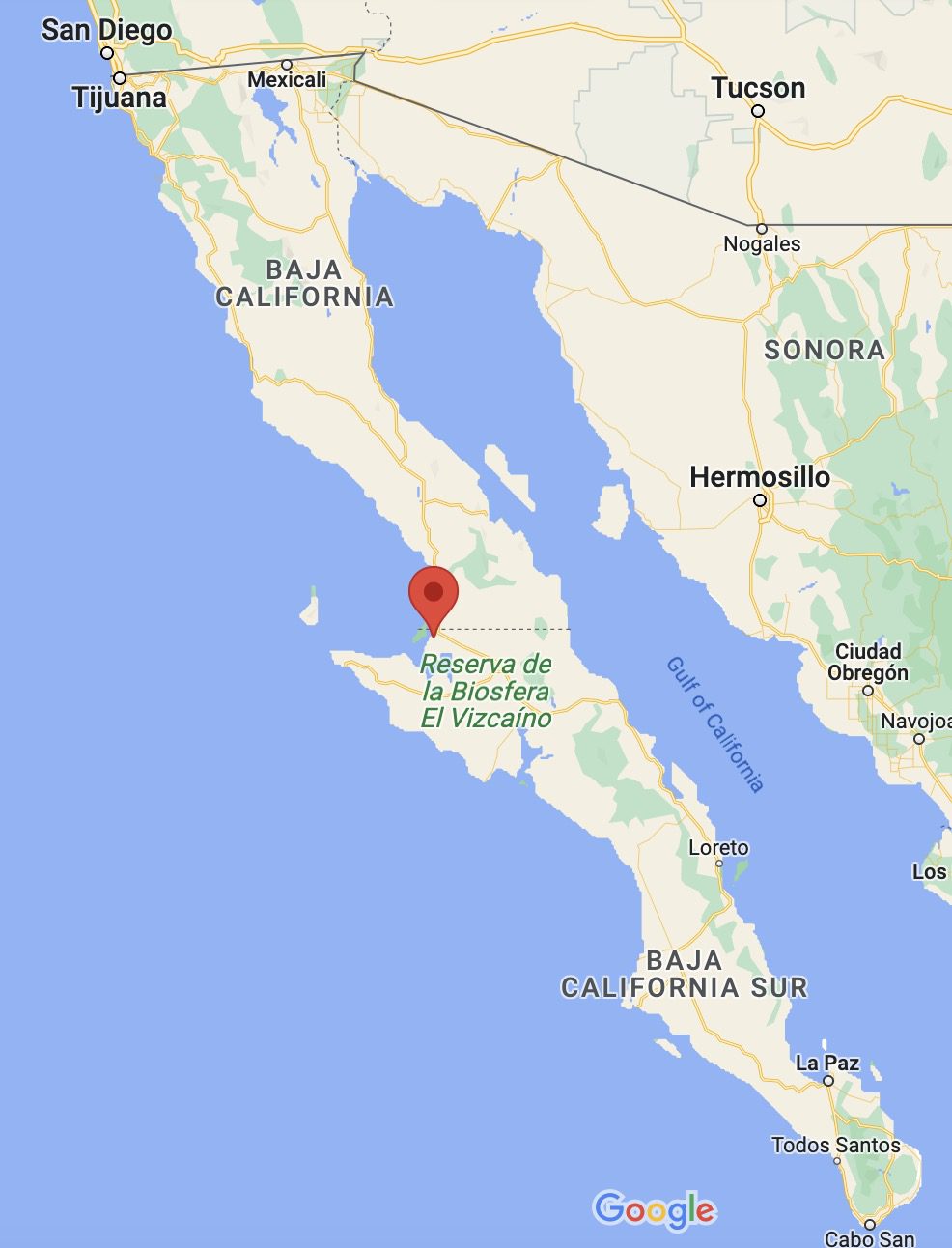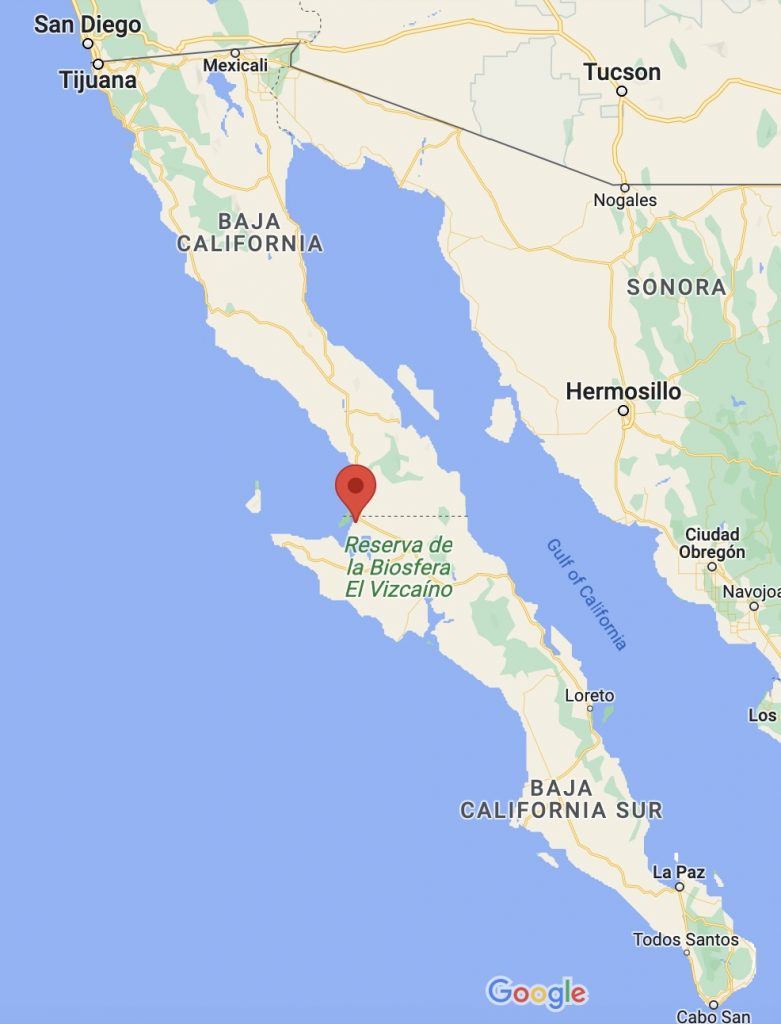 Most residents in the northern Baja peninsula are used to seeing US visitors crossing the border to visit Baja either for day trips, weekends, or short RV camping trips.
San Felipe, Baja is a small city on the Sea of Cortez (east side of the peninsula) and only 122 miles (197km) from Mexicali, California.
Ensenada, on the west coast, is 71 miles (114km) south of Mexicali.
With these two cities in mind, most businesses that serve tourists (restaurants, RV parks, hotels with space for RV camping) know enough English to help them communicate with tourists who want to order food, pay their bills, and find the nearest bathroom.
Even the Mexican border agents and guards at military checkpoints along the highway often know enough English for a smooth border crossing from north to south.
In San Felipe (the first stop on our Baja RV Adventure), we went out to eat at a local restaurant to try fish tacos. Our friend who joined us for dinner stumbled through her order in rough Spanish. We were surprised to hear the server say to her, "Wow, you must have been practicing your Spanish. That was really good," in perfect English.
We all laughed at the irony.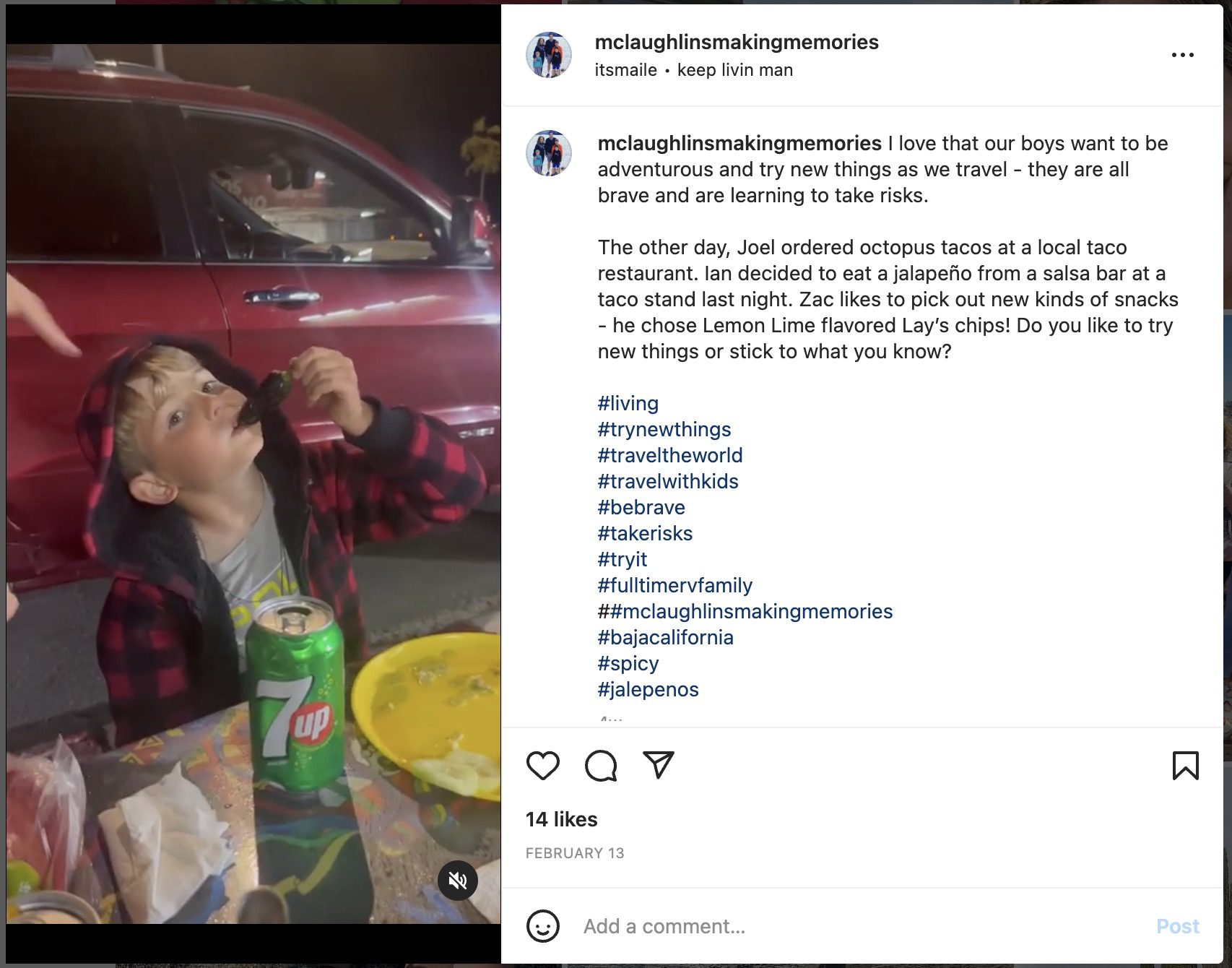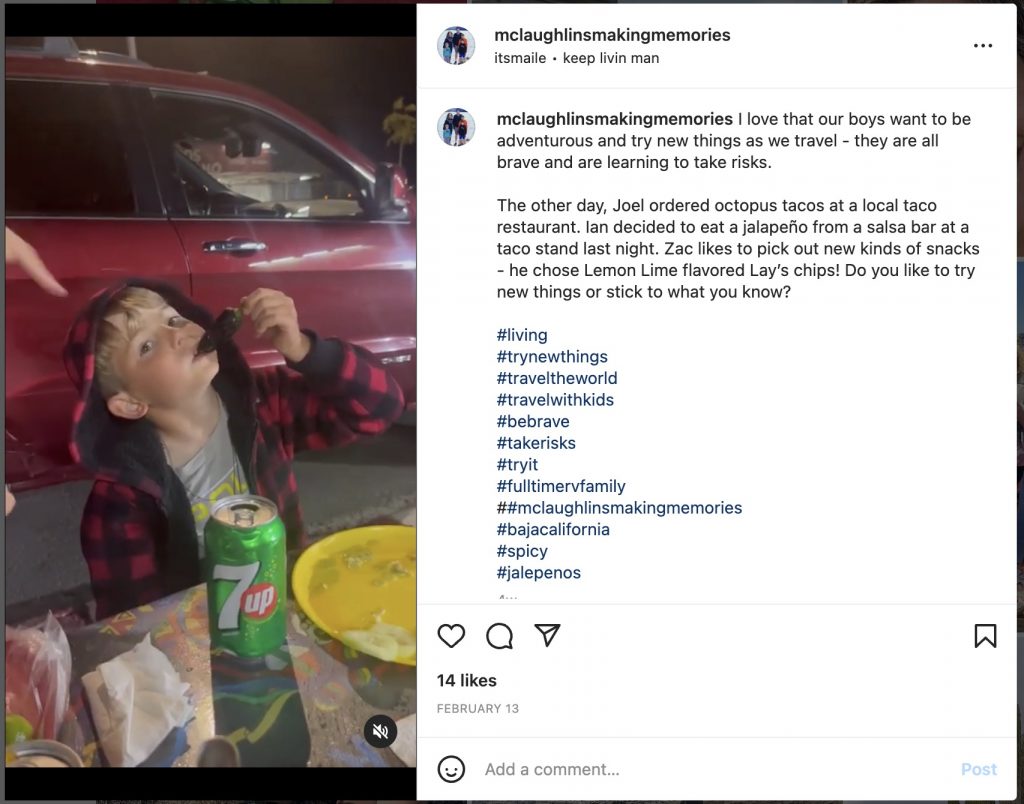 Businesses in Northern Baja and Southern Baja Speak English – Not as much in the middle
Restaurants, hotels, gas stations, grocery stores, and border crossings in the north expect visitors from the United States. They want your business and are happy to speak English to you. I'm sure it's also the same for the cities and towns in the northern sections of mainland Mexico.
Visitors in La Paz or Los Cabos areas expect visitors to fly in to explore southern Baja California Sur. In our experience, the least amount of English is spoken by the locals who live in the middle section of the peninsula between San Felipe and La Paz.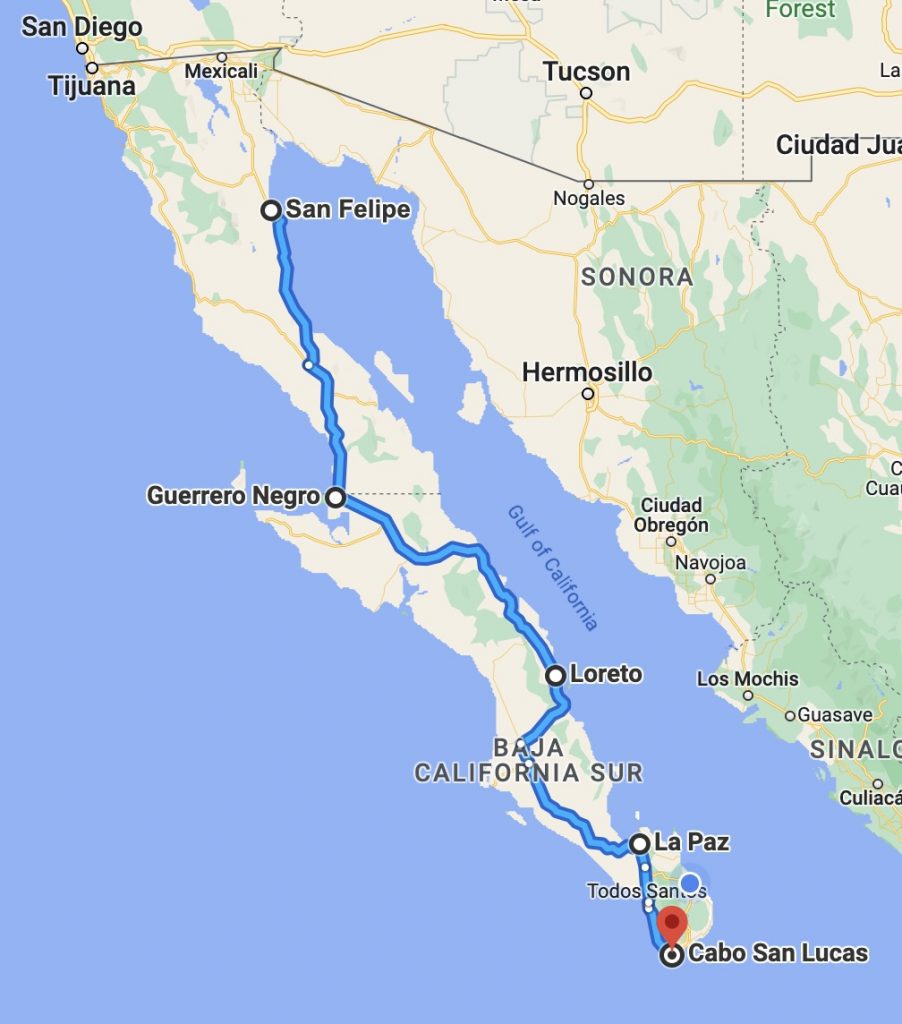 The two major cities between San Felipe and La Paz are Guerro Negro (hailed as the best location for grey whale watching in Baja between November and March) and Loreto (a common stopover city for RVers traveling south).
Both Guerro Negro and Loreto have locals working in hospitality roles who speak English, but be prepared to speak Spanish when ordering food or working out details for your next RV park stay – probably a 50% split.
Some Basic Spanish You'll Need To RV in Baja California
We use the DuoLingo iPhone App to learn Spanish as a family (and as part of our boys' homeschooling).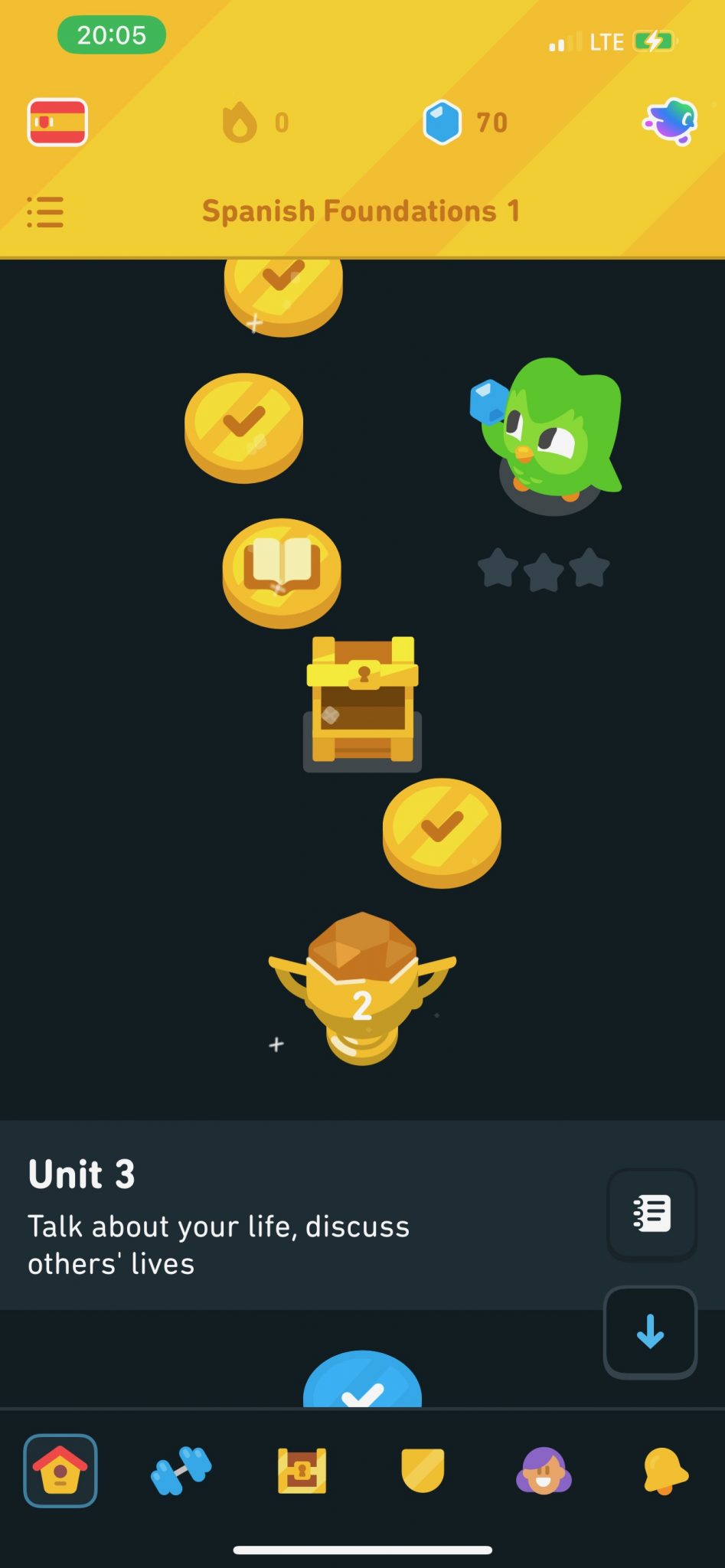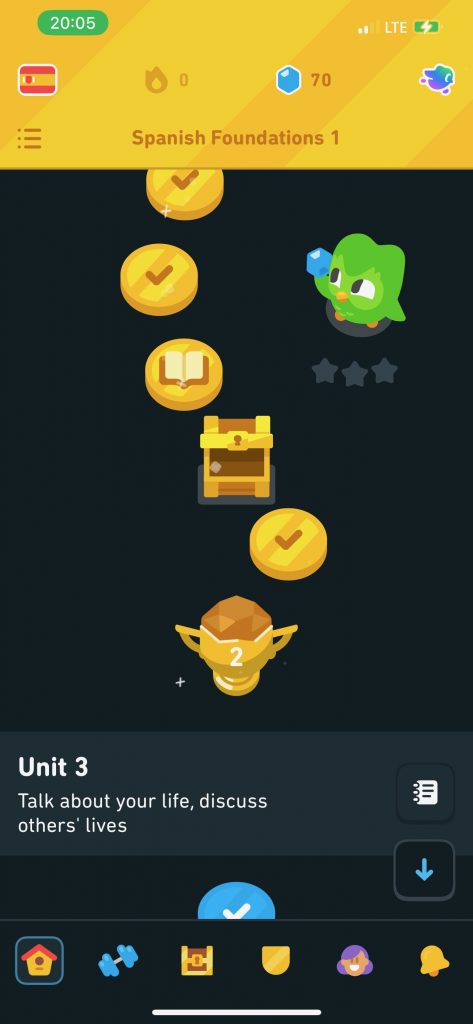 The app is helpful for learning conversational Spanish, and for those who want to immigrate to Baja, Mexico eventually. If you plan to stay in small towns along the way and navigate all of the local restaurants, you'll want to use DuoLingo to learn basic Spanish.
For practical needs to get by RVing in Baja, these few things will help you cover your bases.
Using Google Translate App
You can use the Google Translate app set to 'From English to Spanish.' The app will do exactly that – translate whatever you speak into the app into writing, and then you can show your phone screen to whoever you're speaking with.
The Google Translate app is so well known in Baja. You can expect to see the local person you're talking to also speak into the app in Spanish, and translate what they are saying back to English for you to understand.
This app is our go-to if we can't find the words to say in Spanish – it's easier than charades.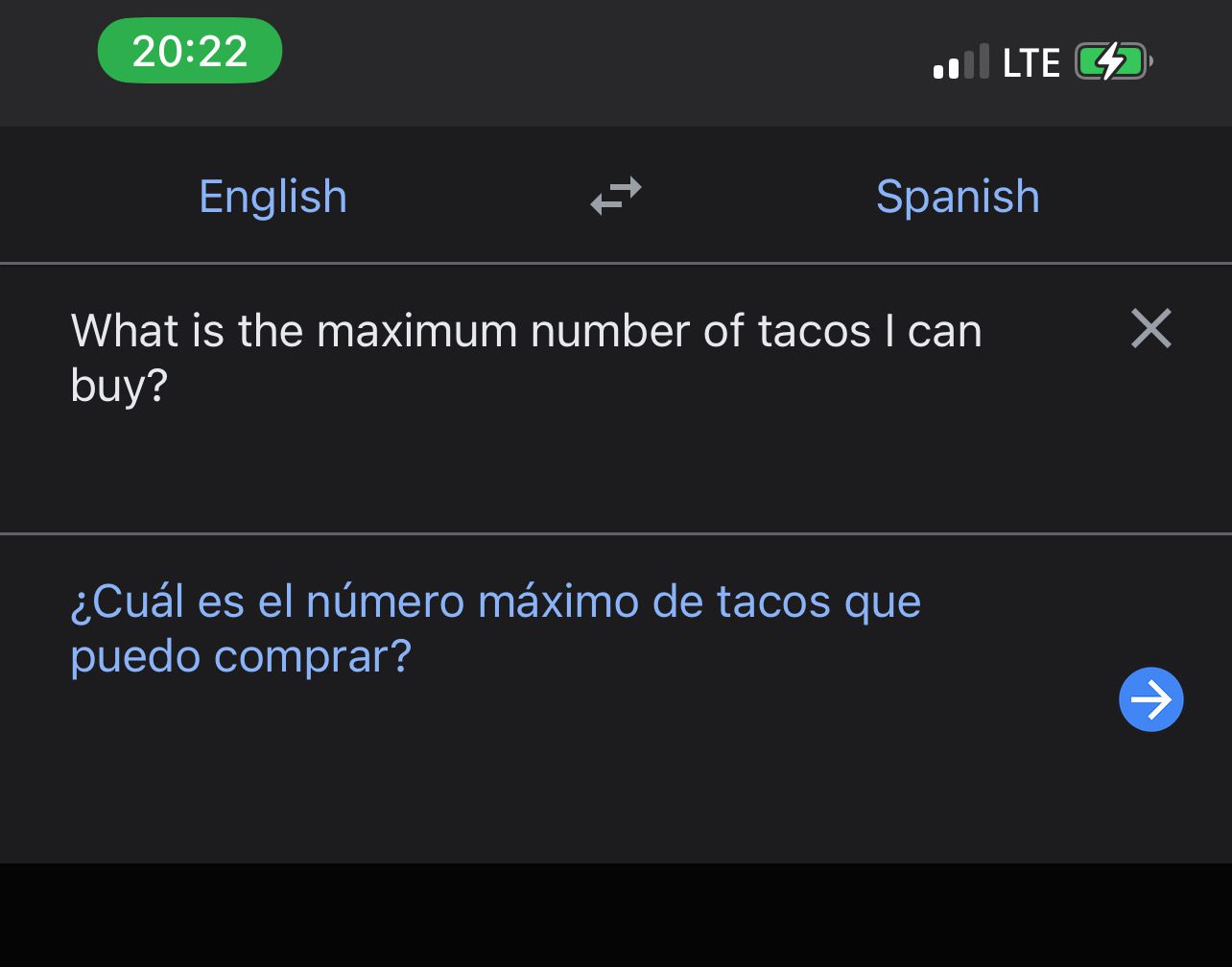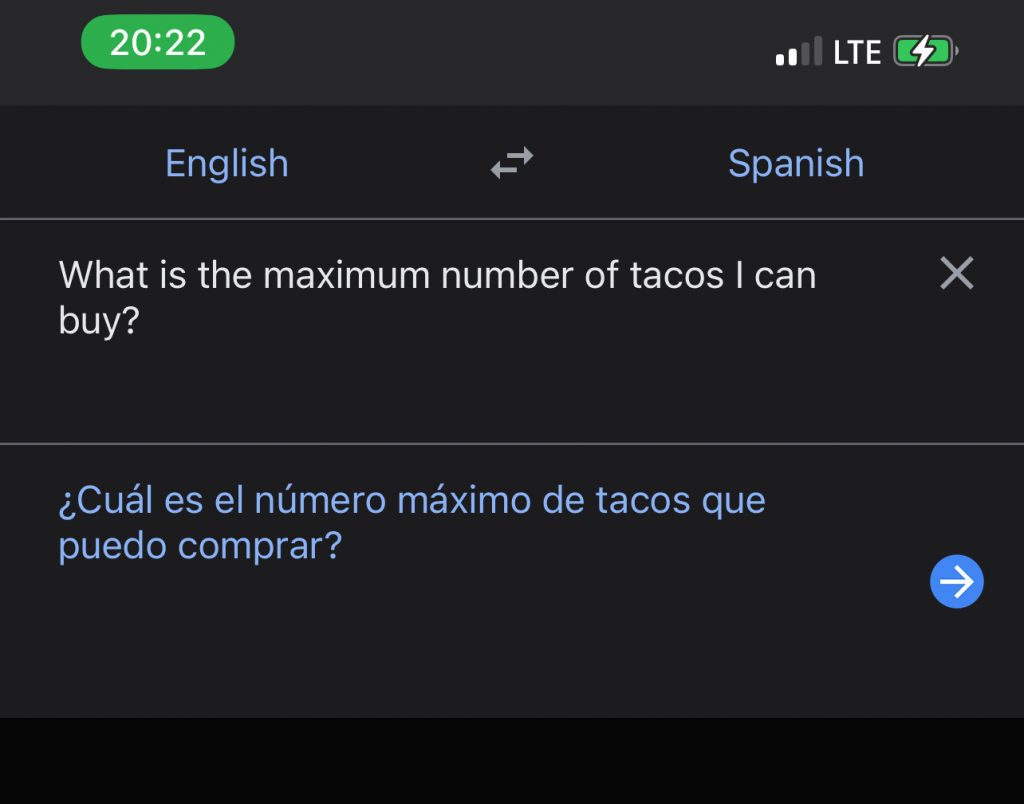 You can also download Spanish for offline translation so that you are not dependent on having a cell signal when you need a translation while beach camping halfway down the Baja peninsula.
We prefer to know some basic Spanish so that we do not have to pull out our phones when arriving at RV parks or when someone wanders by our RV selling fresh tamales.
We have watched people struggle to pull a big rig into a tiny village gas station. And I'm sure that the last thing they want to do after finally getting parked at the pump is fumble with their cell phone in order to translate, "Fill up please," into Spanish.
Here are a few Spanish Phrases that have helped our Baja RV Adventure go smoothly:
How do you say 'please' and 'thank you' in Spanish?
Please = Por Favor
Thank you = Gracias
Just as in English, 'please' and 'thank you' go a long way when communicating in Spanish. You may not know enough Spanish to ask someone to hold the door for you, but if someone opens it while your hands are full of tacos, saying, "Gracias," is fitting.
How do you say 'Yes' and 'No' in Spanish?
Yes = Ci (see)
No = No
Sometimes in English, we will say, "No," when we mean, "Without," – like coffee without sugar = Coffee, no sugar.
In Spanish, to say, "Without," you say, "Sin." Example: Coffee without sugar = Cafe sin azucar.
"With" is "Con" – you might ask at RV parks for a site with water = "Espacio con agua por favor?" (a space with water, please?).
Learn to say the numbers 1-10 in Spanish
0 = Cero (serro)
1 = Uno (oo-no)
2 = Dos (dose)
3 = Tres (trace)
4 = Quatro (kwa-tro)
5 = Cinco (sink-oh)
6 = Sies (sace – like 'face' with an s)
7 = Siete (see-et-ay)
8 = Ocho (oh-cho)
9 = Nueve (noo-ev-ay)
10 = Diez (dee-as)
Knowing how to count in Spanish is helpful for requesting a table for two at a restaurant, or for telling your server how many tacos you'd like (I usually hold up fingers anyway to indicate the number), and if you need to use larger numbers, you can say 2-6 if you don't know how to say, "twenty-six."
Add on, "Cientos (see-en-toes)," to say, "Hundred." Example: Dos cientos (dose see-en-tos) = two hundred. Since the conversion rate is significant in Mexico, 200 pesos is around $10 USD, so "cientos" is common in pricing.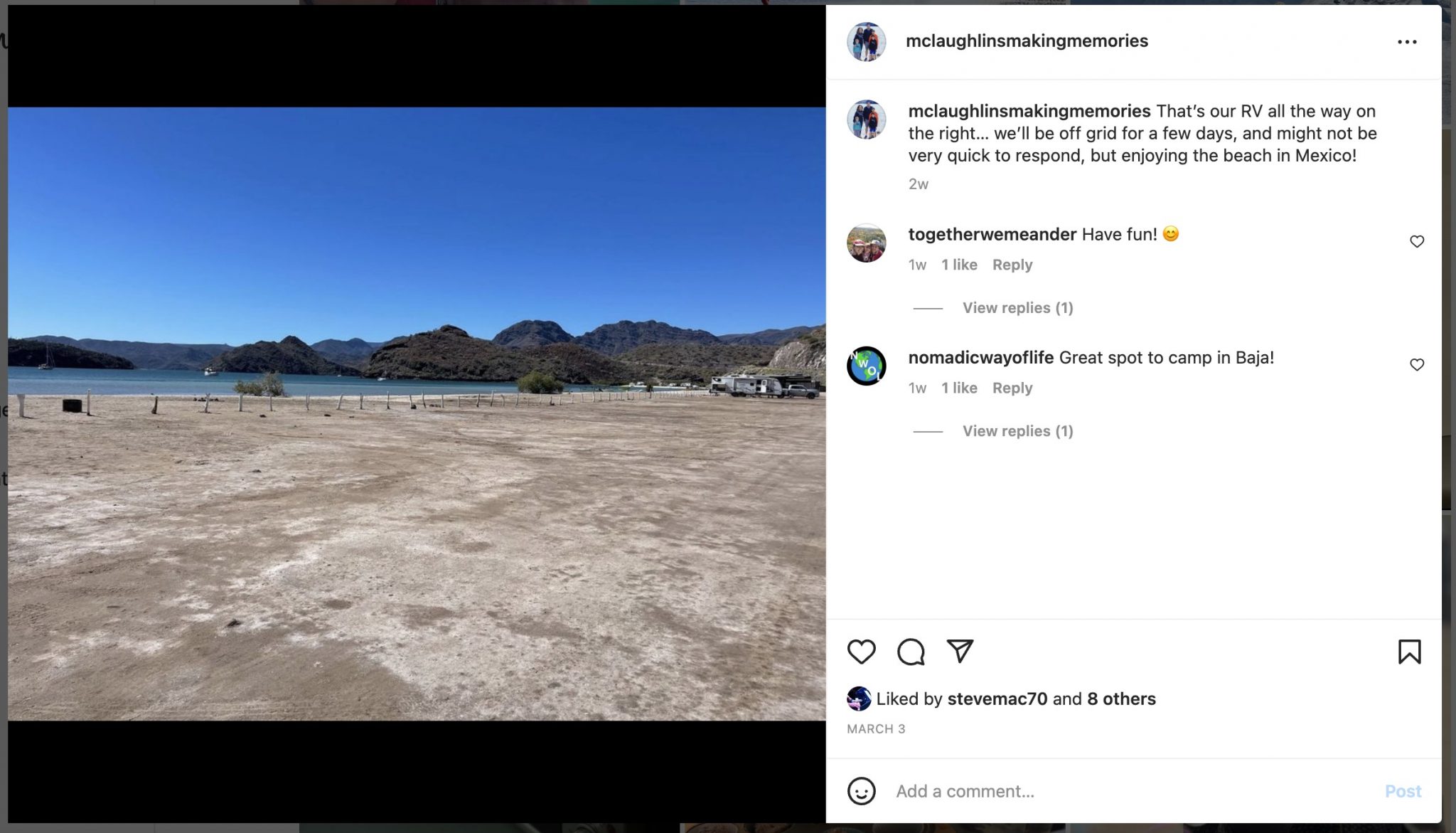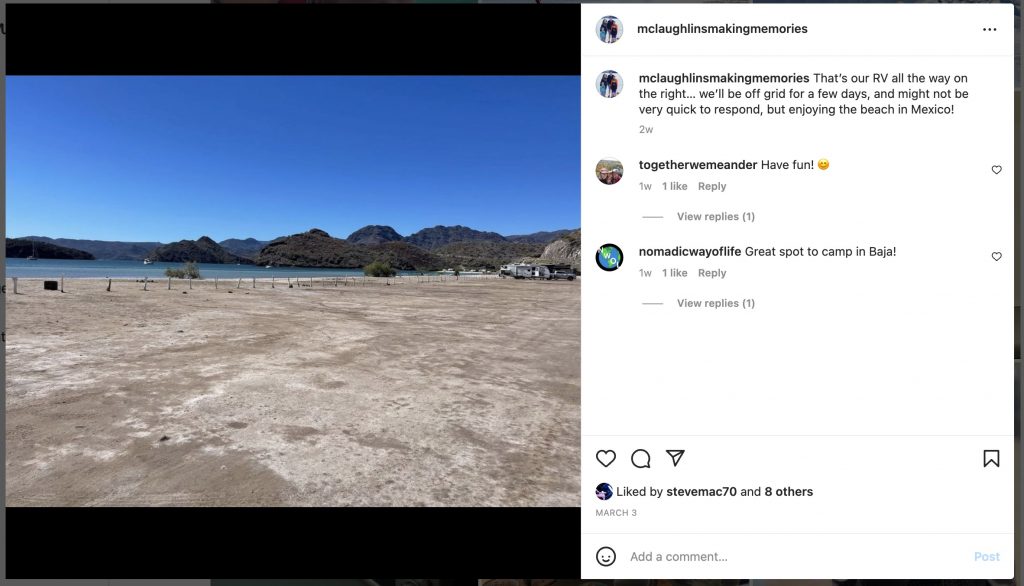 Spanish words that are helpful for RV Camping in Baja, Mexico
Water = Agua
Dump Station = Estación de descarga
Electricity = Electricidad
Site (Space) = Espacio
If you're looking for an RV space with water, electricity, and sewer = Espacio con agua, electricidad, y albanal por favor?
If you have solar panels and batteries and are looking to save a few pesos (to spend on tacos instead) then you might say, "Espacio sin electricidad, por favor (A space without electricity please)."
[In that case, if you don't have air conditioning, you might find these ideas helpful: How to keep your RV cool]
Bathroom = Banos
Propane = Propano
Store = Tienda
Because the locals are expecting English-speaking tourists to come to Baja to RV camp, they are really understanding if your pronunciation is off or not exactly accurate – they are happy you are choosing their business during your visit to Baja, Mexico, and pleased to help.
How do you say 'Day' and 'Night' in Spanish?
Day = Dias (Dee-as)
Night = Noches (No-chess)
If you are going to stay for three nights at an RV park in Baja, Mexico, you would say = "Tres noches, por favor."
All gas stations in Mexico are full-serve. Here's what to expect at a gas station in Baja, Mexico:
Pull up to the pump and put your window down. A gas station employee will come over to pump your gas for you.
If you need a fill-up, "full" is "Lleno (ye-no – the double LL is pronounced like a 'y'). So, you can say, "Lleno, por favor (full, please)."
If you don't need a fill-up and just want to put in a set number of pesos, then you might say the specific number. Example: "Five hundred pesos, please (about $25 USD)," = "Cinco cientos pesos por favor."
They will ask you to look at the pump to see that it has been reset to '0'. They will point to it and say, "Cero." – You should reply with, "Okay", or, "Ci."
Unfortunately, some gas station attendants will pump gas into a jerry can before you pull in, then hope you don't notice that they did not reset the pump as they put the gas nozzle into your vehicle and continue pumping. Then, you end up paying for what went into the jerry can as well as what went into your gas tank.
If you see the pump isn't at zero, politely say, "Cero, por favor."
It is common practice that they ask you to check for zeros on the pump and that you acknowledge them before they start pumping.
When they are finished pumping and ring through your credit card, it's customary to give a tip – 20 or 30 pesos is sufficient (1 or 2 dollars). We usually tip a bit more (50 pesos – around $3) if they wash our vehicle's windows instead of just standing at the pump.
How do you say 'How much does this cost?' in Spanish?
How much does this cost? = Cuánto cuesta?
Locals will often come by to sell their wares when you are at an RV park or dry camping at the beach. Sometimes they have fresh fruit, tamales, pastries, bread, fish or shrimp, wood carvings, sunglasses, or blankets.
If you're interested, ask, "How much does this cost?" = "Cuánto cuesta?"
If you don't understand their answer, then they'll often bend down to draw the number in the sand in order to help you understand.
Will Sales People On Baja Beaches Pressure You To Buy?
If you are not interested in what someone sells on a beach in Baja, say, "No, gracias (No, thank you)," and they'll often move on to the next person.
We haven't felt any pressure or safety concerns from the salespeople wandering the beautiful beaches in Baja, Mexico, and they're quick to move on to the next person with a kind, "No, gracias."
Learn common Spanish phrases you'll probably use RV camping in Baja, Mexico
If there are certain foods you want or don't want, then learn how to ask about those:
Solo vegetales = Only vegetables
Cafe con hielo y leche sin azucar = Coffee with ice and milk, without sugar (this would be my order)
Picante o no picante? = Spicy or not spicy?
Azucar = Sugar
Leche = Milk
Queso = Cheese
Pollo (poyo) = Chicken
Res = Pork
Carne = Meat
How Much Spanish Do I Need To Know to RV in Baja, Mexico?
Instead of trying to learn all of the language, learn the parts that you'll most likely use and rely on Google Translate for everything else.
The locals are happy that tourists are supporting their economy and couldn't be happier trying to understand you in any way they can, whether you're staying at RV campgrounds or you are Baja-bound for beach camping.
If you're heading to Baja and think you might consider beach camping without electrical hookups (and air conditioning), or you want your a/c to be as efficient as possible, you might find these tips helpful: 17 tips to keep your RV cool.
Enjoy Baja!