RVing seems at first to be an economical way to live, and while that can be true, there are also ways to live a more luxurious lifestyle while RVing. Paying for fancy campgrounds, mortgaging a marble-floor motorhome, and eating out at every stop are ways to make RV life more expensive than living in a sticks-and-bricks home.
We try and find a balance. Finding ways to save money by RV camping for free allows us some budget to enjoy the experiences we want as a family of five.
This is one of our favorite free campsites we've found in the Canadian Rockies called Horseshoe Lake. We loved it so much that we went back a second time 2 years later: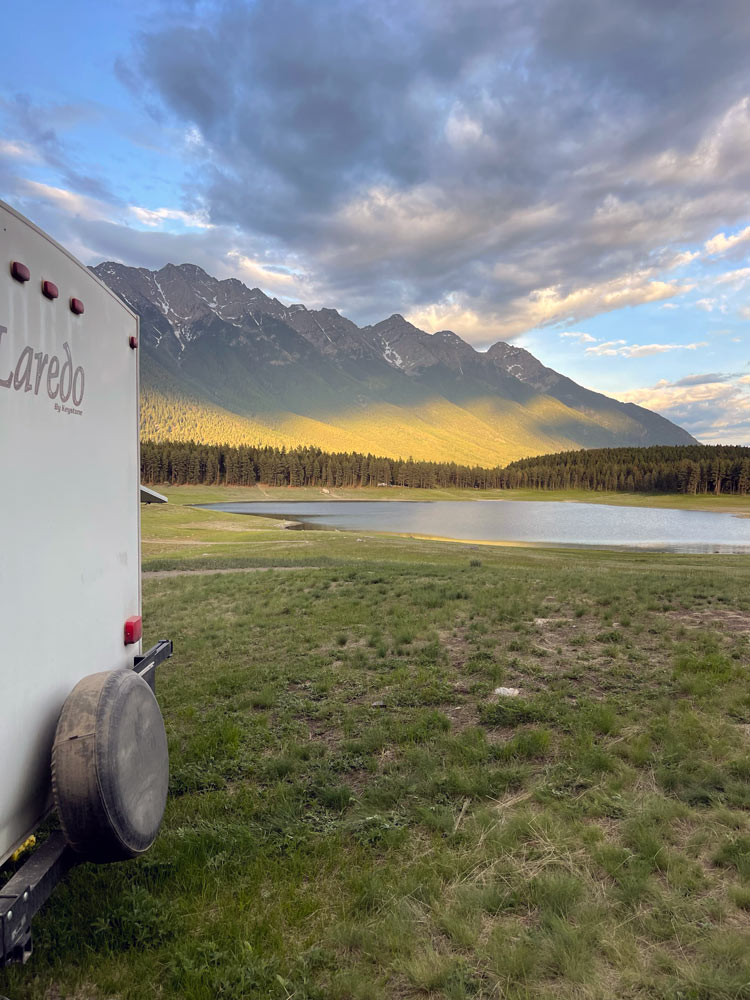 We paid for campgrounds nearly every night during our first year on the road. We were learning as we went (since we had never RV'd before). We wanted the security of having hookups and having people nearby if we got stuck with a question (like how do we get our water heater turned on… hypothetically…).
Thankfully, we knew about Passport America, so while camping wasn't free, we saved money compared to paying full price.
Since then, we've become more comfortable with finding more free campgrounds for RV camping, allowing us to allocate our budget to other places, along with these ideas for free things to do with kids while RVing.
Disclaimer: This article contains affiliate links. If you choose to purchase from one of our recommended links we may make a commission at no cost to you.
Our Favorite Free Camping Tools
Campendium.com – Great for finding free campgrounds, paid campgrounds, and dump stations. We can often find free dispersed camping just outside of National parks which saves money on paying for dispersed camping inside National Parks. This is a great app for finding free camping for your RV camping trip, even if you plan a combination of paid campgrounds and throw in a free camp site now and then.
iOverlander – More than just an app to find free camping, iOverlander also shows mechanics, remote tenting sites, and hotels for a full road-trip experience if you're not just RVing.
Our Favorite Almost-Free Camping Tools
Harvests Hosts & Boondockers Welcome – this is an "honorable mention" since there is a yearly membership fee (which costs less than 2 or 3 nights at a paid campground), but free dry camping after you've paid the membership fee.
Passport America – Another honorable mention. There is a fee to join Passport America, but the campground discount is always 50%. Some campgrounds will allow you to stay multiple nights at the 50% discount, so we consider this pay full price and get the second night FREE! (ok, it's a bit of a workaround to consider it free camping, but if you're going to stay a few nights anway at a campground to empty your dump tanks and refresh your freshwater, then you might as well get the second night "free" anyway).
Our Favorite NOT Free Camping Tool – but deeply discounted camping
Thousand Trails – Not even close to free at RV parks and campgrounds, but in our first year as Thousand Trails members, we averaged our costs to $10/night, so compared to paying full price at campgrounds (often $30-$50/night) this was one of the nine ways we cut our campground expenses in half our second year on the road.
Free camping tips and tricks we've learned along the way
Finding free camping areas with the dispersed camping tools above is not always the hard part – knowing what the rules are when you get there can be the challenge:
How long can I stay?
Am I allowed to have a fire?
Should I call ahead and double-check permission to stay overnight?
What red flags should I look for?
We'll dig deep into some of the things we've learned since starting to RV in 2018 and share some tips for finding free camping areas along the way.
How to Find Free Overnight RV Parking Lots
We use Campendium and iOverlander to find free overnight RV parking lots. There are three categories of overnight RV parking lots:
Specific spots marked for RVs
Large parking lots with no designated RV Parking
Harvest Hosts overnight parking
1) Parking Lots Designated For RVs
Often truck stops and interstate service areas have specifically designated parking areas for RVs. For businesses, this is great offering because you might fill up on gas the following day or stop into the store to grab a snack for your road trip.
If the RV area is full (rarely, but it happens), then we keep moving. We don't want to use a truck parking location where a truck driver, who needs to rest as a job requirement, may not be able to stop and get the rest he or she needs.
There's no need to call ahead in this case since there is designated RV parking.
Our favorite RV parking lot is at Cracker Barrel – one of the few businesses (aside from a gas station or truck stops) that has designated RV parking. It might be obvious why we love staying the night at Cracker barrel, but their early bird breakfast is an economical way to feed our family of 5, and a great way to start the day if we have a car ride ahead of us.
We have found a few city parks which offer free campsites and some well developed campgrounds that include hookups or a dump station along with overnight parking.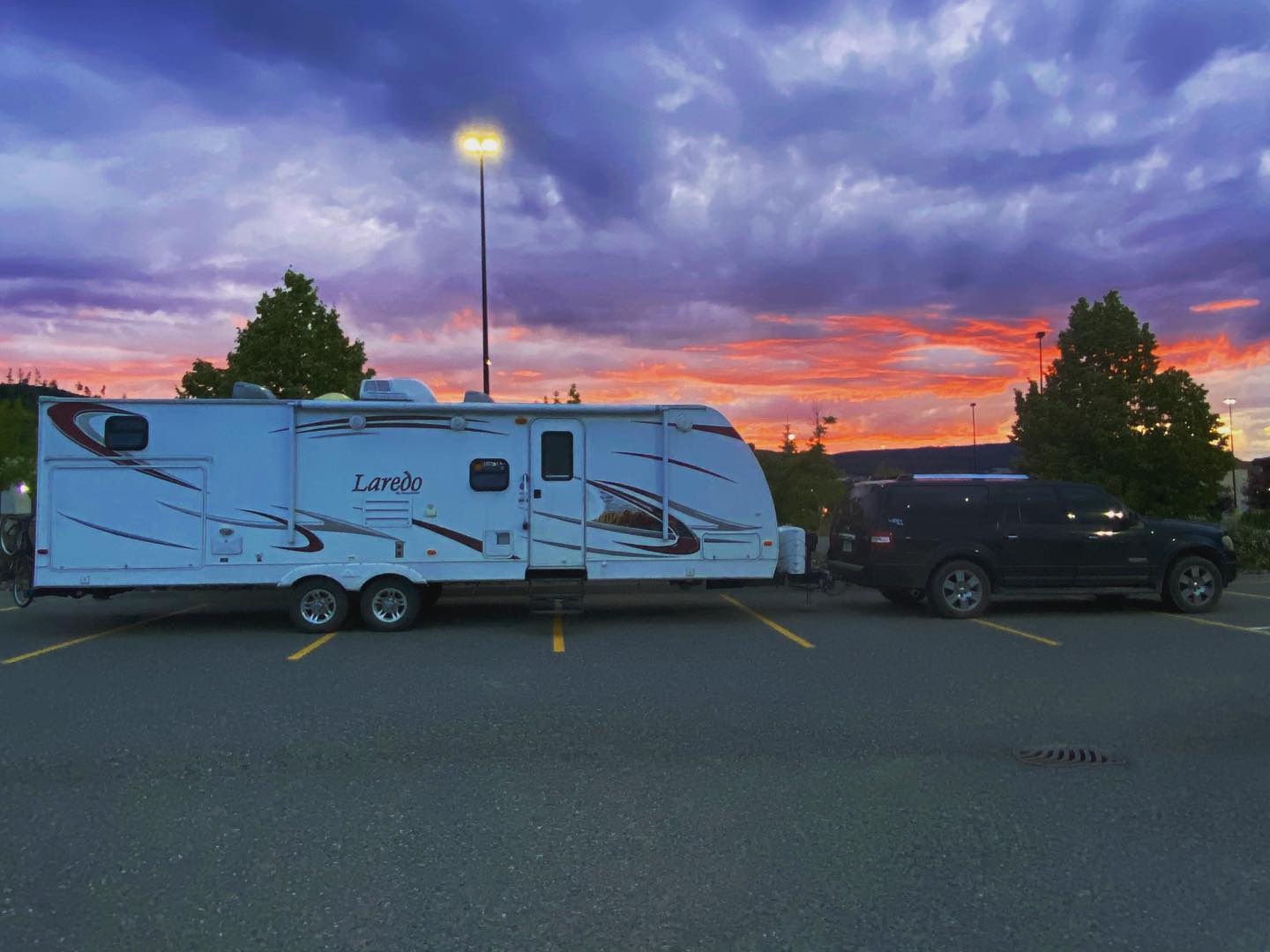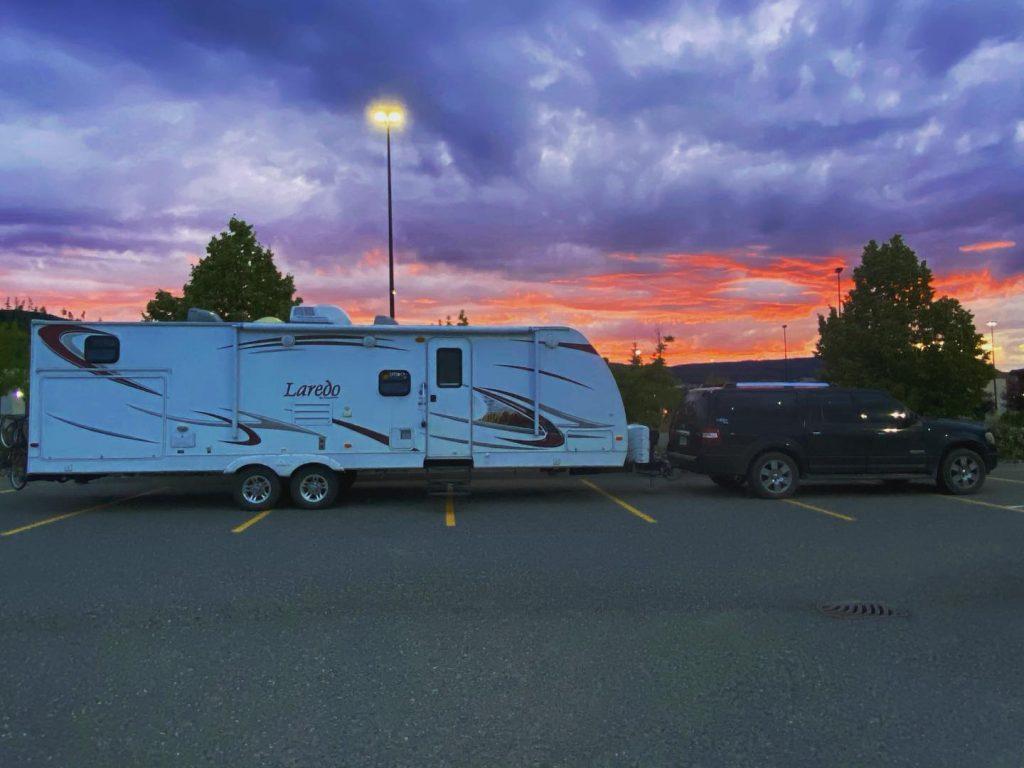 2) Parking Lots WITHOUT Designated RV Parking
Many Walmart parking lots, Cabella's, hardware stores, camping stores, and other sites have large parking lots that don't have designated RV parking but where RV parking is allowed.
We'll park out of traffic to the store at the back of the parking lot, but since there isn't designated RV parking, we'll call ahead to check that we can park overnight. Often, the decision is not up to the store itself, but a city or county bylaw doesn't allow overnight RV parking.
If overnight parking IS allowed on private property, then we'll have a backup plan in case the other overnight parkers raise a red flag for us, or there isn't sufficient space for us to pull in our pickup and 30-foot travel trailer.
Staying for free in Walmart Parking Lots
A Walmart Parking lot (or what we call "Wallydocking" as a play on boondocking) is one of the most common for RVers since there's a Walmart parking lot in every major city, and they're often located just off the highway.
What not to do while overnight parking for free
We aim to stay less than 12 hours in a parking lot – this is a personal choice, and not a requirement from the business.
Don't put down your stabilizers, set up your BBQ and outdoor fire pit with lawn chairs, or play loud music. This is meant as a location to pull over, not a place to camp.
Don't unhitch your vehicle. This is not the place to park to drive off to go on a cool hike or catch a movie. Not only is it a security concern to leave your vehicle unhitched in a public alrea (broadcasting: We're not home!) but it also could be towed by management if that's their policy. Imagine coming back to an empty space where you left your RV after a long hike. Now what?
While this may seem like rv camping for free or overnight parking, we almost always go into Walmart and spend more than we would have at a campground. Thankfully, it's always practical stuff we needed anyway like more throw pillow for our bed or pokemon cards.
3) Harvest Hosts Locations
Many businesses on Harvest Hosts (golf courses, wineries, hobby farms, and retail locations) have great locations in the city close to something you'd like to visit, while others may be wineries or farms in the country which sometimes are the most convenient stop over between major cities.
We stayed a night at a Havest Hosts location in Los Angeles when we wanted to visit Knott's Berry Farm. Nearby campgrounds were $80-$100/night in the city, and since we have solar, we don't need to pay for hookups. The Harvest Host location was 20 minutes away from the park. We pulled in after the park closed at 8pm, and left the next morning at 9:30am to get back to the park.
You pay for a yearly Harvest Hosts membership, but locations are free parking, and the expectations is you'll patronize the business (A suggestion is $20/night purchase).
The plaza we stayed at in Los Angeles had a breakfast restaurant and a collectibles store. Our boys chose something from the collectibles store, but short of that, we would have stopped in for breakfast before our day at the park. Some collectibles at their store was much less than paying for a campground with hookups we didn't need, or if you were going to go out for breakfast anyway, then there's no difference in parking overnight.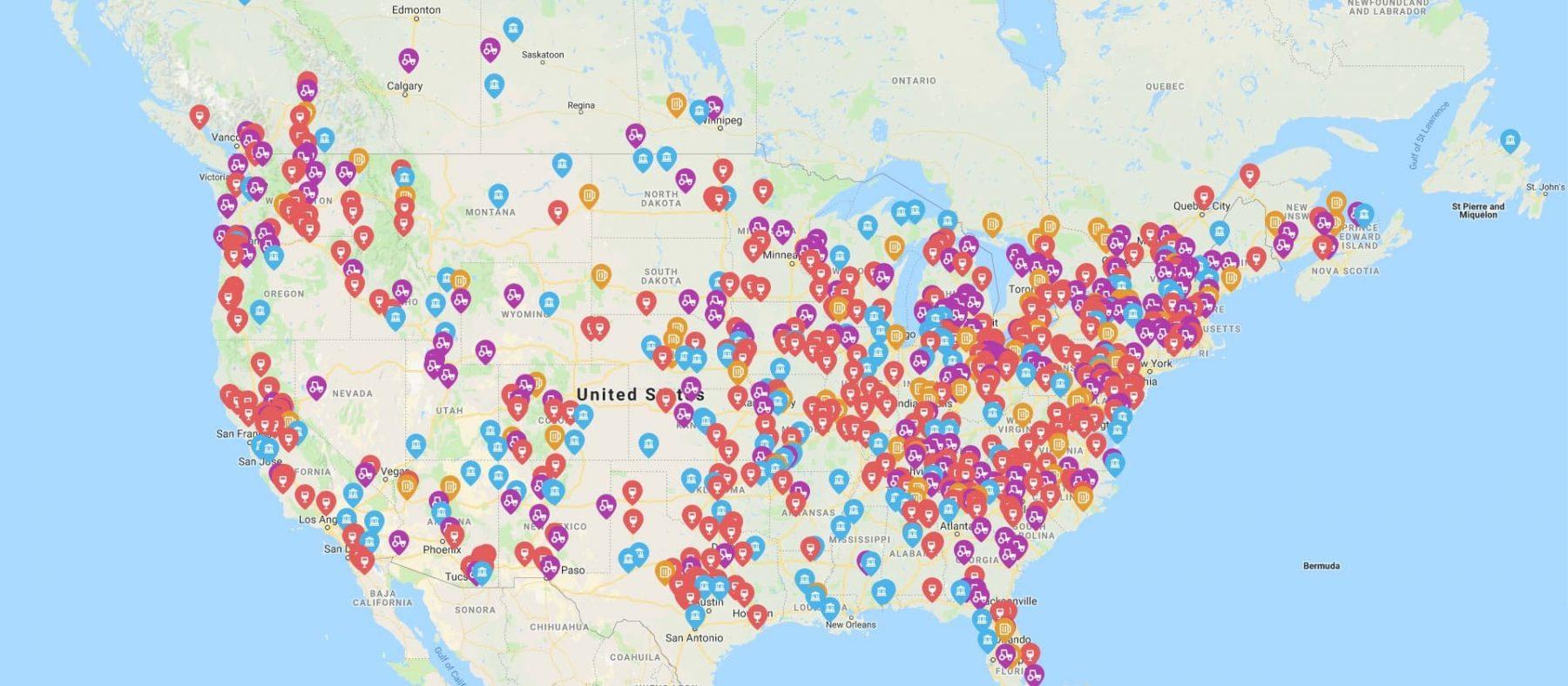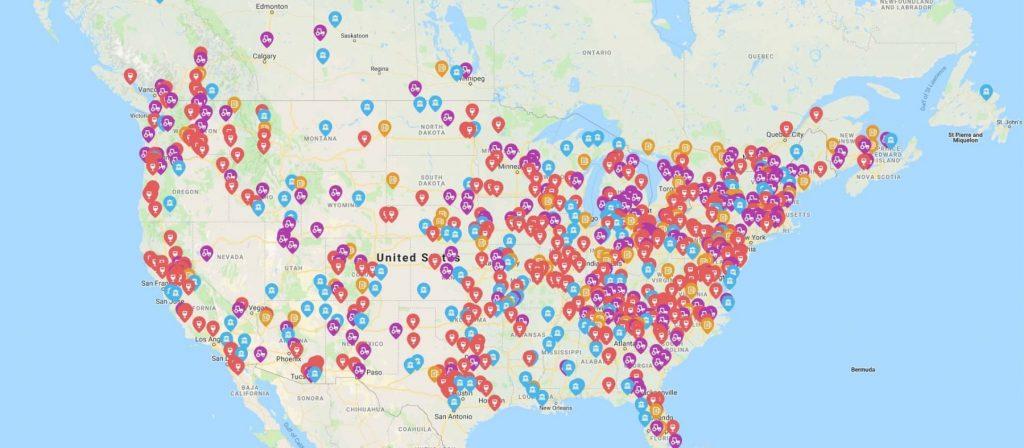 Free Camping at City Parks and County Parks
Many free campgrounds are available in city parks and county parks. Some have a nominal fee ($10-$20/night) and provide some amenities – often just electrical hookups pit toilets – while others are simply free for dry camping.
One example that comes to mind is the time we ran out of gas crossing from British Columbia, Canada into Washington state. The free campground in the nearest city park was a welcome relief after a challenging day of travel. Our boys loved that we were so close to a playground that they could get up in the morning and go play while we made breakfast.
We only needed to park overnight, but the sign in the parking lot indicated that RVers were welcome to stay for up to 48 hours.
What do I need to camp for free?
While some camping gadgets can make your primitive camping and free overnight parking more comfortable, there are some essentials that we wouldn't consider dry camping without.
Locking doors. If your door handle is broken for some reason or you've lost the key and can't lock the door, then stay in a campground.
Water in your RV. Most RVs have water pumps and tanks, but if yours is broken for some reason, this isn't the time to look for free campsites. Get to a campground with running water hookups. You might get by with some jugs of water to wash your hands, brush your teeth, or flush the toilet, assuming your holding tanks are functioning properly.
Flexibility: The security guard might wake you up in the middle of the night (even if you called the manager ahead of time). One Walmart in Las Vegas was painting new lines on their parking lot the night we stayed, so while we were allowed to stay, we had to move to the other side of the lot at midnight. You might also show up to find that the rest areas lots are full, or realize that the temperature of your destination is too hot to dry camp without an air conditioner.
Onboard Battery: Most RVs have an onboard battery (often to run the trailer brakes when signaled from the tow vehicle), and that battery can also run lights or the water pump when you're not hooked up to electrical hookups. If your battery isn't working well, it's time to upgrade. We put in solar and lithium batteries in our RV, and while that's overkill for someone who will only be free RV camping now and then to try and justify the cost of solar power, having at least a functioning battery is essential.
Our Best Security Tip for Free RV Parking (or tent camping on BLM land)
Yes, lock your doors, be aware of your surroundings, don't eat Taco Bell right before bed – the standard tips, but our biggest is to keep your vehicle's key fab by your bed.
If something goes wrong in the middle of the night, we can have our car alarm go off in seconds using the keyfab.
If we have an emergency where we need to get to a hospital, looking for our keys is one less thing on the list.
Even if we hear something we're not sure is a concern, we can use the lock button on our keyfab to turn our truck's lights on without setting off the alarm or having to get out of bed and risk waking the kids to warn someone or something nearby.
Thankfully, since 2018, I've never had to use my key fab out of concern in the night (other than tapping the lock button because I'm not sure if I've remembered to lock the truck). It's something we think about less and less, but something we would be glad we had if needed.
How to Find Free Public Land Camping on Campendium
Click this link for the map of free camping on campendium. Currently, there are over 10,000 listings of free camping areas in North America on campendium (and the list of free sites always seems to grow in National Forests, Public Lands, and easily-accesible areas near a National Park or State Parks.)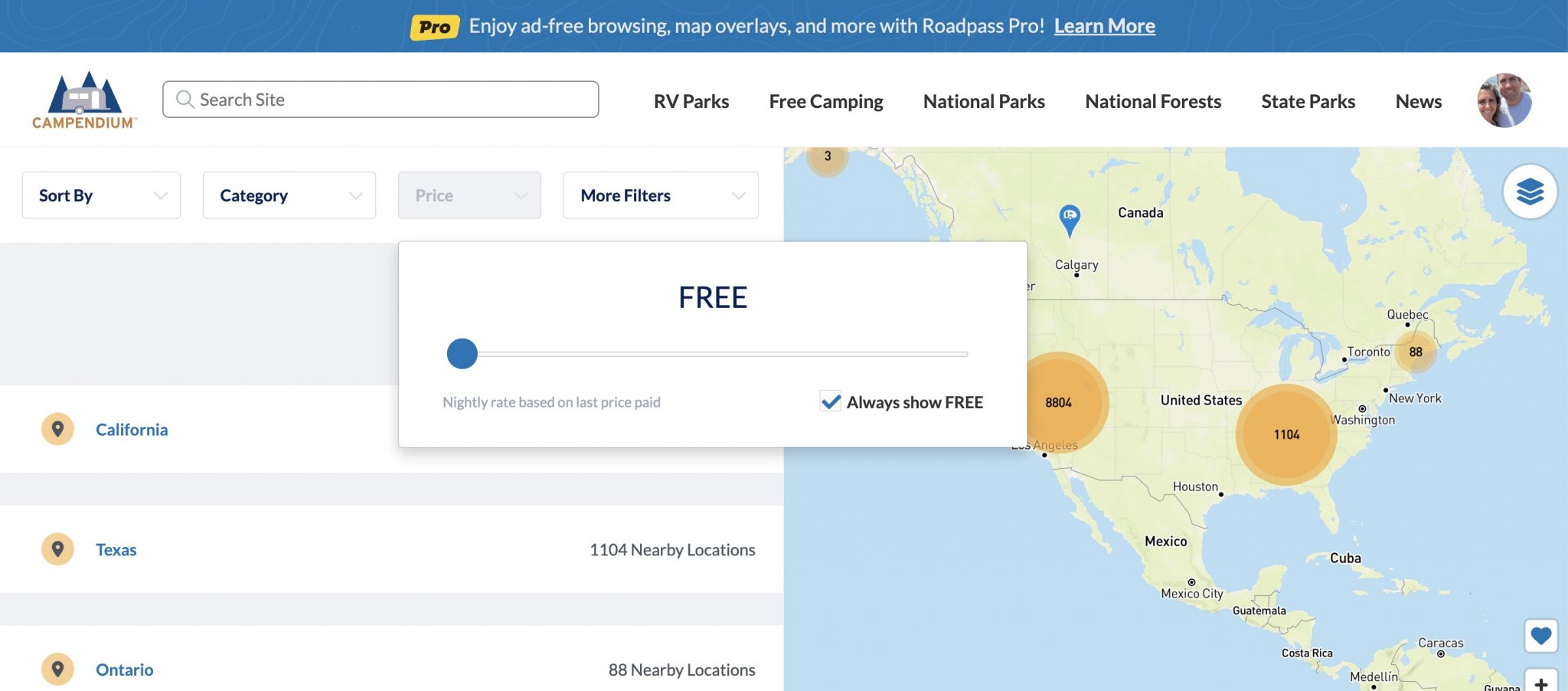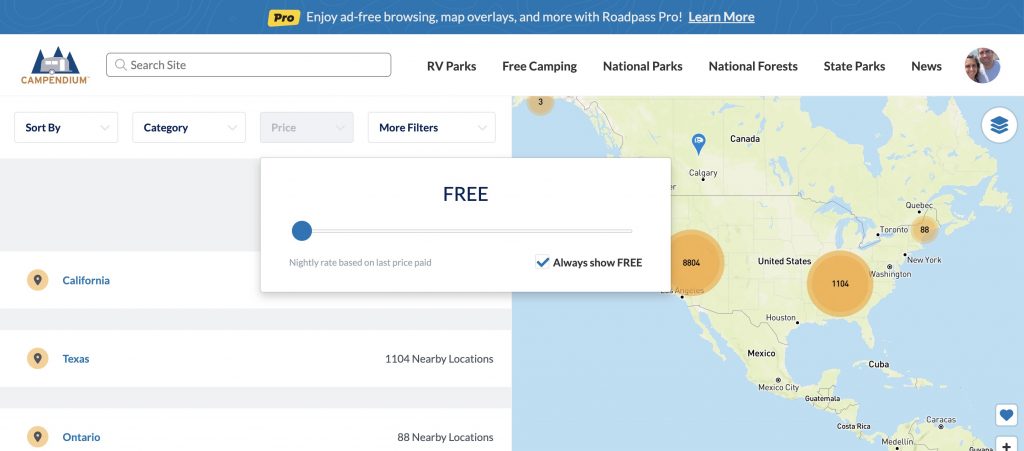 While there are many other websites and tools to find free camping, we find that campendium often has the best and most informative reviews find free campsites which help us gauge which locations are the best choice for us.
For instance, there are many free campsites in National Forests, but not many are accessible for an RV our size; some are vehicle accessible but only have space for tent campers, and some National Forest campsites are only accessible by hiking (especially primitive national forest campsites on public lands in Canada).
Reviews help us know if the site suits our vehicle and 30-foot trailer.
Other Free RV Camping Options
Moochdocking: Staying in a friend's driveway for free. We have a rule of thumb: If you stay for a few days, take your hosts out for ice cream. If you stay for a week, take them out for dinner. Don't stay more than a week.
Housesitting: This is a new addition for us, but we've stayed in major cities while our RV was being repaired in one case for 3 nights and while campgrounds were very expensive for 10 nights when we wanted to visit a theme park. Here's how we've enjoyed housesitting and petsitting while RVing.
Campground parking lots: If you're arriving late, many RV parks will allow you to pull in and stay for free because you're paying the next day. We booked a campground for a few nights and asked permission to pull in around midnight the night ahead. Their office wasn't open at midnight, and we weren't going to try and back into a site then, so we stayed and pulled into our site the next morning when the office opened.
Finding Free RV Camping Sites on BLM Land
Most of what we've talked about so far is staying overnight in a parking lot or at a friend's house in the city, but if you'd like actually to go camping for free, the BLM land (Bureau of Land Management) offers a myriad of options to camp for free and stay for up to 14 days.
Most BLM land is in the desert southwest (by a wide margin), but there are some free RV camping sites in national forests, national grasslands, and areas outside of many national parks throughout Canada (Especially in and around the Rocky Mountains) and the US.
Here's a quickstart guide to BLM land camping, how to find free camping, and what you should know.
Benefits to Free RV Campgrounds Besides Saving Money
Free RV camping sites (especially boondocking on Bureau of Land Management [BLM] public lands) comes with a barrier to entry, which means that they're often remote camping areas that are less crowded, without light pollution, and rarely neighbors close enough to disturb us (or us to disturb them).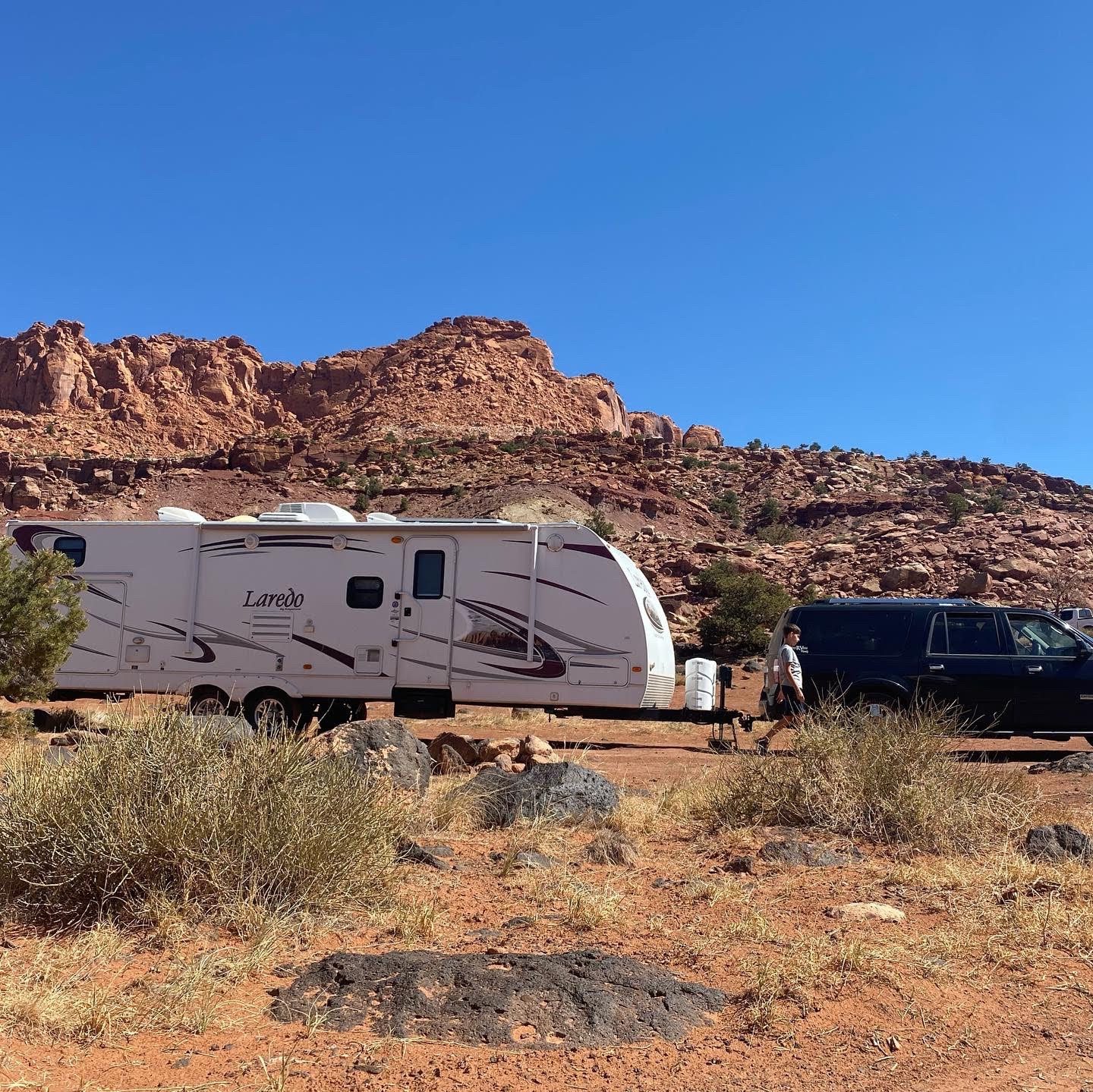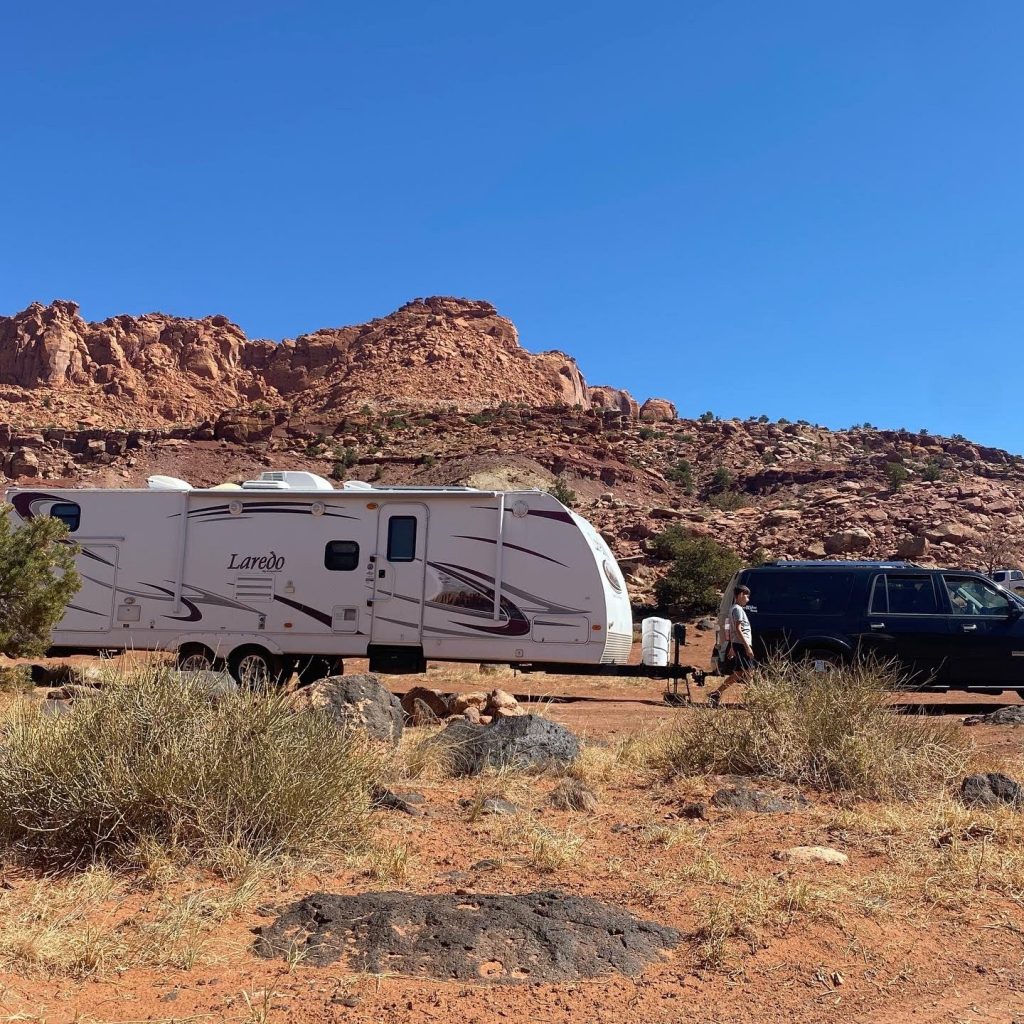 When we pull into free campsites in a BLM area, it's not unusual that we're the only people there, or that the closest people are not visible from our free campsite.
We love the peace and quiet, the opportunity for our boys to wander and explore without freely. It might be in a National Forest near the Grand Canyon, Grasslands in South Dakota, by Lake Superior in Northern Ontario, or a few hours from a major city in the Canadian Rockies.
Read more: Our favorite place to RV for free in the winter is Southern California.
You might also like: Tips to survive winter in your RV (aka. How to stay warm!)