The open road is calling, and the attraction of full-time RV living becomes more attractive by the day. But what about the cost of RVing? How can you make the most of your RV lifestyle while keeping expenses in check? What monthly costs might be different for someone who travels in their RV compared to someone who will live in an RV stationary?
While there are many variables, we'll break down the various factors contributing to the cost of full-time RV living and provide tips on saving money and balancing your budget. So grab a cup of coffee, sit back, and let's dive into the world of full-time RV and living in an RV on a budget.
(Disclosure: This article contains recommended affiliate links. If you make a purchase, we may receive a commission at no cost to you. Groceries aren't getting any cheaper as our boys get older.)
Monthly Budget: Costs to RV full time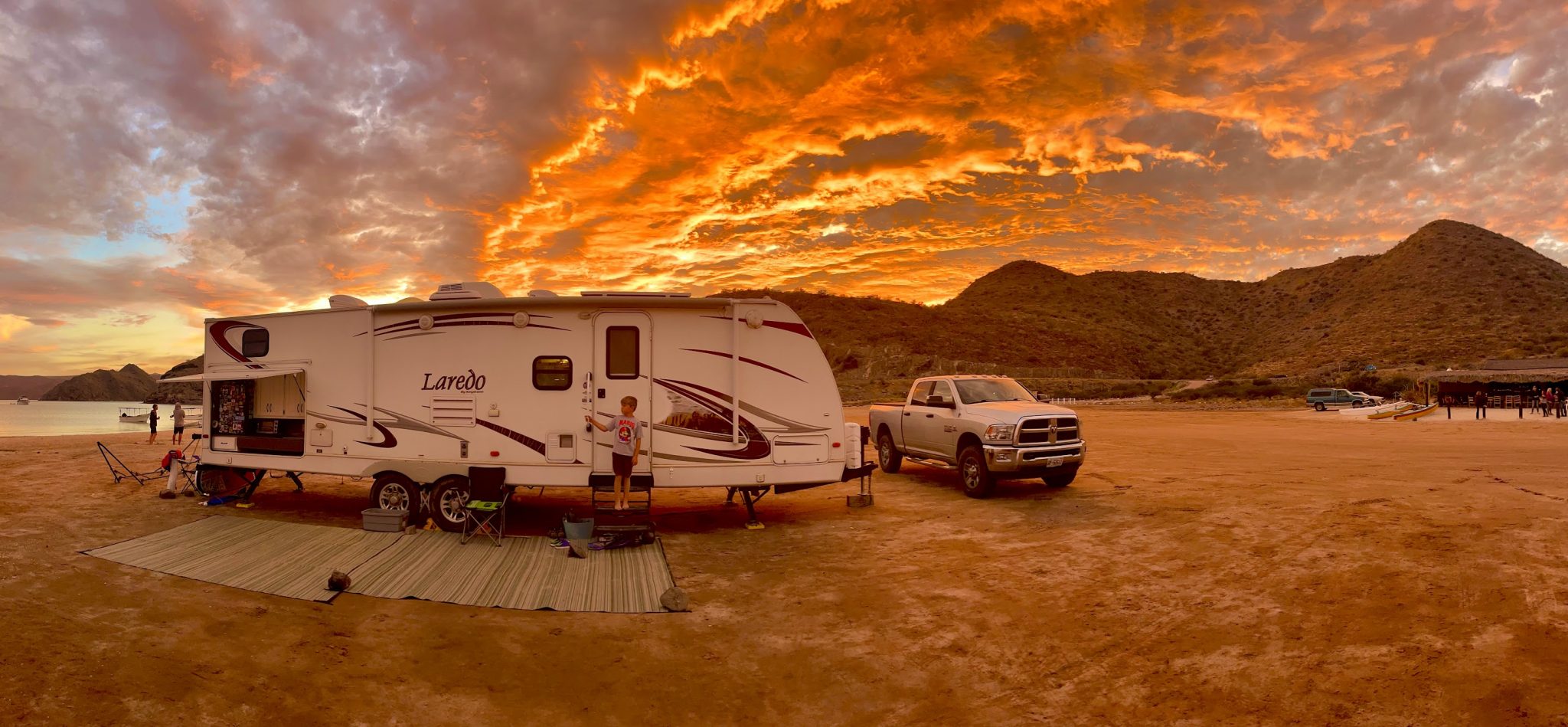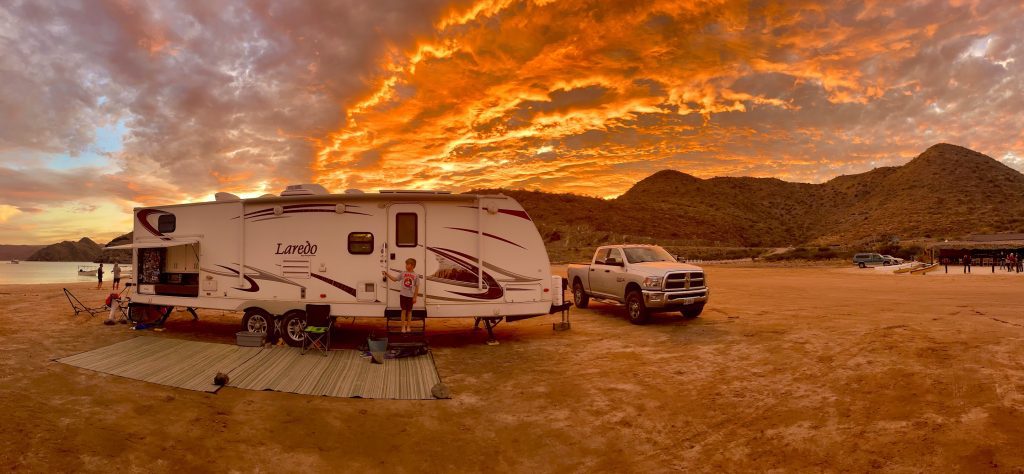 Fuel (gas or diesel) – Plan for more than you think you might need as gas prices will fluctuate from week-to-week and from one area to another.
Vehicle maintenance (your RV Tow Vehicle [if you have a travel trailer or fifth wheel] or the car you tow behind your motorhome to get around once you've parked the motorhome – sometimes called a toad).
RV Costs (Maintenance) – Your travel trailer, motorhome, fifth wheel, camper, etc. Depending on how much you travel, factor in tires, brakes, and repairs.
Propane – most RV families will use about 1 x 35# propane tank per month – more if you need it to run your furnace in cooler weather or if you use propane for an outdoor fire pit quite often.
Insurance (Vehicle insurance, liability insurance, RV insurance, medical insurance/health insurance, life, etc.)
Groceries
Entertainment
Admissions/Passes (Theme parks, National Parks, Museums, Zoos, etc)
Campgrounds (Check out this article on 9 easy ways to save money on campgrounds)
Car payment or RV payment
RV Gear (like these 15 essentials accessories for RV life)
Pet expenses
Homeschooling
Unexpected expenses (like the water heater that burst our first year on the road, or the speeding ticket I got last month [NOT while towing the RV for the record]).
Internet: Maybe you'll increase your cell phone data plan to include a hot spot or purchase Starlink to stay connected off grid. (Most RV parks offer free wi fi of some sort, (and sometimes a paid upgrade option) but it's often only in the clubhouse, or a very weak signal or inconsistent. It's nice when it's there, but don't depend on it if you're working remotely or need reliable internet for running a business from your RV.)
Additional costs: Check your current home budget's fixed costs and decide what you'll continue to need or have to adjust when you go RVing.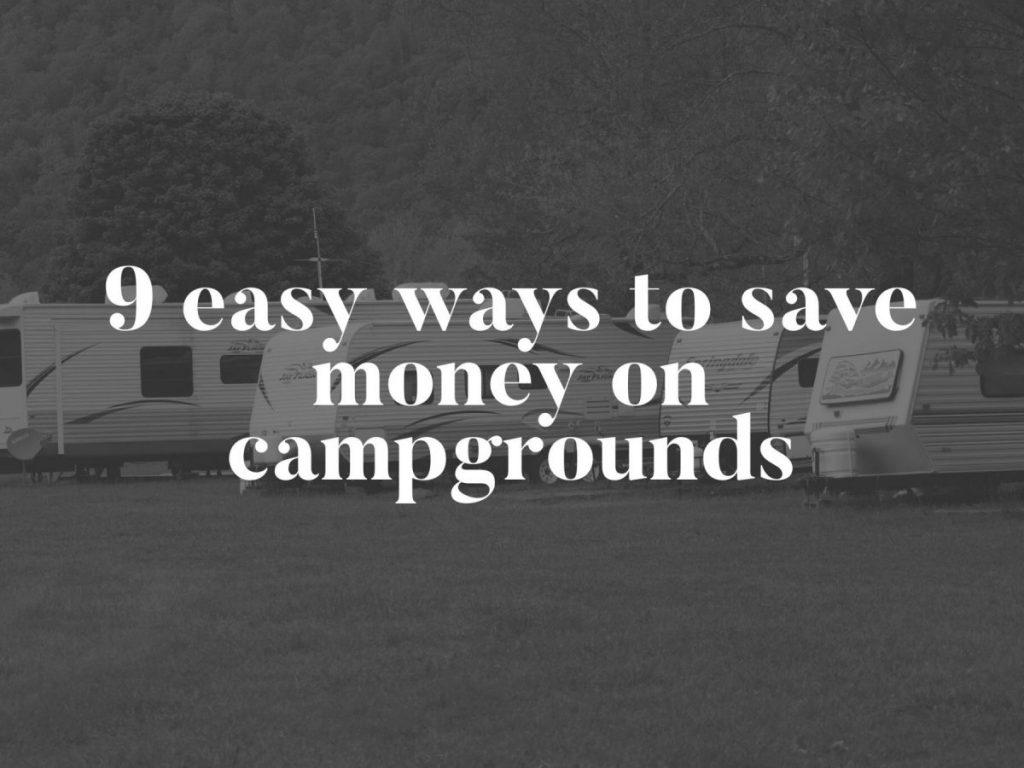 There are so many variables to the question, "How much does it cost to RV full time?"
For instance, campgrounds will often give a discount for staying longer: A month costs less than a week, and a week costs less than a night. Staying longer will also cut down on your fuel expenses for towing.
Another example is your food budget – How often do you eat out? Do you buy prepared groceries? Do you make meals from scratch? In our case, Celine bakes bread in our travel trailer so it costs us $0.50 for a loaf of bread instead of a few dollars from the bakery.
A third example is your monthly cost of RV insurance and fuel costs will vary depending on your usage and RV model.
We'll look at all of these variables and help you figure out what your RV living cost is likely to be.
Here's what we'll dig into:
Understand the true cost to live in an RV (RV insurance, RV maintenance, gas prices, etc) to budget properly
Look into lifestyle choices, types and sizes of RVs, travel frequency/distance for costs
Save money on campgrounds & parks with boondocking, memberships & workamping, manage fuel economy, navigate health insurance options + allocate a budget for fun!
Fixed costs and average costs of living in an RV.
Understanding the True Cost of Full-Time RV Living
Full-time RV living as a family offers a unique and exciting lifestyle, but it's essential to understand the costs involved.
The overall cost of full-time RV living can be influenced by various factors
Lifestyle choices – how often and where you eat out
The type of RV you choose and if you have a monthly payment
How often you travel
What do you plan to do for entertainment
Where do you plan to stay? Upscale RV resorts, campgrounds with full hookups, National Parks, off-grid in the desert? To ensure you stay on top of your finances and avoid running out of money before making necessary adjustments, budgeting is essential.
Where you choose to stay. Paying electricity to keep your RV cool in the summer is a lot less in Michigan than Texas.
So, how can you cut down on expenses and make the most of your RV life? Let's explore some key areas where you can reduce RV living costs.
RV Life Choices and Expenses
The total cost of of RV living can vary greatly depending on individual preferences, habits, and needs. For instance, dining out, hobbies, and socialization can all impact your monthly expenses. Eating out can quickly add up, and it's essential to be mindful of these expenses in your overall RV budget.
Additionally, traveling with pets comes with its own set of expenses, such as food, medical care, and other necessities. Understanding the RV living cost can help you better manage your monthly expenses and maintain a comfortable lifestyle on the road.
When it comes to entertainment, (like living in a sticks and bricks home) allocate all of your expenses then set a budget for entertainment, extras, and savings.
Entertainment extras can include activities like passes to local parks for hiking or exploring local attractions. The America the Beautiful pass, which grants access to all US National Parks and over 2,000 other federal parks and landmarks for just $80 per year, is a fantastic deal for those who love the great outdoors, and an easy way to say "What's nearby that we can go check out for free?"
Check out these 9 free activities we do with our kids while traveling and integrate them into your regular routine.
Types of RVs and Their Costs
The type of RV you choose will significantly impact the overall cost of full-time RV living. RVs come in various shapes and sizes:
Travel trailers
Fifth wheels
Toy haulers
Pop-up campers
Motorhomes
Camper vans
Modified school buses (Schoolies)
The price of an new RV can range from around $20,000 to over $500,000 and vary depending on the size and type of RV, and used RVs can be a bit less, but depending on your needs, they may still be in that price range.
In 2018, we bought our first travel trailer (1992 30′ Salem Cobra with no slides) for $5000 and put about $2000 into new flooring, fabrics, paint, and decor.
In 2020, we sold our Salem Cobra and purchased our 30′ Keystone Laredo travel trailer for $10,500. It has a slide which gives us much more space so it was worth the upgrade. We added some new flooring, painted every wall and cabinet inside, painted hardware, removed the love seat next to the dinette to make an office space and swapped out the massive (and loud) vent hood above the stove for something more sleek and usable.
In addition to the purchase price, here are some key RV costs to keep in mind:
Regular maintenance and upkeep: Depending on the rig, RVers might spend $200/month to $1000/month on maintenance and upkeep (or nothing for a few months, then $600 in tires). Your motorhome is going to cost more for maintenance than a pop up camper or travel trailer with no engine and transmission.
Unexpected repairs: It's a good idea to have a monthly budget set aside for any unexpected repairs. Set aside more for motorhomes since an unexpected repair could be more involved and costly.
The fuel costs to tow various RV types or drive the motorhome you intend to purchase.
By considering these costs, you can better plan and budget for the expenses of owning an RV, even if you were gifted the RV for free.
For some people, having a new RV with lease and a warranty is a worry-free way to take care of major expense of unexpected maintenance. For others, paying cash and not having a payment is a great way to save some money each month in the case of the unexpected.
Whether you have a monthly lease payment on a new RV or paid cash for your used one, keep in mind that anything rolling down the highway hitting a pot hole here and there is going to need maintenance – tires, brakes, and new dishes from time to time.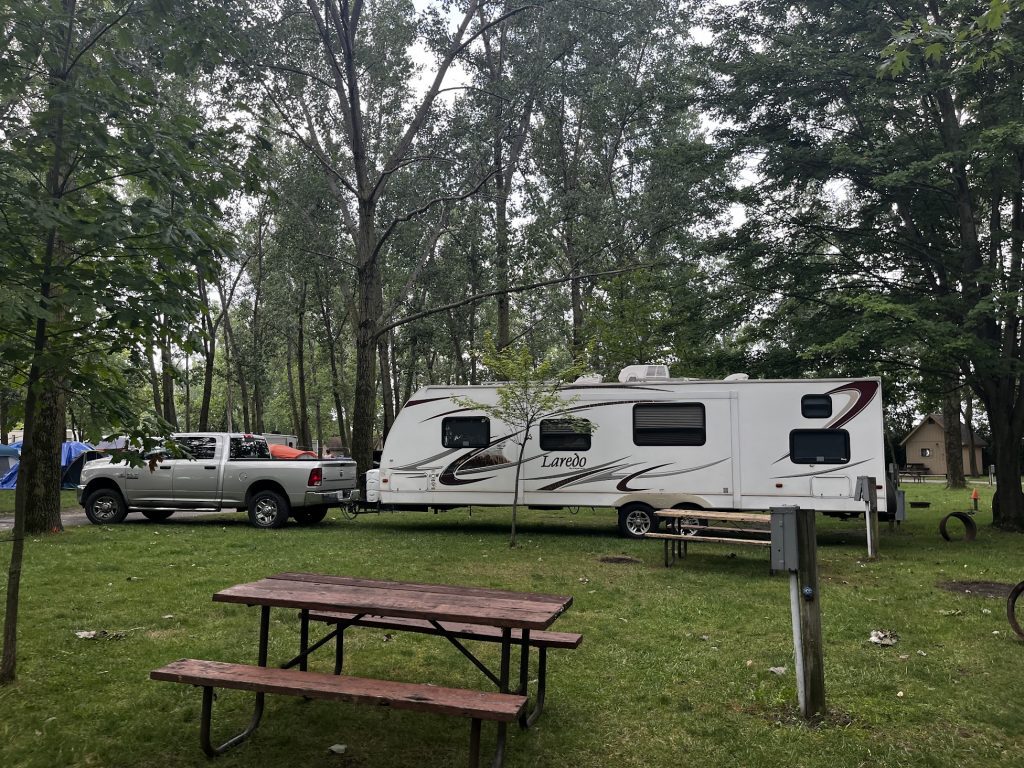 Travel Frequency and Distance
The cost of full-time RV living can be influenced by how often and how far you travel. More frequent and longer trips result in higher fuel prices and maintenance costs. The more trips you make and the longer they are, the more you'll end up spending on fuel and maintenance.
To keep these costs in check, carefully plan your travel routes and distances.
Saving Money on Campground and RV Park Fees
Lodging and camping expenses can quickly add up when living the full-time RV lifestyle. However, there are several strategies to help reduce campground and RV park fees. Boondocking, joining RV memberships and discount programs, and taking advantage of workamping opportunities are all great ways to save money.
Boondocking is a great and very affordable way to keep your RV living cost in check.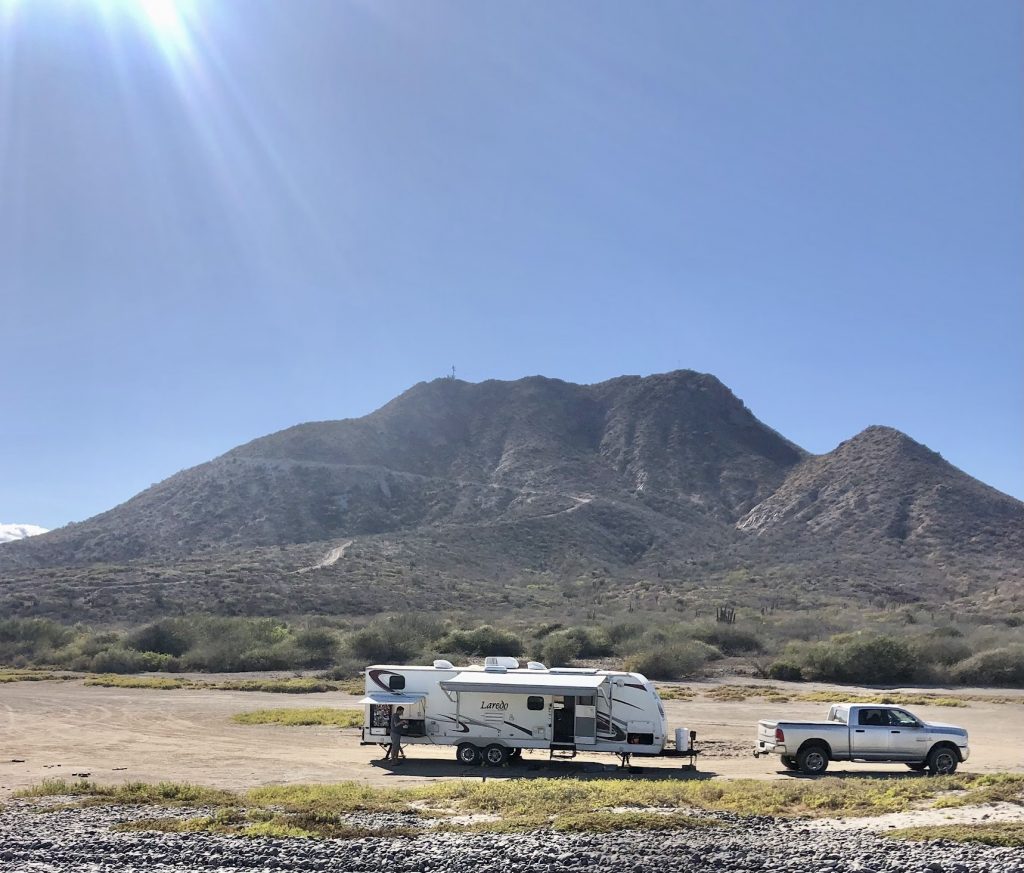 Boondocking and Public Land Camping
What is Boondocking?
Boon docking is camping in a remote location without access to electricity, water, or other amenities) is an excellent way to save on campground fees.
Boondocking offers more freedom and flexibility than traditional camping (without check out times and nosy neighbors), but can be challenging due to the lack of access to water and electricity. If you like the idea of being out remotely in nature, then here are a couple of posts you'll find helpful:
Many public lands, such as national forests and Bureau of Land Management (BLM land) areas, offer free or inexpensive camping options. By exploring these alternatives to traditional campgrounds and RV parks, you can significantly reduce your lodging expenses while enjoying the beauty of nature.
Even if installing solar on your rig isn't an option, free camping on public lands can be a great option for a stop over or a few nights in between destinations. Check that your RV fridge will run on propane and have a simple onboard battery to run the fridge and a few lights to get you from here to there.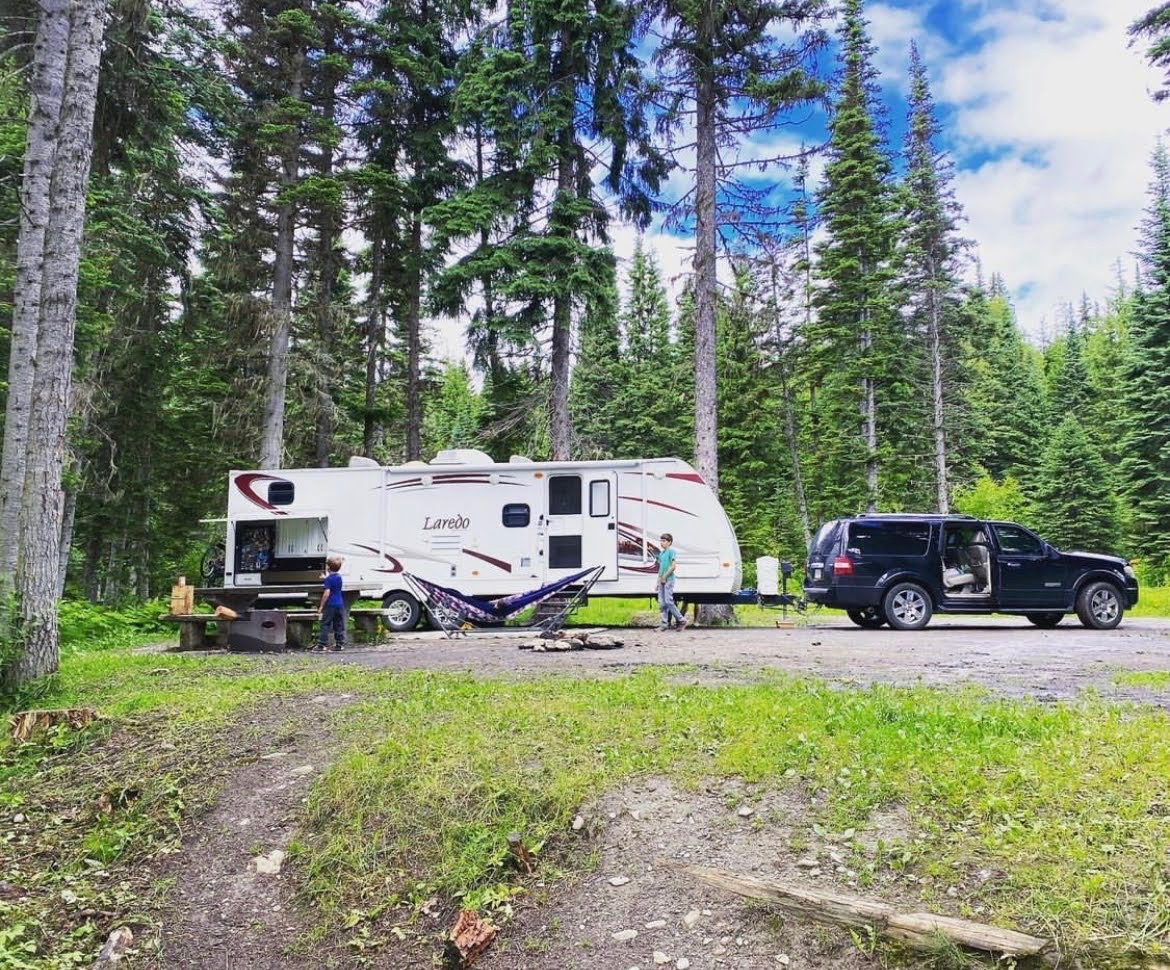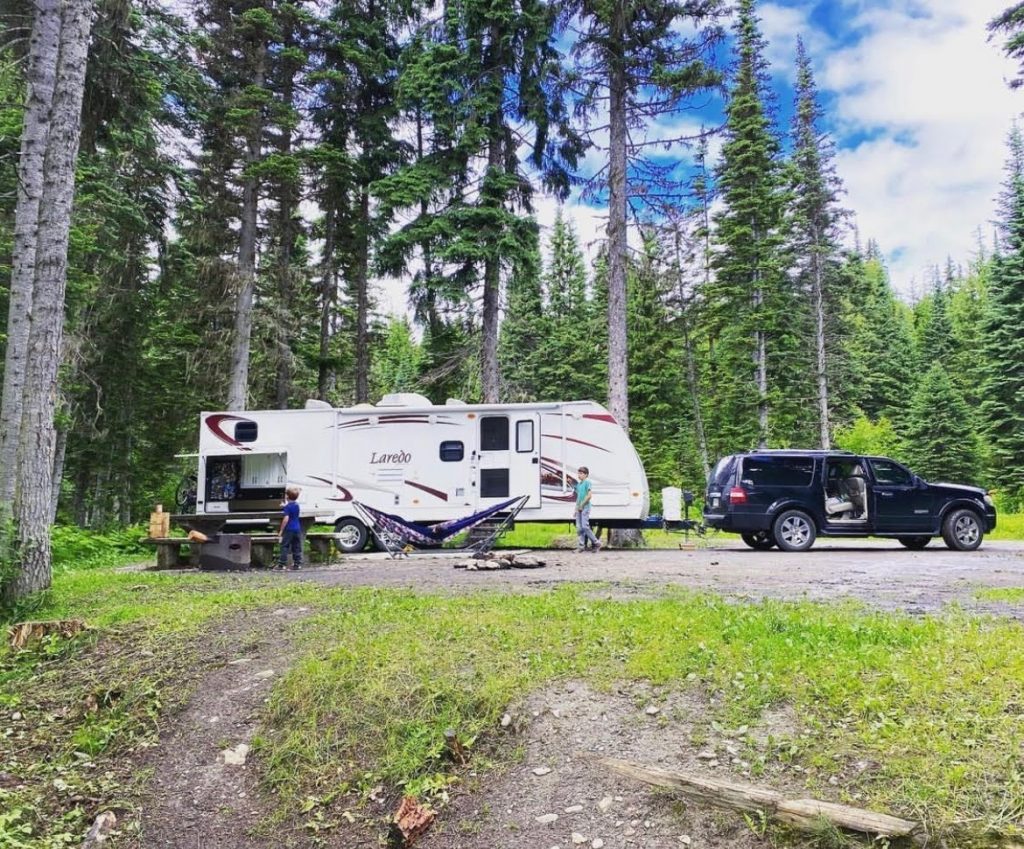 RV Memberships and Discount Programs
Joining RV memberships, RV clubs, and discount programs can help save money on campground and RV parks. Here are some of the most popular RV park memberships:
Good Sam – 10% off on member campsite fees
CAA/AAA Members – 10% off on honoring campgrounds
Passport America – 50% off on member campgrounds (with each campground setting its own rules for how and when to honor the discount)
Escapees – Some exclusive campgrounds and some memberships.
Thousand Trails – Free stays that are exclusive to campgrounds owned by Thousand Trails with yearly membership fee.
RPI – $10/night at affiliate campgroundsThese clubs leverage group buying power to provide better rates and amenities to their members, making it easier to reduce your lodging expenses with an upfront membership. The benefits of these memberships is usually dependent on how often you use them, so if you RV full-time and travel often, they're more likely to help reduce monthly costs.
Additionally, many campgrounds offer Military and veteran discounts, seniors discounts, or weekday discounts, so we ask every time we make a reservation if the campground offers any discounts.
Workamping Opportunities
Workamping opportunities involve working at a campground or RV park in exchange for a free campsite or reduced rate on campground and RV park fees. Workamping jobs can include:
Housekeeping
Groundskeeping
Maintenance
Office work
Checking in guests and taking reservations
Log business expenses
…whatever else may be discussed at the beginning of your contract.
This arrangement allows you to save money on lodging expenses while gaining valuable work experience and meeting new people. Staying stationary for a month or a season at a time will help you establish your fixed costs and reduce fuel costs while you live in an RV.
Workamping opportunities can be found through online resources like Workamper.com, and WorkampingJobs.com.
We found that camping fees were one of our biggest expenses when we started RVing in 2018. Here are 9 ways we cut our campground and RV park expenses in half our second year on the road.
Managing Gas and Propane Expenses
Gas and propane expenses are an unavoidable part of full-time RV living. However, there are ways to manage these costs effectively:
Route Planning and Fuel Efficiency
Route planning is essential for minimizing gas expenses while RVing. Here are some tips to help you save on fuel.
Plan your route ahead of time to avoid unnecessary detours and backtracking.
Avoid heavy traffic areas and rush hour times to maintain a steady speed.
Choose a fuel-efficient vehicle or RV to maximize your mileage.
Take advantage of fuel discounts or loyalty programs available by choosing a chain of gas stations and prioritize using them.
Consider using apps or websites that provide real-time traffic updates and alternative routes.
Keep your RV well-maintained, including regular oil changes and tire rotations, to ensure optimal fuel efficiency.

How to cut down propane costs while in RV parks:
If you're hooked up at a campground and electricity is included in your camping fees, then running an electric space heater on cool nights and setting your fridge to run off electric instead of propane will help you cut down on propane costs.
Navigating Health Insurance Options for Full-Time RVers
Since we're a Canadian family, we're not the most authoritative on US insurance options, but when creating a budget for RVing, be sure to consider these costs.
For us, we purchase travel insurance for emergencies whenever we leave Ontario, Canada (yes, even within Canada because health care is provincial, not federal).
Tackling RV Maintenance and Repair Costs
Proper maintenance and timely repairs are essential for keeping your RV in good condition and ensuring the safety of you and your family on the road. In this section, we'll provide tips for managing RV maintenance and repair costs, including preventative maintenance and DIY repairs and upgrades.
Preventative maintenance is key to keeping your RV in good condition and avoiding costly repairs down the road.
Preventative Maintenance
Regular preventative maintenance is crucial to avoid costly repairs and extend the life of your RV. By performing routine tasks such as checking your RV's fluids, inspecting the tires, and cleaning the exterior and interior, you can help keep your RV in tip-top shape.
Additionally, scheduling annual check-ups at a service center can help identify any necessary repairs or upgrades before they become more significant issues.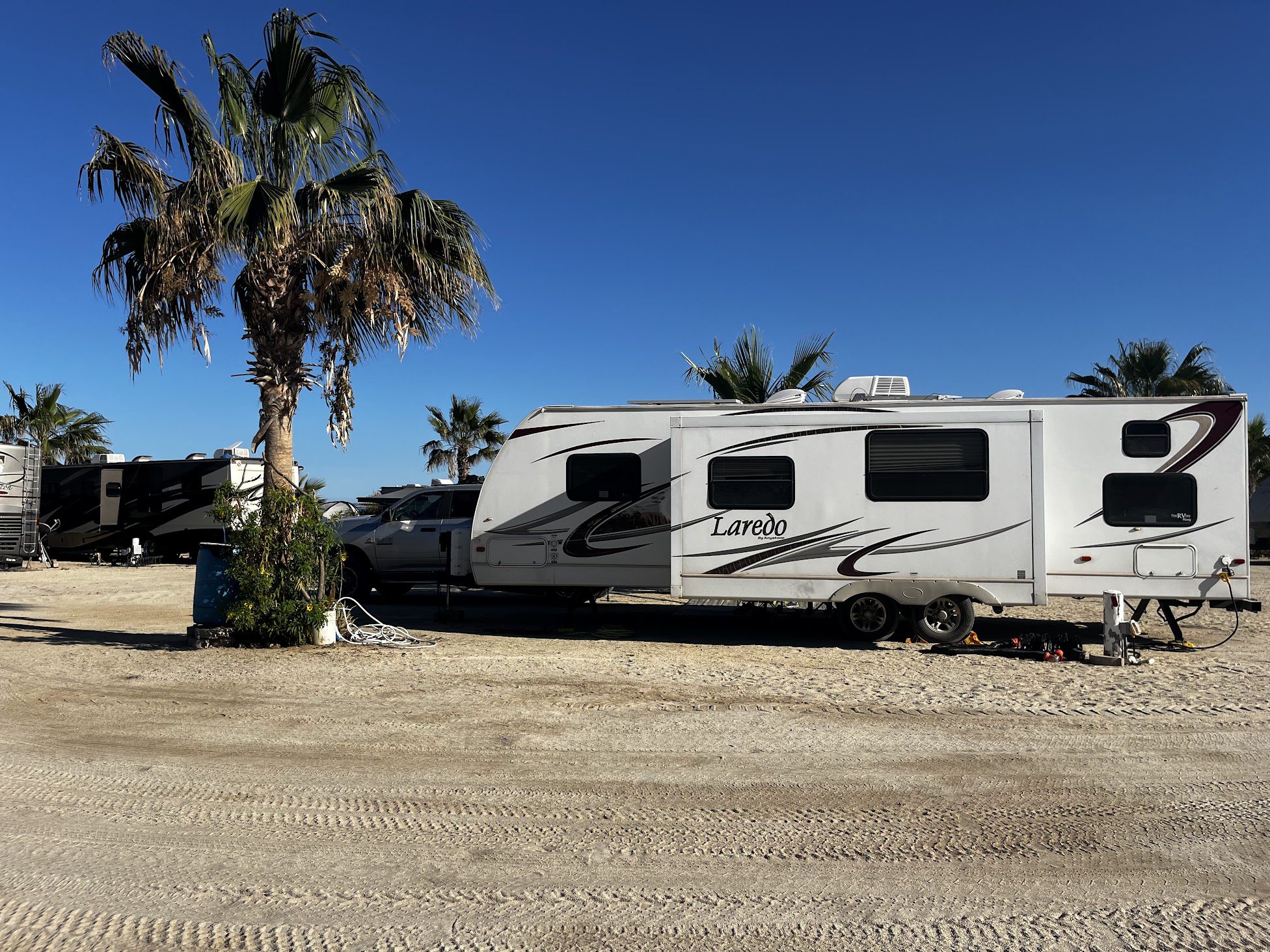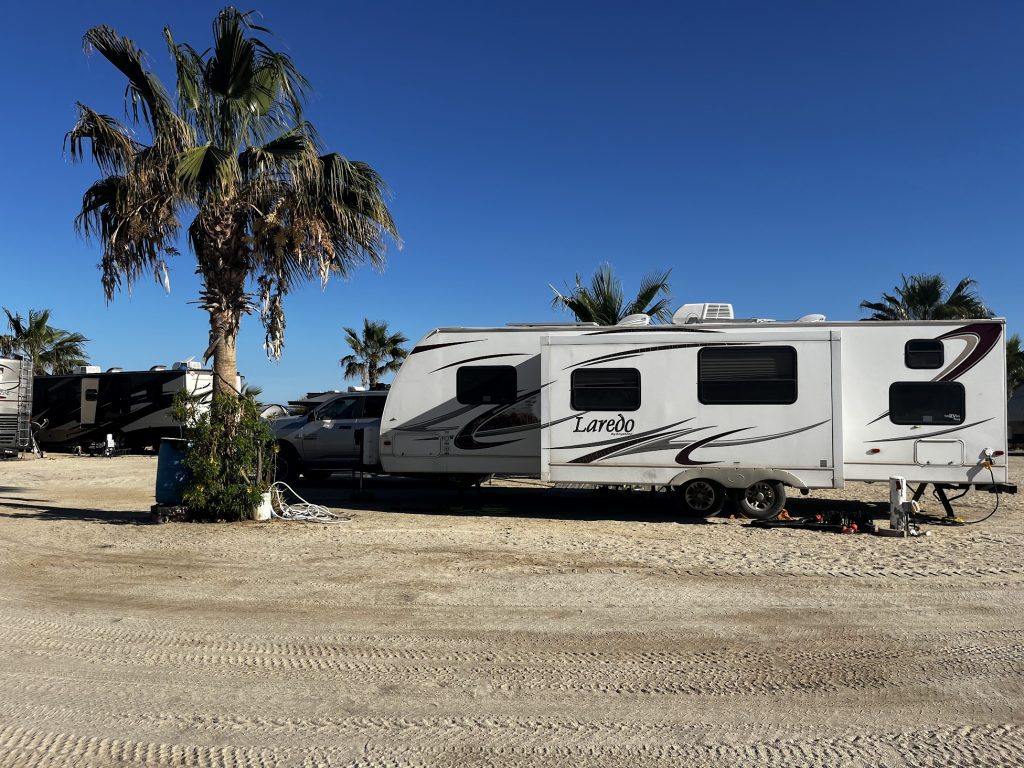 DIY Repairs and Upgrades
Learning to perform DIY repairs and upgrades on your RV can save you money and increase your self-sufficiency. By acquiring the necessary tools and skills, you can tackle many maintenance tasks, like inspecting roof seams and window seals, checking tire pressures, and cleaning your A/C filter, without having to pay for professional labor.
Embracing the DIY spirit can lead to significant savings and a greater sense of accomplishment in maintaining your RV.
Balancing Entertainment and Recreation Expenses
While full-time RV living offers endless adventures and experiences, it's essential to balance your entertainment and recreation expenses to stay within your budget. In this section, we'll provide advice on enjoying your full time RV life without breaking the bank, including free and low-cost activities and allocating a budget for fun.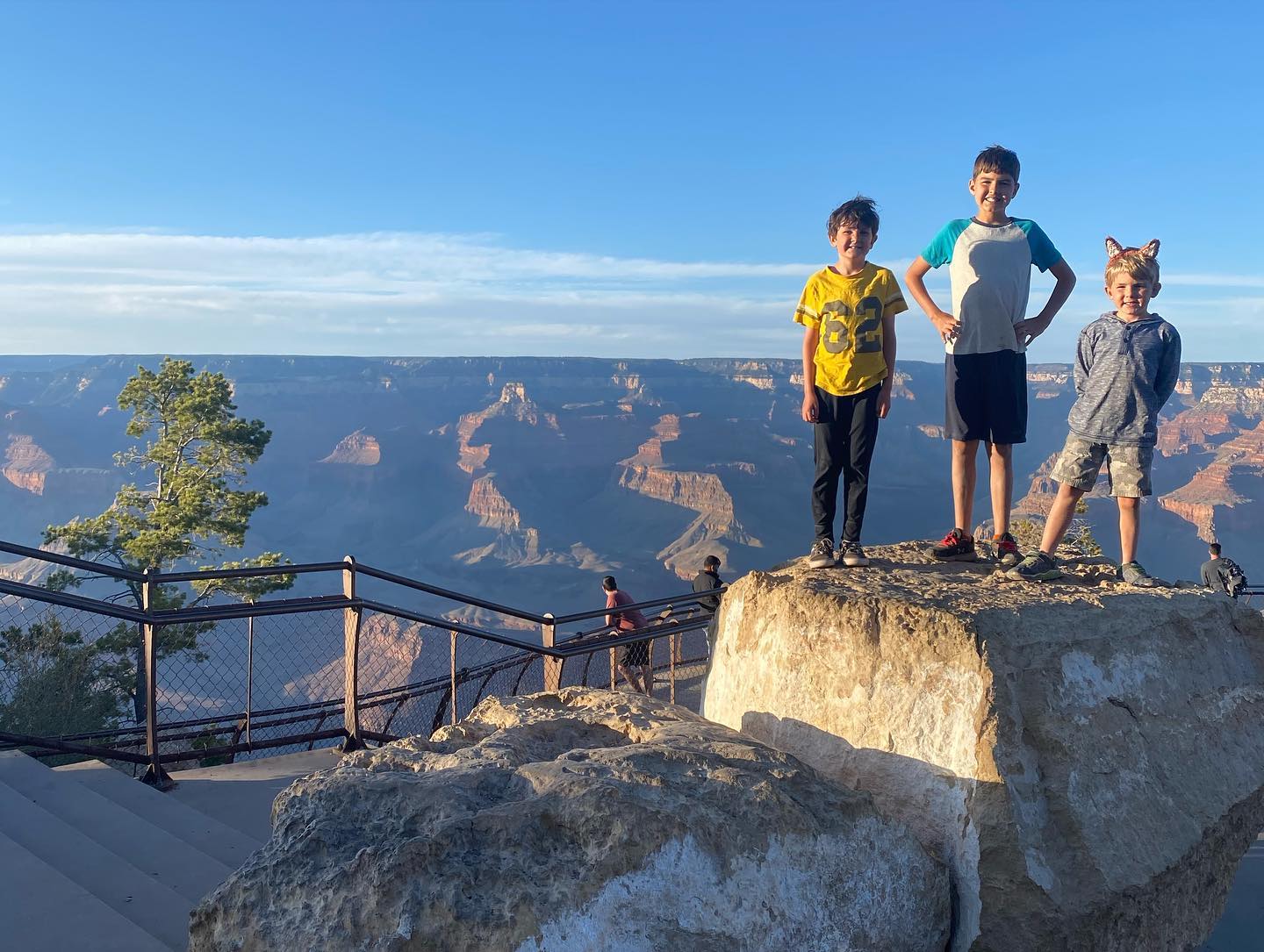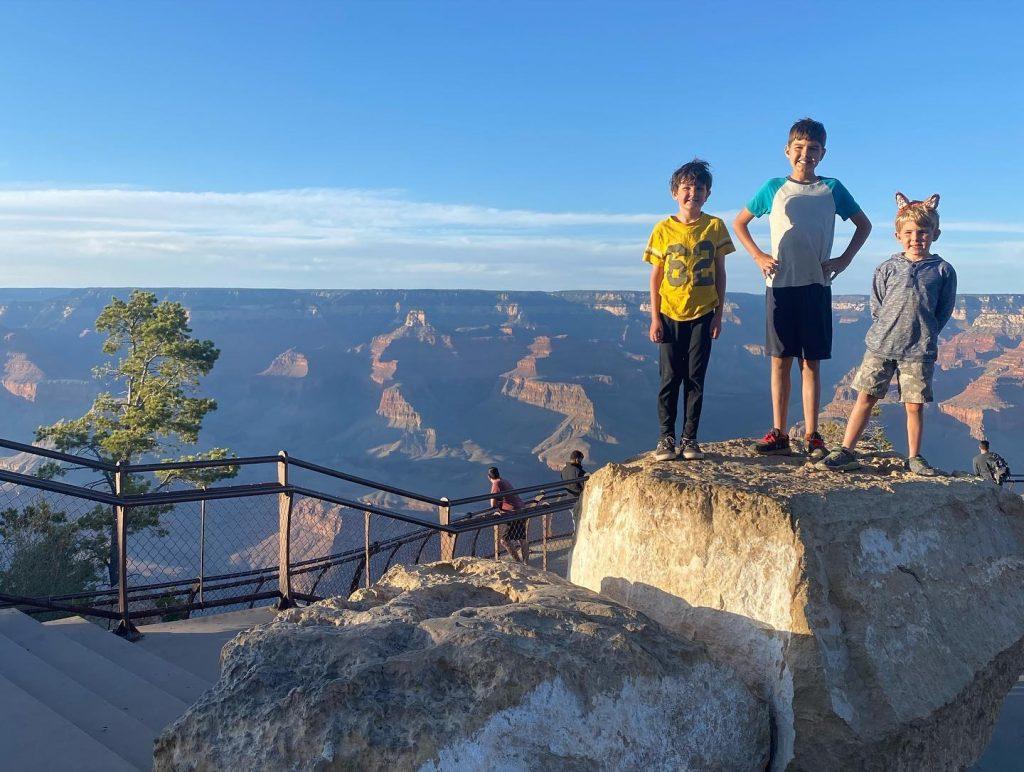 Free and Low-Cost Activities For Families
There are plenty of free and low-cost activities that families can enjoy while RVing. Here are some examples:
Hiking and biking (Ask at the nearest National Forest Service office if you need some ideas or check on AllTrails.com)
Exploring local attractions
Visiting local parks, museums, and other attractions (Some will have a free day each week or month)
Having picnics and enjoying nature
Going fishing or swimming in nearby lakes or rivers
By taking advantage of these affordable activities, you can create lasting memories without straining your RV budget.
Since we have 3 boys, we have to be intentional with what we choose to spend our entertainment budget on. Here are some free things to do with kids while still enjoying RV life.
Allocating a Budget for Fun
Setting aside a budget for entertainment and recreation expenses is crucial for full-time RVers to avoid overspending. There's a lot of temptation to have to do "THE THING" in the new area you're visiting – Pink jeeps in Sedona, slots and shows in Vegas, pay to go up the Empire State Building in New York, or visit the San Diego zoo.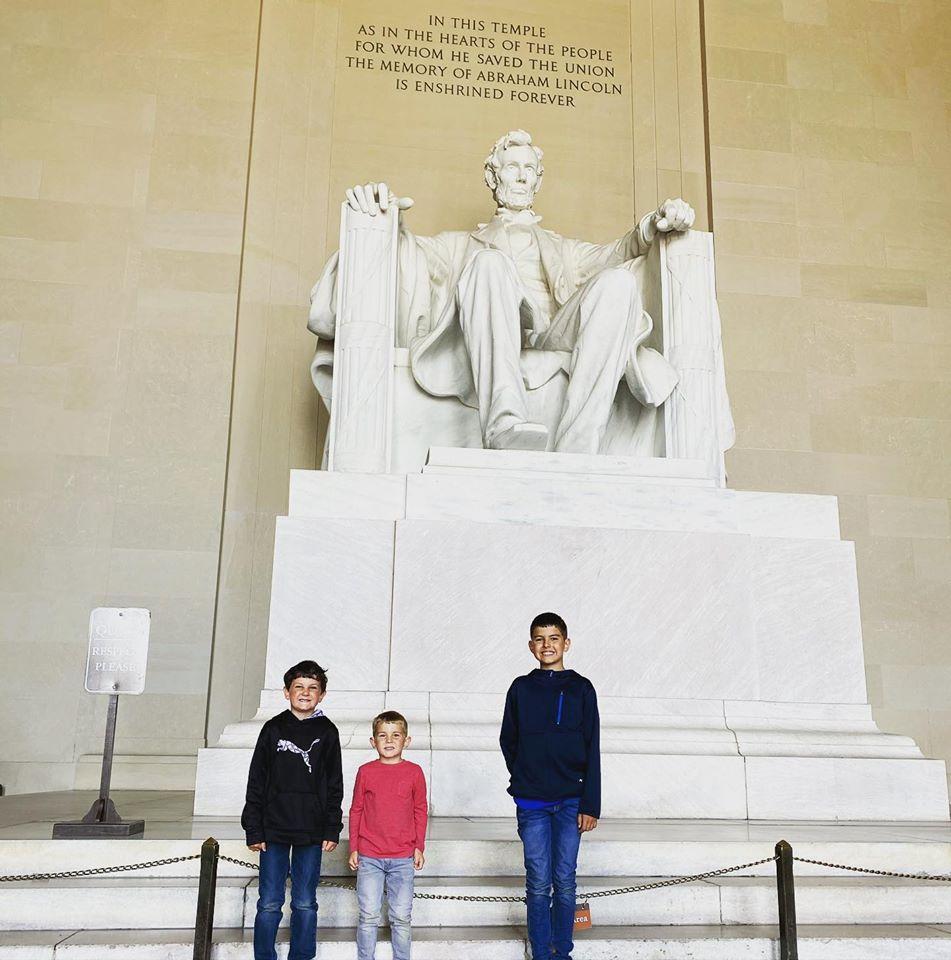 You have to remember that this is not "Saving up all year to go on a week's vacation" – this is going to be your month-to-month budget.
By planning your activities and allocating funds accordingly, you can ensure that you have the means to participate in enjoyable experiences without breaking the bank. We often choose what we'll do in a specific area based on what's featured on Groupon.
We love spending a bit extra on membership and passes to multiple activities.
Choose a theme park pass which gives you access to multiple parks (like Six flags, Cedar Fair, or Busch Gardens/Sea World) then plan your route to make multiple stops at the locations where you'll get free admission with your pass.
We also choose to add on the dining pass so we don't have to pack a lunch or dip into the college fund for a slice of pizza and fries.
These memberships are also a great suggestion for Christmas gifts for your RV family when someone asks what you'd like and you can't bear the idea of putting another stuffed animal in your RV.
Memberships we've had (and loved) while RVing:
Six Flags
Cedar Fair
ASTC (Science centers and museums)
AZA (American Zoo Association)
National Park Passes (For Canada and US)
State parks or Provincial park passes – this might be more economical than paying for two or three visits if you're staying in the area for an extended time.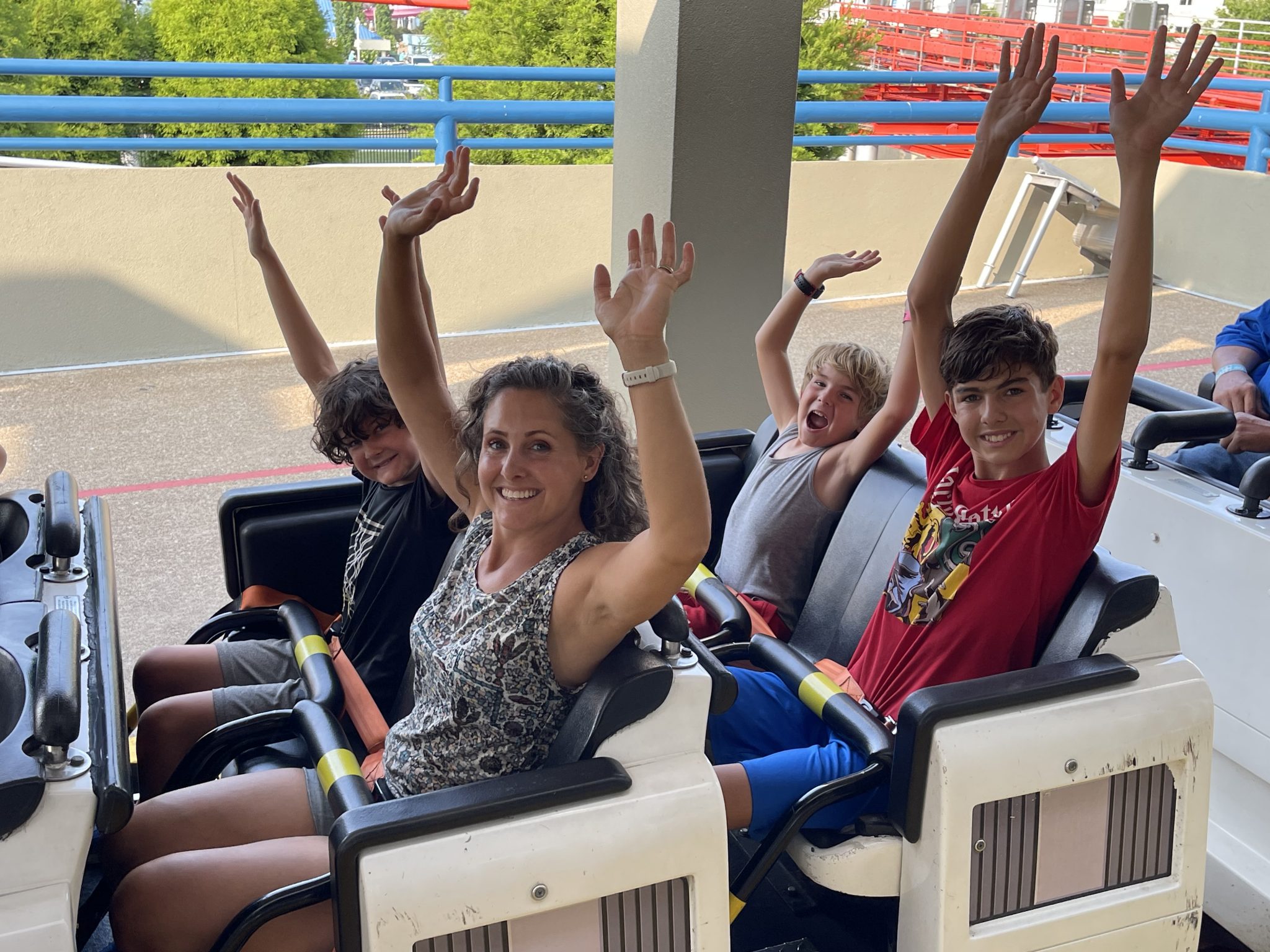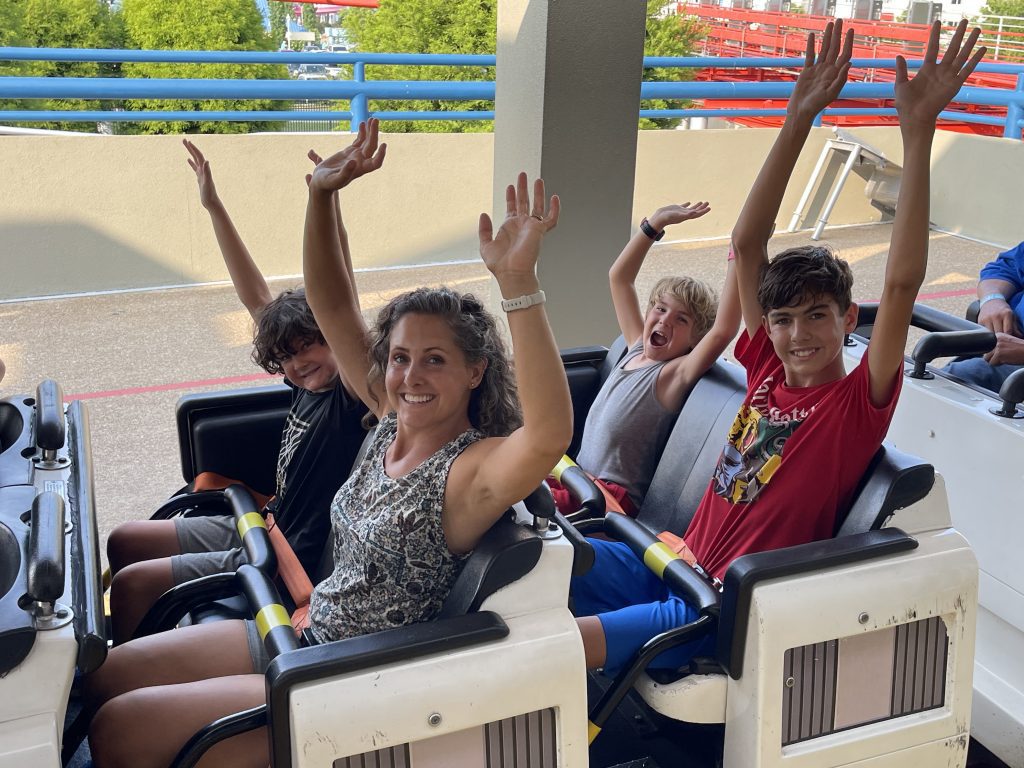 There are plenty of ways to have fun on an RV life budget, so get creative and explore all the possibilities that full-time RV living has to offer.
Summary
Full-time RV living is an exciting and fulfilling lifestyle, but understanding and managing the various costs involved is crucial for success. By taking into account factors such as lifestyle choices, types of RVs, travel frequency, and campground fees, you can create a budget that allows you to enjoy your RV adventures without breaking the bank.
With careful planning, resourcefulness, and a commitment to living within your means, you can thrive in the full-time RV lifestyle and create memories that will last a lifetime.