Neuschwanstein Castle – aka 'The Real Cinderella Castle' is absolutely stunning. You'll find it on display high up on a rugged hill above the village of Hohenschwangau in southwest Bavaria, Germany.
I dreamed about visiting this castle since I was a kid. My parents traveled to Europe and told me about this beautiful castle, so it was very high on my wishlist of places to visit. I'm so thankful that we had to opportunity to drive there from a house we were staying at while petsitting. It was amazing sharing this beautiful spot with our three boys.
You can walk up a paved road to get to the castle, ride a horse-drawn wagon up that same road, or take an undeveloped hiking trail that winds through the woods to get to the castle.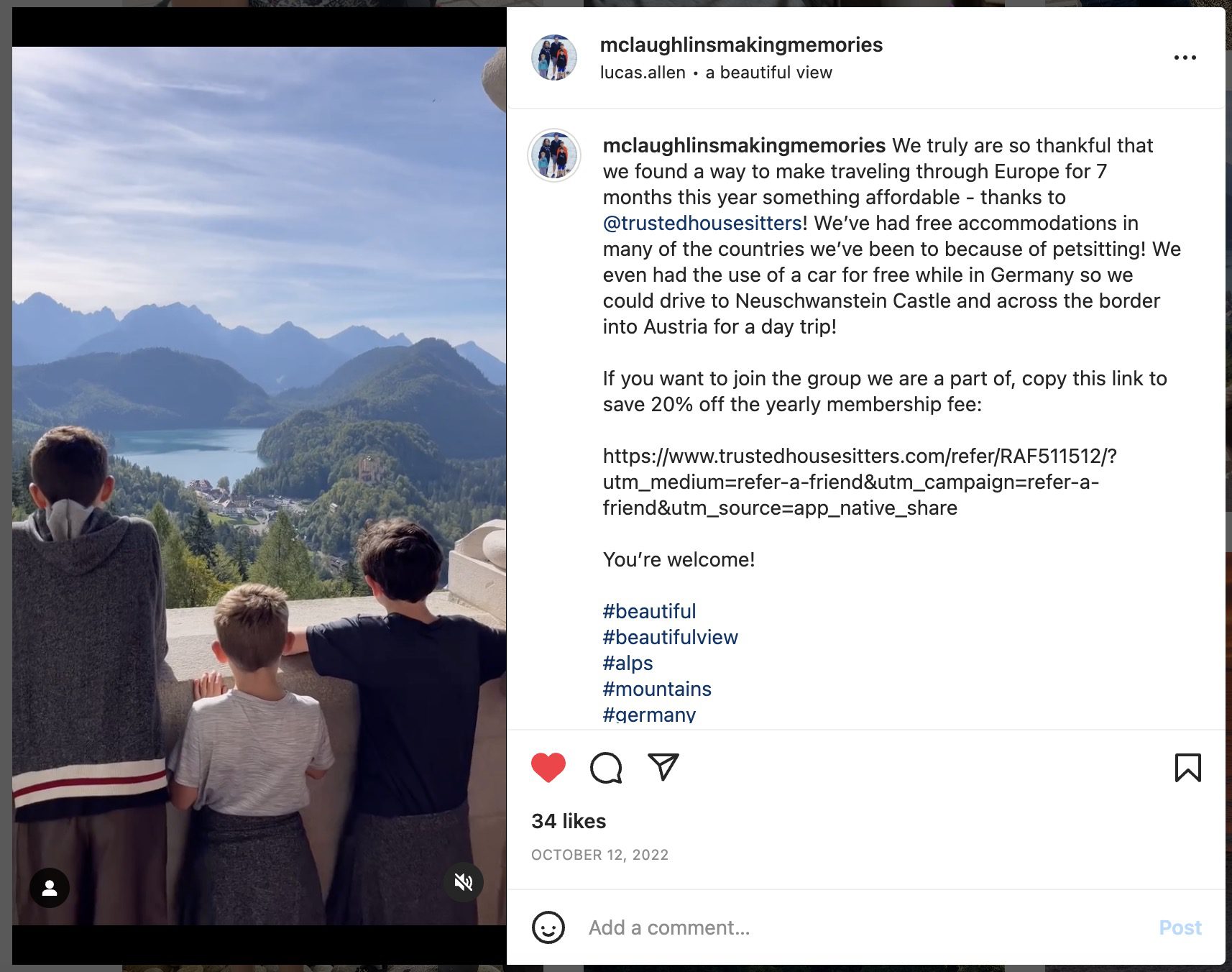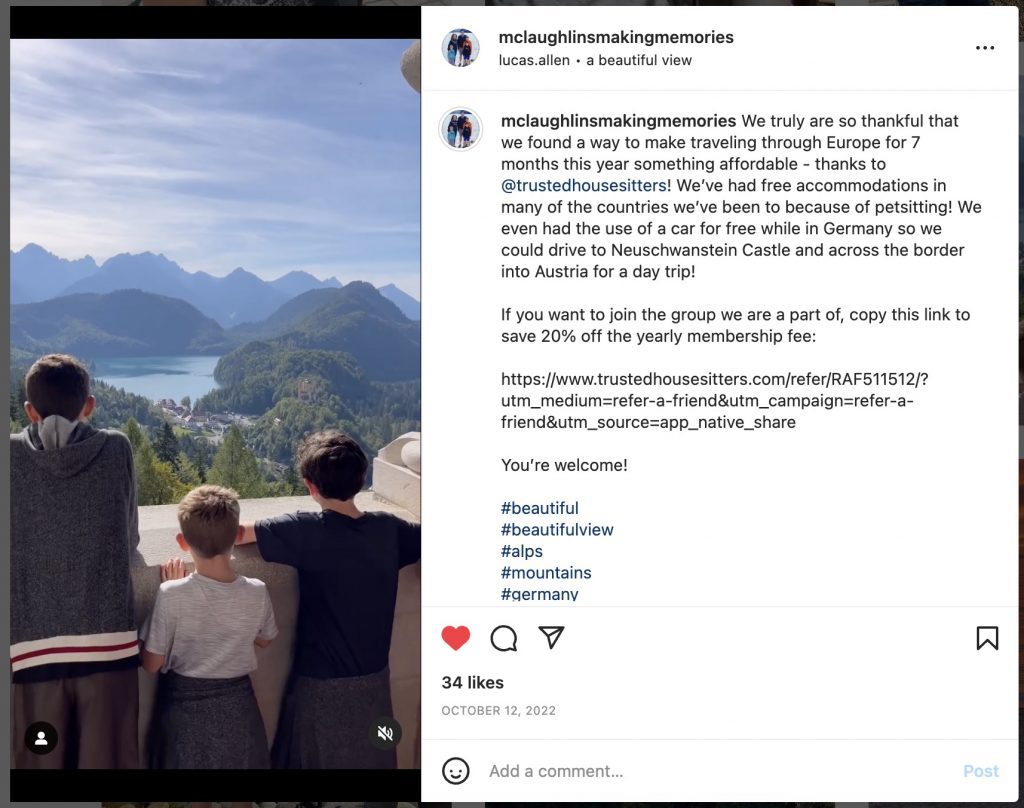 We bought our tickets online to tour the castle – you have to, ahead of time, if you want to go inside. Unfortunately, visitors are not allowed to take pictures inside the castle, but it is an amazing experience, even if the castle was only partially completed by the time King Ludwig II passed away.
Inside you'll find a hallway built to look like a cave with stalactites and stagmites, a theatre where the room's entire floor was meant to be the stage and the balcony was where the audience sat to watch the performance, and many pieces of furniture with extremely detailed carvings.
After visiting the castle, we walked on a paved path to cross a bridge that offered an amazing view overlooking the valley and Neuschwanstein Castle.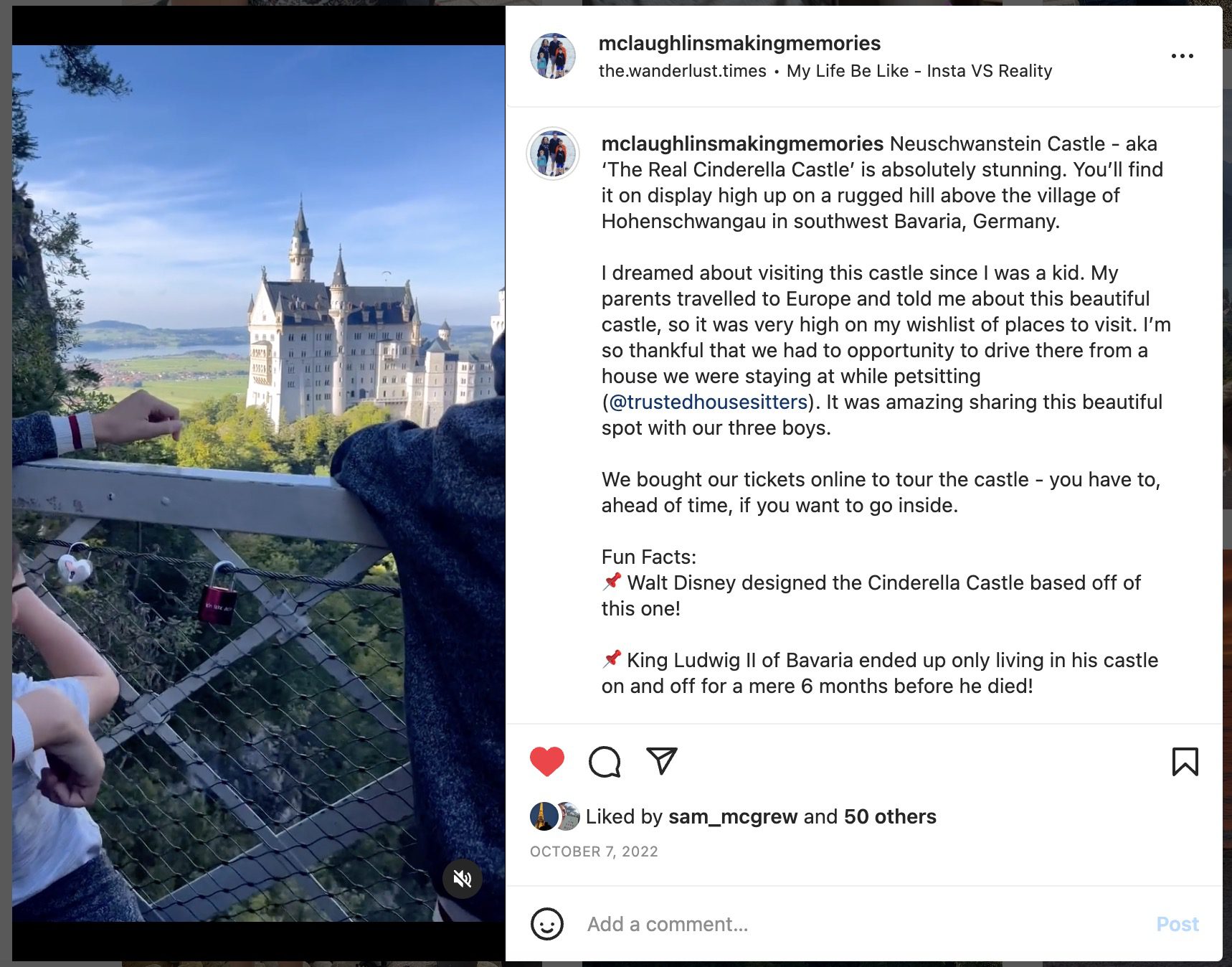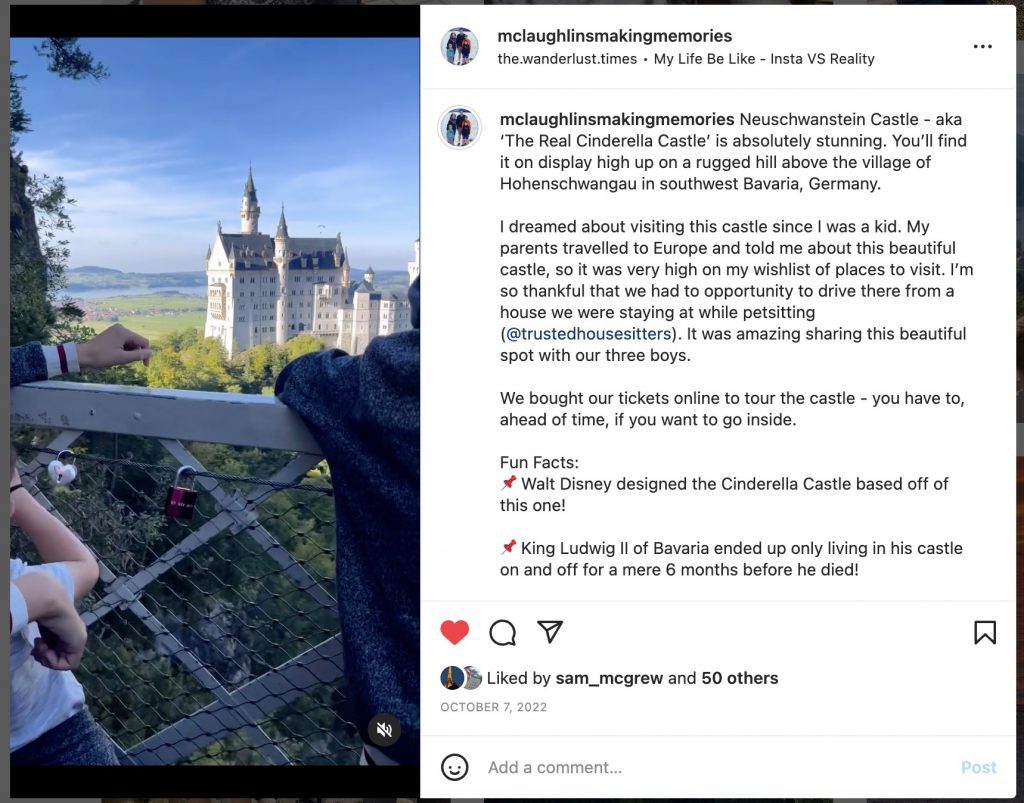 Fun Facts About Neuschwanstein Castle:
📌 Walt Disney designed the Cinderella Castle based on this south-eastern German castle!
📌 King Ludwig II of Bavaria ended up only living in his castle on and off for a mere 6 months before he died!
📌 The German word for 'castle' is 'Schloss', so this is called 'Schloss Neuschwanstein"
An unrelated story during our Neuschwanstein Castle visit:
While walking the path from the castle up to the bridge that overlooks the valley, we found a wallet on the ground. We asked around right away when we found it to see if anyone had just dropped it.
Thankfully, most of the guests spoke English, but no one said they dropped a wallet.
Celine opened the wallet to check the ID to see if she could recognize the lady who had dropped the wallet – she had an American driver's license.
We decided to put the wallet in our pocket and take it down to the place where we purchased tickets for the castle at the bottom of the hill after we walked across the bridge.
When we got to the bridge, someone was sitting on a rock near the path, visibly upset, and Celine realized right away that it was the lady whose wallet we had found.
Both the lady and her boyfriend were speechless when we asked if they dropped a wallet and held it out for her. She had just started making calls to find out what it might take to get it replaced.
This memory is unrelated to the castle itself but a memory that we have tied to our visit that day.
We're smiling extra big in our family photo on the bridge with the castle behind us, imagining what it would have been like for us to have lost a wallet in a foreign country and then have it handed to us a few minutes later.