Disclaimer: This post contains affiliate links. If you choose to make a purchase based on our recommendation, we'll receive a commission for the referral without any cost to you.
Luggage was a big conversation for us as we were planning our trip to Europe, so if you're planning on buying luggage for your kids for a trip overseas, here's what went into our conversation and what we ended up settling on.
First, we had to decide what we would pack in our luggage for our trip overseas. Since we mainly did housesitting, we were confident that we wouldn't have to go longer than a week without laundry, so we packed for about a week.
We also knew that we would be in Europe in multiple climate areas and seasons, so we needed cool clothing for spring and fall and summer clothing, but we wouldn't need bulky winter clothing.
Packing luggage to travel was a new challenge for us. We usually take our trailer which contains nearly everything we own, so this was going to be a big change from campgrounds and boondocking (dry camping).
What we packed for 7 months in Europe with kids:
Shirts, socks, and underwear for seven days
A dress shirt (dress/skirt for Celine)
Running shoes, sandals, dress shoes (just in case)
Swimsuit
3 pairs of shorts, lounging pants, jeans, and dress pants
Housecoat and slippers (which I [Adam] packed but didn't use…)
Laptops, phones, iPad, or handheld Nintendo
Apple world adapter travel kit (one for our whole family was a sufficient number of adapters)
Celine's blowdryer
We decided on 1 backpack (personal item) and 1 roller case (carry-on luggage) each. Every time we got through security, on or off the plane, or leaving a hotel, it was 5 people, 5 backpacks, 5 roller cases.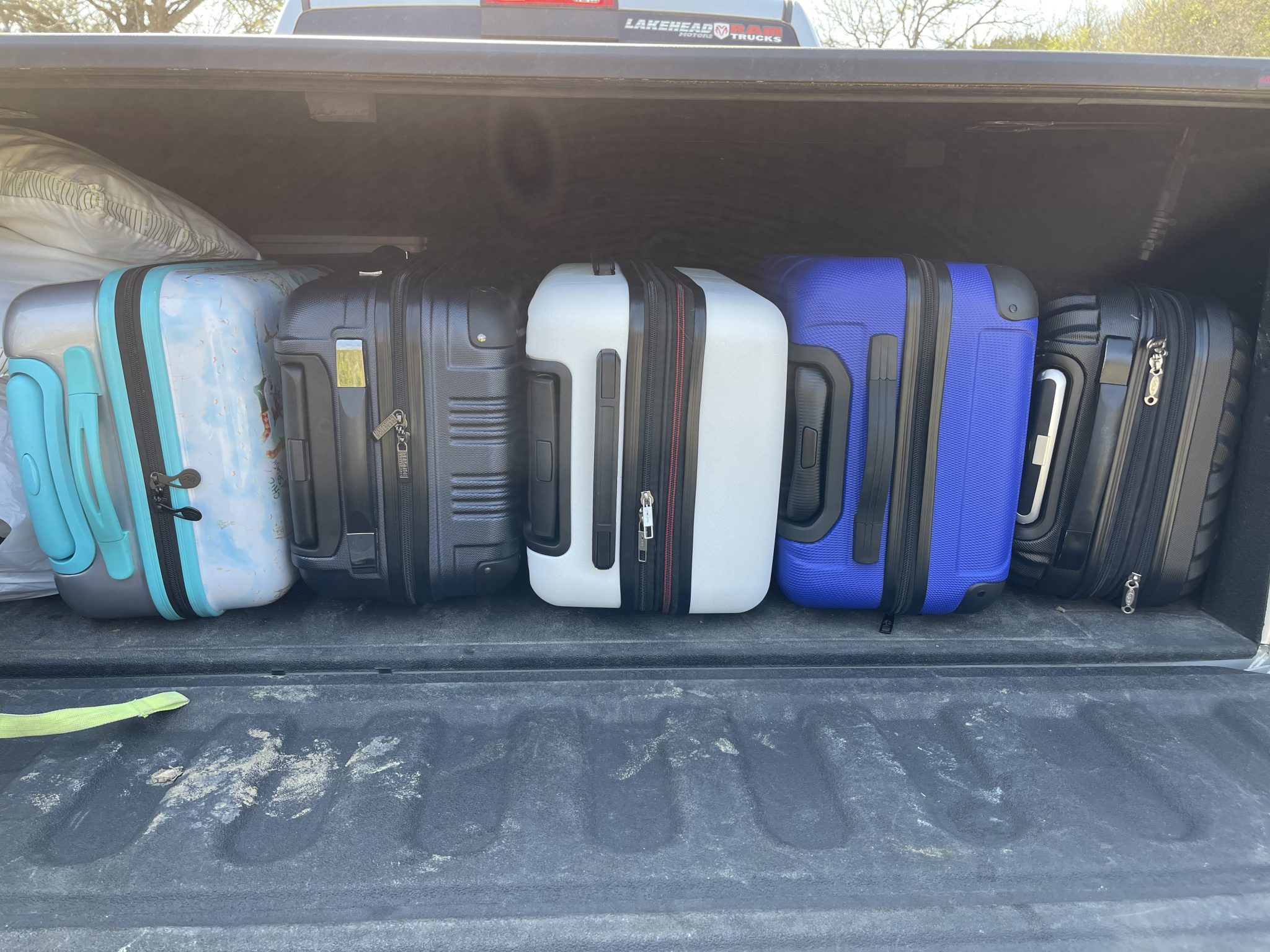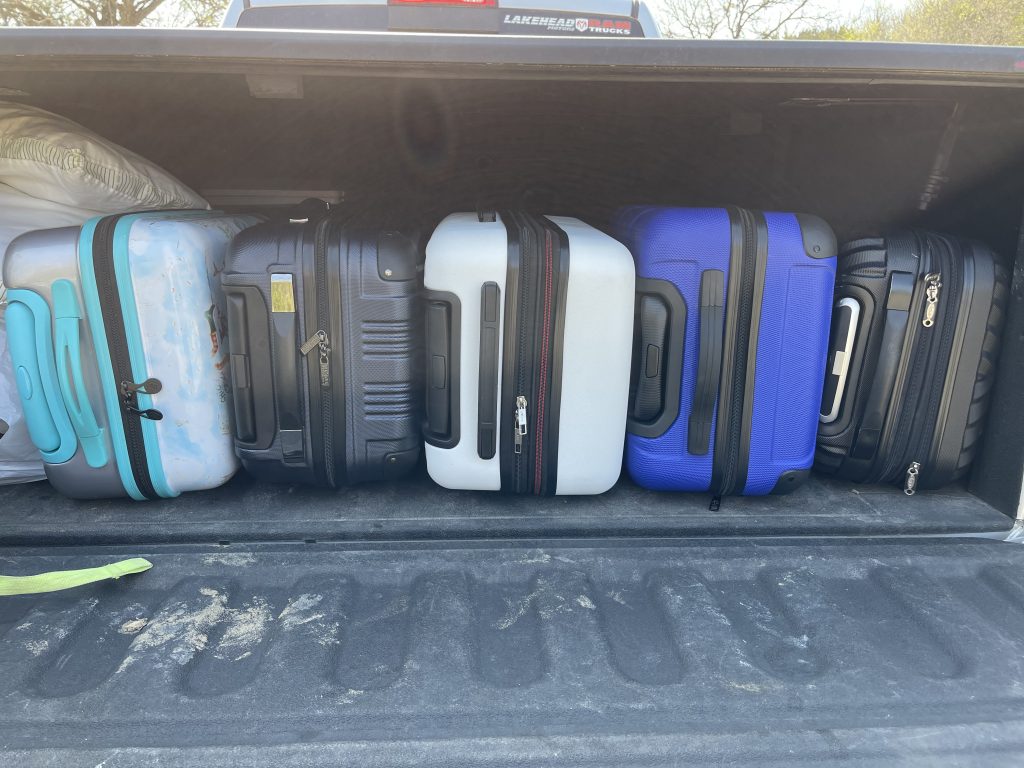 What does "Best Luggage For Kids" mean?
Start by figuring out what 'best' means for your family. You might consider:
Ease of mobility (we would highly recommend spinner wheels that rotate as you turn corners)
Cost-to-quality ratio (Spring for hard-sided luggage, especially for train and bus rides where luggage might get stacked)
The length of your trip and the luggage size you need (Will you be only carrying on or checking more oversized luggage also?)
The 'gadgets' you'd like included (Do you need it to have a built-in USB charger, a Bluetooth lock, a flip-down scooter, or open up to be a makeshift wardrobe?)
Cosmetics – not just how beautiful your luggage is. If you've got plain black roller luggage, the possibility of getting it confused with someone else standing in line is pretty high. Pay a bit more, if necessary, for something other than plain black.
For us, 'best luggage for our family' was:
Largest luggage we could take for carry-on only (up to 22″ long)
Manageable handles and wheels for our three boys (12, 10, and 8 when we left)
Good quality wheels and zippers since we'd be taking a fair amount of public transportation and walking
Hard-sided to keep up with our travel frequency and the "stacking" that happens on the train luggage rack or under a bus.
Cost was a consideration (although this $500 USB charger, multi-lock, Laptop holder, cup carrying, iPad displaying, rubber-wheel luggage looked really cool.)
Available in 5 different colors (so we could identify whose luggage each piece was without having to open it).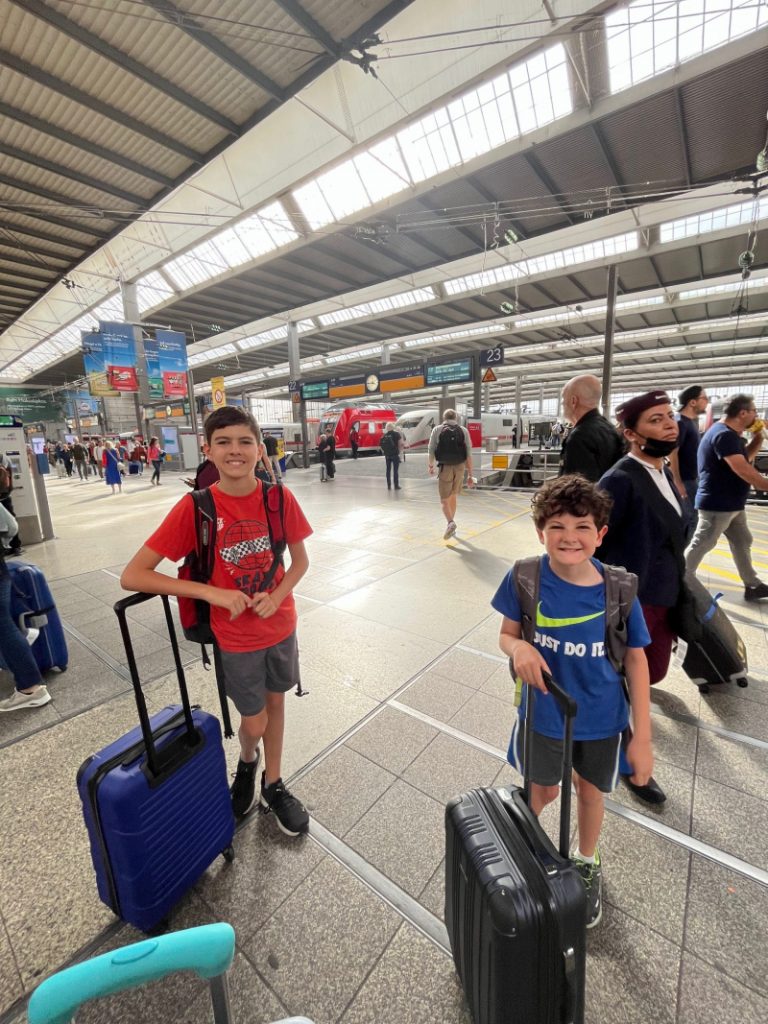 Additional to the roller luggage, we were going to each take a backpack as a personal bag – nothing fancy – just standard High Sierra school backpacks, although this $40 backpack with a laptop section and a built-in USB charger might be a great investment. The backpack contained things that we would need during our actual travel:
A change of clothes and toiletries if we were staying overnight for a layover
Small blanket and a stuffed animal
Laptops, phones, and video game systems that we'd be using during travel
Device accessories (headphones and charging cables)
Passports
Wallets
This mainly left clothing, shoes, and additional toiletries in our roller bags.
We did a combination of Facebook marketplace and Amazon shopping, so some of our luggage was new and some used, but we wanted nearly-new luggage, even if it had been used.
Here's the Roller luggage we chose for our family trip to Europe:
Our take on the best roller luggage for kids:
The Atlantic Luggage (belonging to Ian – our 8-year-old) was the first one to suffer a casualty. The plastic around the wheel got ripped up on the rough sidewalk in Hyde Park, London (the first day of our trip). We pulled the plastic off of the wheel and it rolled a little odd for the rest of the trip, but didn't have any other casualties.
The Mia Toro Luggage (Celine's) seemed to hold up the best, both for resisting scratches and dents to the outside but also for the fabric on the inside.
The Solite Luggage had an issue with the internal zippered mesh pocket, but it faired well for its usage.
The other roller cases had obviously been well-used through Europe for 7 months but not damaged and could be resold and still serve the next owner well.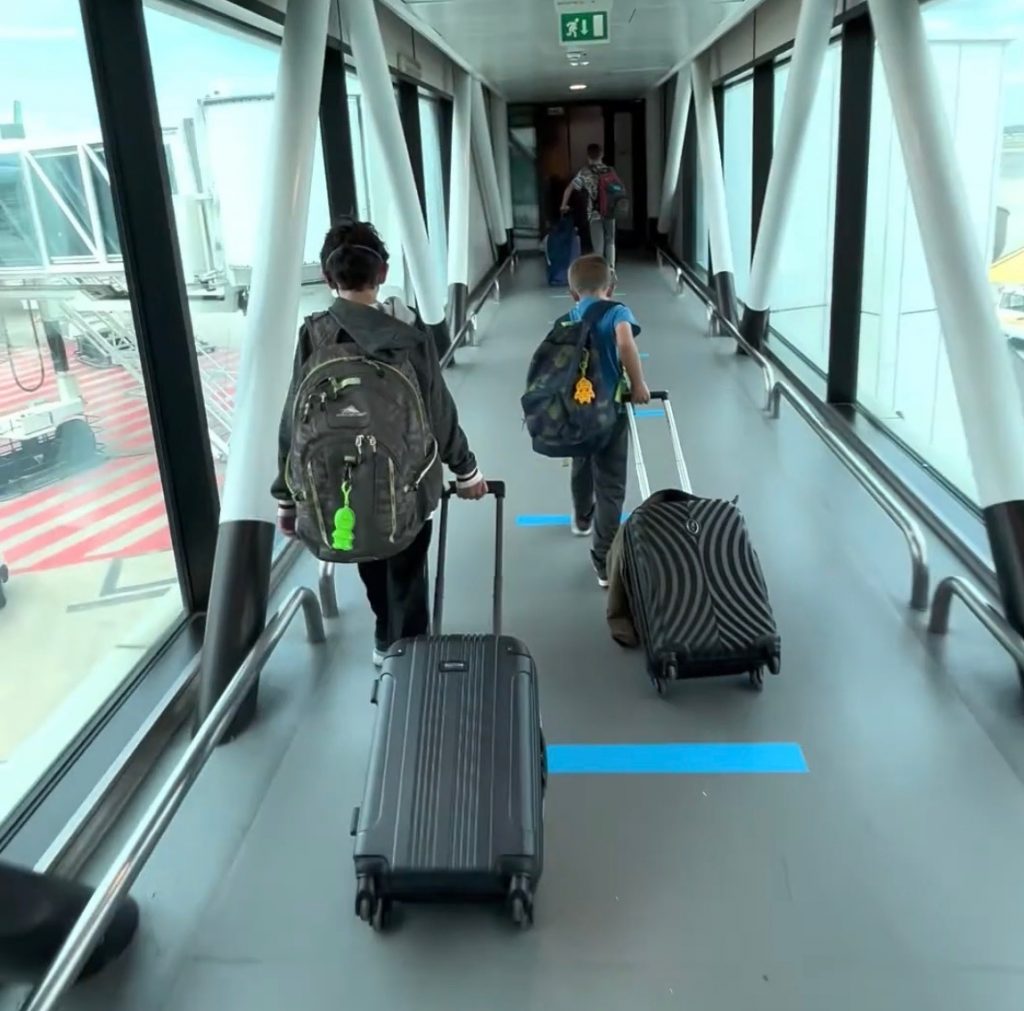 What's the best kids luggage for the value?
We would go with the Amazon brand luggage for kids. $120 each held up well, and came in enough colors to be distinguishable from other plain black roller bags. They're 21″ long, and the maximum for carry-on luggage is 22″ inches, which created a good balance between small enough for our kids to manage but nearly the largest we could carry on.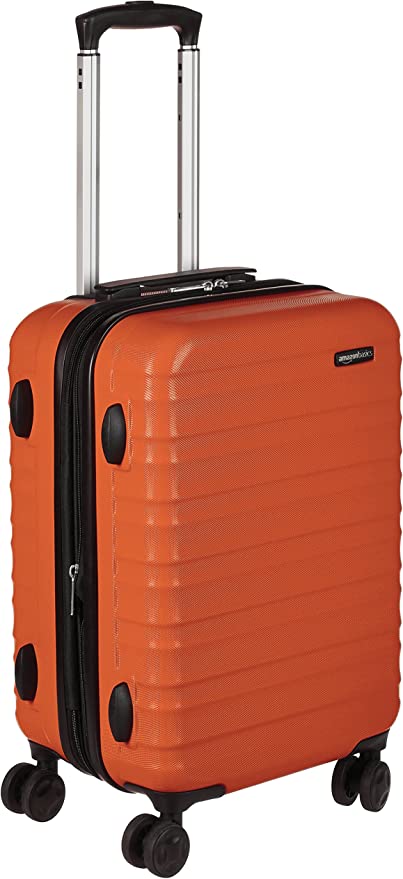 If we could find something used for the same price, the Kenneth Cole or the Mia Toro would be a great used find for young kids to adults.
Best Ride-On Luggage for Kids?
If you're traveling with kids younger than 8, then a ride-on suitcase is a really cool option, and something we didn't realize existed until we saw a kid riding through the airport on this trip.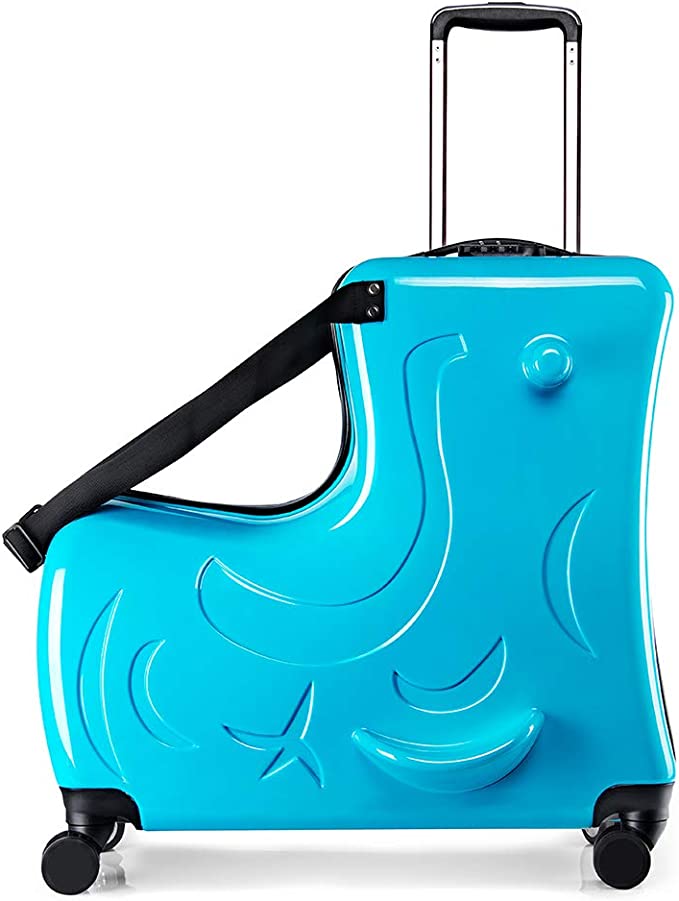 While we don't have any experience to share, it might be worth exploring the idea if you have younger kids who would be more mobile riding their suitcase than pulling it behind them. Some have a spot to hold an iPad while not moving, a padded seat cushion, and they're often designed like cartoons that young kids will recognize.
Scooter Luggage For Older Kids and Adults
If budget wasn't as much of a concern, these scooter suitcases (good for riders up to 331 lbs) seem like a lot of fun, not just for getting through the airport, but also for getting to your destination from the airport or train station.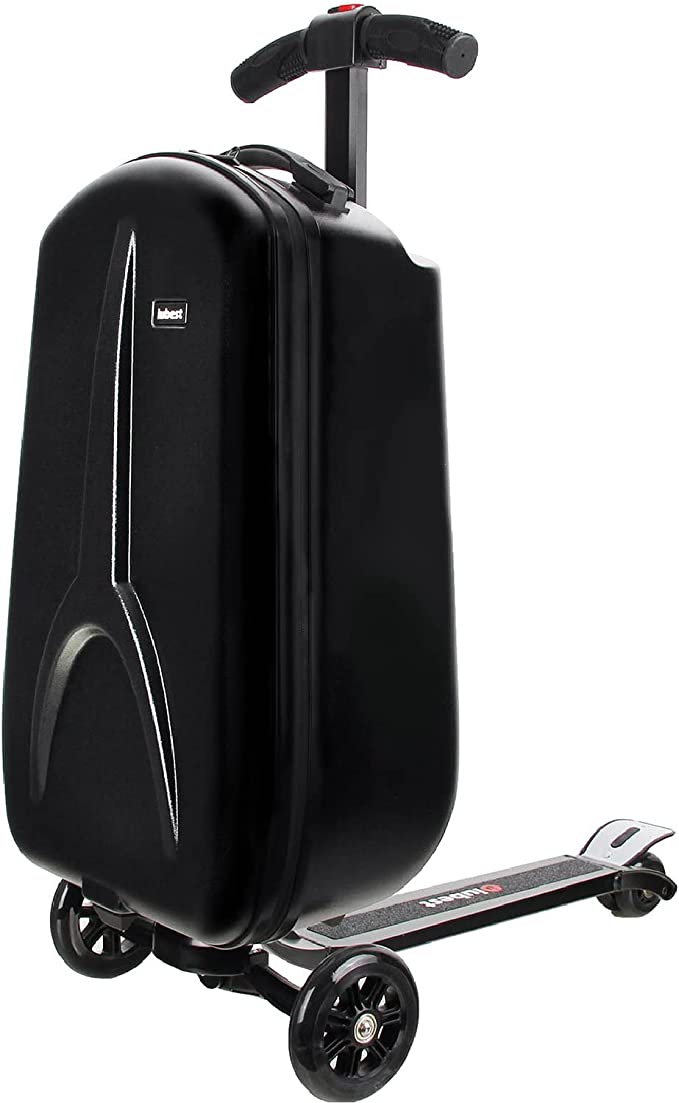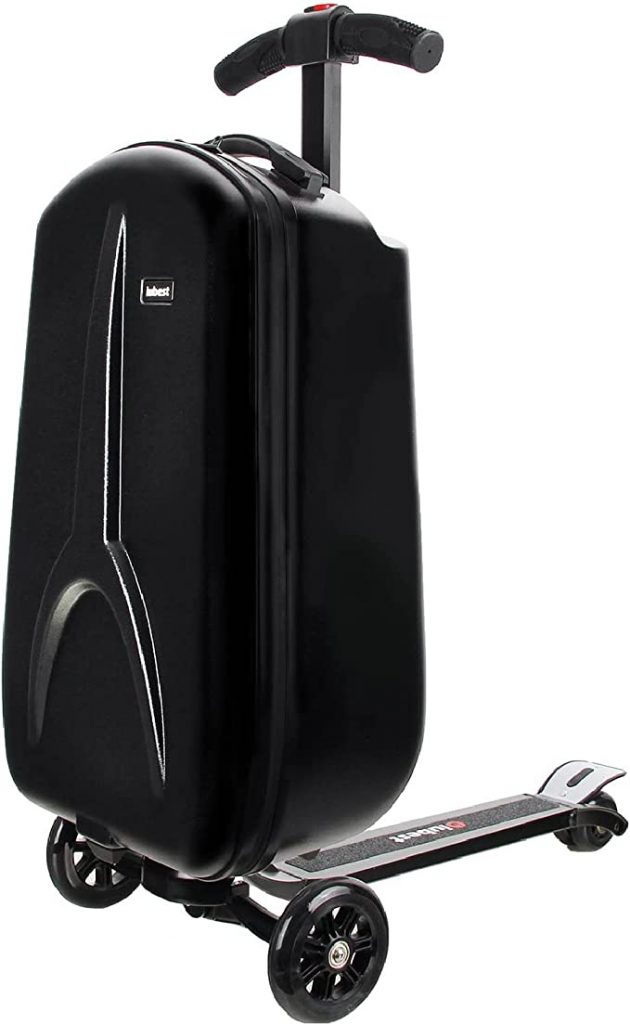 Check the dimensions before you make a purchase. Carry-on luggage has to be less than 22″, and most of what we can find on amazon are larger than that – fine for a checked bag on the plane or taking on a train, but oversized for carry-on.
The Ultimate Luxury Luggage
If you're not afraid of the almost $1500 price tag, this FMXYMC smart-riding luggage has a built-in motor that will drive you through the airport as you ride along.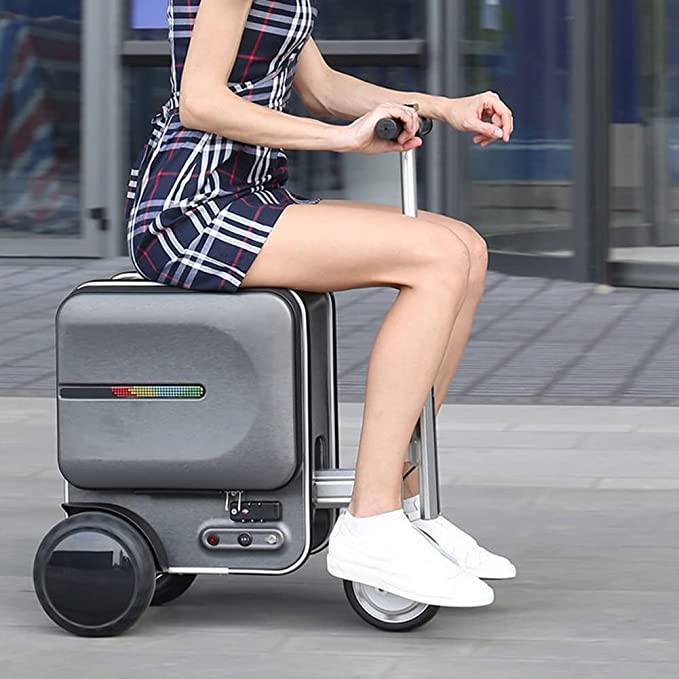 Because of weight and space limitations, this luggage has a fairly-small capacity and may not be practical for spending 7 months overseas, but if you're willing to spend $1500 on luggage, then maybe you're also willing to buy clothes when you arrive.
How would we pack differently next time for a family trip overseas?
I took more than I needed. I came home with clothes still in my roller luggage that hadn't seen the light of day for 7 months. Joel (our oldest) said the same. Since we pay for carry-on luggage on nearly every flight, we would probably get our five roller bags (since we each had our own bags) down to 3 pieces of rolling luggage. Celine could have her own, our youngest boys would share, and Joel and I could share.
I would leave behind my housecoat and slippers – I rarely wear them at home, so I think I was filling space in my suitcase.
I might not take collared shirts, dress socks, or dress shoes and buy some if I really need some.
I think my logic in packing was that I had space and was paying for a carry-on, whether it was full or not, so it might as well have been full.
We would each still take our backpacks next time. It was great not to open our suitcases for an overnight layover and have what we needed in our backpacks. They were helpful if we walked across town to grab groceries or filled with snacks and water bottles on a hike or walking around downtown.

Save Money On Plane Carry-On Fees with Kids
If you'd like to save money on carry-on fees, consider taking trains in Europe. Here's how trains and planes compare for traveling as a family through Europe.