It's time to explore the great outdoors with your kids, see the world, hike a mountain, learn some history, experience a dip in an untouched lake, or taste the world-renown delicacies of a new city, but so far, it's taken 28 minutes to "Get your shoes on and get in the car," and you're now going to hit Friday rush hour traffic on your way out of town for the weekend.
It means you'll only be 2 hours behind schedule to arrive at your hotel, where you'll roll out of the rush-hour traffic car ride and find out the restaurant kitchen is closing while you listen to your kids complain about being hungry and how one of them is being rude by looking at the other.
Disclosure: This blog post contains affiliate links. If you make a purchase based on a recommendation, we make a commission at no cost to you.
Family travel isn't all Instagram made it out to be
… but for our extended family listening to our travel stories, it is EVERYTHING they hoped for!
That hasn't changed the fact that we love traveling and don't plan to stop, but it does mean that the honeymoon idea of permanent family vacations has long worn off.. since about day 3.
We've been traveling since 2018, mostly in our RV in Canada, US and (recently) Mexico. When we're not in our RV, we've spent a month or two on the Caribbean coast of Mexico, spent 7 months in Europe petsitting, seeing friends and family, and took a month at an Airbnb near the beach in Croatia.
View this post on Instagram

While the Instagram Influencers are posting videos about the "challenge" of getting to their connecting flight on time because a last-minute gate change, I'm the guy in the background of their rant video carrying three backpacks and dragging two roller cases from Gate B23 to Gate C47 because boarding closes in 10 minutes, we missed the announcement because our boys were talking about pokemon over the volume of the loudspeaker, and my kids are "too tired to walk with their backpack on" after a long, tiring day of sitting in the airport poking at the iPad.
Here are some family travel challenges we've experienced along the way – the kind that you might experience on family vacations – and (hopefully) helpful tips on how we've addressed those challenges head-on… the way the goat that I almost killed while petsitting in France took headbutting me as a challenge head-on.
Family Travel Challenge 1: The "I have to pee NOW" challenge
11-year-old as we're pulling out of the restaurant and on the interstate on-ramp: "Daddy, how much longer is this car ride?"
ME: "We've got another 6 hours."
11: "Ok. I have to pee now."
At 11, I would have thought he would be over his preference of not using public bathrooms, but when he realized that he wasn't going to be able to hold it for 6 hours, he changed his mind about "not needing to use the public bathroom."
As a parent, you often anticipate that coming need; other times, it catches you by surprise like an Arizona snowstorm (our first year RVing).
Here's another as we're in line scanning our boarding passes to get on a plane in Europe:
9: "Daddy, will this plane we're boarding have bathrooms?"
Me: "Yes, it's a 4-hour flight. There will be bathrooms."
9: "Oh good, because I have to pee."
In this case, we excused ourselves from the line, used the restrooms across from our gate in the terminal, and got back to the end of the line.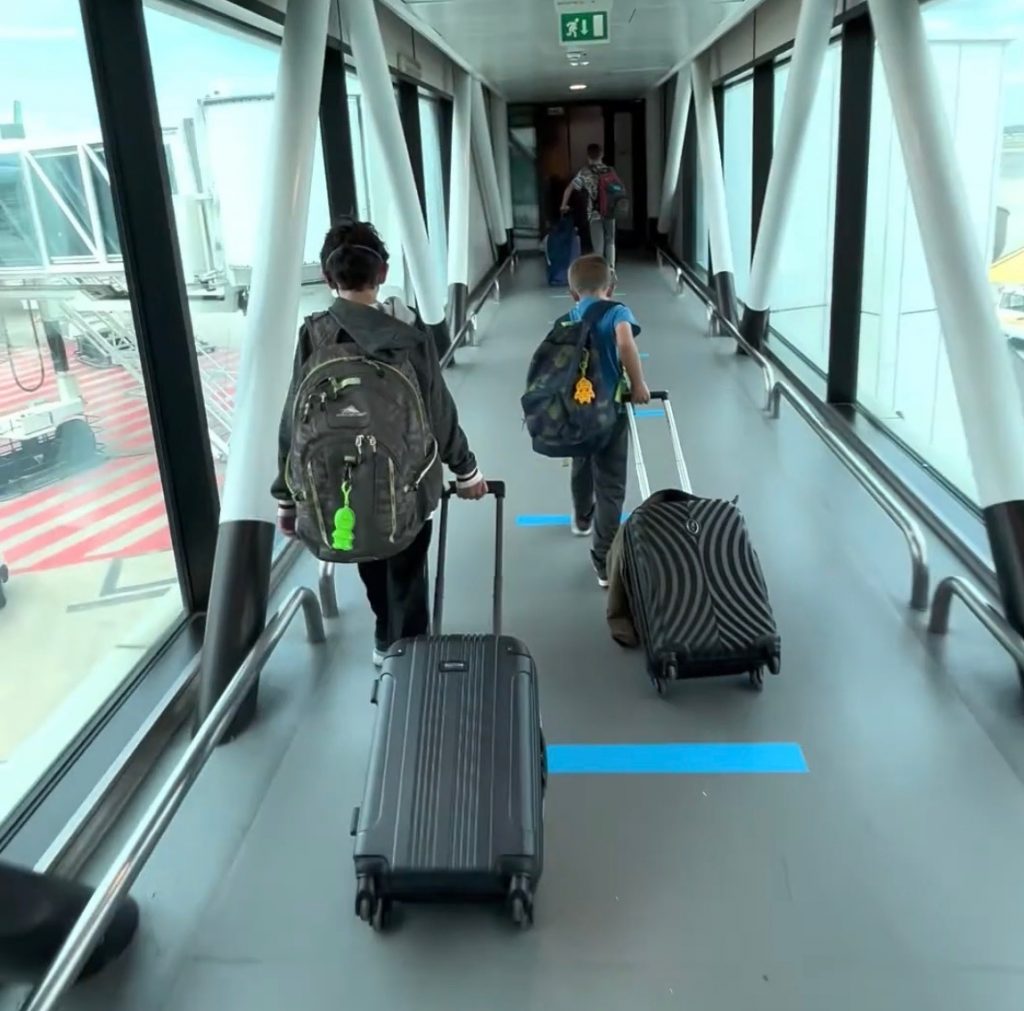 While the Instagram influencers are worried about the airplane air drying out their skin, I'm processing the "what ifs" of my 9-year-old son wetting the seat and having to swap my seat with him so he's not complaining the rest of the flight.
Here are some tips for taking your kids on the plane for the first time.
View this post on Instagram
Family Travel Challenge 2: The "Paying for Five People" Challenge
Sure, watch that Instagram video about the guy who saved up enough points to take a first-class lazy-boy recliner from Toronto to Dubai, then imagine how long it would take me to save up that many credit card points for our family of 5.
By the time I have enough points, I'll only need enough points for two seats because the kids will be grown up on their own.
We find ways to keep our costs as economical as possible without sacrificing experience.
We won't always choose the cheapest flights on Skyscanner (although the 7-hour layover in Rome paid off on our way from Boston to London), but those $500 tickets you found for two people in first class are the same as us flying four people for $250 in economy and stuffing our youngest in the overhead compartment (it's like Harry Potter when he slept under the stairs! Here's a flashlight and some peanuts).
A couple might find a great luxury hotel deal in Bali with flights for $3000, but we're barely getting on the plane overseas for that, so we choose more economical options like petsitting in Europe instead of hotels for accommodation or taking the train in Europe (which we found we preferred trains to planes with kids anyway).
Try finding hotels that accommodate five people. That's probably a story for another blog post.
We don't eat out very often
Fun fact: 5 people costs more to eat out than 2 people, and as our boys get older, they start to eat for two people each, which really starts to mess with the math.
We usually skip drinks at restaurants and opt for water, then grab a sweet snack from a bakery or ice cream shop if we want dessert. It doesn't mean we never eat out, but for us, it's a planned treat, not a staple.
Plus, Celine loves to cook in our RV kitchen, and when we're petsitting, we have the whole kitchen to make meals.
(Read on to Challenge 3 to learn about our theme park dining passes and how that's an excellent way for us to enjoy eating out).
Family Travel Challenge 3: The "Finding kid-friendly activities all three boys want to do" Challenge
Our oldest loves to hike, play video games at an arcade, and read.
Our middle son would just read all the time. He'll put up with a hike if we bribe him with ice cream later.
Our youngest wants to build something or play sports.
They all have unique personalities and interests, so we find a balance between things they all like to do (like visiting theme parks) and things they each like to do individually that we all do together (like going on a hike).
When we're not at a theme park, here are our favorite card games and board games we like to play in our RV.
Theme Parks Are A Great Solution for Family Travel
From live magic shows to music and performances to adrenaline-pumping rides to Christmas lights in the wintertime, we love spending a day on rollercoasters (and sitting in the air-conditioned theatres between roller coasters).
We'll choose a chain with parks along our route for the next year – sometimes Cedar Fair parks, Six Flags Parks, or SeaWorld/Busch Gardens parks.
Buying the season pass allows us to stop in anytime – sometimes planned weeks in advance and sometimes on a whim.
We also get the dining pass which allows us meals while we're in the park. Because of the frequency we use the passes, it's worth the extra bump in price for us, it means we have less to carry around the park all day as far as snacks, and gives us lots of choice of what we would like for dinner from pizza and chicken fingers to BBQ or Chinese. (This is a way we get to eat at restaurants without adding additional expenses to our budget).
In 2018/2019 we had passes to Six Flags parks. We visited 14 parks in our first 12 months on the road, each park multiple times (usually) and ate with our dining pass every time. We roughly guess we spent 50 days that year in the parks and had our food and snacks covered.
In 2021, we got Cedar Fair Park passes and spent nearly the same number of days in their parks with our dining passes. Our passes for 5 people were around $1400 (including dining) so for $28/visit for the whole family, we had entertainment and food covered.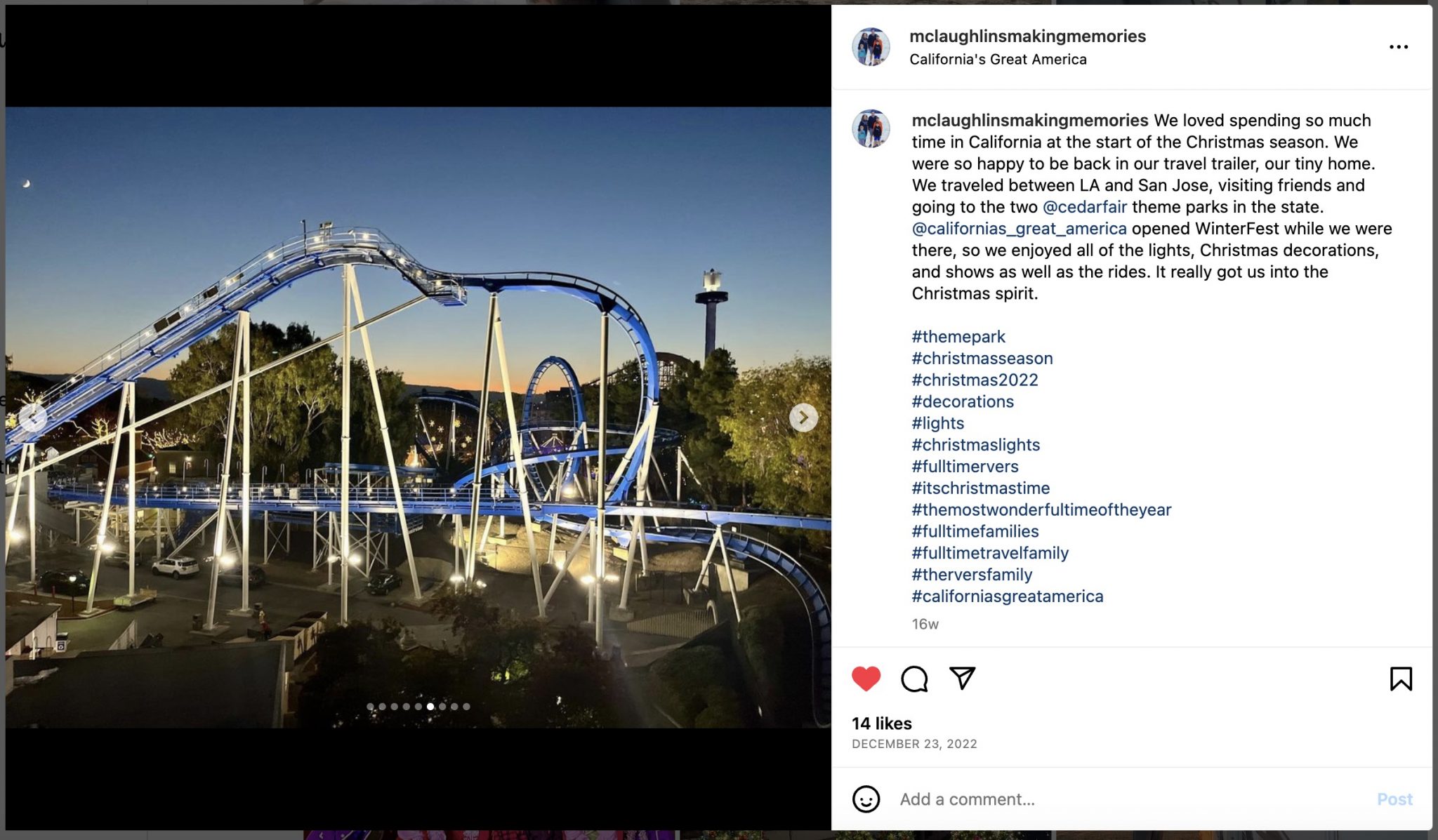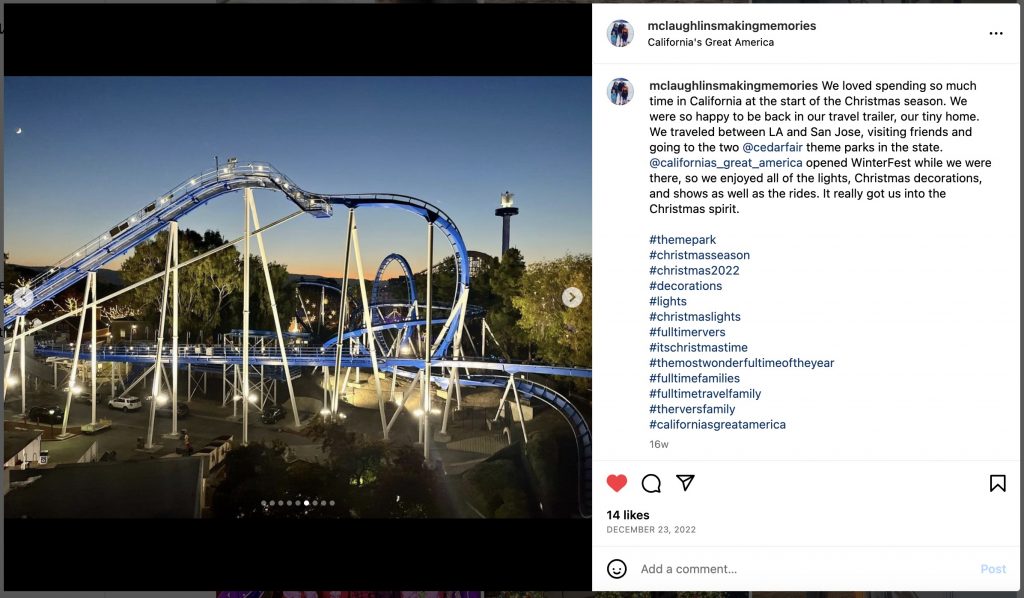 While we were in England (besides visiting Stonehenge and historical sites in the area) we visited Thorpe Park west of London and EuropaPark while in Germany.
Aside from paid parks, we've found these 9 free things to do with kids while RVing and our kids enjoy these activities every time.
Family Travel Challenge 4: The "Are you paying attention to what we're learning?" challenge
You may have faced this challenge with family vacations.
When we first got on the road, I wanted the kids to take in all of what we parents were experiencing. I wanted every moment to feel like a perfect family vacation.
Here's a fun fact about Nova Scotia
Guess the population of San Diego
Here's why this historical castle is significant
Look up from your screens and check out the view
Stop talking about Pokemon and Miraculous Ladybug memes on YouTube and read this plaque about the Liberty Bell
This only lasted so long. Sometimes we do interrupt "unrelated" conversation and ask the boys to learn about the sites we're visiting, but most of the time, we just let their interests guide them. They're learning about the things that they find most interesting.
As an example, here's us exploring Stirling Castle in Scotland. Actually, I'm exploring the castle while Celine takes a picture of the boys playing with the telescope and not paying any attention to the castle.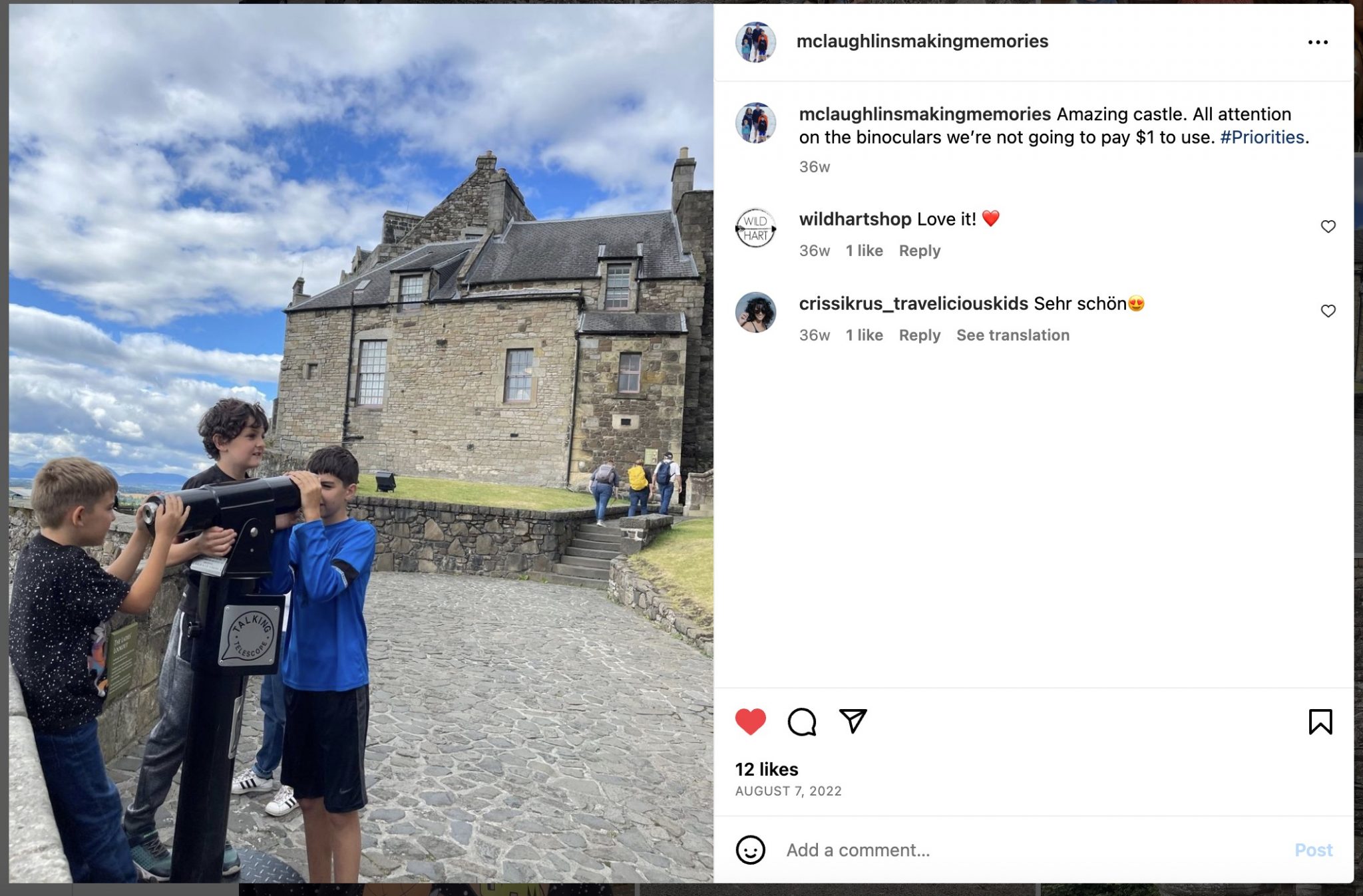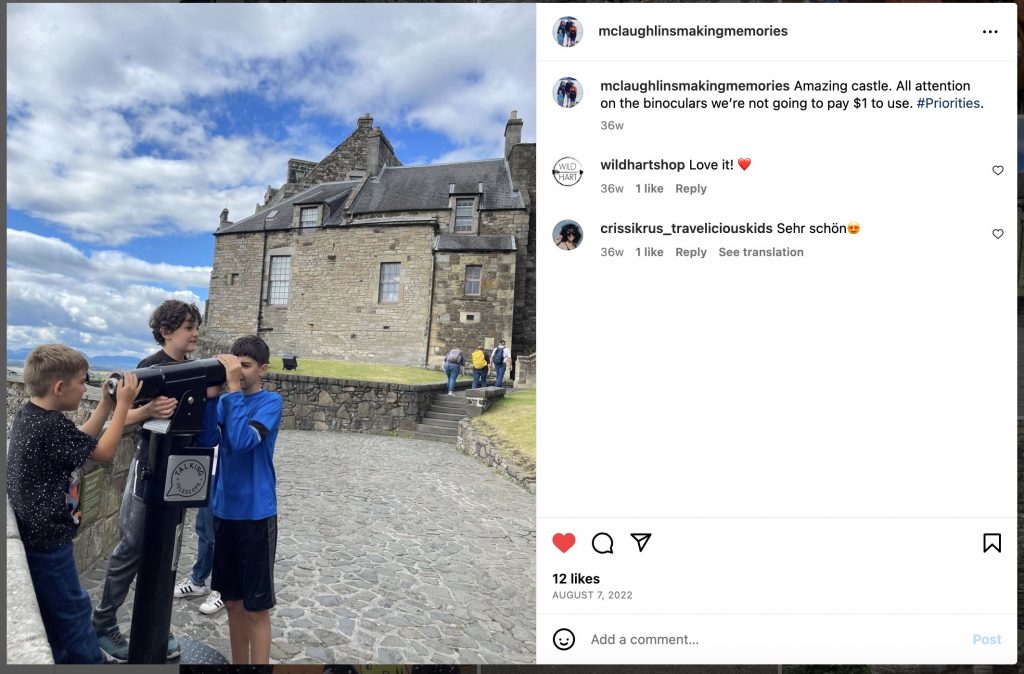 In another example, here's Ian pretending to pick the nose of the hands-on replica of a statue at the Roman Baths in England. Sure, he's also giving some attention to the audio guide since I asked him to hold it up to his ear as I snapped this picture.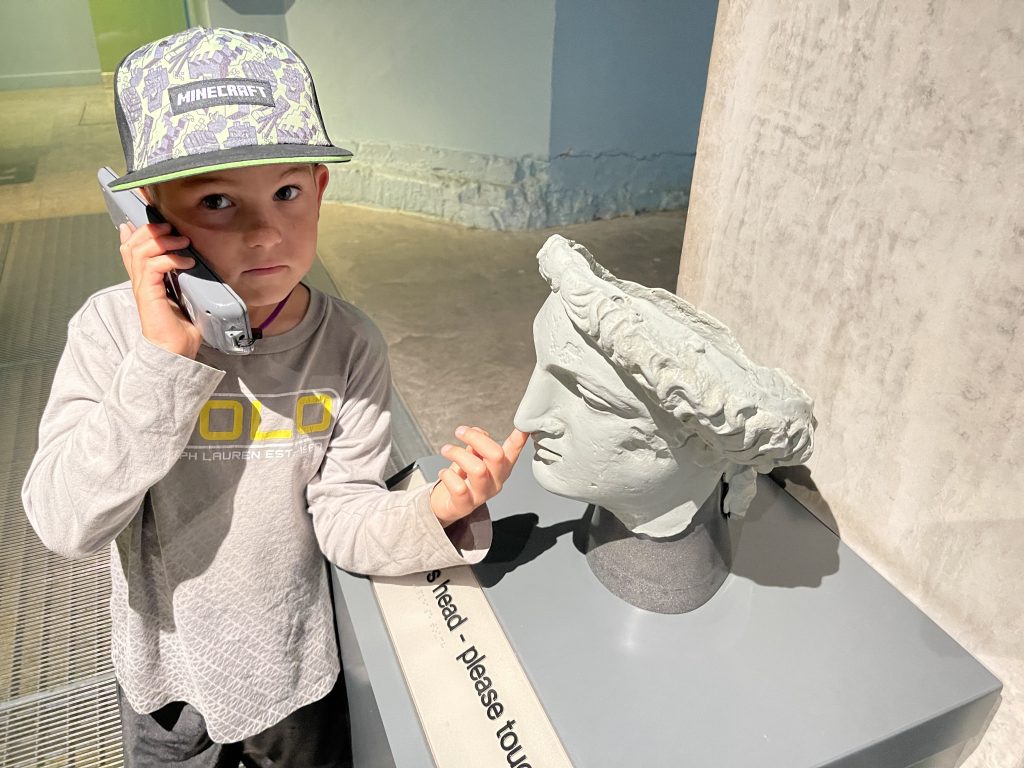 Our kids often pick up more on ideas than they let on when we're visiting these sites, but Celine and I have learned that we'll use up so much of our own attention "Trying to get the boys to understand how amazing this thing is" that we'll miss things ourselves.
While we have to keep them in order and can ask them questions about what we're learning to engage their interests, we also let them enjoy the experience in their own way while we take in the historical landmark or scenery that we chose to go out of our way to see.
Our goal has shifted from trying to get them to learn everything to a goal of having them learn something while enjoying themselves through our adventures.
For our boys, sometimes the best family trips are to a trampoline park or a water park instead of exploring the historic downtown core of a city I'd really like to see.
Click here to read about challenge numbers 5-9!