(Note: some of the affiliate links in this article will pay us a commission at no cost to you if you choose to make a purchase.)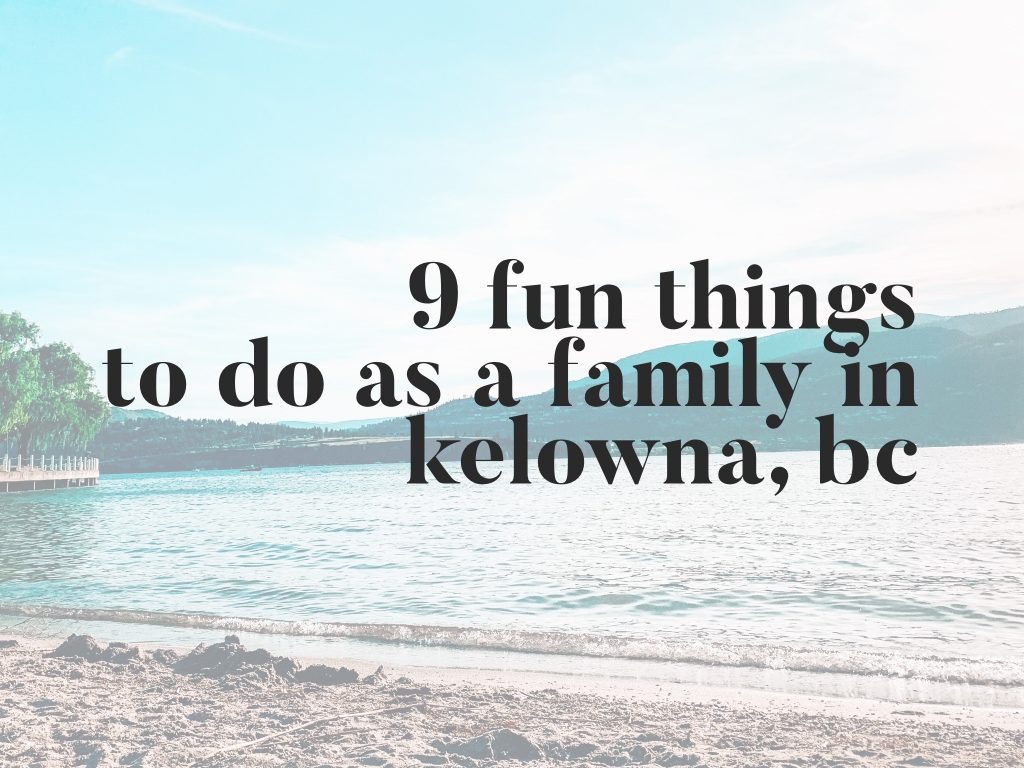 We recently RV'd as a family for a few nights in the Okanagan Valley in British Columbia. We spent some of the time in West Kelowna (on the west side of the Okanagan lake) and the rest in Kelowna (on the east side).
Where is Kelowna?
Kelowna is part of the Okanagan Valley, a mountainous area surrounding Okanagan Lake in south-central British Columbia. The ground is so fertile. Snow melts off of the mountains watering the area. Many of the fruit and vegetable crops grown in the province of BC come from this area – grown in the foothills around the mountains.
We were concerned about making the trip in our RV to the Okanagan Valley, known as the wine region, and wondered if there would be anything for our kids to do, but we were pleasantly surprised with what we discovered. We began our trip towing our travel trailer just outside of Vancouver (Kelowna is about a 4-hour drive east of Vancouver). We took the Coquihalla Highway (British Columbia 5) through Merrit to Kelowna and decided to take Hwy 3 through EC Manning Provincial Park on our way back west. Neither was a simple drive while towing our 30 ft travel trailer, and our evidence is entirely anecdotal, but it seemed like driving west on Hwy 3 was less of a challenge than driving east on Hwy 5. It could merely be that driving any direction west out of the Cascade Mountains is more manageable than going east into them.
When you're planning your trip to the Okanagan, keep in mind that at the north end of Okanagan Lake is Vernon, and to the south end of the lake, you'll reach Penticton, with Kelowna on the east side (halfway down the lake) and West Kelowna on the westside, along with Peachland and Summerland.
While this is all considered the Okanagan Region, around the lake, it's about a 2-hour drive (depending on traffic) to get from Vernon on the north shore to Penticton on the south shore, so give yourself some time between planned activities, or plan your schedule based on region. If you want to be in the midst of all the action and aren't visiting the area with an RV, choose a hotel near City Park in Kelowna!
Experience the Okanagan for Family Vacation
We don't typically rush to do mini-golf, or visit nearby batting cages or laser tag (although many of these activities are available in Kelowna). For family fun, we mostly choose adventure experiences that are specific to the area (with the necessary stop at an ice cream shop, of course). While there are plenty of winery and cidery tours, we were looking for family-friendly experiences that would leave us with happy memories with our kids, and Kelowna did not disappoint.We only had a few days for our trip, at the end of August, so here's what we enjoyed doing in Kelowna, as well as a few things on our 'to-do' list for the next time we visit the Okanagan Valley.
Fun Things for Kids in Kelowna near the end of Summer (August) / Beginning of Fall (September)
Kelowna Wibit on Okanagan Lake
The Wibit water park on the Okanagan Lake in City Park Kelowna was probably the highlight of the trip for our three boys (ages 6, 8, & 11). Not only is it a family-friendly water park with inflatable slides, trampolines, climbing ropes, and obstacles, but it's floating right on the lake, so we could enjoy our time on the beach, and wade in the ankle-deep clear water that outlines City Park (right in downtown Kelowna) as our boys played – not to mention enjoy the stunning views of the mountains across the lake.
Our boys enjoyed climbing around the water park, for about 90 minutes, then our younger two had their fill. They played on the beach and in the water while our oldest burned off more energy on the floating obstacle course. Our youngest thought the lake was similar to a wave pool since the wake made by passing boaters would wash up onto the shore.
We opted to buy tickets later in the afternoon from 5:30 pm – 8:30 pm, which was a discounted rate (you can get an 'all-you-can-play' pass for the day if you'd prefer). The discounted pass was perfect for us, and since it was August, it wasn't too cool in the evening, and it was unlikely that our kids would have spent more time than the 3 hours we had with our pass. The water temperature in Okanagan Lake is cool in late August, but, of course, once you get in, you get used to it.
West Kelowna Skate Park
Skate parks are a bit of a new thing for our boys who have recently looked for ways to enjoy their rollerblades or scooters while we're on the road since not every campground is paved. This is a free outing we enjoy taking and an easy way for us to burn off some energy. (Side note: we wrote a post about 9 free things to do on the road with kids. Skateparks is there!)
While it's not something that our entire family participates in, our kids love it, so we're happy to take them every now and then to skate parks. West Kelowna Skate park, tucked behind the Johnson Bentley Memorial Aquatic Center, is one of the most spacious skate parks we've found.
Many skate parks are tucked into a corner somewhere with very little parking nearby, but this skate park has a large parking lot behind the aquatic center. There is a large flat paved area where our younger kids could enjoy rollerskating on. There is a second area connected by a few ramps with pits to skate down into that our oldest son loved. We went back to this skate park a few times during our 2-night stay, and there were usually young teens and families using the park; they were always very friendly and respectfully enjoyed the space along with us.
City Park, Kelowna
Located in downtown Kelowna, City Park is nestled between main-street shops, restaurants, and Okanagan Lake. While we were visiting Kelowna, this was our favorite, kid-friendly park. It has so much to offer – a splash pad, playground, skate park, beach, marina, the Wibit water park, food trucks, and steps away from the shops downtown. Not only does City Park have plenty of developed amenities, but it also has a large amount of green space to enjoy a family picnic, throw a frisbee, or find your own family fun.
From what we've seen of pictures online, City Park is well-maintained year-round to allow for winter walks on the paved sidewalks and bike paths. We know that our kids will definitely be asking to visit City Park the next time we're in the area. If we were not RVers, and were wanting to visit Kelowna, we would specifically recommend choosing a hotel near City Park, near the shops and numerous restaurants, with a view of the mountains and Lake Okanagan,
Farmers Markets & Pick Your Own Fresh Fruit in Kelowna
While we missed the local cherry season that the Okanagan is famous for (it usually runs until the end of July), we were able to find 'you pick' orchards with a variety of fruit ready to pick. We found quite a few around Kelowna so it was easy to choose a couple of them that were close to where we were staying, We visited two orchards/farms and found peaches, apples, plums, and nectarines ready to pick. There's nothing like picking fruit and eating it immediately!  It's so fresh and so delicious! Available at both locations we visited were fresh produce stands where we bought a (pretty sure the world's largest) zucchini, bell peppers, fresh mint, and watermelon.
Besides picking fruit, we also visited Kelowna's Farmer's & Crafter's Market on a Wednesday morning. There was LIVE music, food trucks,and lots of local vendors with fresh produce and homemade goods. We purchased some handmade perogies to cook at home.
We also stopped at Paynter's Fruit Market in West Kelowna  to purchase some fresh vegetables. Getting the experience of picking fresh fruit was really why we wanted to visit the Okanagan Valley, so we made a full day of visiting orchards and markets. The fresh produce is amazing here!
Stay at a Harvest Hosts Location
If you're going to be RVing in the Okanagan, and you're not yet a Harvest Hosts member, now is the time.
Harvest Hosts allow you to stay on their property – often a farm, vineyard, or orchard – and in exchange, you'll spend about $20/adult at their location – whether purchasing a gift from their store, buying dinner at their on-site restaurant, or taking their facility tour. Instead of paying for a night at a campground, we were able to stay at the bottom for a beautiful apple orchard for free. Most host locations are dry camping (no water or electric) but some include these hookups for a small fee.
Our Harvest Host location was the Scenic Road Cidery, just outside of Kelowna. It was a perfect 'home base' for us since it is close to everything, including City Park and grocery stores. Check out Harvest Host locations in Kelowna, and the rest of the Okanagan! Plan ahead for best availability.
Things our Family would do next time we visit the Okanagan in BC
While we enjoyed our trip, we didn't have time to do all of the things on our list, like make a trip to at least one more ice cream shop. Here are some things to consider for your next trip to Kelowna, and activities that are available around the Okanagan (and let us know what you enjoyed doing most!)
Myra Canyon Trestles
A little bit out of the way, the Myra Canyon Trestles are about 40 minutes east of Kelowna. This highly-rated trail for hiking or biking takes you through 2 tunnels and 18 trestle bridges. This would be a beautiful outing when the Myra Canyons are full of plants budding in the spring, and a picture-perfect postcard adventure of colours in the fall.
Myra Canyon Adventure Park
Most reviews we've read indicate that the trestles are about a half-day experience, so while you're out visiting Myra Canyon, fill the other half of your day with an outdoor adventure at the Myra Canyon Adventure Park. With zip lines, ropes courses, and team-building activities, it will be easy to fill the rest of the day swinging through the trees with breathtaking scenery. A little closer than the trestles, Maya Canyon Adventure Park is about 22 minutes from downtown Kelowna, BC.
Kettle Valley Railway
Take a 90-minute ride on a restored 1912 steam engine locomotive for 10 miles through the stunning views of British Columbia, leaving from Summerland. The Kettle Valley Railway can provide a year-round experience, from Christmas light trains, or Mothers Day Rides, to a summer BBQ and mock train robbery (with live bandits on horseback) and musical entertainment. This kid-friendly train experience has a limited schedule, so make it one of the first items you book into your Okanagan itinerary. Since it leaves from Summerland (on the southwest side of Okanagan Lake), build this experience into your schedule while staying at nearby West Kelowna, or south in Penticton.
Kangaroo Creek Farm
Sadly, we missed the Kangaroo Creek Farm when we were searching for things to do in Kelowna. We found out about the farm when we told someone that we had just visited Okanagan, and they asked if we went to the Kangaroo farm petting zoo. Take an afternoon of hands-on interaction with kangaroos, wallabies, and sugar gliders, and get eye level with parrots and peacocks. If we had to choose one thing we shouldn't have missed in Kelowna, it's the Kangaroo Creek Farm.
How Do You Decide What to Do in Kelowna with your Family?
It seems like no matter how long you spend time in this part of BC, you'll find that there are so many fun things to do. The tricky part will be deciding what you'll do while you are there, and what you'll save doing for your next trip. You will consider what adventure you could fit into your schedule if you only had one more day.
Families who take a trip out to the Okanagan can easily spend time enjoying at a wave pool, go bowling, do water activities on Okanagan Lake, experience laser tag or paintball for the first time, or play a family-friendly round of mini-golf.
When we are heading to a place we've never been, we often start by telling our kids about the available activities there and ask each of our 3 boys to pick one that they would really like to experience. It's not an exact science, since sometimes we'll have 2 boys pick the same activity, or one of our kids can't decide what they want to do. This method also depends on how long we're staying, and it's also fun to throw in a surprise here and there for our kids. We often get answers all over the map since they are all different ages and each one has their own idea about what makes a great vacation.
Understand the geography of the Okanagan Vally in BC before planning your vacation schedule, and figure out the distance between the activities that you choose. Above all, be sure that you make every part of the trip a fun adventure for your whole family. Explore what Canada has to offer you! Free cancellations on most hotels when you book now and stay later.