In July of 2022, our family of five, while housesitting in Europe was able to use Trusted House Sitters in Switzerland to find a house sit for two weeks in Zurich.
We were really excited when the house sit in Switzerland came up since the hotspots for Trusted Housesitters is UK and Austraila, and other countries seem less popular.
We've always loved the Rocky Mountains, so visiting the Swiss Alps was on our bucket list. Even pragmatic and not fancy hotels and hostels in Switzerland are quite expensive compared to other countries, so we knew that house-sitting would be the best option for our family's budget.
We applied for the housesit and got to spend 2 weeks in July with a cute little chihuahua who loved and adventure and so we took him on trips on the trams around town and one day on the train to Interlaken to hike the Alps.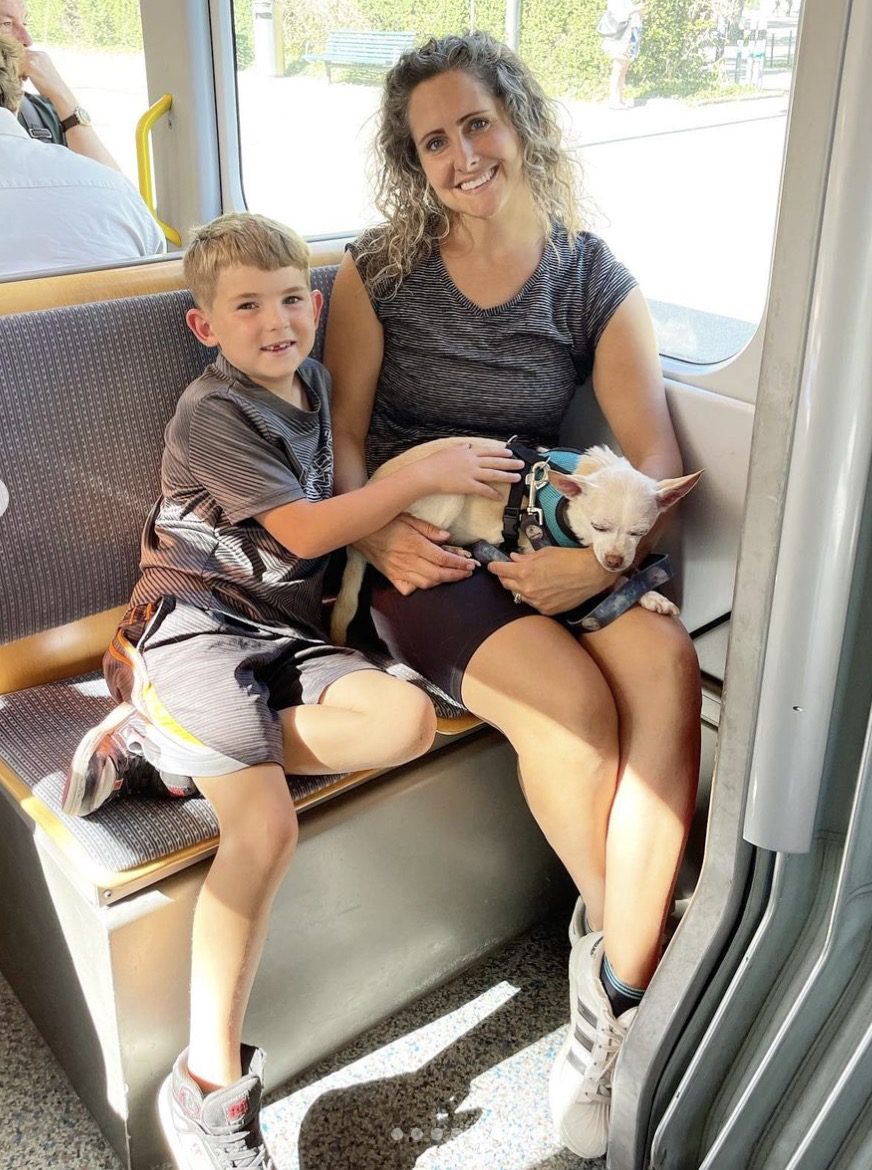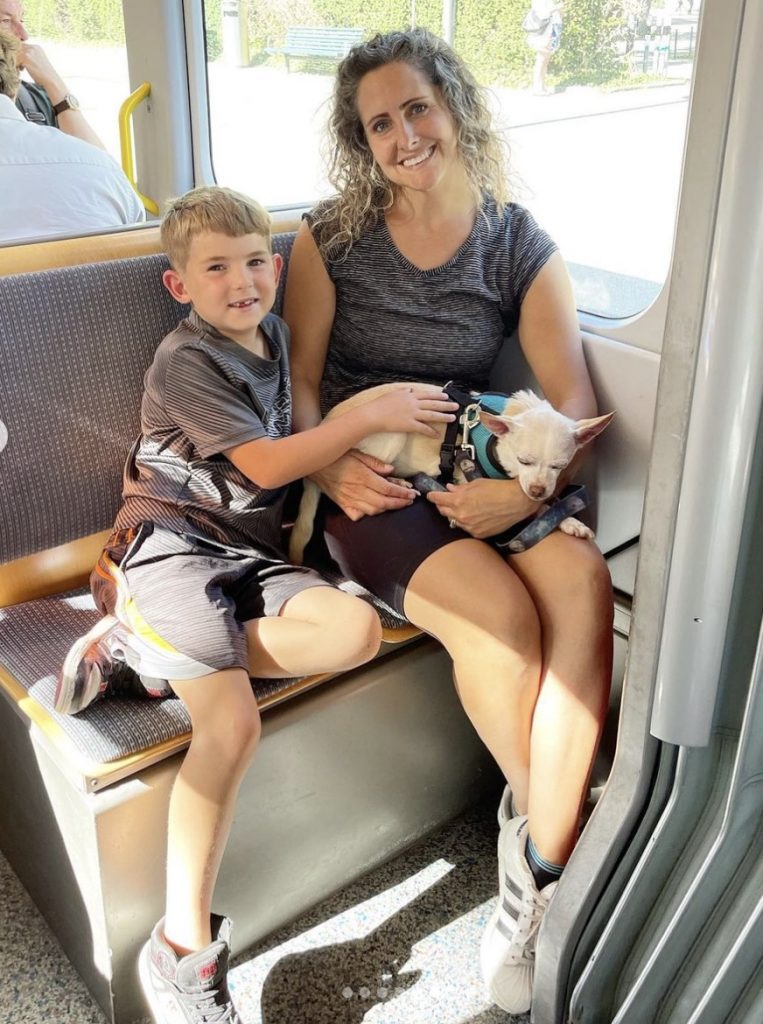 How does Trusted House Sitters work in Switzerland?
We use Trusted House Sitters, although there seem to be other house sitting jobs sites, but most people on Trusted House sitters speak English, while there may be other house sitter apps for people who speak other languages.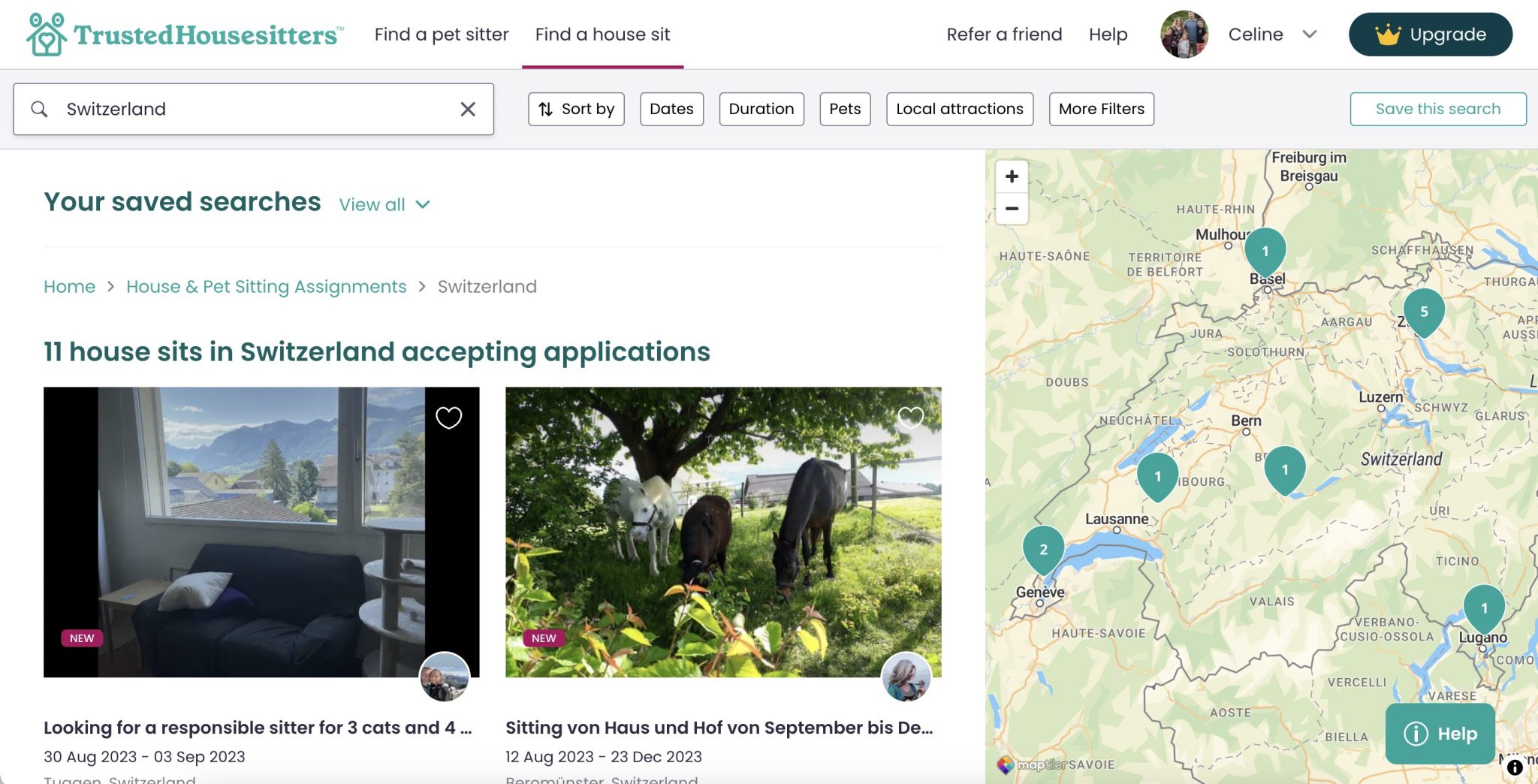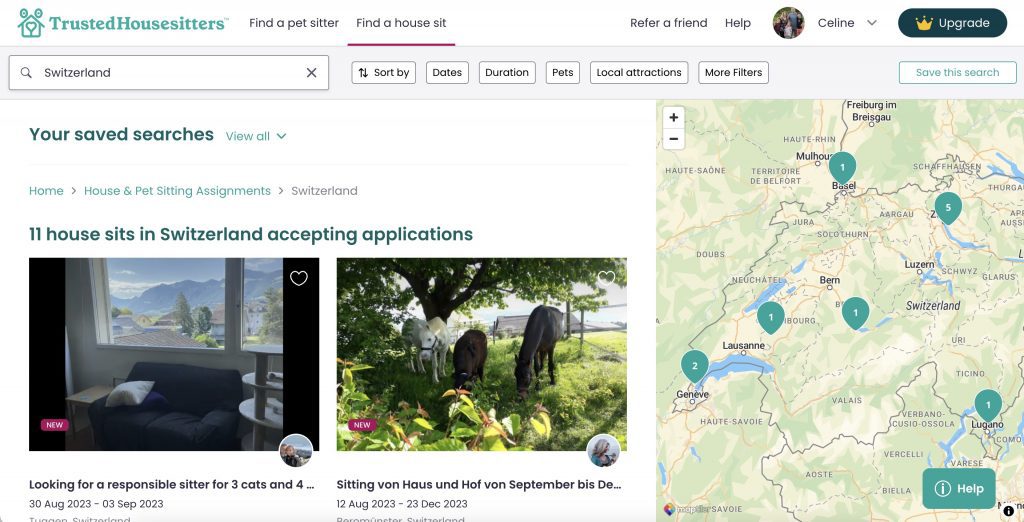 Visit TrustedHousesitters.com
Search the "Find A House Sit"
Sort the house sitting options by dates, family-friendly, and the type of pet you'd prefer.
Use this link to save 20% on your Trusted Housesitters membership if you find house sits you would like to apply for.
Apply for the house sit and describe why you would be a good fit. (We always offer to have a video call with the home and pet owners before agreeing to a house sit.
Accept the house sit on the trusted housesitters app if offered
Make your travel plans.
Are there are a lot of house-sitting opportunities in Switzerland?
We didn't have any trouble finding a housesitting opportunity for two weeks in Zurich, Switzerland, but we also weren't specifically set on Switzerland. Of course, it was on our bucket list, but so were many other places.
Whether due to language barriers, other apps that are more common in Switzerland, a small National population, or fewer Swiss people owning pets is all up for discussion, but as an example, at the time of writing this, there are 5927 listings for pets on Trusted House sitters and only 11 of those house sits are in Switzerland.
Narrow down those 11 by people who are willing to host a family, and have the space to host a family, and are accessible by public transport (so we wouldn't have to rent a car while in Switzerland) and had dates that matched with our other two house and pet sitting opportunities, and I guess it WAS pretty lucky that we were able to find a 4 bedroom apartment in Zurich for our Switzerland housesit.
Where can I House sits in Switzerland?
This will have changed by the time you're reading this, but just to give you an example of the locations of house sitting in Switzerland, here's what is current available (at the time of writing this)
Brugg
Oberlunkhofen
Fribourg (near Bern)
Luzern (Lucerne)
Vernier (near Geneva)
Scharnachtal (near Interlaken)
Lugano
Zurich
Hirzel-Kirche
Embrach
Some of these are in small towns in the Swiss Alps, one towards the border of Germany, one near Como, Italy, and Vernier (near Geneva) is equally close to France's border.
Homes include cabins, apartments, stand-alone houses, and a hobby farm.
Is it hard to get a house sit in Switzerland?
We didn't find it difficult ONCE we found a house sit that matched our dates, was fit for a family, and was accessible by public transport. If you're specifically looking for a house sit with multiple criteria in your vacation window, you'll find more house sitting opportunities in the UK, Australia, or North America, but if you're a single traveler and your dates are flexible, then you may be able to find a pet sit in Switzerland.
Check TrustedHousesitters.com often, and sort your results by the newest listings. You'll be more likely to book a zoom call with home and pet owners if you're applicant number 1 or 2 compared to applicant 8 or 10. Most pet and home owners call will go chronologically through applicants (at least that's our experience).
You'll also be more likely to book a house-sitting opportunity in a high-demand location (like Switzerland, Manhattan, Paris, or London, Costa Rica, etc) if you have completed house sits and have house-sitting experience with great reviews.
What should you do and see while house-sitting in Switzerland?
While your obvious first thought might be "Hike in the Alps" (and we 100% recommend adding this to your Switzerland House sitting bucket list), there's are a lot of things we enjoyed in Switzerland as a family besides simply yodeling from the mountain tops.
It will depend what time of year you're planning to visit. In the summer, everyone lives at the lake (at least in a big city like Zurich that's build around the north end of Lake Zurich) and in the winter – you may have guessed – many people spend their time skiing.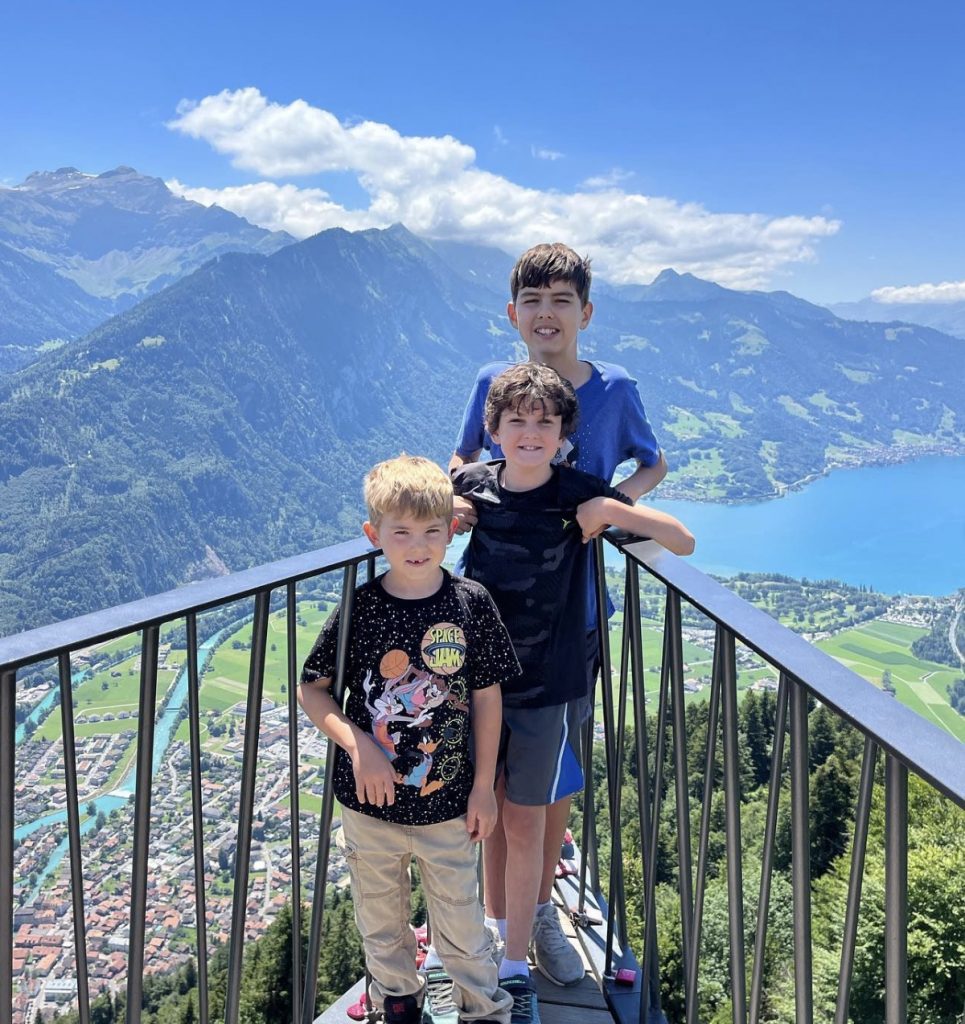 With the train and public transit system so efficient and vast, it's easy to get to a lake or a mountain from wherever you are.
If you have the flexibility with your pet (like a dog that can ride the trains or a cat that can be home for many hours unattended) then you can get a train pass which is a certain number of days of riding anywhere you would like within Switzerland (like 7 days of unlimited riding in two weeks for instance) or you can buy a bulk train pass for so many rides.
In our case, we wanted to explore Zurich and take 1 day trip to the Alps and at the end of our trip, we took the train from downtown to the airport, so we decided we would just buy those tickets as needed.
What was surprising about house sitting in Switzerland with Trusted House Sitters?
The biggest surprise for us was the expense of being in Switzerland. We knew it was one of the most expensive countries in Europe, but we didn't realize the extent.
When we arrived, there was a McDonald's across from our hotel. It ended up costing $70 for 3 kids' meals and an adult meal (and Celine just had a sandwich).
We were there over our anniversary, so I walked down to Starbucks to get 2 drinks and a pastry for Celine, which came to $17.
Even groceries were much more expensive than we were used to, but still significantly less than eating out, so we decided to spend our budget on groceries, eating at home and packing picnics to take to the park, and visiting free museums and art galleries.
(We did have ice cream a couple times inn the park, and decided to spend our budget on taking the train to Interlaken to ride the funicular and visiting the Lindt factory).
Things to do with kids in Switzerland while pet sitting
View this post on Instagram
Visit the Lindt Factory in Zurich
Some of us still haven't felt hungry since our visit to the Lindt factory in Zurich.
It's endless samples of liquid dark milk, and white chocolate, taste-testing games (can you tell what fruit this chocolate is flavored with) and an all-you-can-carry truffle display to end the tour. This is right before the bonus "thank you for taking the tour" chocolate and then the truffle sample in the gift shop as you leave.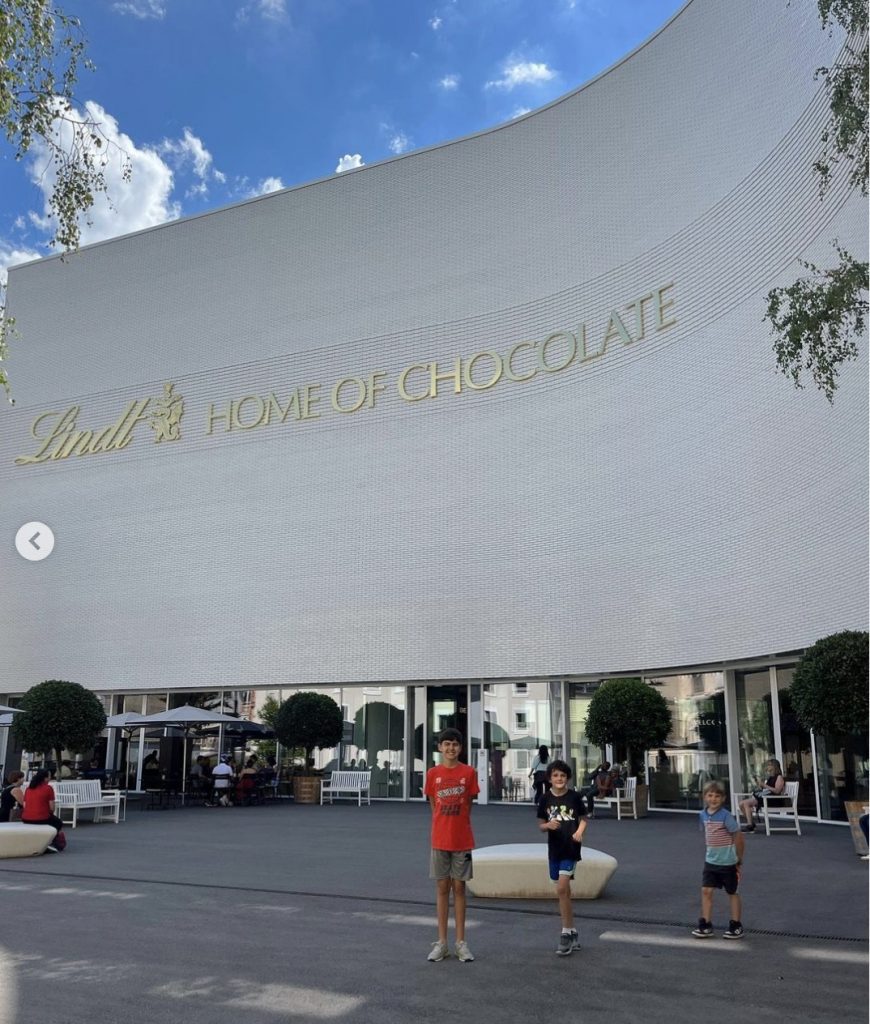 Our kids still love telling the story about the amount of chocolate we sampled that day, and while there was a lot to learn about the cocoa bean, how it made its way to Switzerland, and how the Swiss milk became an integral part of the Swiss Chocolate history, our boys still focus on the variety of samples we enjoyed that day.
We spent about 2 hours on the tour – not rushed and would probably spend about the same amount of time next time.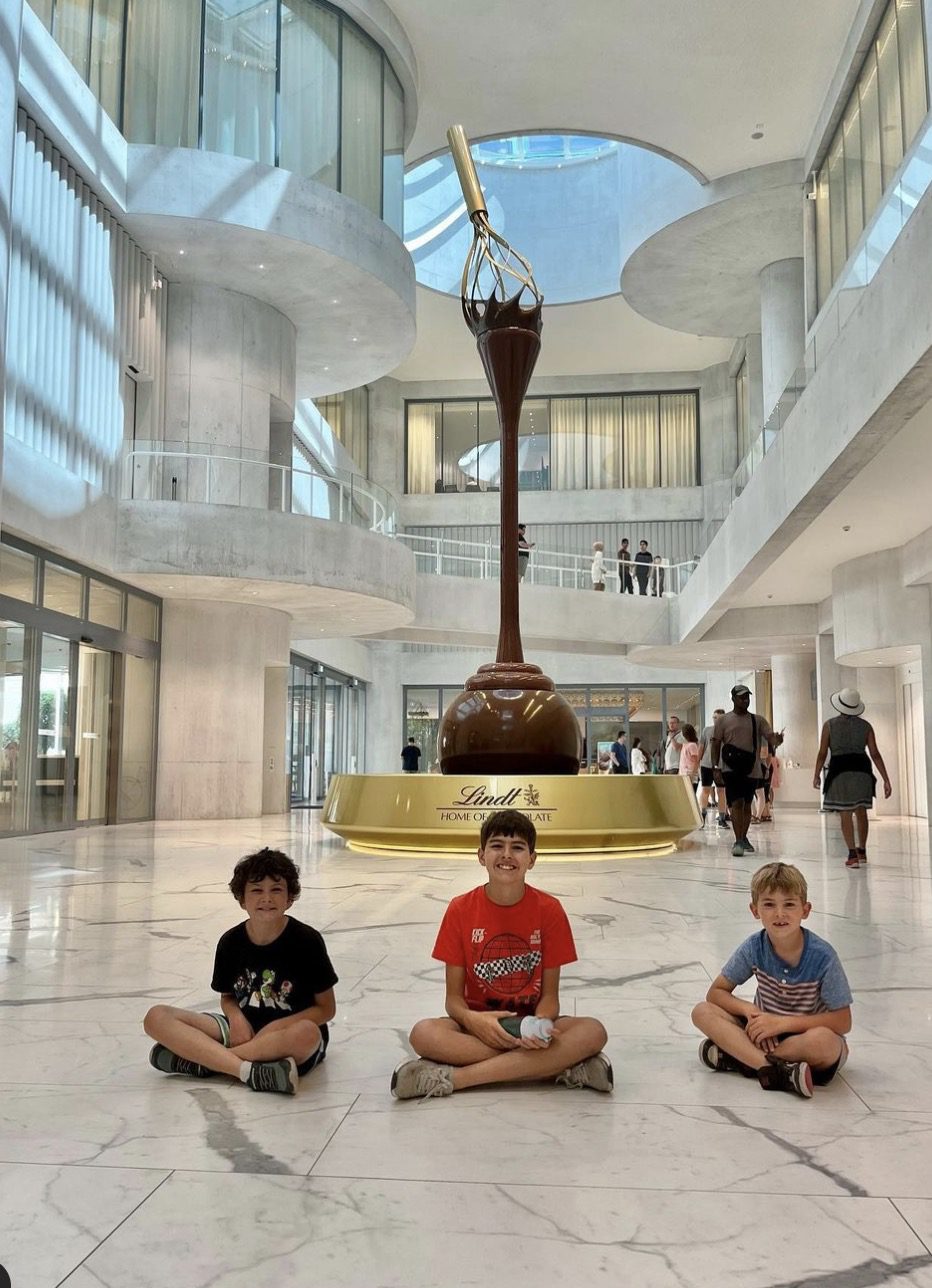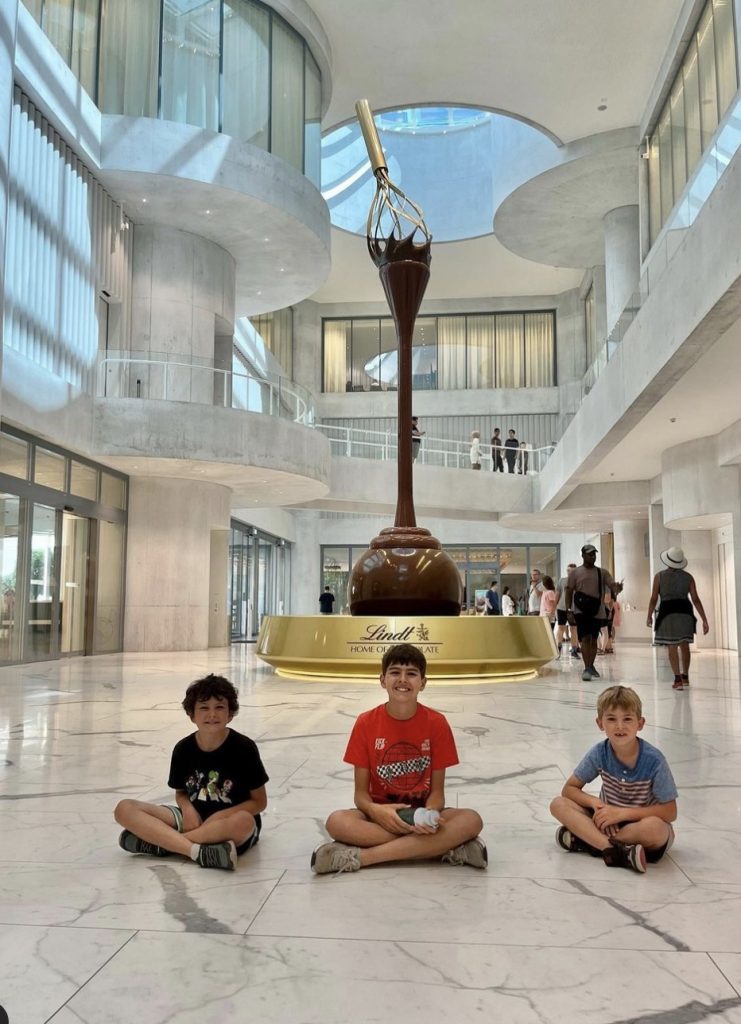 Take the train to Interlaken. Take the Funicular to the top of the mountain. Hike back down.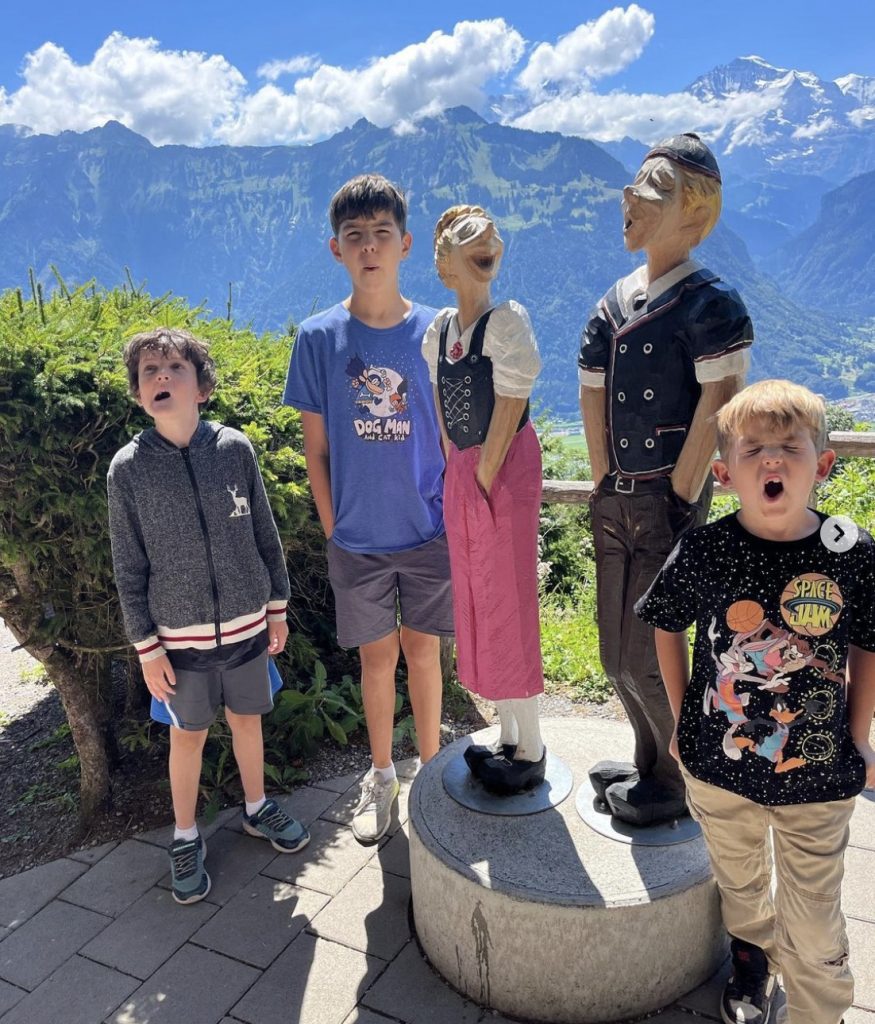 Interlaken in a place where two lakes meet in the mountains, and the trip up the funicular (like a cable car) takes you to the top of the mountain (called Harder Kulm) where you can see both lakes. There's a restaurant at the top (both table service and a casual food stand) and a spot where you can sit. and hike along the mountain ridge (which most just looks like walking through a forest with amazing views through clearings now and then).
We had a cute little chihuahua we were petsitting in Switzerland, so with his owner's permission, we took him on the train for a day trip and a hike. We figured that if he got too tired, he could ride in our hiking backpack.
View this post on Instagram
(Side note: We preferred train travel to plane travel as a family. Here's why!)
Google (or an optimistic blogger) told us that the hike would take about 30-40 minutes, but it was closer to 2 hours. We're consistent hikers. We don't stop or wander. If you make it in less than 2 hours, great, but plan to wear good quality shoes because the path is rough, and each of us fell at least once on the hike because we would step down rocky steps in the path and land on an uneven surface below, but it was an amazing experience.
If you're not up for the hike, you can ride the funicular back down the mountain.
At the bottom of the hike in Interlaken there are many restaurants and places to grab food. We had an hour or so before the next train was coming to take us back to Zurich, but based on the price of food (would have cost us about $200 for 5 of us to each get a plate) we decided to grab some fresh produce and yogurt from the nearby grocery store and listen to a band playing in the park until our train arrived.
Wander Old Town Sections in Switzerland
One of our favorite morning walks was to old-town Zurich. The architecture, cobblestone streets, and boutique shops give us so much to look at and enjoy. Zurich is built on a hill surrounding the lake, so the small cobblestone roads gave us an interesting walking challenge uphill and downhill.
Enjoy Free Museums and Art Galleries
One day each week Museums are free and on another day Art Galleries are free admission. (From our recollection, it was Museums on Monday and Art Galleries on Wednesdays).
We would choose an art gallery or museum to wander and explore each week. During our Zurich house sitting, we saw art by Picasso, Monet, and Rembrandt and explored a museum about the history and geography of Switzerland, the evolution of watch making, and an exhibit about Anne Frank's life during WWII.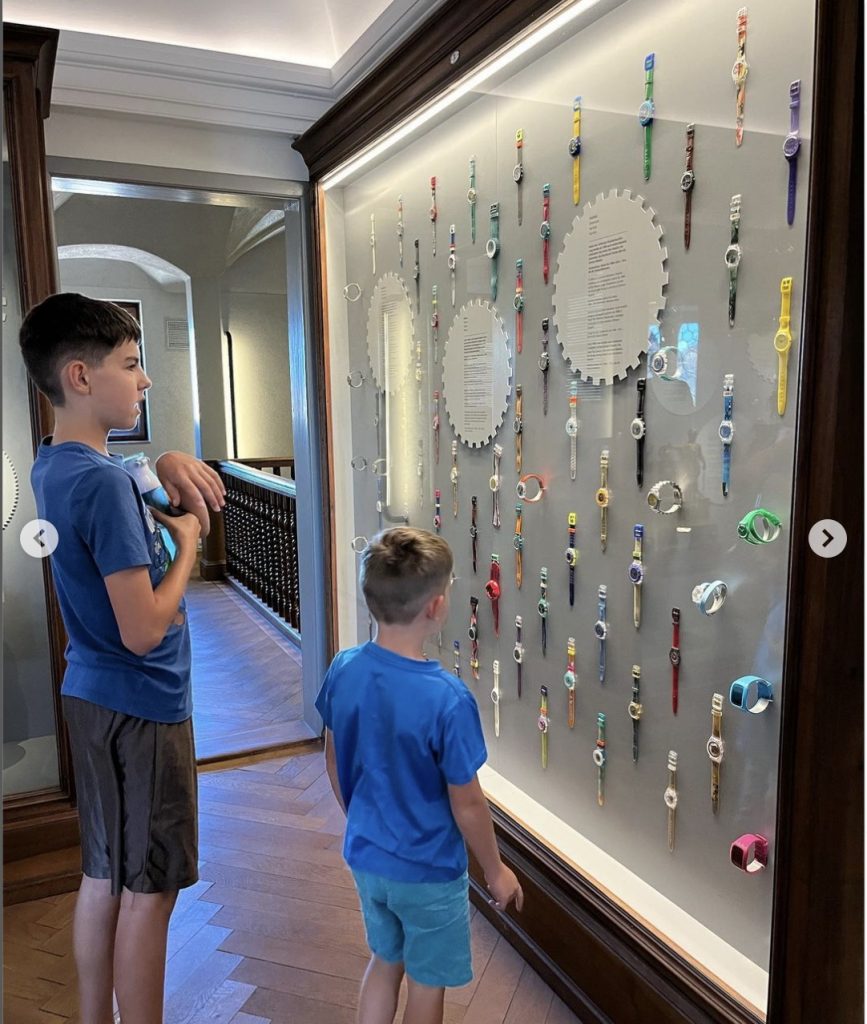 Visit a park
In Zurich, the city is built around the north end of Lake Zurich, so there's a massive public park around the lake. From gardens to live entertainers to ice cream stands, there was always something to explore when we would wander (or take the train) down to the park.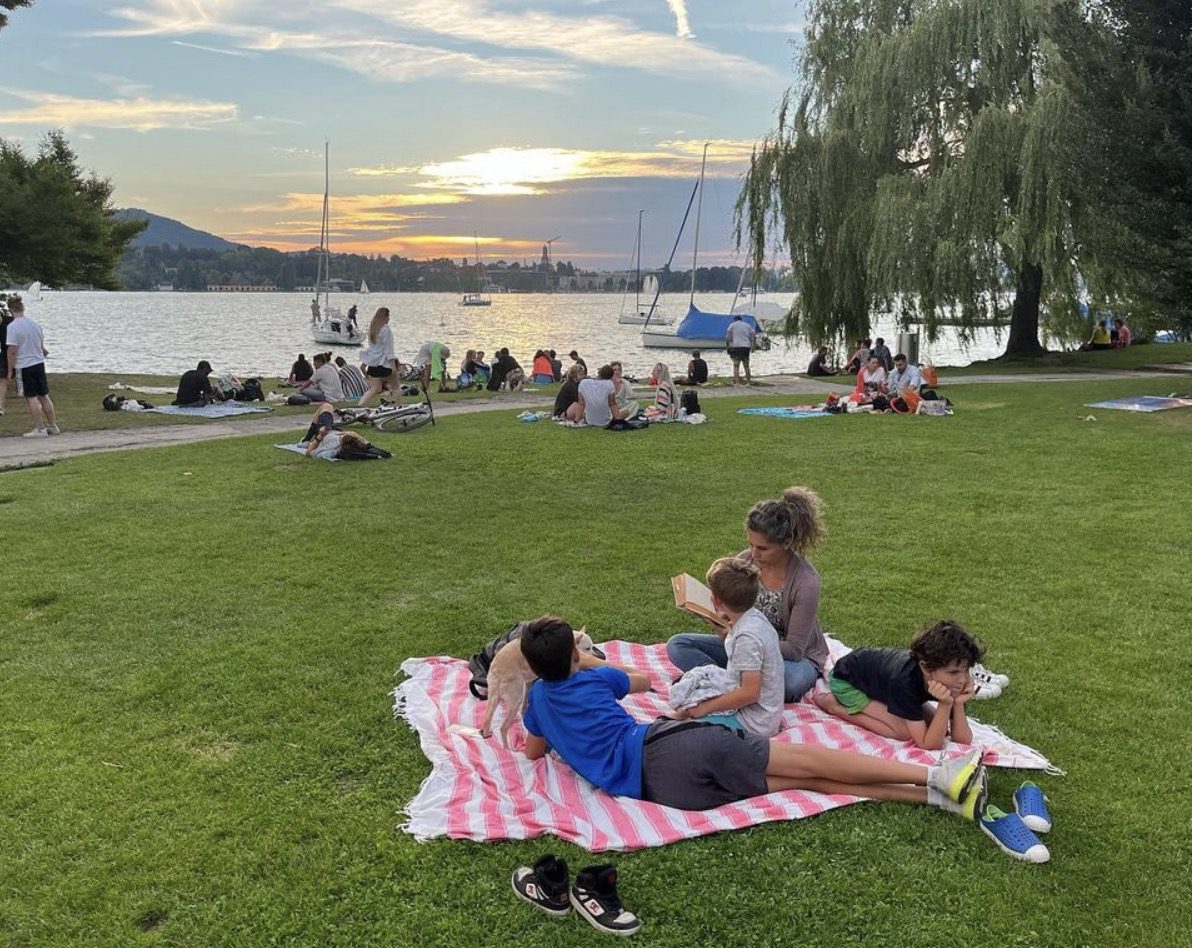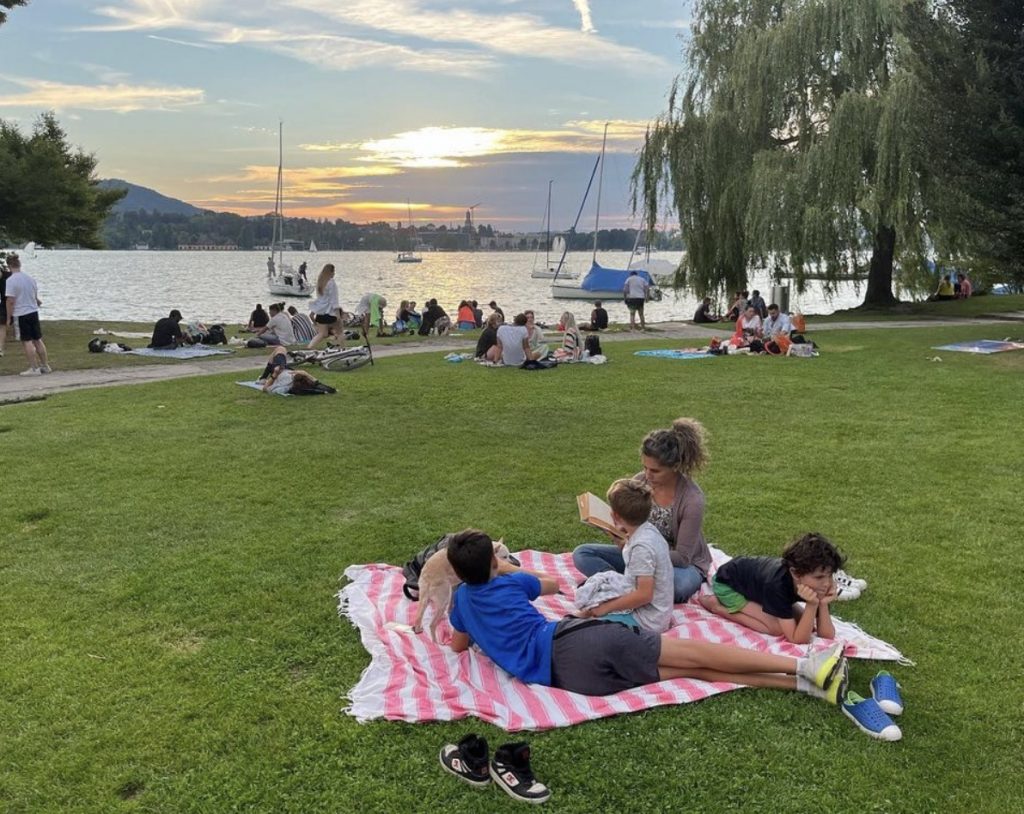 Listen to church bells on Sunday morning
Sundays mornings start with church bells to announce the beginning of a church service – the bells can ring for 15 minutes from every church in town (and sometimes, churches compete for bell noise right next to each other). It's not church bell music as if they're playing a song – it sounds like an 8-year-old was given 15 minutes to make as much noise as they can with the church bells – definitely something to experience.
We didn't have to go anywhere to hear the church bells – they could be heard for miles it seemed.
Following the church bells is "Quiet Sunday" in Switzerland
People don't create any sound that would reach their neighbors – no lawnmowers, vacuums, coffee grinders, blenders, loud music, or construction vehicles on the roads. People don't play music in the park or use hammers or saws to work on their landscaping.
Quiet Sunday is really interesting to experience. When the homeowners told us about quiet Sunday and to be careful not to disturb the neighbors or run the vacuum, we just thought it would happen, and we wouldn't notice, but it was noticeable how intentional everyone was, and we pointed it out to our boys.
Summary: Our review of House Sitting in Switzerland
We loved house sitting in Switzerland. It's a significantly more economical option to a hotel or hostel, but it comes with the responsibility of taking care of a pet and property. You're there to be a pet sitter, so while you want to do the touristy things, the pet sitting experience is your priority.
Ask ahead of time how long the pet is comfortable being left alone and if that pet can ride public transit with you.
Apply early and often. Stay flexible. House sits in Switzerland are in high demand and are harder to find, so keep your options open to find a nearby house sit (in France or Germany) to visit Switzerland before or after or plan to try again on your next European vacation. Here's how we decided where to visit in Europe.
Looking for a more detailed review of Trusted Housesitters? In this blog post we go line by line through how to optimize your chances of landing the perfect housesit: Our Trusted Housesitters Review.
We've found that Housesitting pairs well with RVing. Here's how we use RVing and Pet sitting to find GREAT locations for free!